Photography Mitchell Sams
raf simons wants us all to move on from our streetwear obsession
Have we reached peak graphic hoodie? The Belgian-born design genius returned to his second home — a Paris warehouse — to tempt us away from hoodies and T-shirts with his "DIY meets couture, punks meets new wave" youthful revolution.
Photography Mitchell Sams
Who?
From the moment he launched his eponymous label in 1995, Raf Simons countered the sexed-up menswear aesthetic of the time by presenting his own skinny-suited, relentlessly youthful reality. "I saw all this fiction — tanned, handsome guys — it was opposite to the world I wanted to represent," Raf Simons explained to Jo-Ann Furniss inside his guest edited issue of i-D (The Inspiration Issue, No. 206, February 2001). As much inspired by his friends in the Antwerp punk scene as designers like Martin Margiela and Helmut Lang, his vision was darker, dirtier and more underground than anything we had seen before. 23 years on, a cult following and a number of successful creative director roles later and the Belgian-born genius continues to challenge the system by looking to his own reality, collaging his life, loves, and obsessions.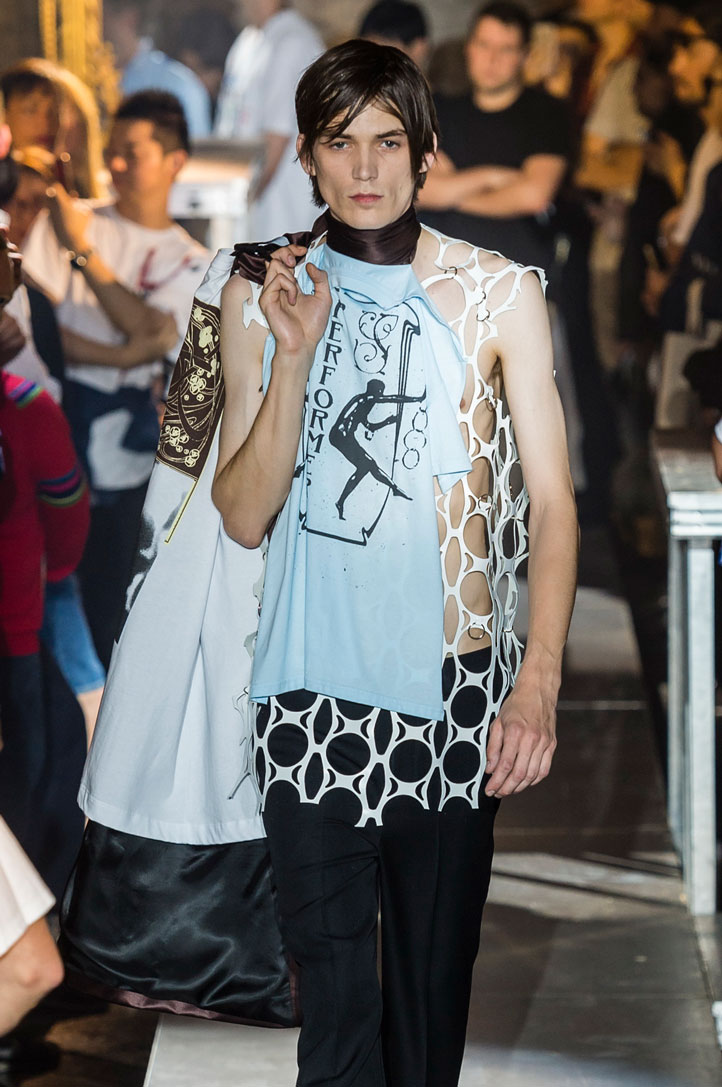 Far from nostalgic, these glances back continually push possibilities and lead us to new, furiously energized places. From his recontextualization of wardrobe staples to his vigorously graphic approach, his shape-shifting silhouettes to this pounding show music, his street-cast boys and faraway warehouse show venues to his curation of art shows, Simons has always been two steps ahead of everyone else. For spring/summer 19, as he returned to his second-home -- a warehouse on the outskirts of Paris -- after three seasons showing at New York Fashion Week Men's, the master of menswear declared that it was time to move beyond streetwear. "We need a new outline, a new shape," he explained backstage. "Of course I was part of it myself, but there are too many hoodies with prints out there. Something needs to shift." His shift was "DIY meets couture" suiting for a new generation. While punk was in part a reaction to the stagnant music scene of the 70s, Simons was reacting to the dominance of streetwear.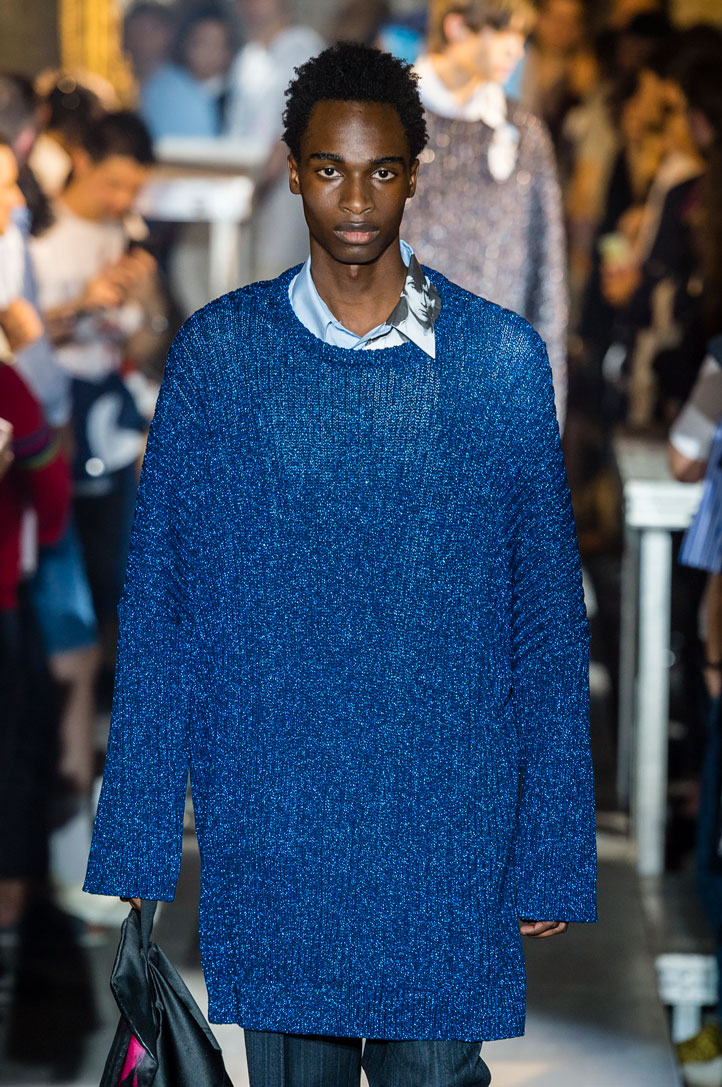 What?
Once again, Simons looked back to the late 70s/early 80s before leaping into the future. From the cut and paste punk imagery, some iconic some rediscovered, that adorned outerwear and accessories to the make-do-and-mend extra arm holes and the artisanal D-ring piercings and, it was punk revisited, reimagined and reborn. Only Simons could take the spirit of punk into the atelier and elevate it without losing its energy. "There are all these references to punk, like the safety pins, the studs and the black leather, but I was challenging myself to do them in a way that was not that. I did not want people to recognize them," he explained.
In revisioning the moment "punk met new wave" Simons was also reinterpreting his own past too. The eagle-eyed Simons superfan could spot seminal graphics and silhouettes from his own archive. The mesh vests were one clear example that we discussed backstage. "I've used this before," he explained. "It's like when kids hang out carrying their six-pack of beers, but also, like Paco Rabanne."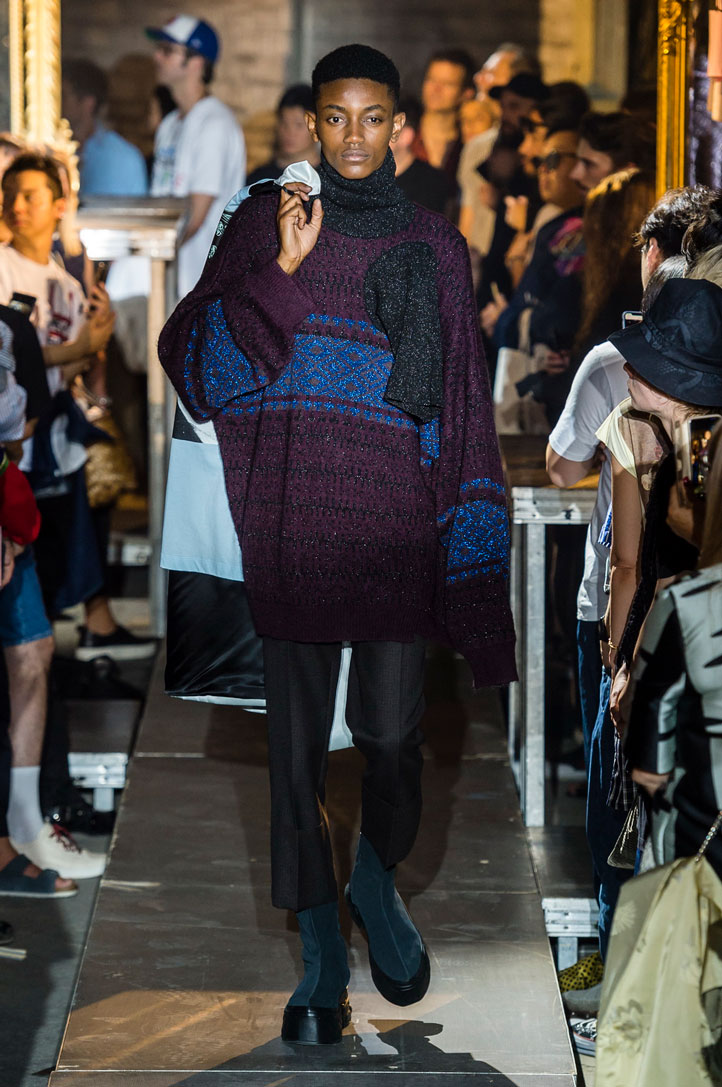 Wow?
Throughout, he delighted in the dialogues of past and present, high and low, diy and couture. Then Simons threw a Clara 3000 and Nina Kraviz-soundtracked joint after-party with Undercover that had everyone from Naomi Campbell to Marine Serre dancing into the night. However, it's the rainbow of duchesse that will leave us dreaming long after the hangover eases. "Everything except the jersey and a couple of suits was made from duchesse satin," he explained. The fabric Simons chose for his sartorial movement is a notoriously difficult-to-use satin that is more common in couture houses than in warehouse show raves. Say no to streetwear, say yes to satin.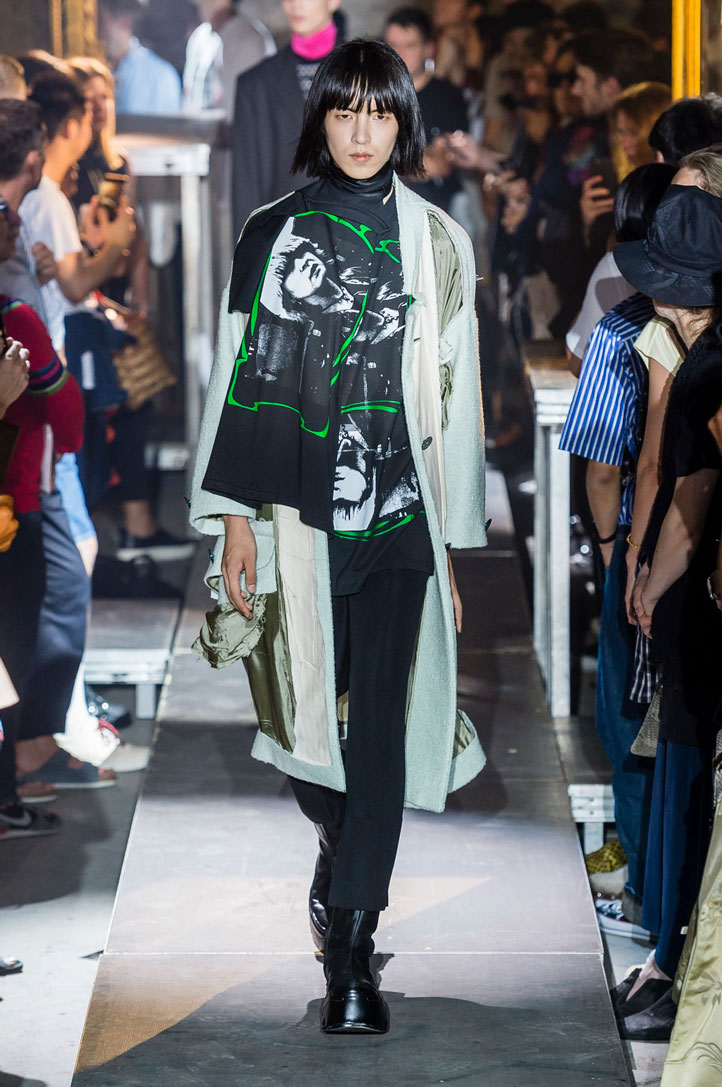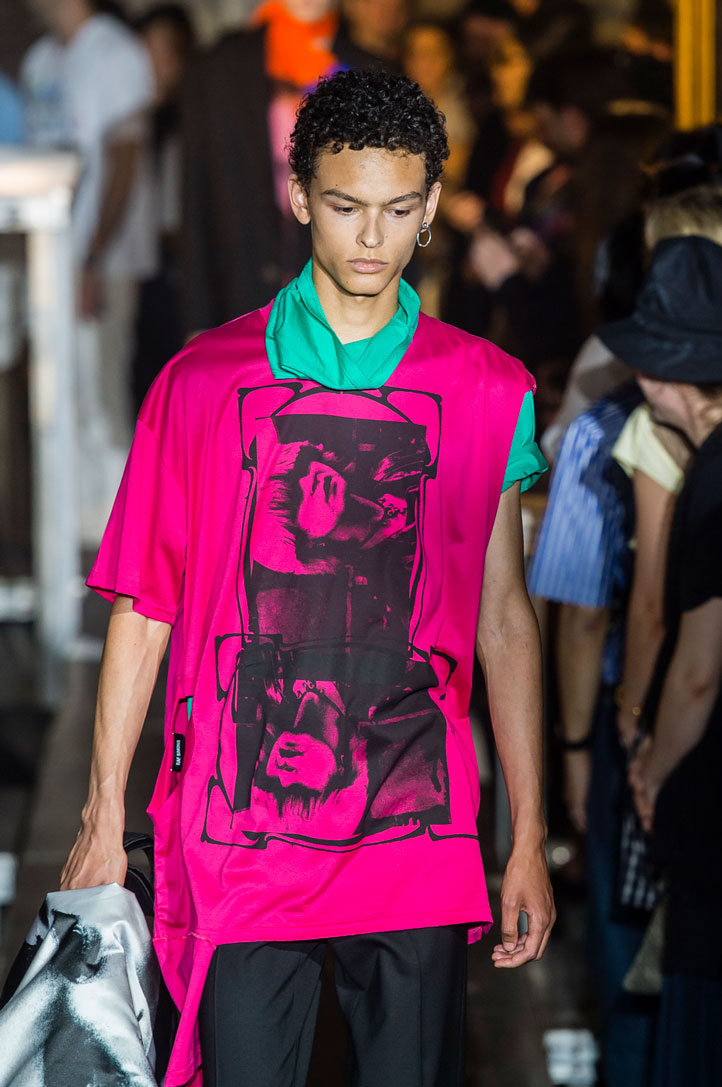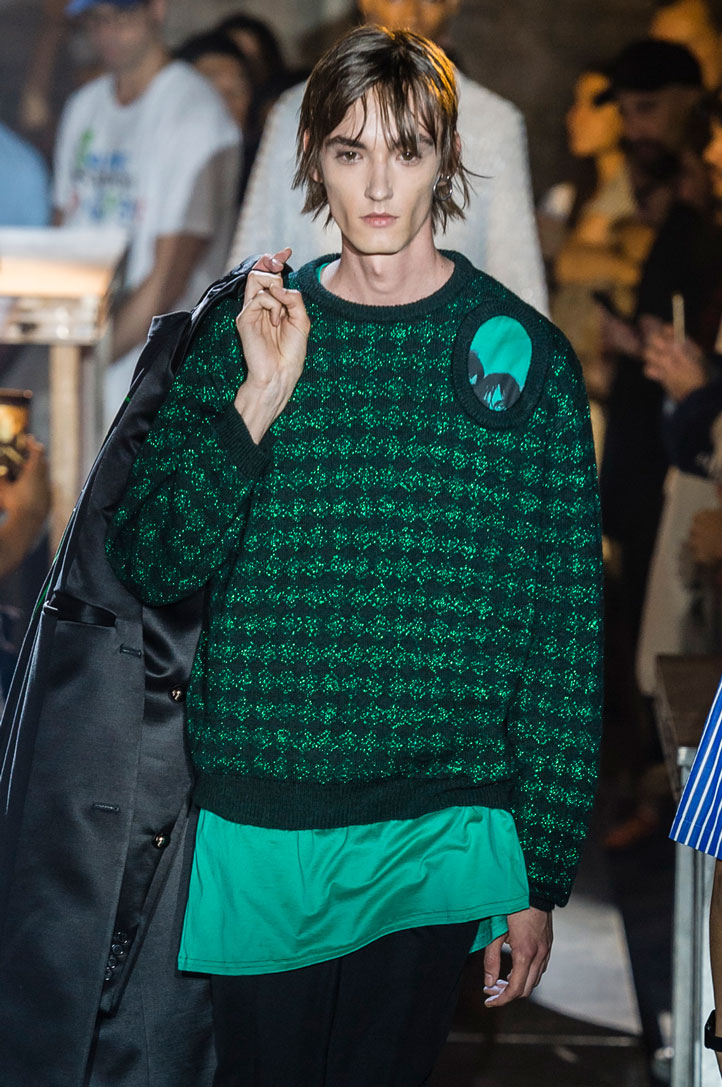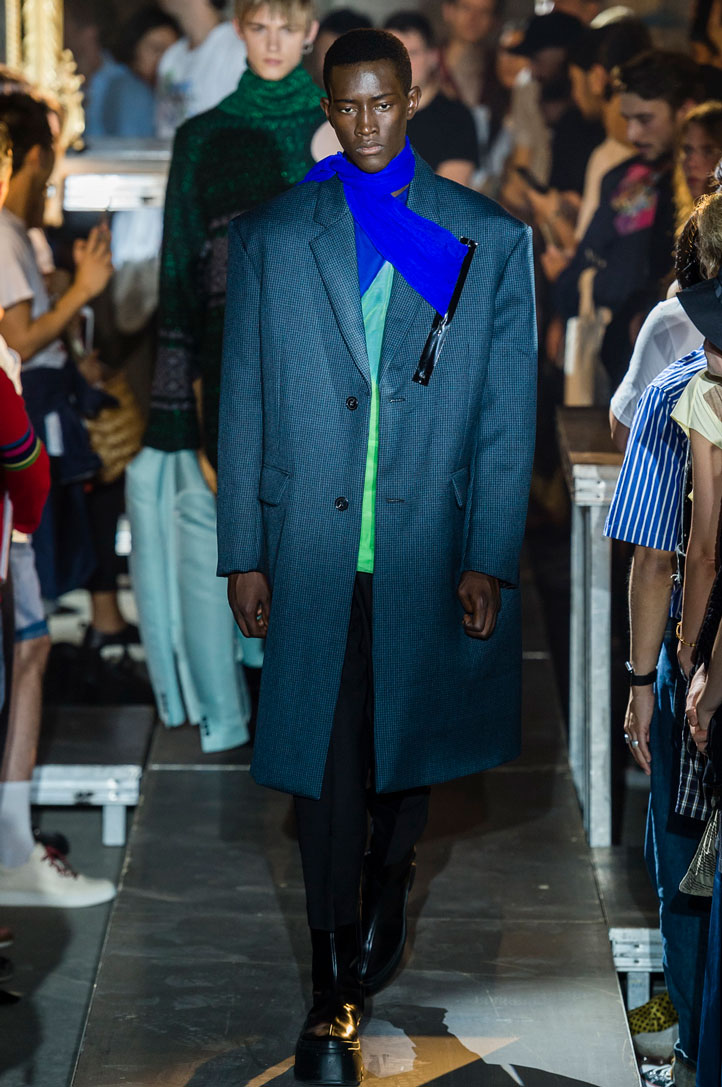 Photography Mitchell Sams
This article originally appeared on i-D UK.