mario testino and bruce weber accused of sexual exploitation by male models
Following accusations against Bruce Weber made in the New York Times last year, the newspaper has reported a raft of new allegations against Weber and Mario Testino.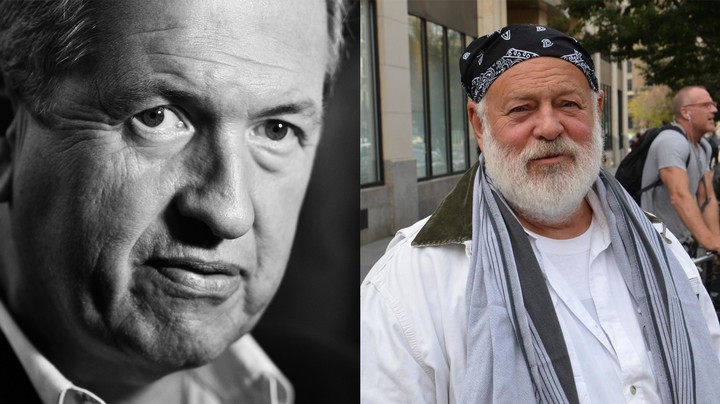 Mario Testino and Bruce Weber via Wikimedia
Two of the most powerful photographers in the fashion industry, Mario Testino and Bruce Weber, have been accused of inappropriate sexual behaviour by a number of co-workers. In an investigation published by the New York Times on Saturday, 28 named models and former assistants make allegations against the photographers.
Following accusations in 2017 from model Jason Boyce -- who alleges that Bruce Weber groped and kissed him; a claim Weber's lawyers have described as "false" -- 15 further models have made similar allegations against the photographer, describing to the New York Times "a pattern of what they said was unnecessary nudity and coercive sexual behavior, often during photo shoots," the paper reports.
In the fresh allegations reported by the NYT on Saturday, male model Robyn Sinclair makes accusations against Bruce Weber, saying, "I remember him putting his fingers in my mouth, and him grabbing my privates. We never had sex or anything, but a lot of things happened. A lot of touching. A lot of molestation." Another model, Josh Ardolf, alleges that, on an occasion when Weber photographed him in the nude, he became uncomfortable and Weber "led him through an exercise". "I was guiding his hand. We did the chest, the shoulders, the head. Then I finally put his hand on my abs. Did the breathing," Ardolf told the paper. "Right after that, he forced his hand right on my genitals. I was first in shock. I didn't know what to think. I backed up. I felt very, very uncomfortable and very sick," he says.
Bruce Weber has denied the allegations. In a statement from his lawyer, the photographer said, "I'm completely shocked and saddened by the outrageous claims being made against me, which I absolutely deny." In his statement to the NYT, Weber said: "I have used common breathing exercises and professionally photographed thousands of nude models over my career, but never touched anyone inappropriately. Given my life's work, these twisted and untrue allegations are truly disheartening. I've been taking pictures for over 40 years and have the utmost respect for everyone I've ever photographed. I would never, ever, try to hurt anyone or prevent someone from succeeding -- it's just not in my character."
Read: Little black dresses won't change the world, but the solidarity of the women wearing them will.
The NYT also quote Jeff Aquilon, a male model who Weber "discovered in 1978" and who became a longtime muse for the photographer, saying that he had never had a bad experience with the photographer. "What I've heard over the last couple of days is so uncharacteristic of what I would expect out of him that it kind of blew my mind," Aquilon told the paper, noting that he had spoken with Weber about the allegations, and had agreed to pray for him, at Weber's request.
Allegations have also been made against Mario Testino, a favourite photographer of the British royal family, who received an OBE in 2014. 13 male models and assistants told the NYT that Testino had "subjected them to sexual advances that in some cases included groping and masturbation".
"If you wanted to work with Mario, you needed to do a nude shoot at the Chateau Marmont," model Jason Fedele -- who has appeared in a number of campaigns shot by Testino -- alleged to the NYT. "All the agents knew that this was the thing to excel or advance your career," Fedele said. "He was a sexual predator," model Ryan Locke told the paper. Locke says that other models warned him before he met with Testino: "everyone started making these jokes -- they said he was notorious, and 'tighten your belt'."
The NYT report Locke's allegation that, on a shoot for Gucci, Testino was "aggressive and flirtatious". During the shoot, in which Testino was shooting Locke on a bed, the model says the photographer announced, "I don't think he's feeling it. Everybody out." Locke alleges that Testino, "shuts the door and locks it. Then he crawls on the bed, climbs on top of me and says, 'I'm the girl, you're the boy.' I went at him, like, you better get away. I threw the towel on him, put my clothes on and walked out." Roman Barrett, an assistant to Mario Testino in the late 90s, told the NYT that, "Sexual harassment was a constant reality," alleging that Testino "rubbed up against his leg with an erection and masturbated in front of him".
The NYT report that lawyers for Mario Testino responded to the allegations in a letter to the newspaper, claiming that the accusers, "cannot be considered reliable sources," citing positive comments in the past by one model, and calling his mental health into question; noting that another model had been photographed nude many times before; and adding that the assistants were "disgruntled former employees" -- to which Roman Barrett responded, saying, "I was pushed around, overworked, underpaid and sexually harassed daily. That's why I was disgruntled."
"One model, who is mononymously known as Taber, told the paper that the normalcy of this kind of behaviour created a situation where he 'would almost get offended if they didn't want to have sex with me'."
Co-authored by fashion director and chief fashion critic for the New York Times Vanessa Friedman, and fashion writers Matthew Schneier and Jacob Bernstein, the report notes that "Those who said they were on the receiving end of unwanted attention felt the choice was clear: acquiesce and be rewarded with lucrative ad campaign work, or reject the approach and risk hobbling, or destroying, a career." Josh Ardolf told the paper that Weber's alleged actions had made him feel "helpless", and that, "Like my agency said, he has a lot of power. He's done a lot of large campaigns. That was in the back of my mind. 'I can't screw this up. I already made it this far.'"
One model, who is mononymously known as Taber, told the paper that the normalcy of this kind of behaviour created a situation where he "would almost get offended if they didn't want to have sex with me. That's how I got groomed. That's how it worked in my mind." Taber continues: "I knew that if people didn't want to have sex with you and people didn't find you beautiful, you weren't much inspiration. The models that got jobs are the ones stylists and photographers are into. I also wanted people to like me, especially the most powerful people in the business."
This kind of power-imbalance was also described by Danish supermodel Rie Rasmussen when she called Terry Richardson out at a fashion event in Paris in 2010. Preceding a number of allegations of inappropriate sexual behaviour made against the American photographer, Rasmussen told the New York Post about the incident: "I told him what you do is completely degrading to women. I hope you know you only fuck girls because you have a camera, lots of fashion contacts and get your pictures in Vogue." Richardson has denied that sexual incidents on his shoots were non-consensual. In a 2007 interview he accepted the existence of a power-imbalance that could precede sexual exploitation, saying, "it's not who you know, it's who you blow. I don't have a hole in my jeans for nothing." Following allegations made against him, Richardson denied all any improper conduct, saying, "I collaborated with consenting adult women who were fully aware of the nature of the work and, as is typical with any project, everyone signed releases," adding "I have never used an offer of work or a threat of rebuke to coerce someone into something that they did not want to do."
Tagged: