rupaul's drag race releases handmaid's tale parody trailer
Oh my god love your hair, hope you win.
|
23 January 2018, 11:21am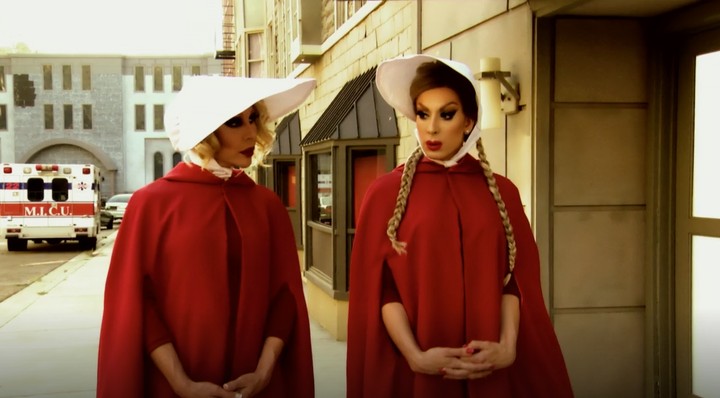 In the future I predict that we'll all divide our eras thusly: BAS3 (Before All Stars 3) and AAS3 (After All Stars 3). That is how monumental the new series of Drag Race will be. Premiering on VH1 this Thursday, the show has just released a new teaser trailer, featuring previous All Stars winners Alaska and Chad Michaels in full red nun outfits, serving Handmaid's Tale realness.
"Hey kitty girl, blessed weather we're having today" says Chad, before the two stop to lament how lonely and disappointing life in the Drag Race Hall of Fame is in the snippet of The Hennymaid's Tale.
All Stars 3 will see ten drag superstars -- Trixie Mattel, Shangela, Ben DeLa Creme, Kennedy Davenport, Milk, Morgan McMichaels, Thorgy Thor, Aja, and a mysterious tenth queen that's yet to be revealed -- battle it out for a place alongside Alaska and Chad in the Hall of Fame. And win $100,000, natch.
If you can't stand waiting until Thursday/Friday to see the special 90-minute opening episode in all its glory, then you're in luck -- alongside The Hennymaid's Tale, VH1 has released a 14 minute teaser of All Stars 3's first episode.
And if you want to speculate wildly and probably ruin the whole series for yourself with spoilers before then, then check out the RPDR Reddit for endless wild conspiracy theories and memes. You're welcome.
This article originally appeared on i-D UK.