bless alexander wang for sitting cardi b next to anna wintour
Oh, to be a fly on the wall.
|
12 February 2018, 10:41am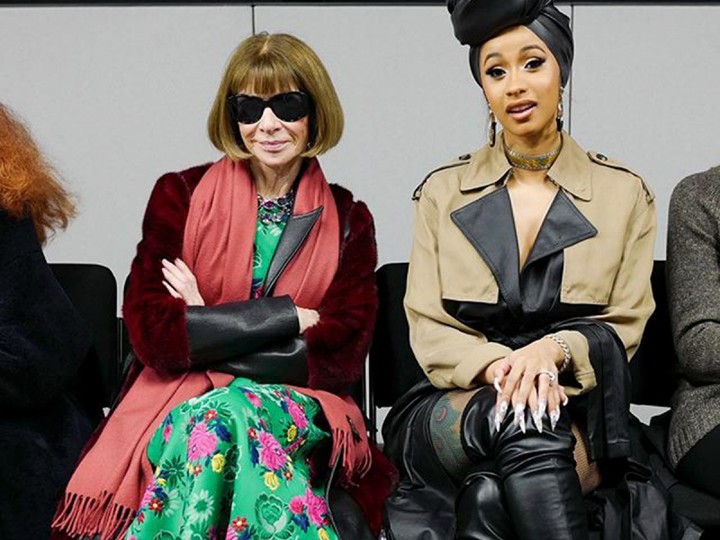 Alexander Wang staged his last-ever NYFW show under the unforgiving lights of the old New York Times offices on the weekend, sending Kia Gerber and an army of models down a cubicle-lined runway in perfectly tiny sunglasses. But the moment that really captured our collective imagination, more than any of that, was the seating arrangement which saw Anna Wintour, one of fashion's longest-serving architects, perched next to Cardi B, one of music's most exciting voices (and i-D's most recent cover star). Something about this blessed union -- the coming together of different generations, cultures, styles and minds -- has everyone wondering what potential magic may flourish as a result.
With Anna flashing a rare smile upon meeting Cardi and appearing to enjoy her company throughout, it seems the Grammy-nominated rapper really can charm anyone. Alexander Wang himself posted a picture of the new friends to his Instagram account. Despite their incongruous styles -- Anna wore a bright green and pink floral dress while Cardi donned black thigh high boots and a leather headdress -- Anna clearly knows a star when she meets one. And as Cardi explained to us in our recent interview, "In America, I always look at the charts. Hip-hop is always there. We are controlling the music industry. We control the fashion world…I don't give a fuck if the fashion comes from a runway or if a Caucasian woman is walking it, once a coloured person wears something, that's when everybody wants to wear it. We always influence."