selena gomez suffered depression following her kidney transplant
Selena's friend, kidney donor and actress Francia Raisa, has said it was "very hard" for both of them.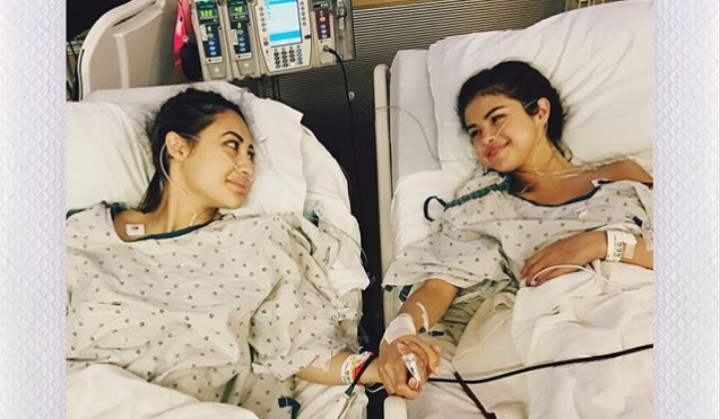 Image via Instagram
Last September, Selena announced that she'd undergone a kidney transplant. "I'm very aware some of my fans had noticed I was laying low for part of the summer… So I found out I needed to get a kidney transplant due to my Lupus and was recovering. It was what I needed to do for my overall health," she said in an Instagram post. "I honestly look forward to sharing with you, soon, my journey through these past several months as I have always wanted to do with you."
Now, the person she received a kidney from -- her "beautiful friend" and actress Francia Raisa -- has opened up about how both of them suffered depression following the operation. In an interview with SELF magazine, Francia said that she was told, "It's going to be hard, the recipient is going to glow and she's going to recover a lot faster than the donor because she's getting something she needs and you are losing something you don't need to lose. It's going to be hard." Francia then confirms, "And it was very hard."
Any major surgery can be traumatic. It can leave serious scars that -- in an image-obsessed world -- have the potential to seriously impact our body image and esteem. But it can also cause mental repercussions -- ones that are so often overlooked because they're wrongly taken less seriously than physical wounds. Healing takes time, your life and plans are thrown into disarray and your health is in jeopardy. It's scary.
With celebrities like Selena and Francia opening up about their experiences it feels increasingly like we're waking up to the need for much greater understanding and support when it comes to mental illness. As the statistics show, it's incredibly prevalent, with around one in four people in the UK undergoing a mental health problem each year. But, as Francia says in the interview, "your scars don't define you", whatever form they take.