shayne oliver's diesel collab doesn't mean hood by air is dead
Fresh off his collaboration with Helmut Lang, the designer is turning his eye to the world of denim.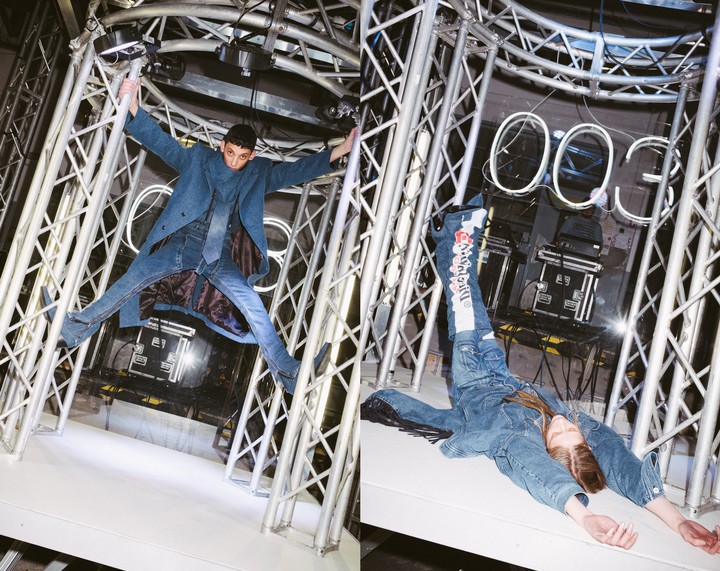 Photography Matthieu Lemaire-Courapied
On a freezing Saturday night during Paris Fashion Week, Shayne Oliver, the founder of Hood by Air and the latest guest designer of Helmut Lang, took over a warehouse-like space. The venue was filled with models performing acrobatics and extreme poses inside massive metal platforms hanging from the ceiling. Of course, there were drinks, blaring music that shook the entire room, and plenty of cool club kids. The occasion marked Shayne's latest project: a four-part collaboration with the Italian denim brand Diesel for the Diesel Red Tag Project by Shayne Oliver.
It was just one year ago that Shayne put his insanely covetable Hood by Air line on hold. However, many of the same HBA codes, aesthetics, and even performance aspects could be seen during the Diesel presentation. Models wore reworked Canadian tuxedos complete with denim ties and cowboy hats (Shayne himself was wearing one of them during the presentation, along with a Cadillac-branded button-down). And there were structural, oversized acid wash jackets and maxi dresses — all made of denim.
Considering the designer's penchant for streetwear and his own line achieving a cult-like status, a collaboration with Diesel makes perfect sense. "It was the first to take lowbrow denim and make it highbrow," Shayne says of the legendary brand that just saw Nicola Formichetti leave as artistic director. Shayne worked directly with Renzo Rosso, President of OTB Group (the parent company of Diesel, Maison Margiela, Marni, and more), to design the collection. "That's exactly what's going on, and that's what so relevant about it."
This is just the beginning of the project. Shayne will also stage some of the same club-like, experiential fashion presentations in New York, London, and Milan next season during fashion month. Here, the designer speaks about his latest work, the future of fashion shows, and what's happening with Hood by Air.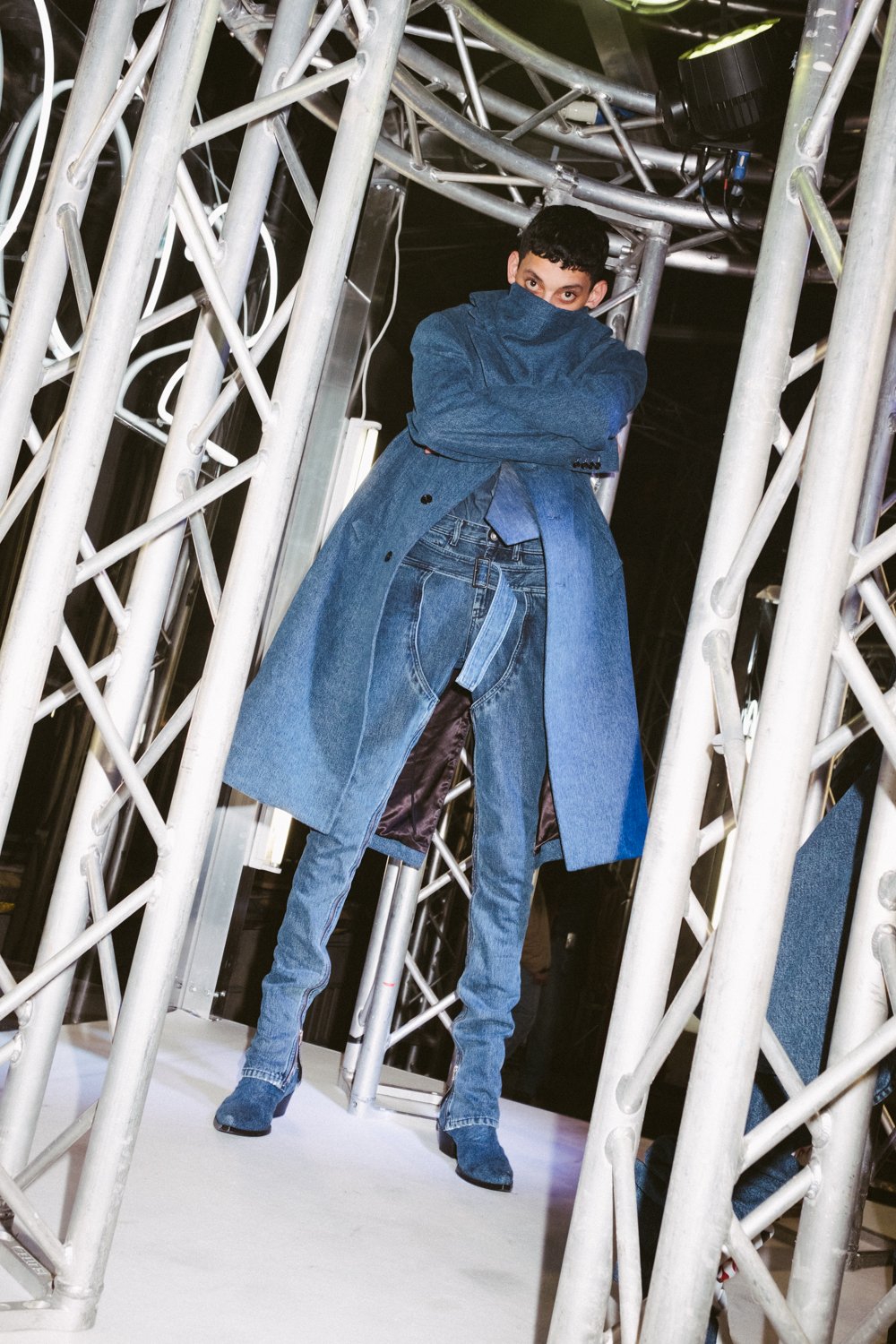 What kind of archival pieces did you look back to for this collection?
When Renzo was beginning he had all these different things, because he sort of built Diesel in compartments. There was one collection that was called Italian Glamour and it was so modern. It was like when people were trying to be really sexy. But instead of doing spandex, he was doing it in denim, which I thought was so specific and so different. That's sort of what people are doing now.
To be honest, I think sexiness is a confidence thing. The whole idea doesn't have to be sexual, but I think when someone takes the time to make something that isn't boring, it's naïve and genuine. That's where I wanted to come from this, finding a new way of making denim sexy.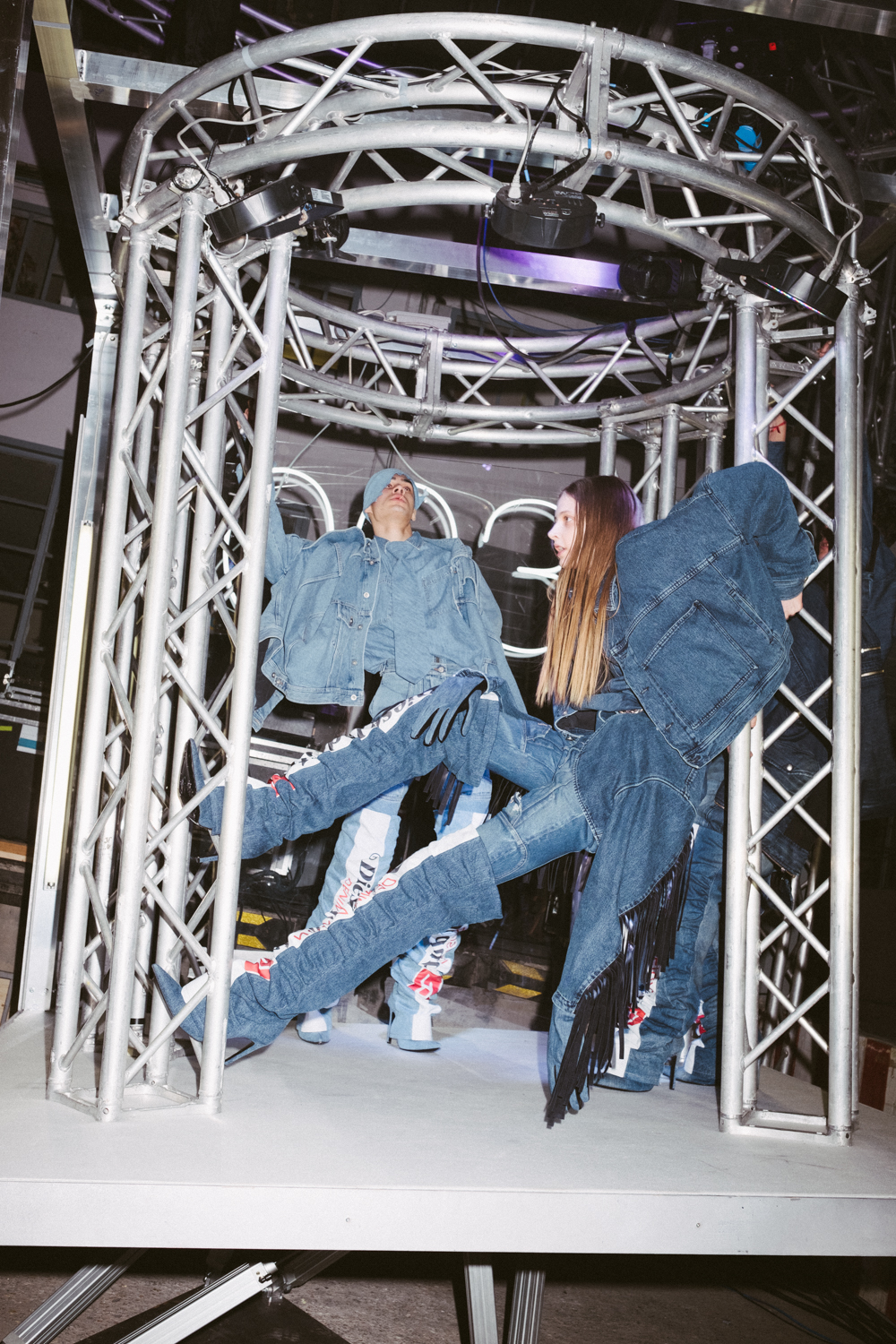 What are you most excited about when it comes to this new project?
We're going to do four performances around the world. One in Milan, one in Paris, one in New York — all during fashion week. Every city will be Diesel-ized or Hood by Air-izled. There will also be exclusives out of these. We're offering the collection to buyers, but also keeping exclusives. It'll be see now, buy now, in a way.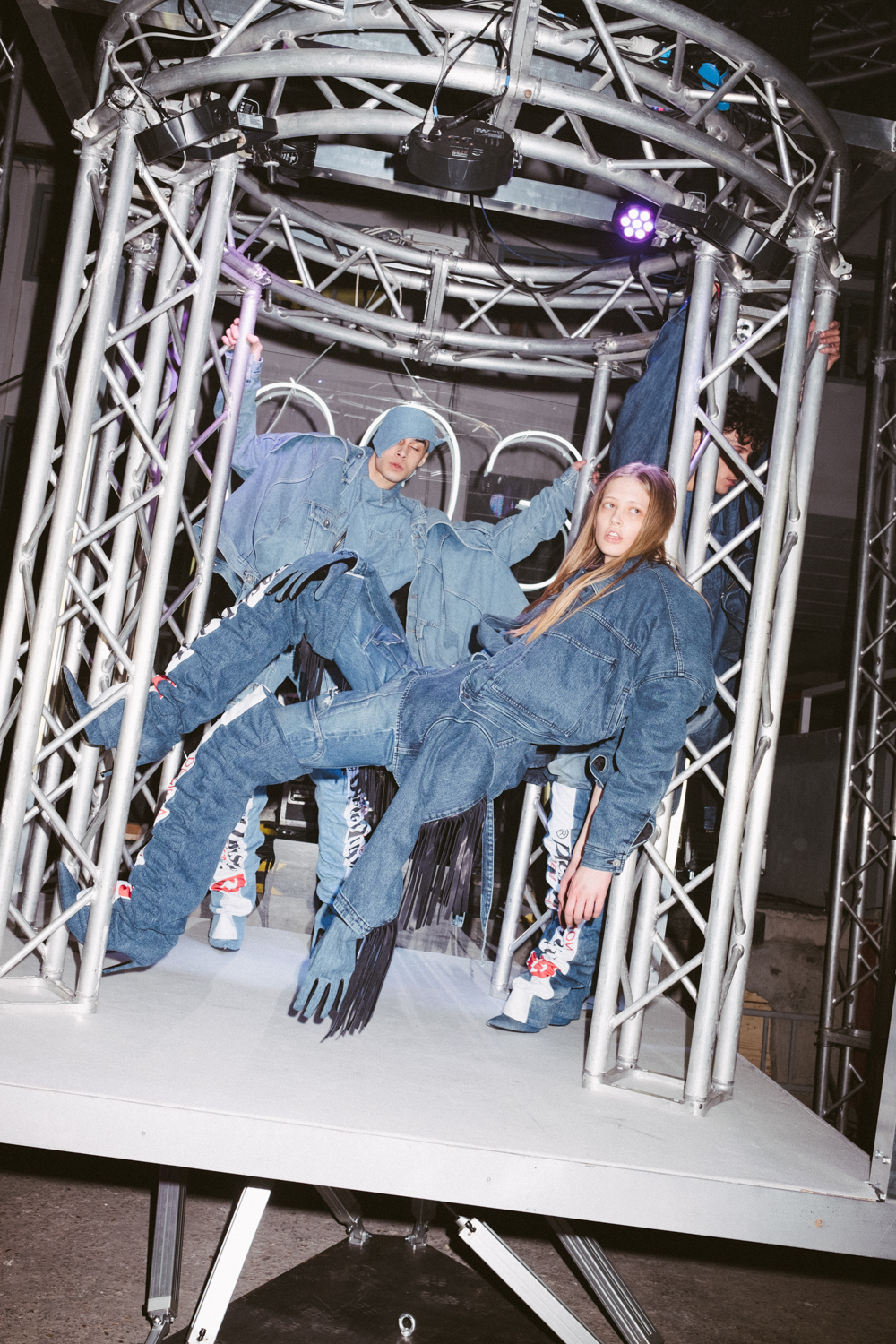 What are your feelings about fashion presentations?
I don't really know if I'm into fashion presentations because I'm over it, or just because of the generation that's happening right now. We grew up looking at fashion shows. If you weren't in fashion, you just look at it at home. Which is the way you see it. I'm trying to figure out how do you do that without being disrespectful. Because I don't think it's about disrespecting the past. I think it's about saying, 'Maybe this is better.' I think that this is like a test.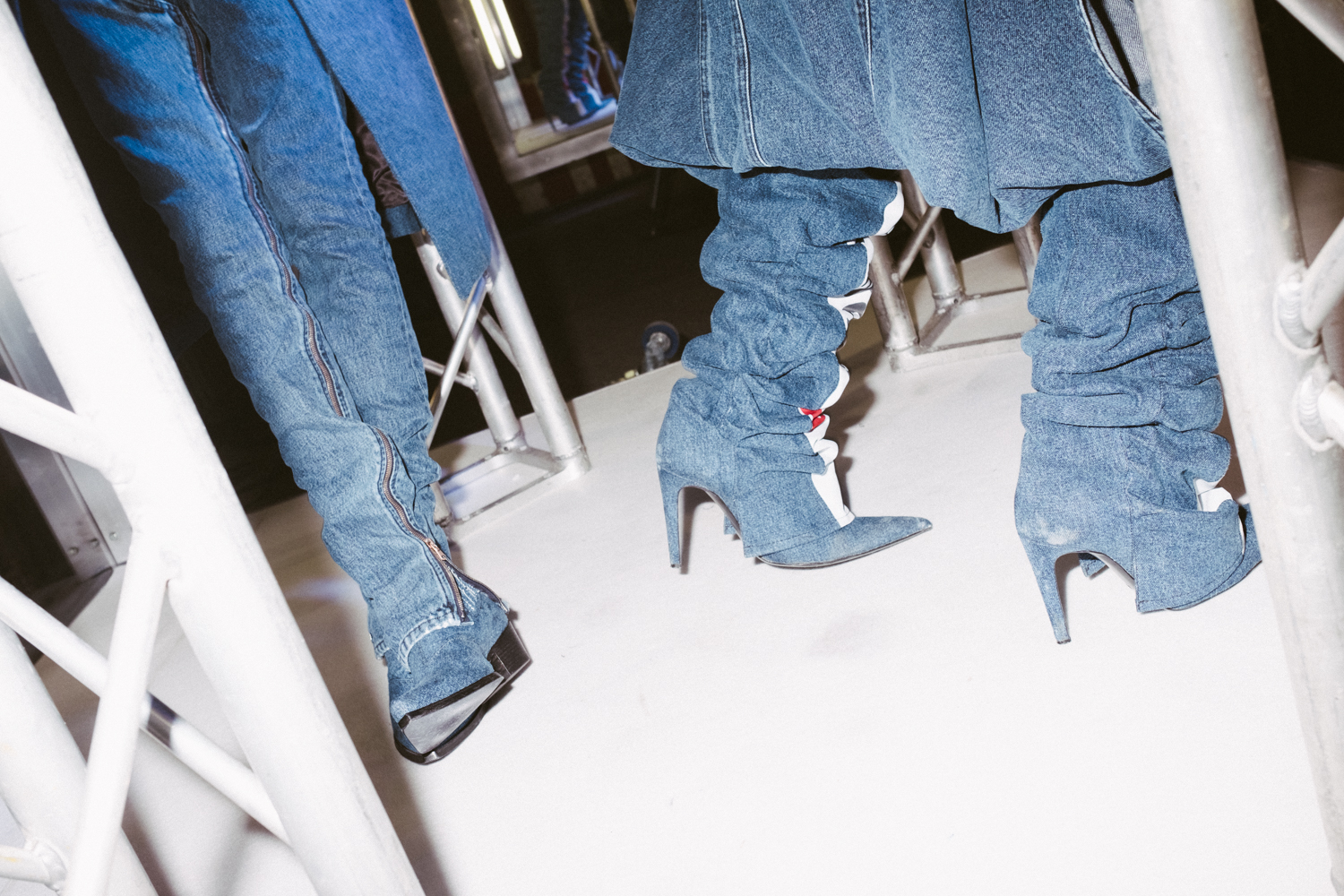 What about runway shows? Do they still hold the same power?
I don't think the feeling of seeing someone walk down the runway is as emotive as it used to be. Whereas maybe when you see someone in a moving box, or they're walking around you, you're catching the silhouette… For me, all my greatest fashion moments are when I meet other people in fashion and they look really good. That's sort of what the public has missed about fashion. That it's about the interaction and what that means in public. When you see someone actually in the look, it's a spectacle. It's something that you want to see and buy.
No one wants to buy anything on the runway anymore because they're so used to seeing droves of girls and boys walking down the runway. You don't get the emotion anymore. It's about figuring out the language — a new language, and that's sort of what I'm doing. I'm playing around with corporate ideas in a corporate setting. Everyone should relax a little bit. I think things should be taken seriously, but it's more about just relaxing and understanding why we're here. Are we here for a bunch of girls and boys marching down runways? Or are we here because there's something more to be said about the narrative of clothing and people that's not being spoken about a lot?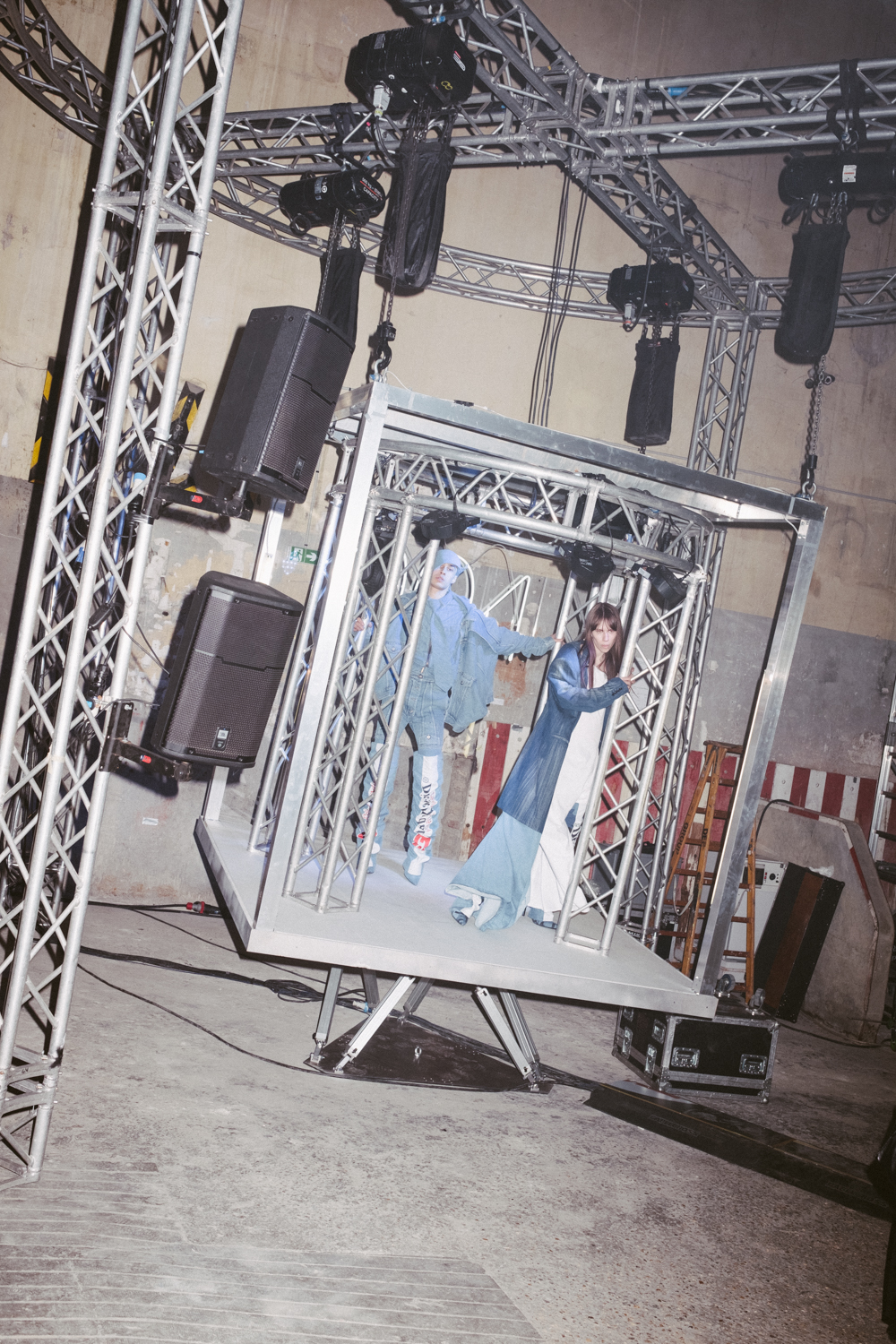 What's the narrative of your latest work?
I think the narrative is being interactive. The idea of slight movement could be sensual and attractive. The idea of seeing how someone's back moves. I feel like since I grew up in nightclubs, I know when someone is moving around in the room. That's when I know a silhouette is good. I don't relate to it by seeing it on a runway, I relate to it by seeing it on a person turning around and looking good. It's my language of how I like to see fashion presented.
You've been a guest designer at two major fashion houses now. Do you think that's the direction that fashion is going in now?
Maybe! It's hard to master things at the pace the market is at. You need someone who has had years of experience with these categories. And it's good to take that and evolve it into a new thing. I don't think there's any shame in that. I don't know if it's new or not, it just feels great. The world is changing. Why would I come out with more and more collections that don't need to be seen? That's what makes collaborations important to me. Because that person has already mastered that. Let me dig into that. Let me ask that person, "Can I get into your archive?" Let me experiment with what you do.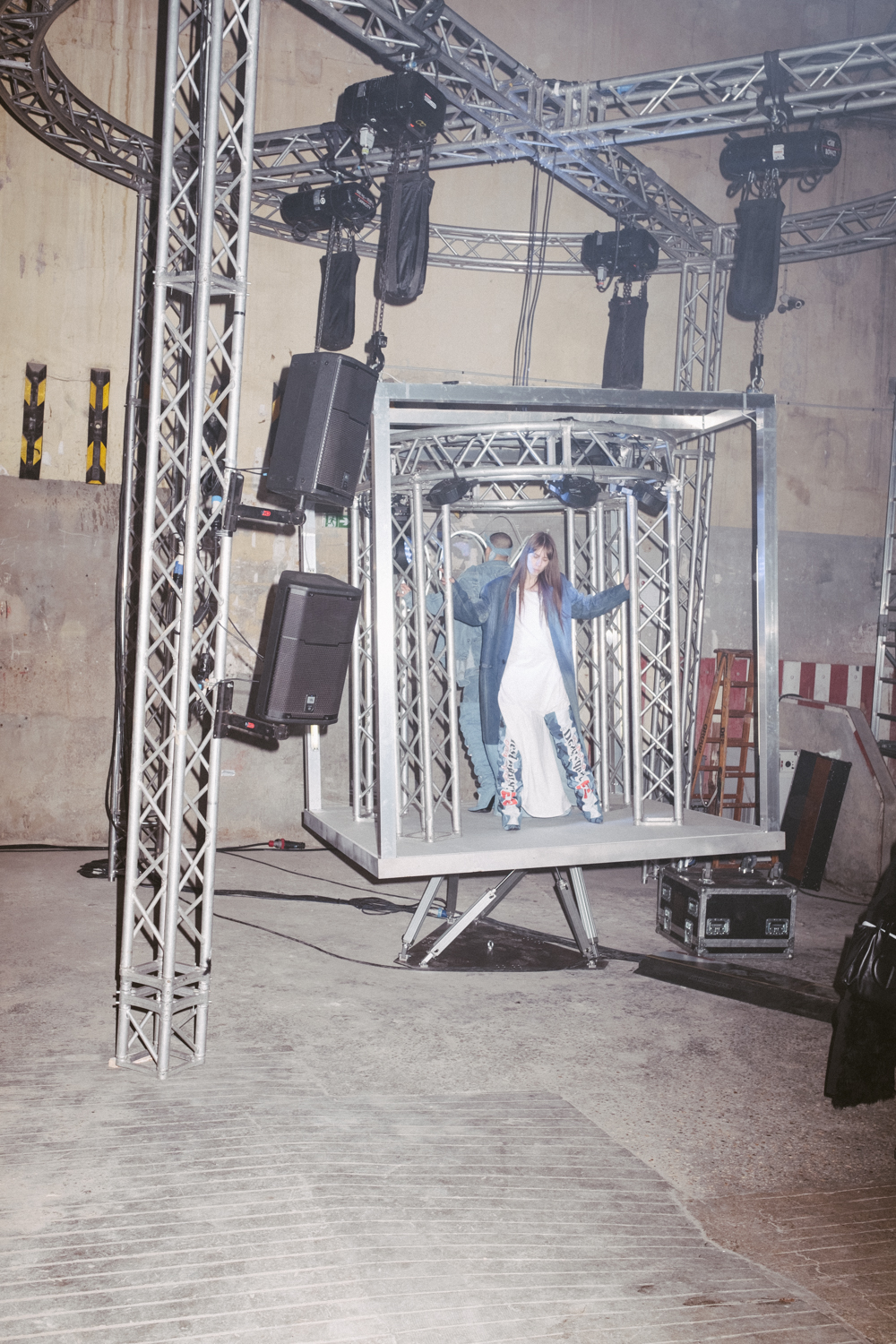 What's the future of Hood by Air? Will the label make a return?
It's a family, and it's going to be a family forever. Essentially, the Hood by Air family is credited as the ones that made this event. They did all the creative direction and things like that. So, Hood by Air is still there. It's a collective, and there will be more work.