anja rubik speaks out about human rights in poland
"Before, we were just pretty faces on the covers of magazines. Now we can say what we think, what we like, what we're passionate about."
|
19 February 2018, 12:46pm
This article originally appeared in The Radical Issue, no. 350, Spring 2018.
What does it mean to be a model? i-D has always believed in the power of speaking out. Today, the voices of models are more vital than ever. Here, Cameron Russell, Adwoa Aboah, Dara Allen, Christy Turlington, Anja Rubik, Hanne Gaby Odiele, Teddy Quinlivan, Paloma Elsesser, Liya Kebede, and Doutzen Kroes champion their passions, causes, fights, and beliefs.
"Abortion in Poland is illegal, and they want to make it stricter, so under no circumstances can you have an abortion, even if you were raped, or the pregnancy is endangering your life. I realized that in countries where sex education is solid there's fewer abortions and fewer deaths from women trying to have abortions. So I looked into the school system in Poland. The only sex education at school is called 'Learning How to Live Within'. It says that if you're a different sexual orientation, that's an illness. It doesn't even address STDs. Now, with social media, suddenly models have a voice. Before we were just pretty faces on the covers of magazines. Now we can say what we think, what we like, what we're passionate about. People look at the fashion industry because we're so glittery and fun. When we have their attention, that's the moment to say something that really has meaning.
In Poland, sex is still very taboo, even with adults. So I decided to do a campaign on social media with people that are respected in Poland in different fields — art, cinema, fashion, sports — to get Polish people to talk about sex. It became very successful, each film was seen over a million times. I got tons of letters from people of all different ages, from teenagers that said that they played those videos to their parents and now have completely different relationships with them.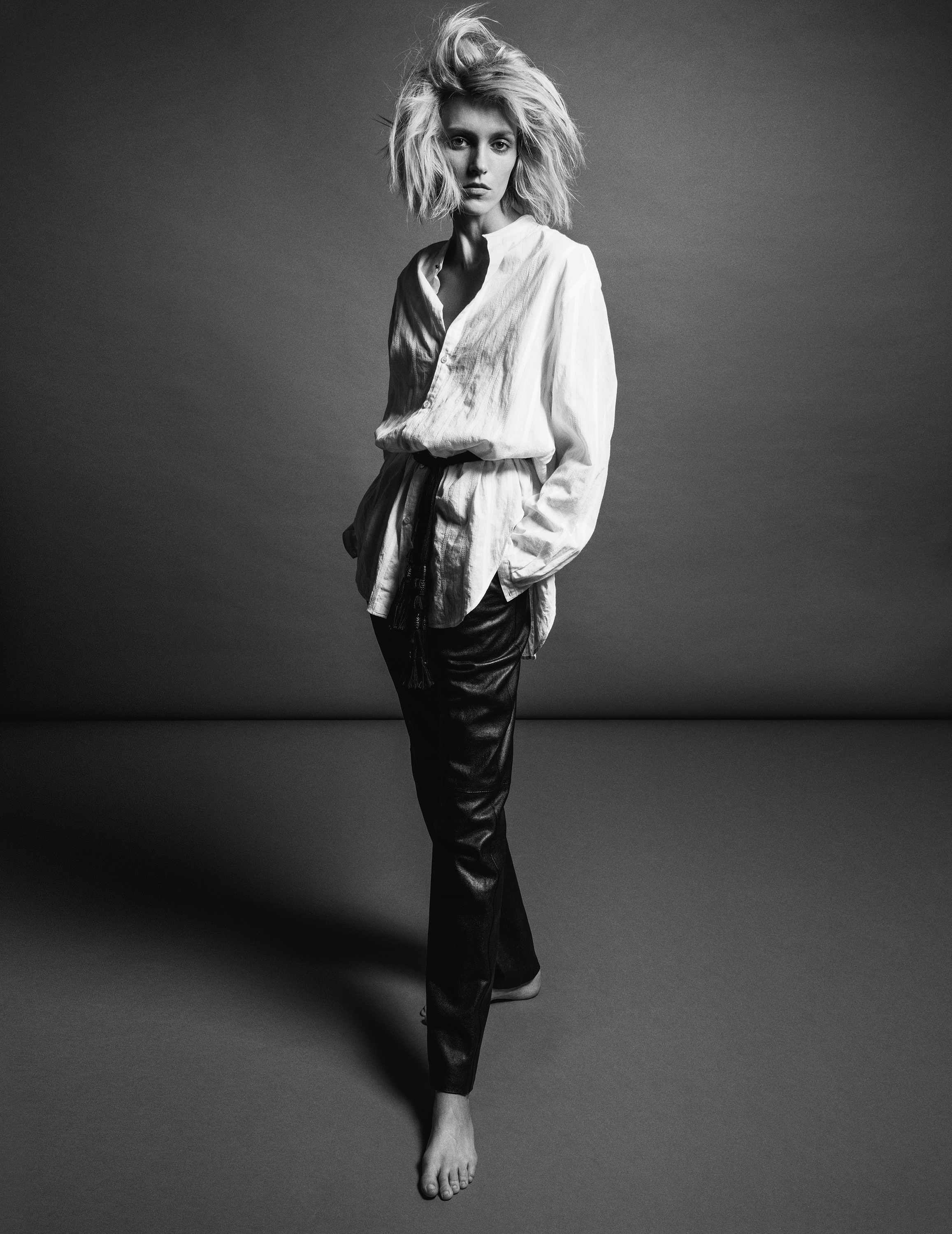 Then I got letters from kids that were describing their sex education at school — the teachers are often priests so a lot of the information passed on is not correct. I got letters from mature woman that knew that their kids were gay, but they've never spoken about it, and these films motivated them to start a conversation. It was really, really beautiful. Then we had half a million people walk on the streets to protest against making the abortion law stricter. That got me on the covers of Polish political newspapers as enemy number one of the current government. They said 'If you're a true patriot, you will not like Anja Rubik.'"
I think a lot of what the good that the brands in fashion are doing is on the surface. It's not deep. It's just a slogan, a sentence, a thing that sounds trendy. I think they have to act more than just make it cool. But modeling is still an incredible profession. It gives you the opportunity to travel, to learn so much, spend time with hugely knowledgeable or creative people. Your eyes are open. You have a wider understanding of the world. It is quite incredible — if you're strong enough to deal with the ups and downs. But it's also hard in this industry. You're in one season, you're out one season. When you think about it logically, it's normal because people want to rotate. They want to be inspired. But it's hard not to take it personally because it's such a personal profession."
Credits
---
Photography Inez & Vinoodh
Fashion director Alastair McKimm
Hair Christiaan. Makeup Kabuki at Kabuki Magic using M.A.C Cosmetics. Nail technician Daria Hardeman at Starworks using Deborah Lippmann. Lighting director Jodokus Driessen. Digital technician Brian Anderson. Photography assistance Joe Hume. Studio manager Marc Kroop. Styling assistance Maggie Foster, Desiree Adejde and Umi Jiang. Hair assistance Taku. Make-up assistance Yumi Kaizuka, Michael Chua and Satsuki Soma. Nail assistance Gladys Castillo. Production Tucker Bibilis at VLM Productions. Executive production Stephanie Bargas at VLM Productions. Production co-ordination Eva Harte at VLM Productions. Production assistance John Nadnazi and Michelle Murray. Casting director Samuel Ellis Scheinman for DMCASTING. Models Christy Turlington at BMC. Liya Kebede at IMG. Cameron Russell at The Lions. Doutzen Kroes, Anja Rubik and Adwoa Aboah at DNA. Teddy Quinlivan and Hanne Gaby at Women. Paloma Elsesser at Muse. Dara Allen at Heroes. These interviews have been condensed and edited.
This article originally appeared on i-D UK.