marina abramović is selling macarons that taste like her
Made in collaboration with an experimental dessert brand, the sweets are a performance art piece.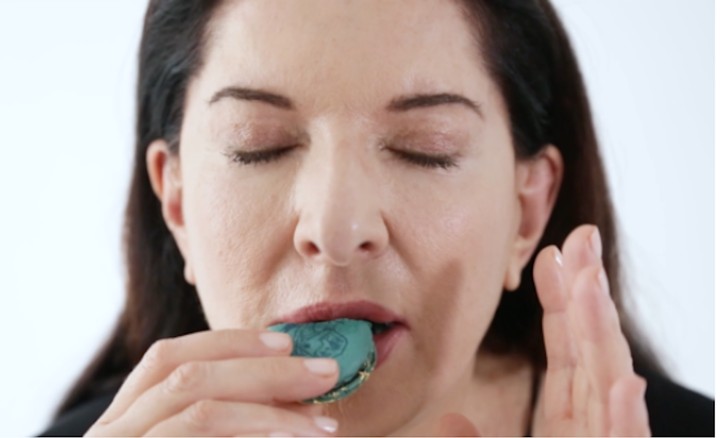 Marina Abramovic. Photographie : avec l'autorisation de Kreemart, ©2017.
Marina Abramović has staged an impressive number of seminal art pieces during her decades-spanning career. She sat still in a museum for six hours and let people do whatever they wanted to her body, walked the length of the Great Wall of China, and performed a nail-biting trust experiment involving a bow and arrow. Her latest artistic exploration of the limits of the body? Selling macarons.
Marina has teamed up with luxury desert brand/experimental collaborative project Kreëmart to release macarons that "taste like her," as originally reported by ArtNet. But this isn't just another celebrity-brand partnership. Honestly. Marina really wants us to eat her. She dug through her heritage and upbringing to create macarons that perfectly embody all the elements that makes up her body and life.
"My grandmother, early morning, making coffee," Marina explained in a video that played at the macarons' release event at Art Frieze London. "The smell of coffee was everywhere in the house. Then I remember the smells of fresh basil, thyme, cardamom seeds, and exotic smells from the trips I took later on and remember exploring volcanoes and waterfalls and remember this feeling in the early morning when I see the line of the sea just meet the ocean, and ocean meet the sky. All of this, in this macaron of me."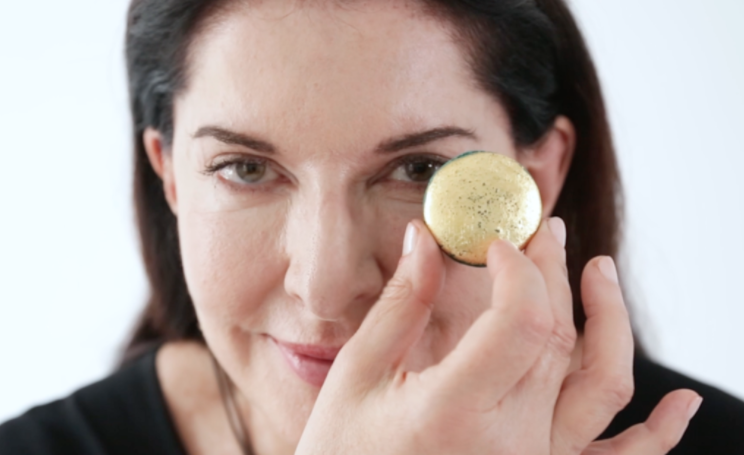 "My work is most of the time immaterial because performance art is immaterial, it is conceptual and limited by time," Marina said in a statement about the unique project. "Kreëmart's work in the medium of sugar is completely immaterial too, because you consume it, you eat it, and it's gone. What is left behind is the memory of what you eat."
ArtNet describes the macarons as having a distinctive, punchy taste, saying, "much like the artist herself, [they] aren't for everybody."
Marina's macarons come as part of a larger, ongoing art project Kreëmart has been running — it's created abstract, meaning-filled desserts with artists like Maurizio Cattelan, Rirkrit Tiravanija, Vik Muniz, Terence Koh, Kalup Linzy, Anselm Reyle, and Richard Tuttle. For his artistic dessert, Maurizio created a colorful "cigarette cake" (no, it didn't taste like ash) that "provokes and questions femininity by reintroducing the concept of the cigarette as a fashionable accessory."
Right now, the macarons are only available at Harrods for a week before moving on to Paris for the FIAC Art Fair. Marina and Kreëmart teased plans to release the macarons in various cities across the world, including LA, Miami, Tokyo, Milan, and New York — so, thankfully, everyone will get to have a taste of Marina.