Junya Watanbe primavera/estate 2018. Fotografia Mitchell Sams.
the 10 wildest beauty moments from fashion month
From vampire-inspired "blood-stained" mouths to metal mohawks.
Junya Watanbe primavera/estate 2018. Fotografia Mitchell Sams.
Famed beauty/addiction writer Cat Marnell once penned a moving essay about depression and sleeping through the supposed glamour of New York Fashion Week. In a tangent, she gestured to the fact that similar looks are declared in style every year. There will always be someone who does bold brows, a minimalist "naked" face, wine lipstick, cat eyes. They're beyond proven to look good, and doesn't the art of makeup revolve around helping people look and feel beautiful? A Kevyn Aucoin-style embrace of sheer beauty will always be in style.
But there's also a thrill that comes with a makeup artist embracing the weird, with "beauty" that has nothing to do with being flattering. In a fashion season that largely veered towards the commercial, it's refreshing to see looks that are closer to a John Carpenter creation than a mascara ad. Beauty can be exploratory, it can be weird, and at a runway show, it doesn't necessarily have to be saleable. Some of the best beauty looks from this fashion month were really lovely, and some were Lynchian and strange. Here are our favorites.
The diamond eyes at Dries Van Noten
Famed makeup artist Peter Philips created a clean, fresh face with one unbelievably glamorous detail: he framed models' eyes with Swarovski crystals. It was basically crystal eyeliner, and it was fabulous on a Zsa Zsa Gabor level. A few models' received tiny lip jewels as well. Van Noten, a longtime sparkle aficionado created a spring collection that was rife with crystals — there glistened on embellished sheer dresses, jacket fastenings, thin whispers of belts — and Philips's looks were a refined complement to the clothes.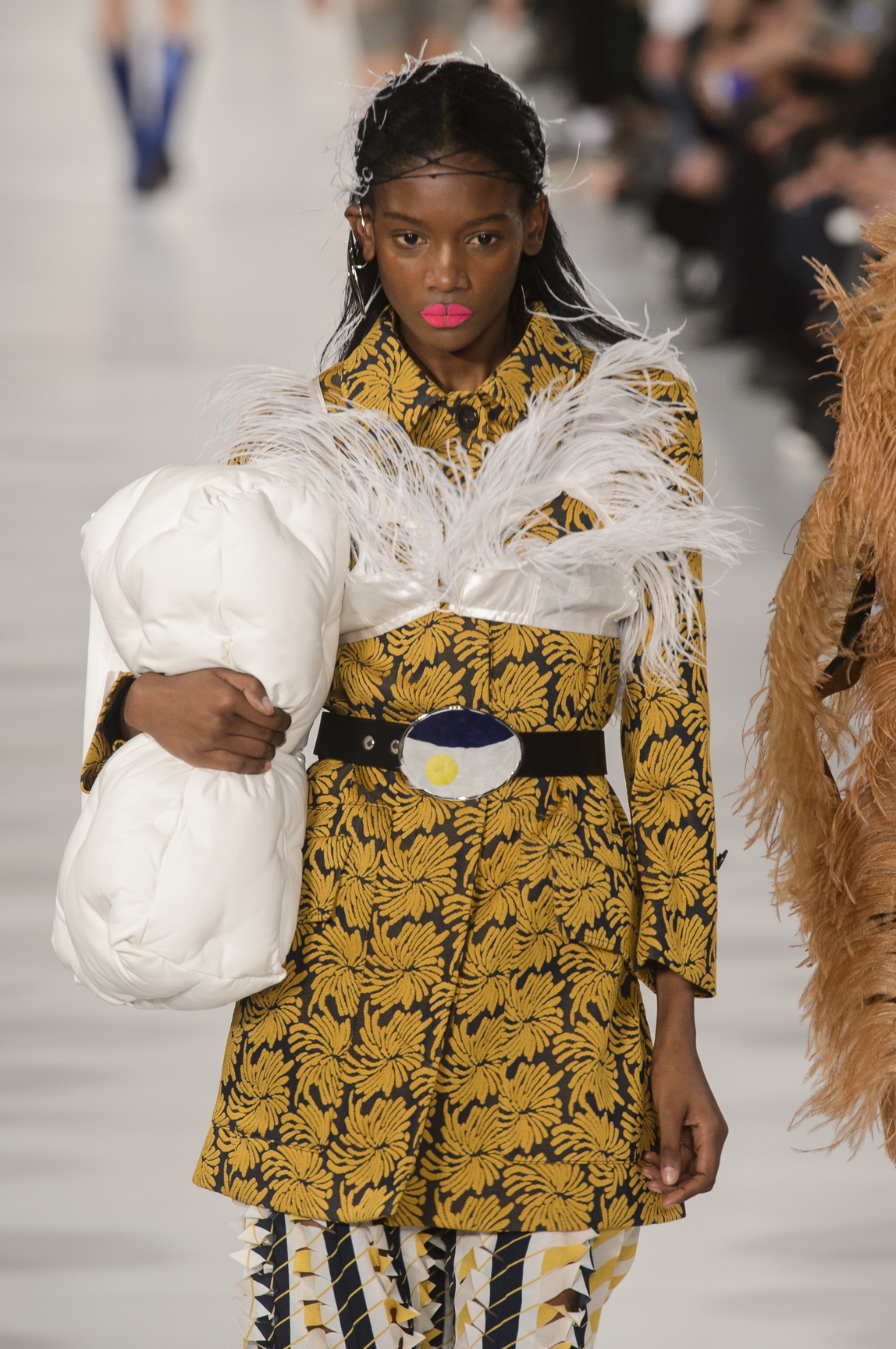 Maison Margiela's bubblegum heart-shaped lips
At Margiela, beauty G.O.A.T. Pat McGrath made skin gleam, enhanced with Skin Fetish, the highlighter from her eponymous beauty line. She created a geometric, bright pink lip using her Lust: Matt Trance lipstick, which was released recently to rave reviews. And the hair, by Eugene Souleiman, was a floaty dream woven through with feathers. It felt like something Marie Antoinette might wear if she wanted a moment away from her famously back-breaking wigs.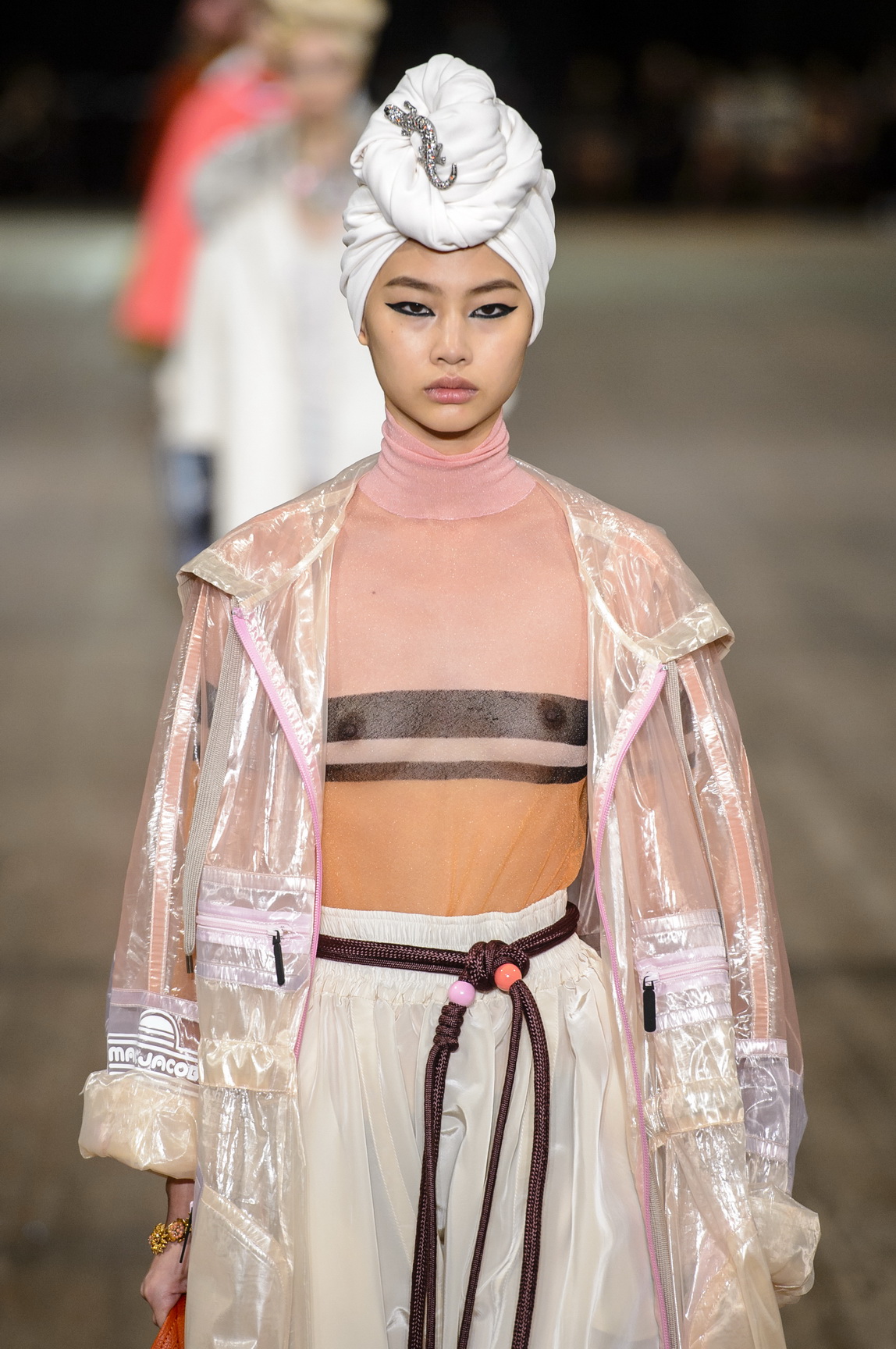 Marc Jacobs's endless variations on the cat eye
For Marc Jacobs, Diane Kendal created a cat eye. It made sense for Jacobs's glamorous collection, which was all about classic glamour. But Kendal innovated. She and her team created eight different versions of a cat eye, creating different looks based on the models' natural eye shape. There were cat eyes drawn straight across, cat eyes with brackets, oblong cat eyes, cat eyes that stretched out to the models' temples. According to The Cut, each eye took nearly 30 minutes to create.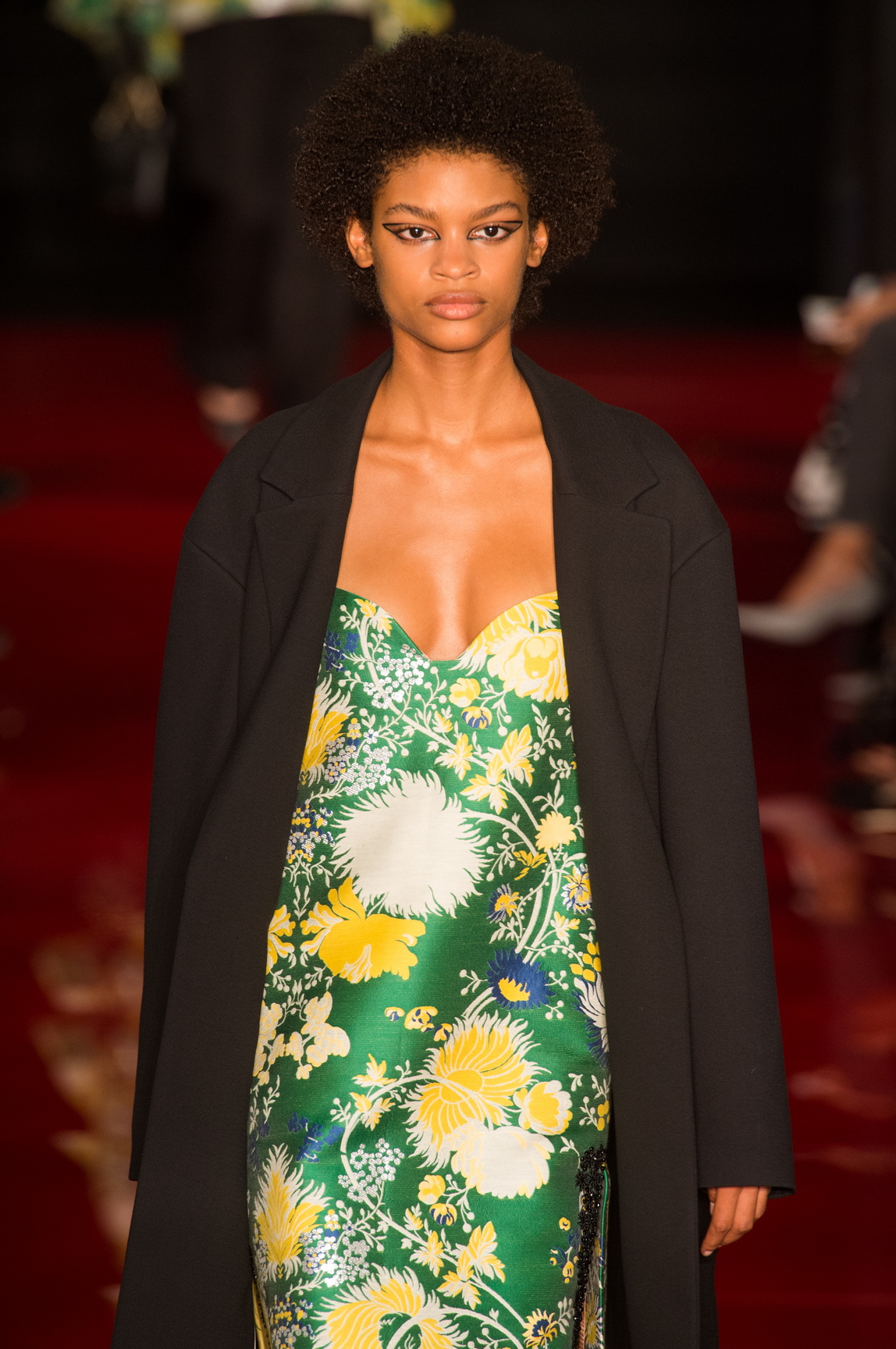 The elegant use of negative space at Rochas
The beauty look at Rochas was genius in its simplicity: makeup artist Lucia Pieroni drew an outline of a big 1960s eye that was both subtle and incredibly eye-catching (pun semi-intended). It's unique and easy to replicate at home.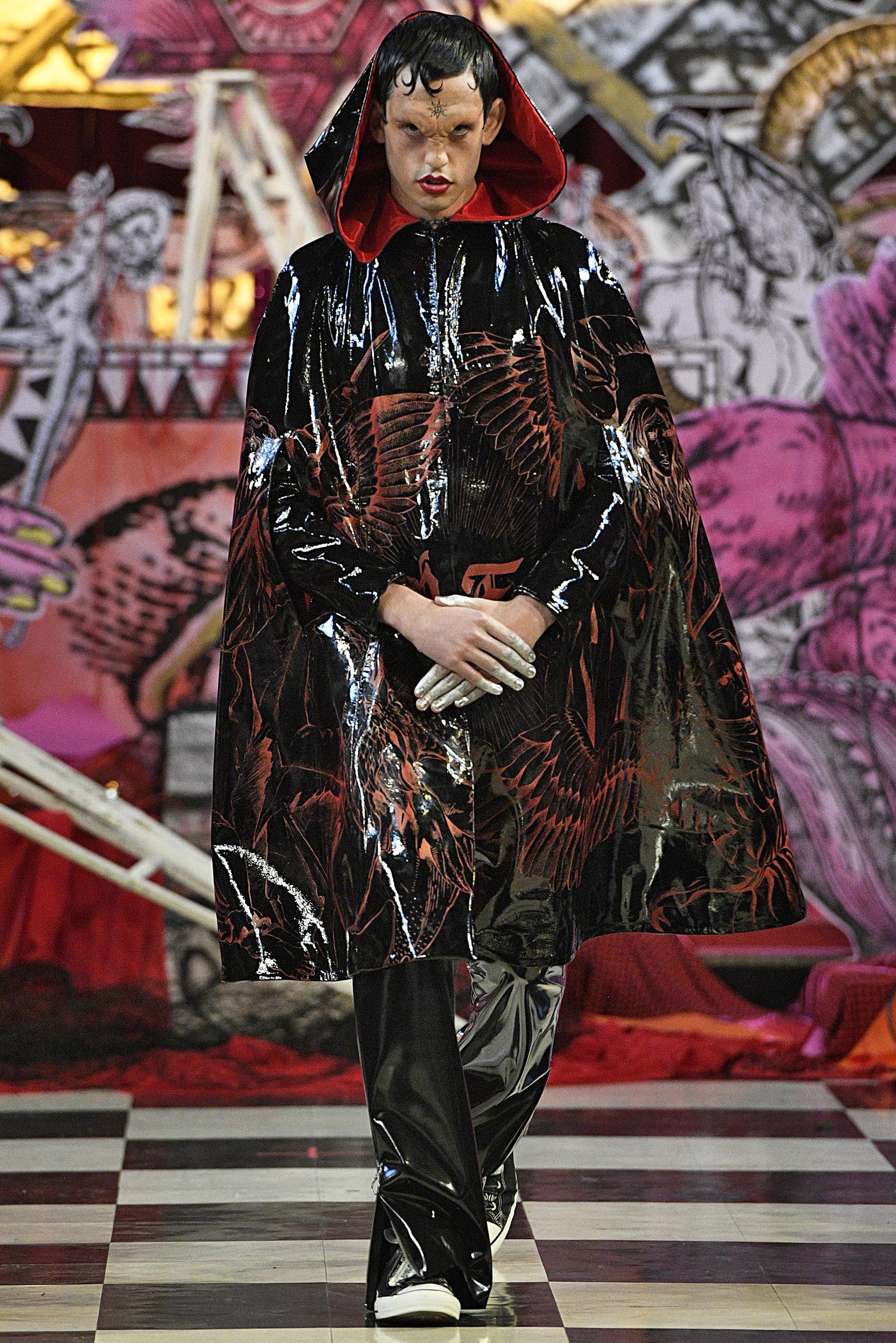 Dilara Findikoglu's ode to vampires
The Church of Satan kind of rules — it even stands up for reproductive rights! — and Isamaya Ffrench evoked its fire-and-brimstone vibes for Dilara Findikoglu's show during London Fashion Week. Lily McMenamy's face was turned into a pentagram, and the look here, seen on performance artist Sussi Sussman, screams vampire from Buffy (the scrunched forehead!). The red lips could very well be from drinking blood and whatnot, you never know.
The glittering lids at Jour/Né
Putting a disco ball on your face, as done by makeup artist Lyne Desnoyers, is never a bad idea. Where are Chloë Sevigny and Kate Beckinsale when you need them? Jour/Né designers Lou Menais, Léa Sebban, and Jerry Journo collaborated with Coca-Cola on a fifteen-piece capsule collection this season, which perhaps influenced the makeup — the eyes felt almost fizzy.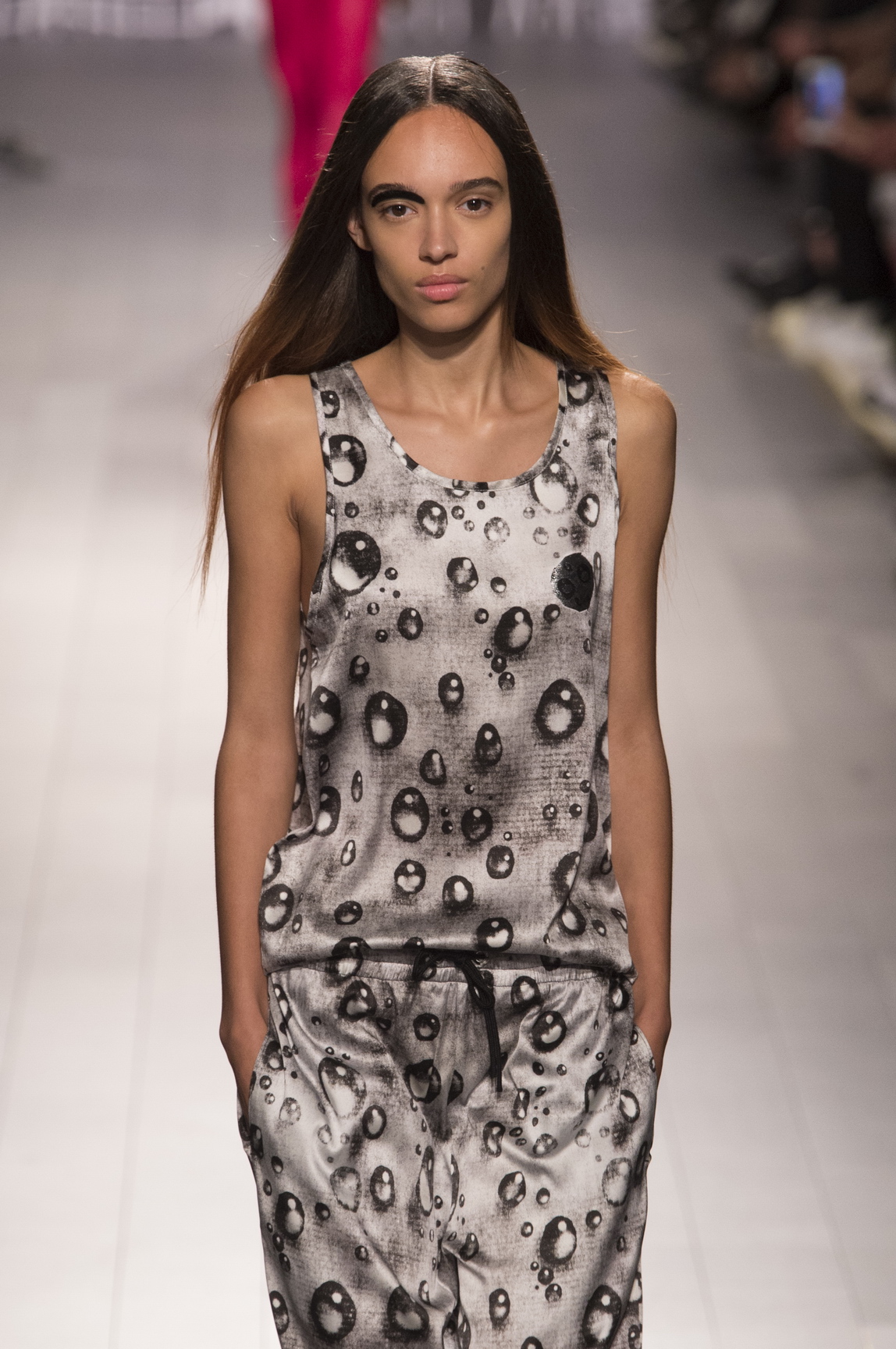 Rochambeau's punchy graphic strokes
Erin Parsons' dramatic looks for Rochambeau involved sculptural dashes of black eyeliner; this one kind of reminds us of one of those sauce swishes that they do on Top Chef. Her minimalist work was paired with garments printed with black and white water droplets created in collaboration with the artist Aaron Curry, with striking results.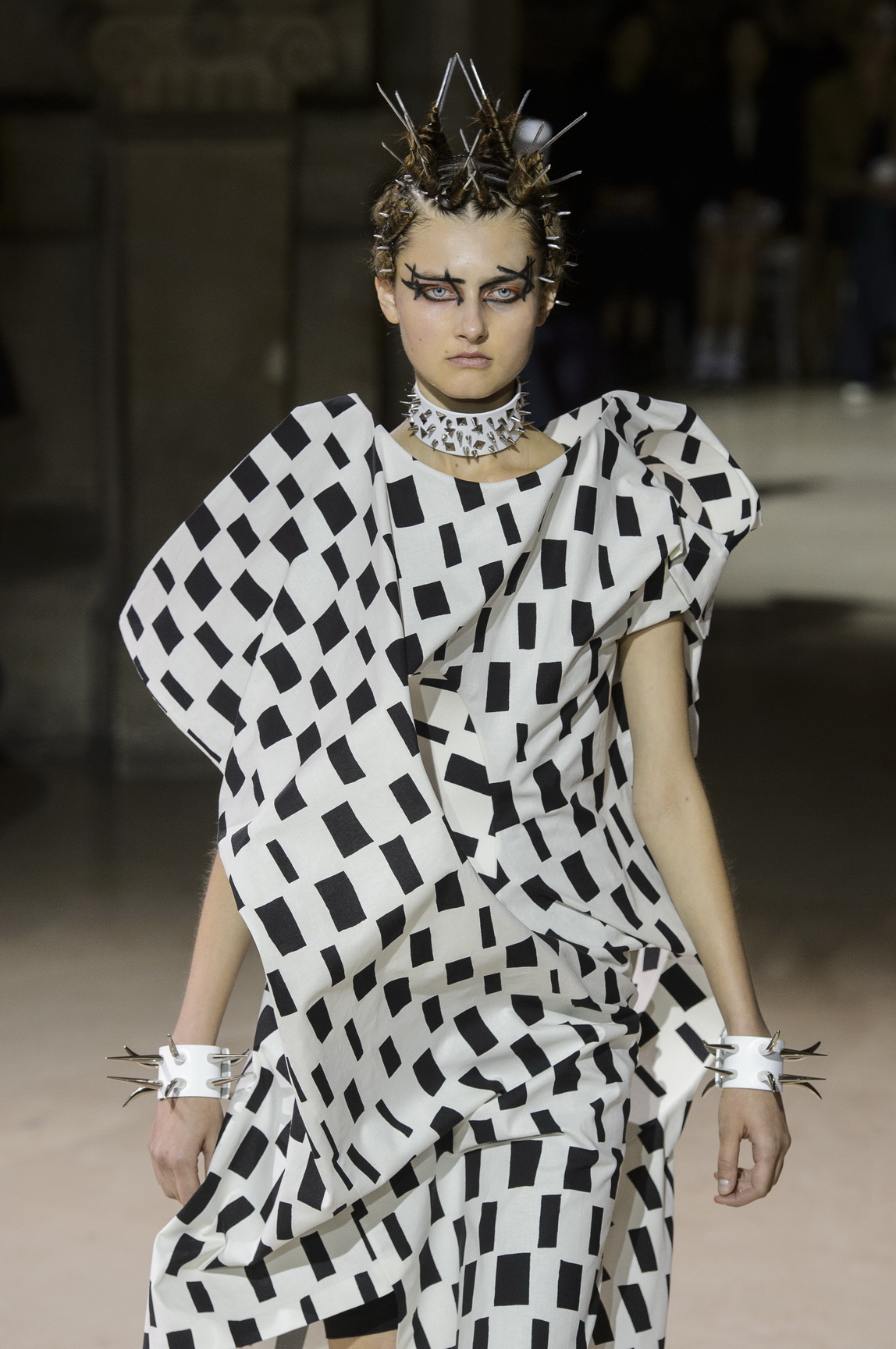 Punk 2.0 at Junya Watanabe
Junya Watanabe shows in Paris, but the hair and makeup on his spring/summer 18 runway was pure London punk. Hairstylist Katsuya Kamo created twisted mohawks topped with spikes that were ready for a night at the Roxy in the late 70s. Makeup wunderkind Isamaya Ffrench drew jagged lines over the models' eyes that felt nearly three-dimensional. Smash it up.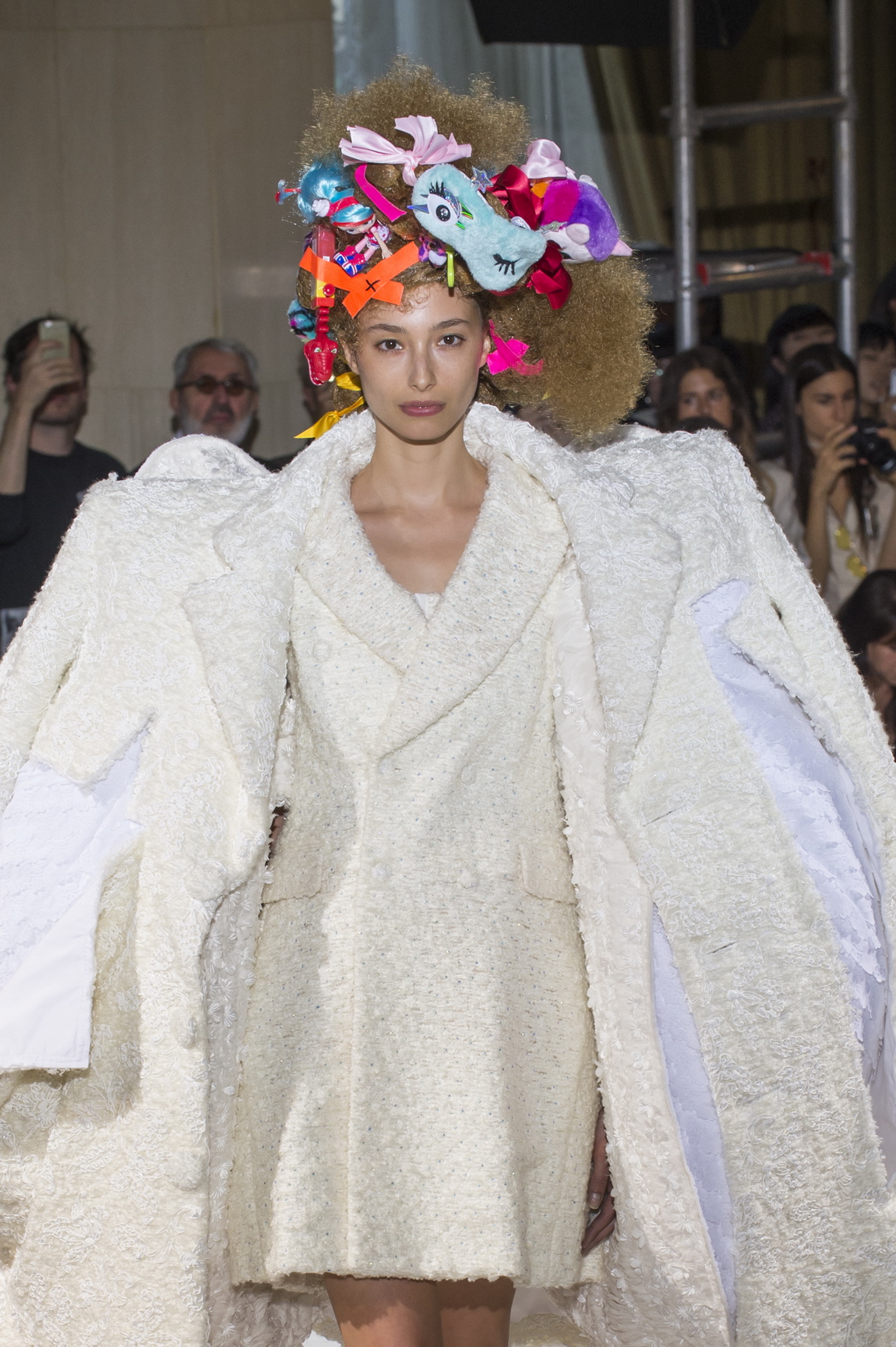 The Renaissance-Harajuku mashup at Comme des Garçons
Julien d'Ys, perhaps the world's most legendary "hair artist," has worked with Rei Kawakubo since the early 1980s. They've made magic together many times, but this season's Comme des Garçons show felt especially fantastical. The collection referenced several art works, including Italian Renaissance painter Giuseppe Arcimboldo's Vertumnus (A.K.A. the one where the dude's face is made out of vegetables) and the garments included giant panniers and hoops. Accordingly, d'Ys's hair creations felt like something from a bygone royal court — but one that had been lifted into contemporary Japan (see: the plush toys and trinkets that decorated some dos). Enormous puffs and braids stood straight up, leading Washington Post fashion critic Robin Givhan to aptly describe the looks as "variations on an 18th-century high-top fade."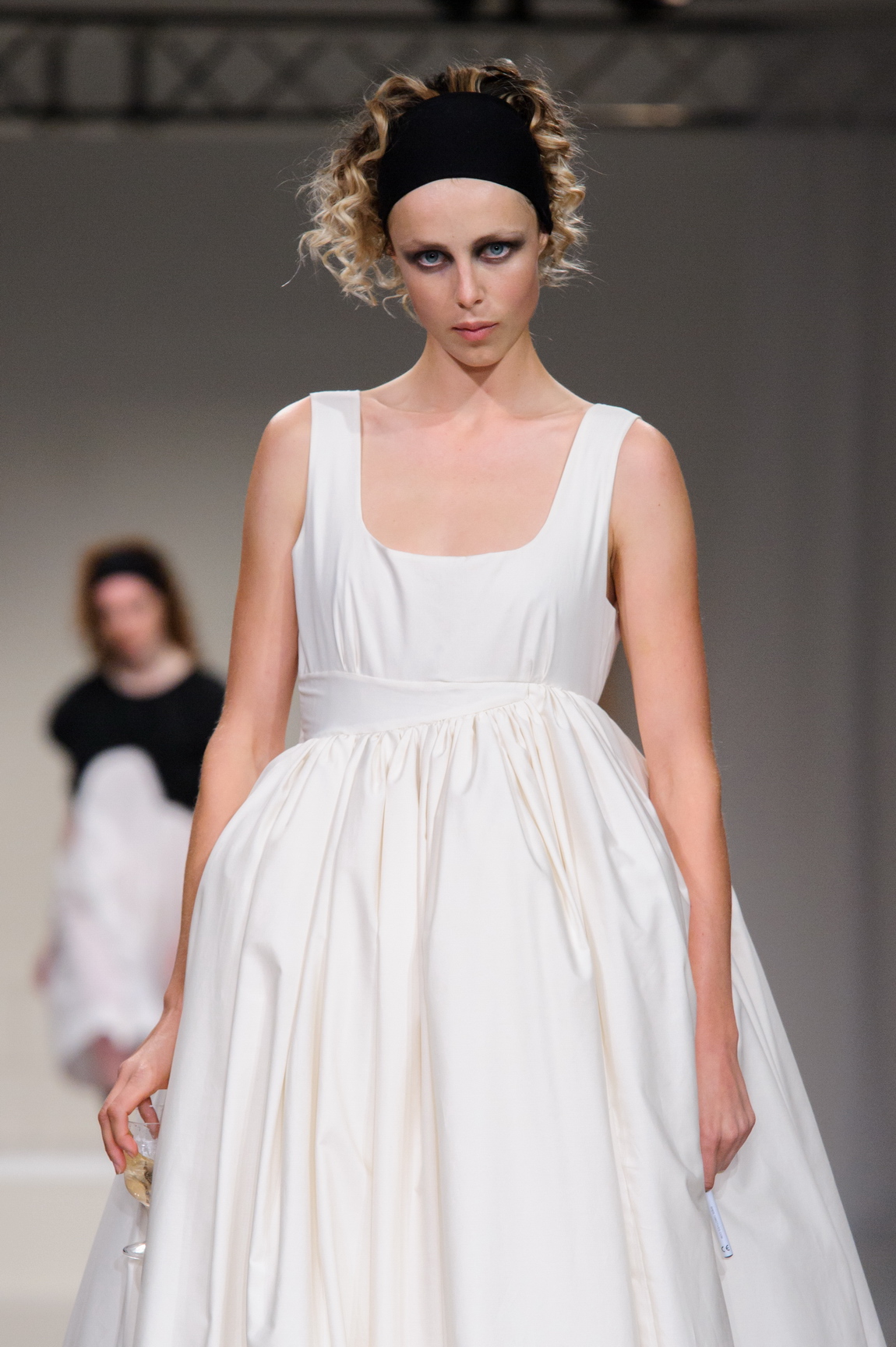 The artful hangover eyes at Molly Goddard
Molly Goddard's show was inspired by a fun-loving girl at a gallery opening (Parker Posey's Mary from Party Girl would have loved it). The dark eye makeup seemed slept in, and the mood was reminiscent of an heiress waking up in her makeup after some debaucherous hotel party. The models even drank champagne on the catwalk.