what it's like to follow lady gaga with a camera for a year
Through her sickness and celebration, filmmaker Chris Moukarbel has made an eye-opening documentary about the planet's most iconic pop star.
|
20 September 2017, 8:20am
Perhaps it's a cliche to call fly-on-the-wall documentaries about the lives of famous people 'intimate', but when I speak to the director of Gaga: Five Foot Two – a new, Netflix-premiering film that follows the life and creative process of pop queen and actress Lady Gaga – we agree that there's no better word to describe it.
Over the course of a year, one that started with the writing sessions for her fourth studio effort Joanne and ended with her now famous Super Bowl performance, documentary filmmaker Chris Moukarbel was there to capture an eye-opening era in Gaga's life: one in which she shed her glittery regalia to reveal a raw, emotional honesty instead.
By now, we all know about how Lady Gaga, the artist, came to be, but few of us have had the opportunity to humanise the woman behind the stratospheric fame. As Chris sits in on her gruelling treatments for chronic pain and captures her sifting through old family relics in her grandmother's kitchen, Five Foot Two manages to do something rare with an enigma like Gaga. Here, she's portrayed as a woman first; her celebrity status comes second.
To get an idea of what it was like to spend so much time with one of our generation's most famous popstars, we called Chris to discuss his preconceptions of Gaga, what was off limits, and why she refused to watch the film before its very first public screening.
Congrats on the documentary, Chris! What do you think it is about Gaga's career that fascinates so many people?
Thanks! [When Gaga first came out], it seemed so unlikely that she would become a pop star. Her face and silhouette were often obscured, and she wasn't trading in her sexuality in a way that's expected of female artists; it was all about the music and her projects. We really hadn't seen looks like hers since the Club Kid era in the 90s, so for her to enter into the pop space was so unexpected and refreshing. Gaga's evolution kept [everybody] interested!
Did you have any preconceptions of what she might be like before the cameras started rolling?
[Mine] were the same as a lot of other people's. You might think that Gaga is off the wall, a diva or difficult, but she couldn't have been more down to earth. I think that's the thing that you're struck by when you're with her: she's very modest and insecure about things you wouldn't expect her to be. She looks to the people around her for approval, not in an embarrassed way, [just because] it's hard for her to have perspective on anything she does now.
Gaga didn't see the documentary until it premiered at Toronto Film Festival. Was that a nerve wracking experience?
She had seen parts of it and knew she wouldn't be able to be objective about herself and so chose not to watch [the final cut]. She trusted her friends and knew what was in it, because she was there! But she gratefully held off on watching it, partly because I think she knew that [seeing it beforehand] would maybe undermine the power of the film. I had to sit near her at the premiere and watch her watching it! I wanted to peel my skin off but it was great. She was emotional, obviously, but she really got it and was happy about it.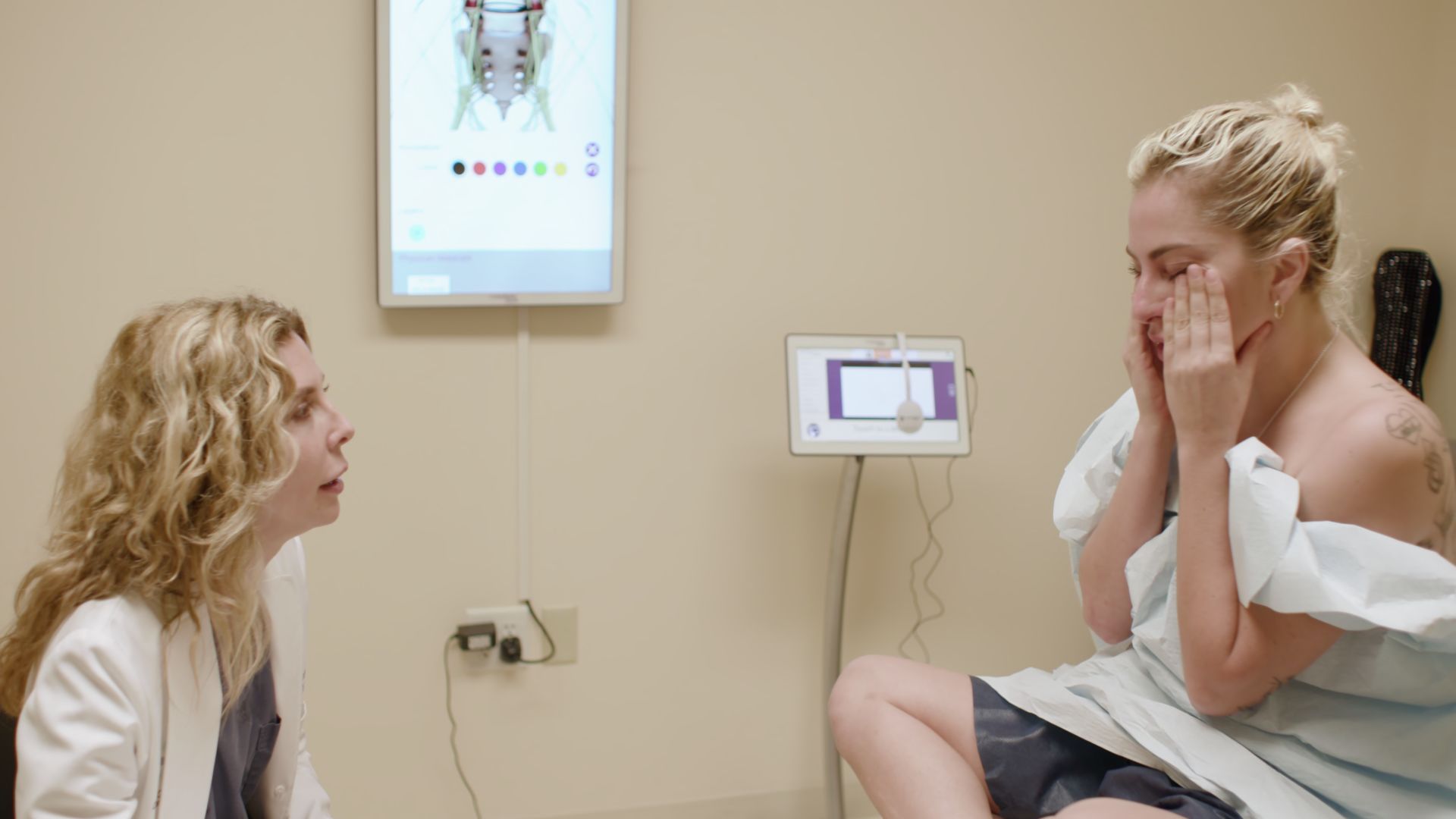 It's paid off well, anyway! What was the most challenging aspect of making a film about such a prolific public figure?
Everybody seems to have a relationship with Gaga, so it's never like I'm discovering that person and bringing them to the world. You're working against a lot of presumptions. I don't mind that, because it's what draws me to [people like her], but it's definitely part of the challenge. You say you're making a movie about this and people eye roll, because they feel like they already know the story, but when I'm done, it's always the same reaction: people say "Oh, I had no idea!", and I like that.
There's something so touching about the film, particularly the scene in which Gaga stops by her grandmother's house to let her hear the song Joanne [about her late aunt, who died of Lupus over 40 years ago] for the first time. What was it like to capture such tender, family moments as an outsider?
It was unexpected! Those are the scenes that you can never plan. We were driving to the airport and [Gaga] decided she wanted to visit her grandmother. Obviously, I thought it was a great idea and I was happy to be there to shoot it. It was just me, the camera, Gaga and her father. It became such an important window into her world, and [as a filmmaker], I just had to go with the flow!
How did you wind up spending so long with her, and become involved in those moments?
I shot most of the film myself, which I didn't plan to. I had a crew that meant I could bring other people in for the bigger scenes like the Super Bowl, but because so much of her life was so intimate, she didn't necessarily want to have cameras around. Many of the times she canceled, [it was] because she didn't want to have so much disruption. I'd have to [find a way] to make it in with just me and the camera!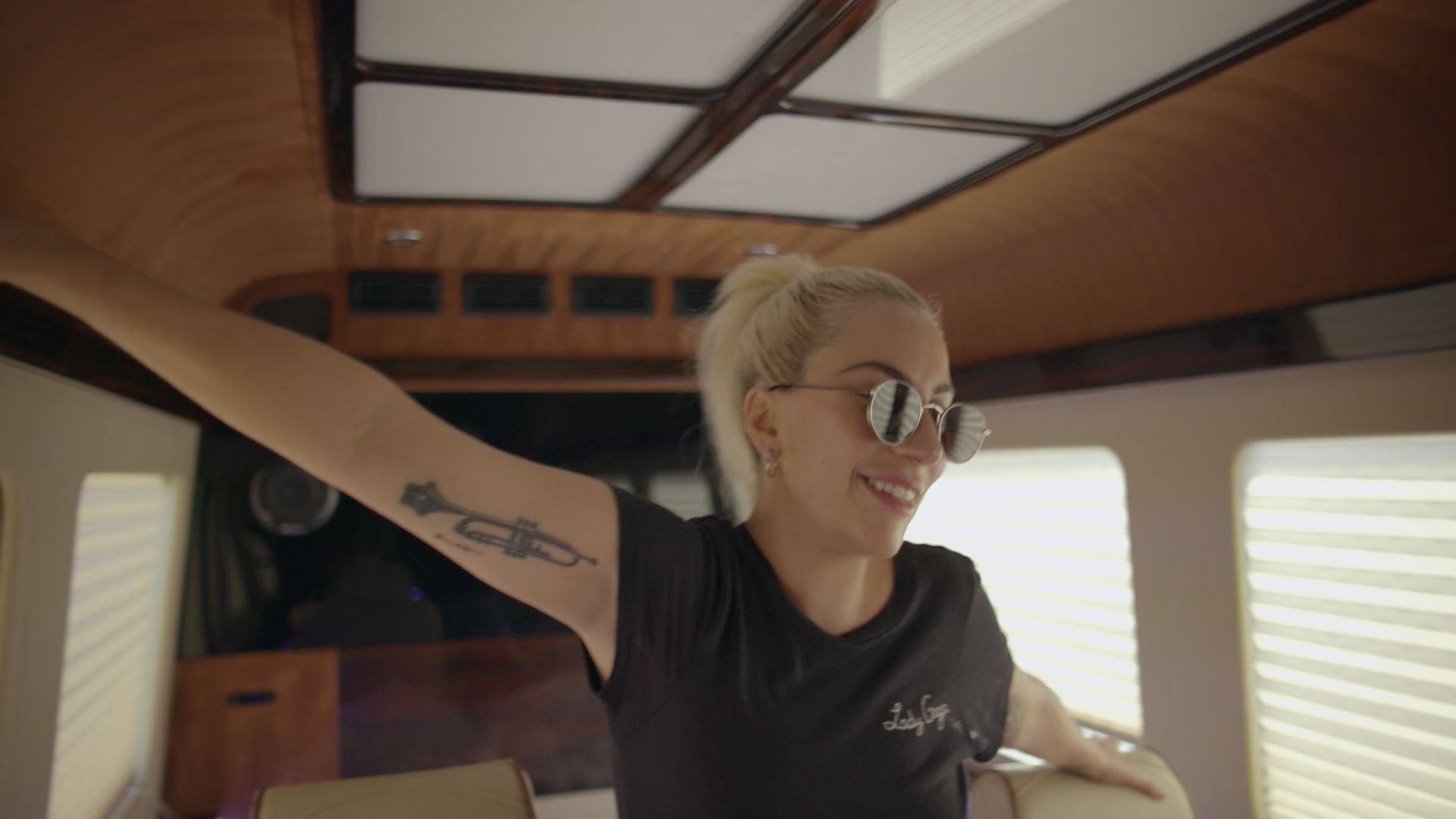 Gaga is the only person who actually acknowledges the camera throughout the film. Was this a conscious decision, to have her be the only person telling her story?
I knew early on that I wanted to keep it verité. There's a tradition with documentaries about famous people in which you sit there and interview all of the people around them. I didn't care about having her manager tell me how hard she works – it wasn't that interesting to me. I was trying to keep it as close to her as if you're experiencing the world that she experiences, and not have it defined by her entourage, family or fans.
The title of the film is so simple and evocative. Was it your decision to call it that?
Yep, the title came from me. I was really torn and had a lot of different titles I was trying on for a long time. They were always tied to her reputation or her body of work; many had 'monster' in them, but the truth is that she isn't in the 'monster' phase of her career at the moment. [ Five Foot Two] is one I kept on coming back to. Part of what I like about it is that it immediately signals to the audience is that this film explores the expectations placed on her body, and the limitations of it too. I felt like flatly describing her height was a way of getting the audience there before they had even seen it.
I guess you must be glad that this is the era of her life that you wound up capturing, right?
I guess so! It was sort of a random time, but so much happened in the past year; we hadn't planned that all of these things would take place. She was just writing music for a new record, and the Super Bowl wasn't even on the horizon. It was transitional; like everything was meant to be.
Gaga: Five Foot Two is released 22 September on Netflix