Photography Catherine Opie
one afternoon of errands with michèle lamy
The fashion and art-world icon is a magical presence, whether taking care of business at OWENSCORP or making otherworldly noises on her upcoming experimental record.
|
21 September 2017, 2:42pm
Photography Catherine Opie
This story appeared in the September issue of VICE magazine. Click HERE to subscribe.
As she left the Bowery Hotel in a cocoon-like dress the color of henna, a line of kohl smudged down her forehead, Michèle Lamy entered a storm of camera flashes. It's doubtful that the paparazzi knew she is a fashion-world legend and wife of designer Rick Owens, and more likely that they just knew an important person when they saw one. Lamy has stained black fingertips (dipped in Japanese dye), maintains the deep tan of a leisured Californian, and occasionally wears a mouthful of gold teeth. She projects the aura of a shaman and the irreverent creative spirit of a DIY SoundCloud rapper.
Lamy was in New York this past June to present her husband with a lifetime achievement honor at the Council of Fashion Designers of America Awards. She answered my question about how it went with an eye roll and a deadpan "it went." She pointed out that Owens, who is 55 (and roughly 17 years her junior), is still only 23 years into his career as the head of his own label; he has hardly done his lifetime's work. Her answer was characteristic, because Lamy has no time for small talk and has a good-natured bluntness that seems inseparable from her Frenchness. Despite living in Los Angeles from the late 1970s until 2003, her English is as richly Gallic as if she'd just left the Alpine region where she grew up. Lamy now lives in Paris, in a gothically austere mansion on the Place du Palais Bourbon, and is resolutely French. During her first week living in Los Angeles in 1979, she got a ticket for sunbathing topless. She still smokes cigarettes.
But her biography is the subject of much speculation, partly because she tends to hint at intriguing past chapters of her life while having little interest in clarifying them. ("I went from sort of May '68 to Studio 54," she told me, presumably referring to her experience of the Parisian students' unrest in 1968 and her nights at the legendary New York City club.) A composite timeline, patchworked together from Lamy's past accounts, would have her born during the Second World War (exact year unknown), studying philosophy with Gilles Deleuze in Paris, becoming a defense attorney, switching to a fashion career in the 1970s, living at the Chelsea Hotel for a spell, and then setting up two restaurants in Los Angeles in the 1990s. When I asked if she'd consider writing a memoir, she replied that she prefers "to talk about the new."
But to understand Lamy's current incarnation, as a furniture-making musician and cultural instigator, it helps to understand she is and has always been a performer. For our interview, I had initially suggested that we go to a palm reader together in the hopes of facilitating a mystical, revelatory experience. But Lamy had errands to run, so we drove around in a giant black SUV out of which she occasionally emerged to take care of business. As it turned out, running errands with her was a mystical experience. She makes carrying a box of inventory into a press office look like an ancient pagan ritual, and Owenscorp employees greeted her like a visiting deity. That is the effect of Michèle Lamy.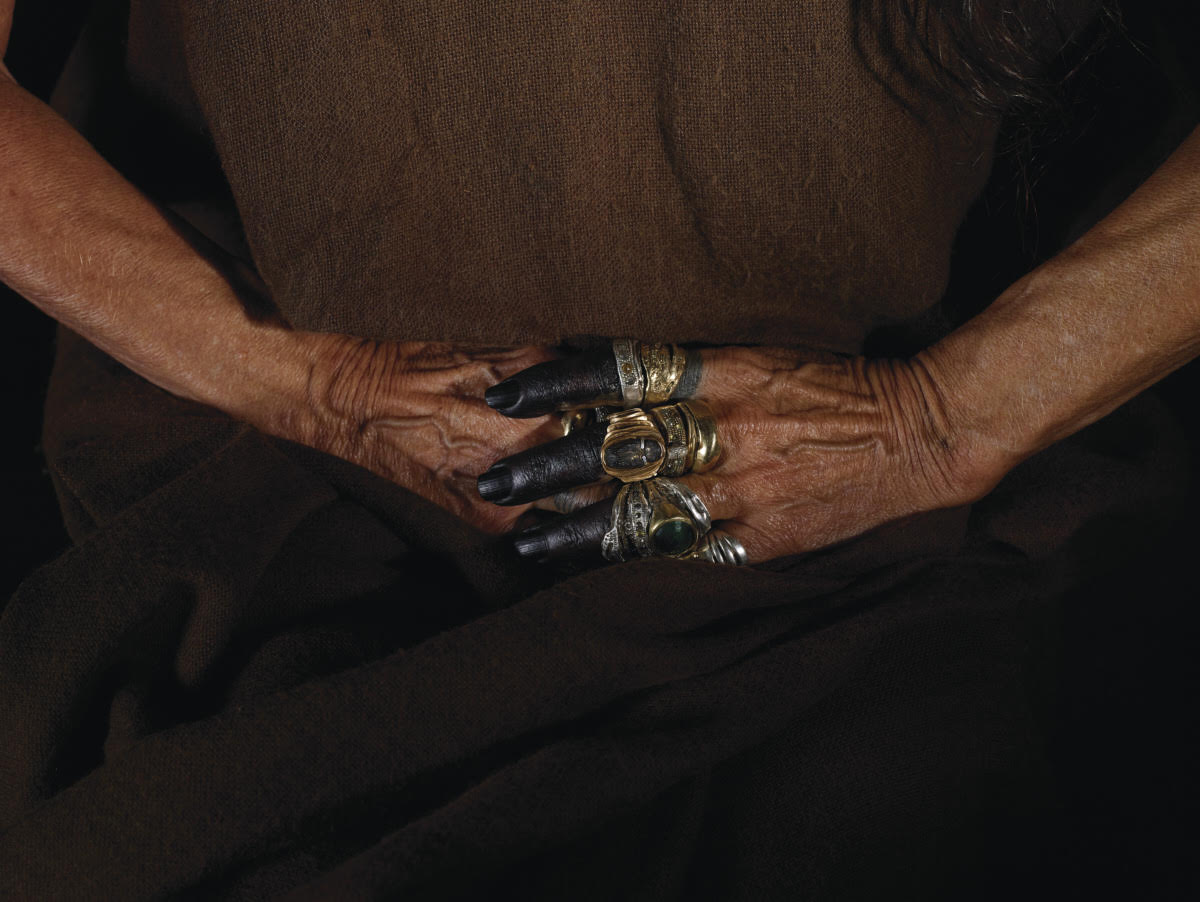 Our first stop was the Upper East Side home of curator and gallerist Jeanne Greenberg Rohatyn. Greenberg Rohatyn is the founder of Salon 94, one of the first major US galleries to represent the Rick Owens furniture line, which launched in 2007. She calls Lamy one of her muses. "It's this old-fashioned gypsy magic, where she has this enormous heart," she explained. "She is inclusive, she is relentless in her quest for knowledge, and she is incredibly imaginative." Lamy oversees the production of the furniture, which recently went on show in a retrospective at the Museum of Contemporary Art Pacific Design Center in Los Angeles. "It was really her idea to try and translate his ideas into these new materials," says Greenberg Rohatyn of Lamy and Owens's creative process. Lamy works with craftsmen from Paris to Pakistan to source and finesse materials including petrified bark and deer antlers, and before the retrospective in LA, Lamy set up a vast workshop in Hollywood to finish the pieces once they arrived from France. Kanye West, a longtime Owens acolyte and friend of Lamy's, was photographed there, at a private preview, sitting in a three-legged concrete chair. Lamy has said in interviews that she and Owens did not get married to have children, and Owens recently told the New York Times the furniture "is kind of our baby."
In Greenberg Rohatyn's second-floor sitting room, Lamy sat at one end of a charcoal Rick Owens "Double Bubble," a long plywood sofa with two curved extremities that looks like a funeral barge. I sat at the other, as Lamy talked me through her career, right up to her current project: an experimental vinyl record called A Dream Deferred with the hardcore composer Nico Vascellari that will premiere at the Red Bull Music Academy Festival in Paris this month. Lamy boxes religiously and said she was considering using the sound of a training bag being punched as the bass line. She will include vocals by her daughter from a previous relationship, the artist Scarlett Rouge, whom she said makes "noises from birds that don't exist."
Performing began, Lamy told me, with her friend Hélène Hazera (the French transgender journalist and actress). As young women in 1970s Paris, they would put on stripteases together. When Lamy moved to LA, in addition to founding her own clothing line (she met Owens when he applied to work for her), she opened a restaurant and nightlife spot called Les Deux Cafes in a parking lot off Hollywood Boulevard. She picked up and moved an entire rundown house onto the lot and planted a Mediterranean garden. The space became notorious as a candlelit bohemian enclave, part celebrity hangout and part salon. "Once, Hélène told me, 'You have a voice like the cabaret singer Marianne Oswald,'" Lamy explained, which inspired her to perform one night at Les Deux. She sang Oswald's song "King Kong Blues," which, according to Lamy, was based on a poem Langston Hughes had bequeathed to Oswald on a trip to Paris. Meanwhile, Hazera whipped herself onstage until she bled.
Les Deux closed in 2004, but Lamy has continued to make music and act as a kind of roaming cultural catalyst. A tab called "Lamyland" on the Rick Owens website lists her recent ventures, which include a series of art installations and gatherings on houseboats: Bargel in London in 2014 and Bargenale 2 at the current Venice Biennale. She has also recorded a song with American rapper Zebra Katz, locked lips with radical queer performance artist Christeene in the video for the track "Butt Muscle," and taken part in a performance piece with her friend A$AP Rocky at the most recent Miami Art Basel. For the event, which involved large quantities of chalk, the rapper wore "the wrong clothing," Lamy remembered (designer silk pajamas). But "it would not matter," she said, "because he's so gorgeous and charismatic." She also raps. "For me, hip-hop started with the last poets," she mused. "I'm always in the world of Langston Hughes." She feels a particular affinity for both Hughes and Kanye West. "I think with Kanye, it's because he thinks he's white, and I think I'm black," she told me. "And I think we speak the same language, in a way. I relate to the poetry of the world."
Music is another way in which she communes with the subversive and countercultural. She described how her world changed when she heard Bob Dylan and Joni Mitchell for the first time at her boarding school in France, and the revelation of seeing an early Rolling Stones concert. Later, when she visited New York, she would go dancing at Mudd Club, and for a spell she reported on LA's punk music scene for a French radio station. For her upcoming record, she wants to create something "dancey." "I have to dance," she emphasized. She had just sent the composer some text as a starting point and was wondering if the DJ Black Madonna might be able to help make it dance-floor ready. "My part is going to really be there in the mixing," she explained. Music was also a key to Lamy's connection with Owens. "Dancing is Rick and my thing," she told me. "Early on, we would dance. He couldn't understand me before."
Our final stop was at the Rick Owens store in Soho. While Owens oversees the design for nearly all of his nine stores worldwide, the light-filled Crosby Street space is a product of Lamy's vision. On our visit, there were towering sculptural totems of blue and white Styrofoam in the windows that had recently been part of the MOCA furniture exhibition. Merchandise — angular black calfskin mules and hammered bronze candlesticks — was displayed on bleached concrete plinths shaped like alien runes. Lamy chatted with the store staff, which gathered around her as if she were a mother bird returning to the nest. And when lunch arrived, she joked that she should eat it off some ancient-looking Rick Owens metal plates. Instead, she ate sitting huddled at the edge of the store's imposing double-level cement staircase. She looked like a small brown seed from which this whole beautiful concrete world around her had sprung.