versus versace spring/summer 18 is all about generation now
"This is for everyone who dares to express themselves in everything they do."
|
18 September 2017, 8:15am
This article was originally published by i-D UK.
"Versus Versace has always been about youth, defiance, and, most importantly, fun," a smiling Donatella Versace reminded a small group of editors during a spring/summer 18 preview inside the Central Saint Martins campus, on the eve of Sunday's show. "It's inspirational putting the collection together in this environment, being surrounded by students," she added. Beyond immersing Versus in the energy and talents of tomorrow, the on-campus show venue was chosen to announce the new Gianni Versace Scholarship, which promises a comprehensive financial package for a student starting the MA Fashion course from the class of 2017.
"Some of the most talented designers in the world have come from CSM. Many of their alumni have come to work for me over the years. I've always thought it was important to listen and support young talent. There's no better way to celebrate Gianni on the twentieth anniversary of his passing. He was a visionary designer and in his memory, we want to nurture the creators of tomorrow."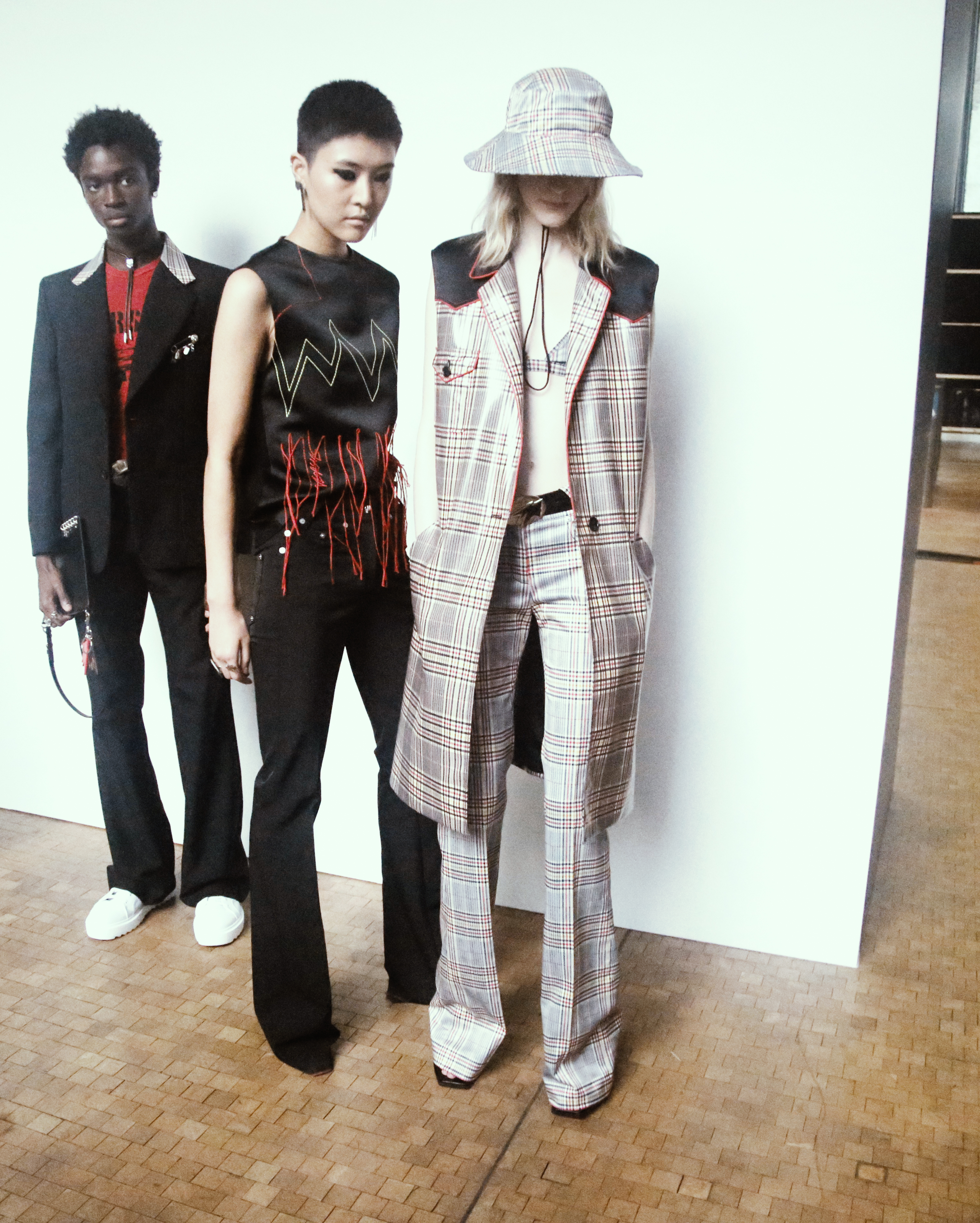 As the scholarship announcement paid tribute to the brilliance of her brother while looking to the possibilities of tomorrow, her Versus Versace spring/summer 18 collection celebrated the essence of 90s New York and repackaged it for generation now. "When I think about young people today, they want to stand out, they want to express their personality. Our task is to create pieces for the street which are fun and enable them to be themselves."
"The starting point was the Versus archive," explained design director Richard Quinn. "It's seen as a young brand but it was originally founded in 1989. We've taken shapes, elements of super graphic T-shirts and the iconic western collection, then chopped and collaged them. We wanted this season to be fun, we told the guys to go crazy, then we edited," Quinn explained. "We had to take everything apart and put it together again because perfection is so old-fashioned," Donatella quipped.
From fringed accessories to metal mesh dresses, studded cowboy panels to V chevron cut tailoring, everything made a statement. "Versus is about individuality, bravery, and pleasure. This is for everyone who dares to express themselves in everything they do," she added with a smile. Long live the spirit of Gianni and our support for tomorrow's talents.