maria grazia chiuri celebrated cultural common ground for dior cruise 2020
"This is not a simple collection, it involves travel, dialogue, collaboration, exchange, discovery and demonstrating what unites us."
Images courtesy Dior.
"Today, we speak too much of differences and it's important to remind people of the common ground that exists between different cultures," Maria Grazia Chiuri explained during a preview of her Dior Cruise 2020 show. The show -- as vast as we've come to expect from the mid-season bonanzas favoured by the biggest fashion houses -- took place inside the 16th century El Badi Palace in the heart of Marrakech. "This is not a simple collection, it involves travel, dialogue, collaboration, exchange, discovery and demonstrating what unites us," she added. So for this Cruise show Maria invited artists and artisans from different backgrounds across Africa to work jointly with her on the collection in order to open a creative dialogue.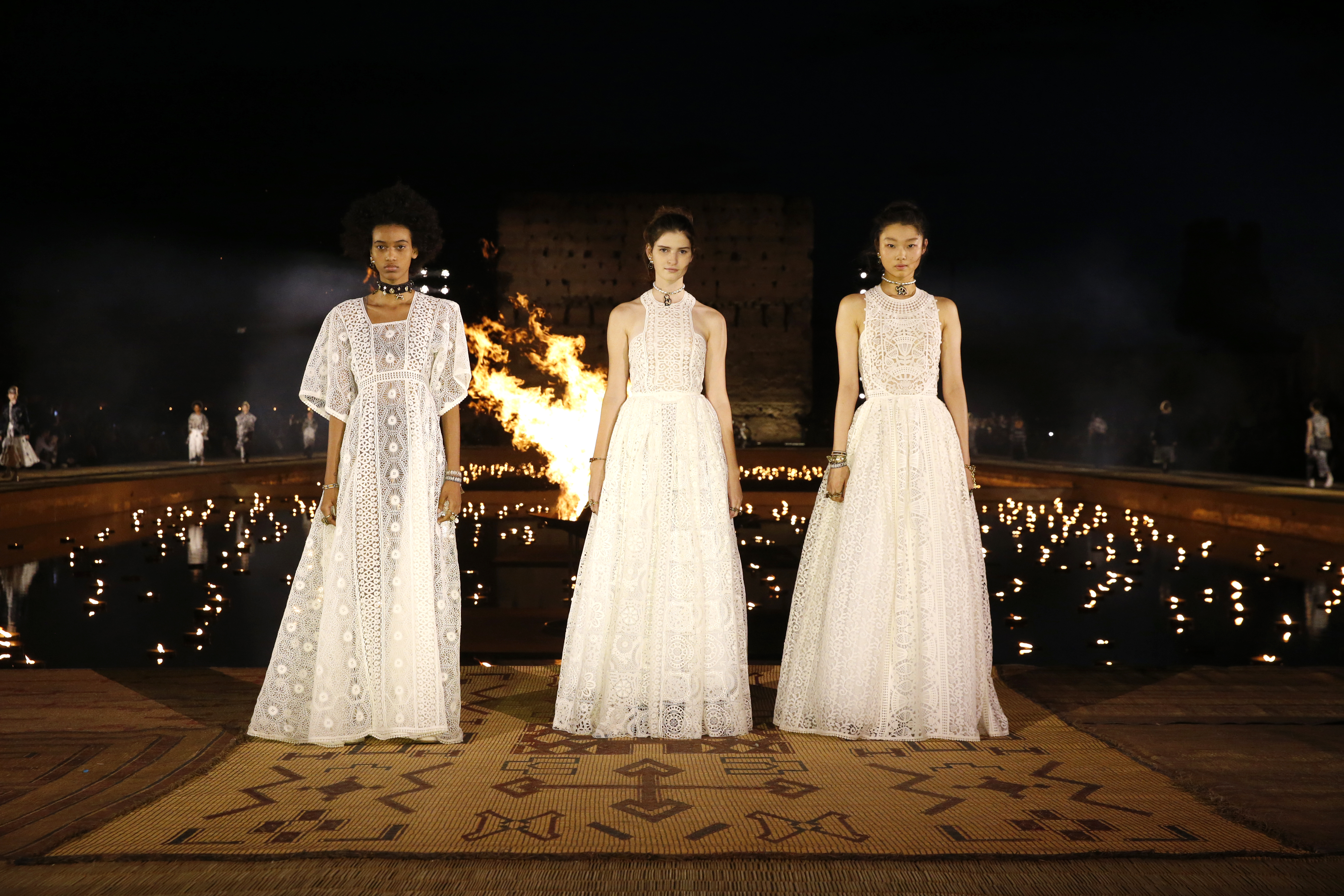 Fashion has embroiled itself in a number of cultural appropriation accusations recently, and Maria herself was part of the Valentino team that were accused of cultural appropriation with a "tribal" inspired African spring/summer 16 collection that drew widespread criticism. But right from the start, Maria and Dior wished to demonstrate how much they've listened and learned. This was a collection built on foundations of collaboration. "In this moment, there's a lot of focus on cultural appropriation but we have to explain how craftsmanship travels around the world and why it's so difficult to find the 'real' reference," she explained. "I wanted to travel around the world to see Dior codes through different points of view."
"When I arrived at the house, I immediately looked at these codes," Maria continued. "One of my first actions was to make the New Look skirt with my point of view, one of lightness. Now, I wanted to involve other artists and involve their visions, so we asked two female artists to reimagine this iconic silhouette for today." So, designer Grace Wales Bonner and visual artist Mickalene Thomas were invited into the Dior studio. "It's part of my project at Dior to represent women and I want this house to be a place that takes care of women. We lose nothing by sharing our platform. We are a big group of designers here, I am not alone, and we work together. I am the director but we are a big team. Throughout my career, from Fendi to Valentino, I've always worked as a team.
"The real thing for me wasn't just to speak about craftsmanship from around the world, but to go around the world and see the codes of Dior from different points of view. Collaborating with the Ivory Coast-based Uniwax factory and studio, integrating them into the weave of the fabric for a special edition. Revisited in Wax, new toiles de Jouy evolved, recasting various landscapes and reinventing tarot motifs.
"It's about celebrating the diversity of African cultures but it's not an African collection," Anne Grosfilley, the anthropologist behind African Wax Print Textiles, noted. Anne's book was another touchpoint for Maria. In it, Anne reveals the complex origins of African wax print textiles, traces the process of printing and dyeing the fabric, celebrates the enormous variety of African fabric styles and uses, and explores the complex interconnections between the continent and colonialism and between modern technology and Old World practices. Its journey embodies the moment when cultures collide and converse, and Maria was drawn to explore the seemingly infinite possibilities that occur when craftsmanship travels from one country to another.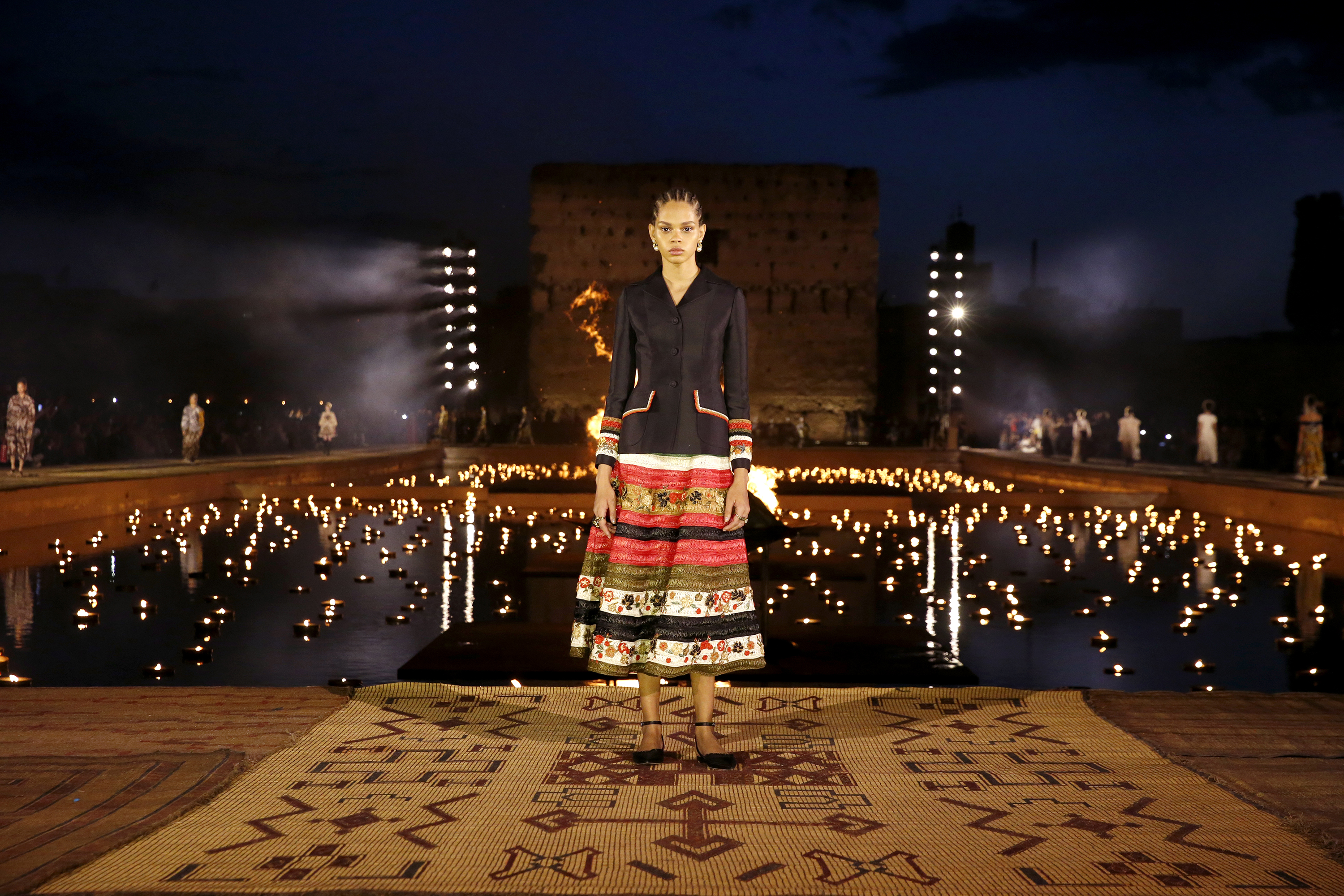 This article originally appeared on i-D UK.