you can now buy j-lo's iconic versace dress in sneaker form
She even has her own pair!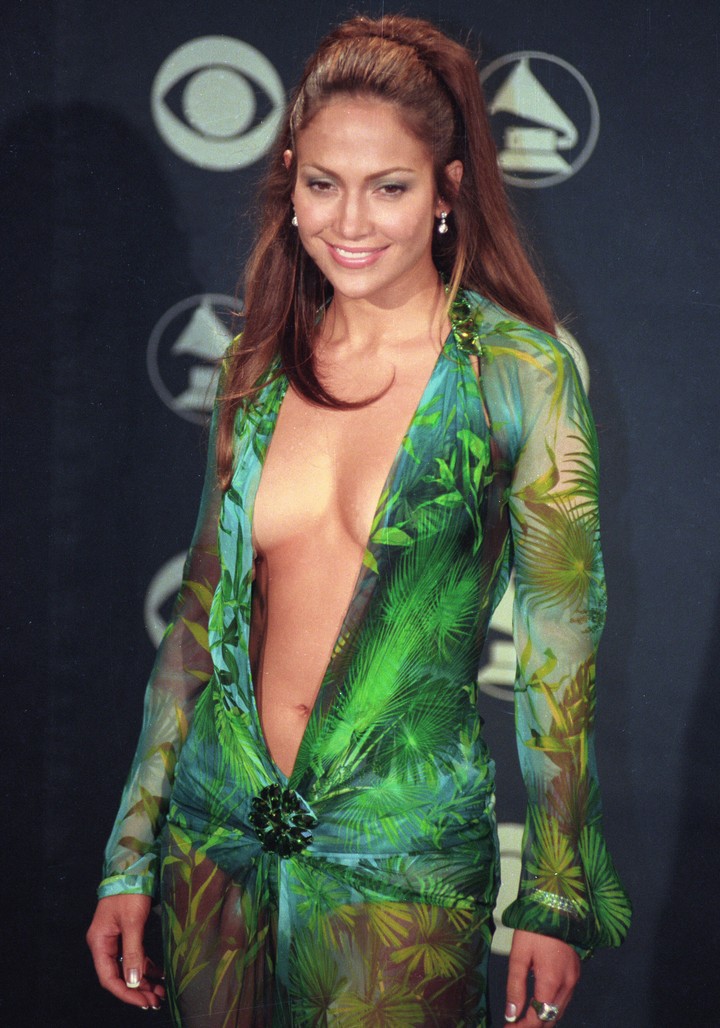 Getty Images
This article originally appeared on i-D UK.
There are a handful of moments in the celebrity-fashion crossover sphere that make you sit back and say, 'Wow, what a moment'. Jennifer Lopez wearing that jungle-print Versace gown to the Grammy Awards in 2000 was one of them.
The low-cut silk-chiffon dress, adorned with palm leaves and marine blue water patterns, caused such a stir when she stepped out in it that it single-handedly prompted the birth of Google Images, with everybody desperately scrambling to find photos of it online.
It was such a flawless power move, both on J-Lo and Donatella Versace's part, that it's carved itself into the heart of pop culture, becoming a touchstone and inspiration for red carpet fashion ever since. It makes sense then that Versace are bringing it into 2019 as a highly sought after sneaker.
With its Greek key patterns and Versace-branded accents, the "chain reaction" silhouette – a mainstay on the runway after its debut in 2018 – has become the canvas that US sneaker retailer Concepts chose to paint upon as part of their exclusive collaboration with the storied Italian brand. They selected the jungle print from the house's overflowing archives especially for its pop cultural value, with Concepts stating that it represents "an anecdote from which Versace touched our lives".
Not only that, but J-Lo herself has already copped hers. According to Concepts' creative director, Deon Point, they sent a special pair to one of her Boston shows last week. "I'm not sure when we'll see them but she was pretty psyched, from what I could gather, that we did the shoe in homage to such an iconic moment in her life," he told Footwear News.
If you fancy having a piece of the iconic dress in your own wardrobe, albeit a version that doesn't drop to below your navel and feel slightly dressy for the unreliable British summer weather, you can grab yourself one of the last pairs of the Chain Reaction sneakers on the Concepts website for £860 ($1075).
This article originally appeared on i-D UK.