Photography Shannon May Powell
thelma plum on self-preservation and relinquishing anger
With her new album 'Better in Blak', Thelma explores trauma, anger and what it means to be an Aboriginal woman in Australia today.
Photography Shannon May Powell
It's mid-morning on an unbelievably sunny winter day and 24-year old Gamilaraay musician Thelma Plum is in Melbourne's Fitzroy Gardens, singing. Just little bits of songs, or broken harmonies, off the cuff, as a makeup artist fixes her hair and as we walk to an old, white rotunda for this shoot. Maybe it's a simplistic observation to make about someone who has been singing their whole life, professionally for around six years, but still: it is intimating how Thelma can modulate her sweet, melodic voice with such precision and ease.
Dressed in a black dress with red and yellow stripes running down the sides, she is jubilant and effusive, cracking jokes, fawning over cute dogs passing by and doing her best British accent to parody the cast of Love Island. A little later, when we're speaking at a cafe nearby, Thelma talks with unyielding, spirited confidence, even when describing the difficult few years that have lead up to the release of Better in Blak, her long-awaited debut album.
Over the past three years, Thelma struggled with her mental health after experiencing significant online abuse — the fallout from making allegations of racial harassment against a member of a Sydney band after an alleged incident back in 2016. Thelma is cautious of elaborating on the details of the situation, but is more frank when detailing the experience of finding yourself in the middle of a public spectacle. "When you go through trauma publicly, with people having opinions with what happened, it's a feeling I've never felt before. It's very isolating," she says.
After the incident, Thelma felt let down and angry by fellow musicians and others in the music industry who hadn't supported her. "I had all this anger and I didn't know where to place it and so I placed it on myself for a long time," she says.
Better in Blak is anchored in healing, and Thelma's experience of relinquishing anger and resentment (even when people may not deserve your decency). "All I can really fix is myself. I can't fix these people, I can't force people to care about Aboriginal lives, I can't force these people to care about women that are being abused in the music industry," she tells me.
But it is also a defiant document, with Thelma extolling the importance of remaining forthright with your convictions — especially when faced with people who would rather see you quieten or cower. It's direct (like all good pop music should be) without making any compromises, or shielding away from difficult subject matter. Strengthened by polished, propulsive indie-pop production the album is at times biting, funny, painful and heartbreaking.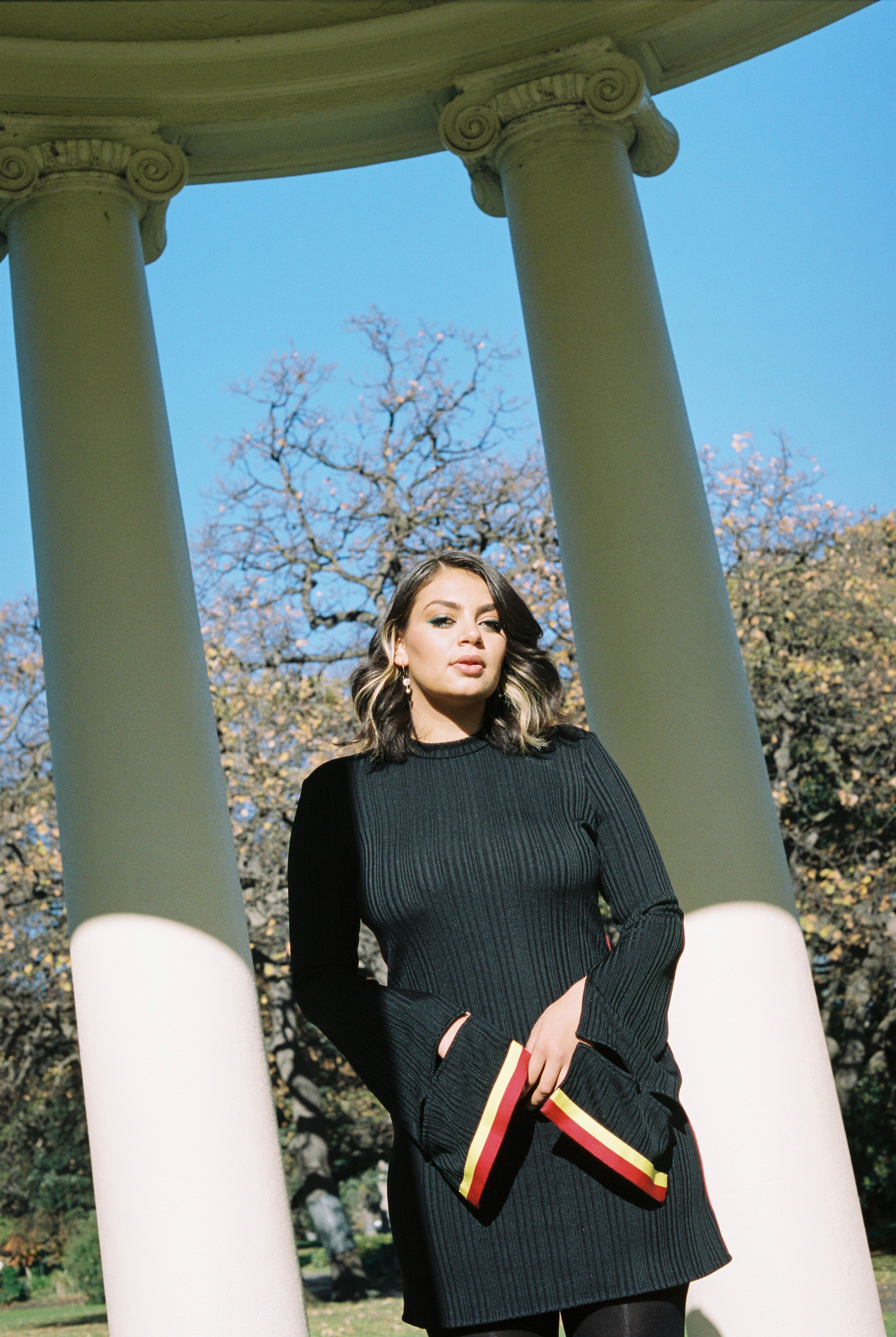 The album is also her most pointed political release to date. Homecoming Queens reflects on how the lack of Indigenous representation in the media warped her perception of beauty when she was growing up; Love and War, a duet with Gang Of Youths' Dave Le'aupepe, details the abuse of Indigenous minors in Don Dale Juvenile Detention Centre. There's also a cutting take-down of performative progressive men called Woke Bloke. (She's even put the song title on some very sartorially appropriate tote bags as merch).
But the album may be best defined by her latest single, and the album's title track, Better in Blak, an indelible pop song about Thelma's experience of harassment and how her identity as an Indigenous woman in these circumstances has been ignored or erased. "I used to say I was made up of different colours, lots of different bright colours, and these people came into my life and they tried to take them away from me until I had nothing left inside of me," she says of the song, "It takes a lot to rebuild those colours and to build yourself back up."
Better in Blak came about while Thelma was recording a take of another album track, Do You Ever Get So Sad You Can't Breathe, when a deluge of horrific, racist online harassment flooded her phone. "I don't think people realise, or understand what that feels like, being an Aboriginal person or being a person of colour in this country and receiving online abuse… It's a really scary thing to have happen, I was really upset and after that happened. I just wanted to be invisible."
She was distressed by the experience, but her producer, Alex Burnett, encouraged her to keep going, and she recorded Do You Ever Get So Sad You Can't Breathe in one emotive, warbling take. The next day she went back into the studio and immediately wrote Better in Blak.
When you look at the album notes for Better in Blak, one bit of info may stand out in particular: the songwriting credit for devotional ballad Made for You which reads Thelma Plum/ Paul Kelly/ Paul McCartney. Speaking of the collaboration now, she still sounds slightly baffled. "I wrote with Paul Kelly, which is already, you know… he wasn't enough, I needed another one!" she laughs.
She'd written the song with Kelly — a personal hero of hers — in his home studio in St Kilda. The McCartney collaboration was far more unexpected. She'd been recording the song with producer David Kahne in New York, and had gone home for the day only to find out later that McCartney had swung by the studio and after hearing the song, decided to add his own guitar arrangement. "I called my mum and my manager immediately and was just like, 'so pretty much it doesn't matter if I die anymore.'"
Like much of Thelma's career up to this point, timing was important. Two years ago, when she had recorded another entirely different debut album, she decided to shelve it. She felt like it didn't represent her, or what she wanted to say anymore. So she started again from scratch.
"[On Better in Blak] I speak a lot about my identity and how it feels to exist as an Aboriginal woman in this country. I think four years ago I wasn't ready to share that side of me, for self-preservation and to protect myself. But I'm at a point now where I'm ready to share my whole self... That's the package deal and I'm ready to share with other people my experiences."
Thelma Plum's 'Better in Black' is out everywhere July 12.