i-D's weekly cultural round-up
Your guide to what you need to see, hear, watch, listen, go to and do.
Santiago Sierra, 120 hours of continuous reading of a telephone book, (2004). Helga de Alvear Gallery, Madrid. Photo courtesy Santiago Sierra Studio.
Art performance of the week: Santiago Sierra
Spanish artist Santiago Sierra's new work, THE NAMES OF THOSE KILLED IN THE SYRIAN CONFLICT, BETWEEN 15th OF MARCH 2011 AND 31st OF DECEMBER 2016, will be an eight day-long affair, that, as the title suggests, will involve the reading of the name of everyone killed in the Syrian conflict between 15 March 2011 and 31 December 2016. The performance will traverse continents, starting in Israel, before moving to Austria, and arriving in England for 48 hours between 23 and 25 May 23 at the Lisson Gallery, before heading to Buenos Aires. In each city, survivors of the conflict, refugees and native Arabic speakers will read the names out. Santiago has previous experience in this kind of thing, once reading the phone book for 120 hours.
Exhibition of the week: Ida Applebroog at Hauser & Wirth
After going on display in New York, these recently discovered drawings and watercolours by Ida Applebroog are opening at Hauser & Wirth in London this week. Mercy Hospital was created during a period of mental breakdown by the artist, who was using drawing and writing as a way of coming back to life and reality. The collection is sparse, strange, beautiful, and tender, in a way few exhibitions are.
Talk of the week: Anne Imhof and Hans Ulrich Obrist in conversation
Fresh from creating the most jaw-dropping, incendiary, and unique pavilion at the Venice Biennale in recent memory, Anne Imhof will stop by in London next week for a brief chat with roving art boffin Hans Ulrich Obrist at the Serpentine. It's free. You can still get tickets, so you should definitely get tickets. I've got tickets. See you there.
Talent spotting of the week: Foam London
Do you like hot new talent? Yes, of course you do. It will give you an edge in dinner party conversations and at art openings, you can discuss the future greats and then, later, when the future greats just become "greats" the people you told about them will remember you told them about them first and will respect you, finally.
Film of the week: King Arthur
Have not seen this, as it's out on Friday. But as the name suggests it's about King Arthur. Directed by Guy Ritchie. So will most likely involve a mockney accented Lancelot armed with some sort of comedy weapon; a bit of laddy banter about brothels or the plague or something; some intricately-plotted caper involving whatever the Dark Ages-equivalent of a weed dealer or a gypsy boxer is; and a cameo from Vinnie Jones as a tough but tender debt collector.
TV of the week: Twin Peaks
It's finally here and you have consumed all of the online #content and trailers and leaks and teasers et al about it already, so you might as well actually watch it.
Happy business news of the week: Foxton's Profits Down 25%
Not traditional cultural round-up news really, but Foxton's profits are down 25%. Which is good for everyone, except those estate agents, with their bad hair, and bad suits, and bad taste, and bad morals. For the most part.
Gig of the week: Room for Rebellion
One of our music PR friends and her fellow Irish girl pals from the Room for Rebellion collective have organised this gig, which sounds great and is for a good cause. Proceeds go to the Abortion Support Network, a charity that helps women in the Republic of Ireland, Northern Ireland and the Isle of Man to access safe legal abortions in mainland UK. It's not even one gig, it's two! One in Belfast, one in London.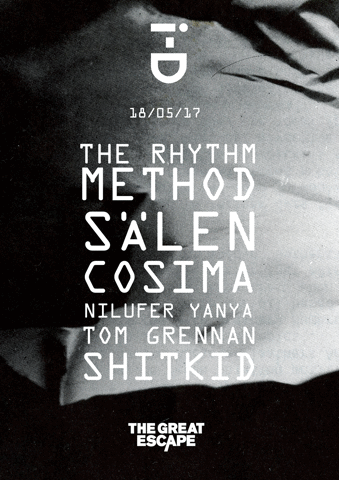 i-D on tour this week: The Great Escape
We have a stage at this year's Great Escape festival down in Brighton. So if you happen to be down for the weekend, maybe pop in and say hi to us at the Brighthelm Centre, the church one, not the pub on West Street, don't go to the pub on West Street, it's a bad pub. Come to church! We've got The Rhythm Method, Sälen, Cosima, and Nilüfer Yanya playing.
Credits
---
Text Felix Petty