adam selman on the bold american style of 'to die for'
This week, i-D screens the second installment of our 'Fashion and Film' series, presented at Nitehawk Cinema in Brooklyn. With the help of some New York designers, we'll explore how fashion collides with cinema and culture. Next up: Adam Selman...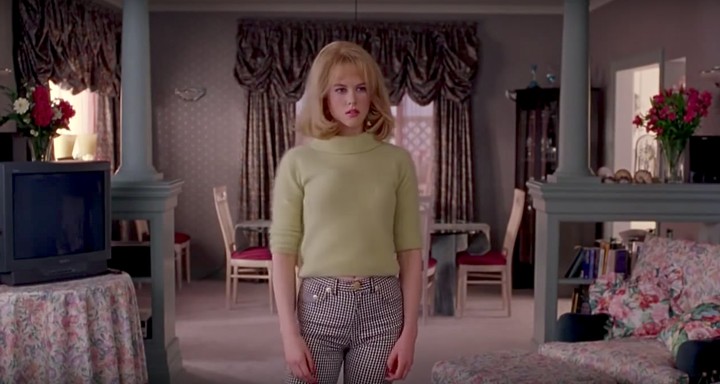 An O.J. Simpson museum is opening in L.A. It'll feature the bootleg O.J. t-shirts, replica O.J. jerseys, and souvenir O.J. pocket knives that sprung up in the wake of the blockbuster 1995 trial. These 300 pieces of odd, morbid memorabilia "give people a more thorough understanding surrounding the trial of the century. The frenzy," curator Mat Gleason recently told The L.A. Times. "Why did this grasp the American imagination? The answer is in these objects."
Simpson took the stand the same year that Gus Van Sant's To Die For was released in theaters. The darkly funny crime drama is based on a novel, which is based on a real-life case that rocked tabloids just four years prior — when Pamela Smart, a small-town go-getter, convinced her teen lover to murder her husband. In making the mockumentary-style film, Van Sant and screenwriter Buck Henry riffed on the cultural hysteria of 90s headline-splashing scandals like Smart, Simpson, and Tonya Harding.
New York-based designer Adam Selman says he first saw To Die For shortly after graduating from college. "I love that this movie explores real American ideals — the idea of being famous, the desire to be famous in a small town," he tells i-D. "It really speaks to me and my humor, and what I'm inspired by."
Nicole Kidman leads the brilliantly-cast film as Suzanne Stone — a delicate, driven, and deranged local weather girl with her sights set on Hollywood. Suzanne transfixes nearly everyone in Little Hope, New Hampshire with her arresting beauty, self-starting tenacity, and camera-ready poise. Selman, too, was transfixed. But by Suzanne's bold sartorial sensibility.
Since launching his eponymous label in 2013, Selman has injected the codes of classic American style with quirky nods to our nation's grit and glamor. On his runway, denim is a little bit country, a little bit rock 'n' roll, and a little bit disco — sometimes all at once. Gowns are finished with overall straps. Gingham is cut like Carhartt. One of Selman's earlier collections even lifted inspiration from another fame-by-crime film: John Waters's Female Trouble. "I love when people put in effort, and you can tell," he says. "Like: this is your look, and you went for it."
With Suzanne, Beatrix Aruna Pasztor (Van Sant's longtime costume designer) definitely went for it. Kidman's character has a seemingly endless array of striking separates and accent scarves. What's on the suit menu? Lemon yellow checks, pink polka dots, baby blue wool herringbone, solid periwinkle, and this semi-abstract print (finished with purple buttons, natch). What does she wear at home, you ask? Just a skin-tight, lime green angora sweater and some gingham jeans. Forget her bridesmaids' dresses, even this woman's underwear is extra.
"The clothes Nicole wears in the movie are so bold, and so cool, that it's almost like the clothes I wish, as a designer, I could actually make," Selman laughs. In fact, he did make his own version of those gingham jeans. "I think fashion and film go hand-in-hand. I love a world where you're transported. That is such a beautiful thing. And if you can do the same thing with fashion, that's sort of the ultimate goal."
Yet Suzanne isn't T o Die For's only style star (a fact that would likely enrage her). Outfitting the film's trio of teen degenerates, costume designer and frequent Van Sant collaborator Beatrix Aruna Pasztor smartly took cues from her own filmography. My Own Private Idaho's approach to workwear is ruggedly tender; Even Cowgirls Get The Blues is a lesson in layering. To Die For gives these all-American youth codes a harder edge.
Russell's closet is full of sleeveless Metallica tees and every wash of black denim. Lydia's look feels a bit more 70s hand-me-down: ringer tees, bootcut jeans, vests, sneakers, and a beat-up leather racing jacket. As Suzanne's gullible high school beau Jimmy, Joaquin Phoenix sits between the two. He wears a grey sweatshirt tank in some scenes, a denim jacket with leather sleeves in others. Incarcerated Jimmy's look comprises head-to-toe hunter green Dickies, buttoned to the top.
Style is just one of the reasons why To Die For continues to feel relevant two decades later. Suzanne's mantra is eerily prescient in the age of the Kardashians and Donald Trump: "You're not anybody in America unless you're on TV. On TV is where we learn about who we really are," she says. "Because what's the point of doing anything worthwhile if nobody's watching? And if people are watching it makes you a better person."
Selman will always be watching. "The clothes, the makeup, I love everything about it. To die for!"
Credits
---
Text Emily Manning
Still via YouTube