when pop stars paint their faces, what on earth are they trying to say?
Face painting: the provenance of toddlers and global superstars.
Zdjęcie: Getty Images / Dzięki: Bauer-Griffin /
Last month, Kesha shared a new photo of herself on Instagram with a set of rainbow streaks painted down her cheeks and a third eye in the middle of her forehead. When the pop star came onto the scene in 2009 it was rare to see her without her face covered in paint, whether it was neon-colored lines dragged across her chin or glitter tears falling from her eyes. But, as she spent years dealing with her personal struggles and a battle against her former producer Dr. Luke, it looked like Kesha had abandoned her signature body art, until now.

In the past Kesha has explained that her colorful aesthetic was an extension of her party girl persona. The excessive body glitter and messy face paint were a representation of her desire to appear wild, free, and unapologetically herself. But, after a nearly five-year hiatus and the release of a new album, she's reclaiming that message, sans the club kid character, but still with plenty of face paint.
"In the past, I've always felt like I was trying to prove something, trying to be someone I thought people wanted me to be, but on this record, I'm just telling the truth about my life," wrote Kesha on Lenny Letter.
Kesha, and other pop artists who have embraced face paint like Lady Gaga, have pulled inspiration from the glam rock movement in the 1970s. During this era, musicians would use dramatic Halloween-ish face paint to accentuate and even transform their appearance, often to create over-the-top stage personas. Marc Bolan of the English band T. Rex and David Bowie, two of Kesha's early influences, were pioneers of the genre.
Unlike the raw political-driven music of the 60s by artists like Bob Dylan, the glam rock era was about promoting fantasy. As Simon Reynolds describes in his book Shock and Awe, the movement "believed fantasy would set you free, not reality."
For artists like KISS, Bowie, and Alice Cooper, face paint was integral to creating those fantasies, and the trend spread beyond glam-rock. Members of groups like Parliament-Funkadelic adorned their faces in a way that resembled war paint, while Grace Jones was covering her body in tribal patterns designed by artist Keith Haring.
"The use of makeup in glam was always stylized and overstated," explained Philip Auslander, the author of Performing Glam Rock: Gender and Theatricality in Popular Music. "It was an aggressive gesture against the professed 'authenticity' of rock musicians' personae."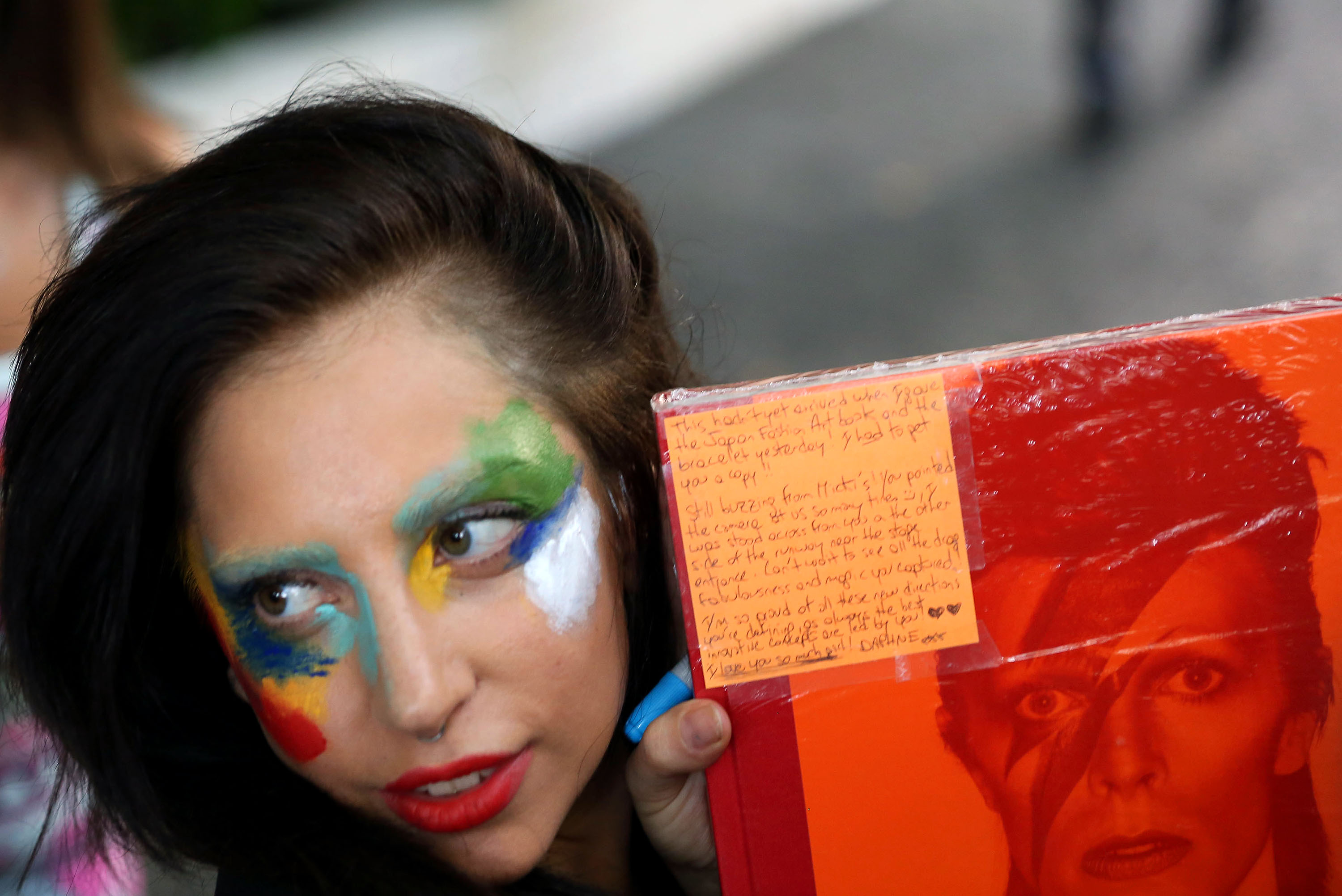 The diverse ways musicians used face paint highlighted the importance of individuality, which was a key component of the glam rock era. They broke away from the idea that musicians or their fans had to appear a certain way, which is something that pop artists like Kesha, Gaga, and even Miley Cyrus and Katy Perry are still promoting today.
"Suddenly it was okay, to be different," said Kesha, while explaining how she felt after scoring a record deal. "I had fun with my style. I wore my hair in a mohawk and did my makeup like Alice Cooper."
Kesha and Lady Gaga have both shared how their early experiences with bullying have influenced their careers. After years of being made fun of, they wanted to create their own paint-covered personas to show they weren't afraid to be themselves and invited other "freaks" and outsiders to do the same. They wanted to make spaces where people felt free.
"The whole point of what I do – The Monster Ball, the music, the performance aspect of it – I want to create a space for my fans where they can feel free and they can celebrate, because I didn't fit in high school I felt like a freak," Lady Gaga shared in an interview in 2009.
Kesha and Gaga have also been influenced by the way glam rock stage identities brought a new gender-fluidity to rock n' roll. The use of body art and costumes helped break down the machismo that surrounded the genre and let musicians experiment with traditional gender roles in a new way, but most artists in the movement were men. So, these female pop artists are showing what it looks like when women embrace the same freedom and confidence.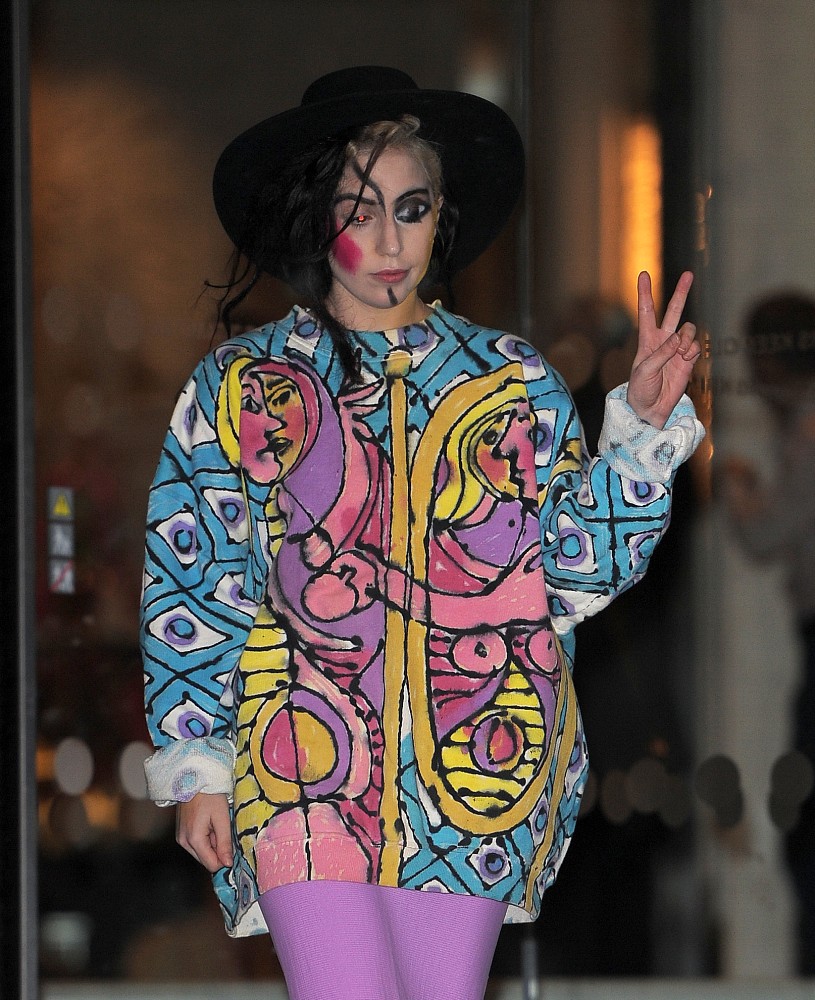 "If someone called me pretty, I'd sneer and spread more glitter on my face. I didn't want to be just pretty—I was wild, crazy, and free," Kesha said in 2014. "When men do that it's rock n' roll, but when I did that people assumed I was a trainwreck."
While Kesha continues to use face paint to promote her authentic self, the meaning behind it has changed. For her latest project, she reconnected to her inner child to channel the wonder and joy of adolescence, which explains the carefree (and potentially problematic) way she adorns her cheeks with colorful paint.
Gaga has gone through a similar evolution, where her face paint has reflected different points in her career. First she was known for the Bowie-inspired lightning bolt during the "Just Dance" era, but eventually she covered her entire face like canvas like on the cover for her single "Applause", where she covered her entire face like a canvas. But, Gaga has also been strategic in using face paint to blur the lines between art and music, like In 2013 when she stepped out in London with her face painted like Pablo Picasso's "Girl Before a Mirror."
Recently, many pop artists have experimented with face paint, like Beyoncé in her visuals for Lemonade, Rihanna in her video for "Sledgehammer," and Nicki Minaj on the cover of V. But for Kesha and Gaga, face paint has not been relegated to one video or photoshoot. Instead they use it as an ongoing visual tool to convey who they want to be at that moment, in hopes it will inspire others to do the same.
"This is really who I am," explained Gaga in 2011, as she sat with large glitter-filled circles painted around her eyes. "It took a long time to be okay with that."