Sophie Vallance Cantor oraz Autumn i Luna. Zdjęcie dzięki uprzejmości artystki
sophie vallance cantor's cat paintings explore anxiety and empowerment
The Berlin-based artist turns everyday experiences into funny, beautiful canvases that she sometimes presents balanced on rolls of toilet paper or framed by vases of flowers.
Sophie Vallance Cantor oraz Autumn i Luna. Zdjęcie dzięki uprzejmości artystki
Sophie Vallance Cantor has a black bomber jacket with "pussy queen" embroidered on the back in red letters. She wears it around Berlin, where she's lived for the past year and a half, and "people really enjoy it," she laughs. It also features a bright yellow leopard's head that looks similar to a figure from one of her paintings.
"I really like the way the word 'pussy' can be ambiguous and cross over with the cat idea," she explains of her fascination with the term and its prevalence in her work. Sophie's 2016 painting PUSSY LIFE, for example, is a reworking of Manet's Olympia featuring a feline odalisque and the work's title graffitied across the canvas in large letters. "A few years ago, I found the term 'pussy' quite vulgar. I'd only ever really heard it used by men," she says. "Now, there's been a reclaiming of the word."
Sophie studied painting at Camberwell College of Arts in London, but when she had to leave the UK after her second year — her husband is from Colombia and wasn't able to remain in the country any longer — she says her art changed dramatically. "Making art became more political for me," she explains. (Her accent is a soft, musical blend of her Scottish roots and a childhood spent in Cornwall.)
"Leaving the country and not having very much choice about it changed this perception I had of society overnight," she says. "It was like, 'Oh my gosh, it doesn't have your back. You're not as safe as you think you are.' It made me question what I thought about women, what I thought about feminism, what I thought about politics."
Sophie and her husband moved to Berlin — "we're both artists and we needed a place where we could have part-time jobs and just paint" — but neither made much work for a year. They skipped between six different sublets before finally finding their own place and starting to paint again. "The past year has kind of been an exploration of all of these bigger questions but in a very personal way," she says.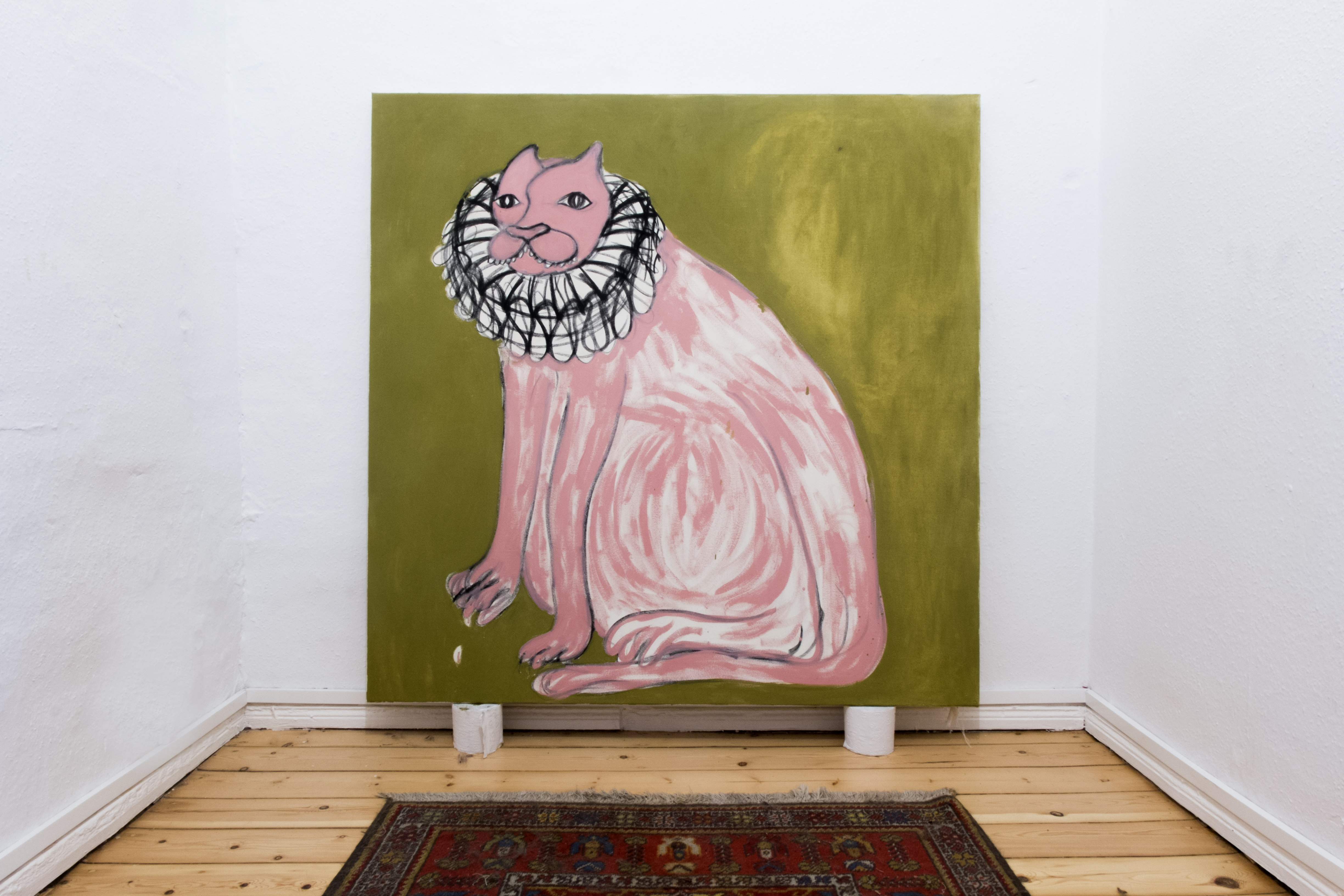 Settling in a permanent space also meant Sophie was able to bring her two cats to Germany (they'd been rooming with her parents in Glasgow). Luna is ink-black and friendly; Autumn is large, orange, and grumpy. "She likes him, but he doesn't like her, which I think is a really interesting dynamic."
The cats arrived at the same time that she began painting again and wove themselves into her work. "I'm so interested in everyday experiences and everyday things, and they were there," she remembers. "As the work progressed, they sort of became a symbol of the protector for me. When I'm struggling with things in my life, my cats are there for me. Through history also, cats have a big symbolism as protectors."
In Sophie's painting King Botoño II, Autumn appears as a voluptuous Spanish royal in a 17th-century ruff. His body is a larger-than-life swirl of pink brushstrokes, complete with his larger than normal number of toes (he's a polydactyl). "He has this presence about him," Sophie describes, "he's like this grumpy flatmate. He just sits there with his little fat belly out. I thought, 'I need to paint you like this, you're the king of grumpiness.'"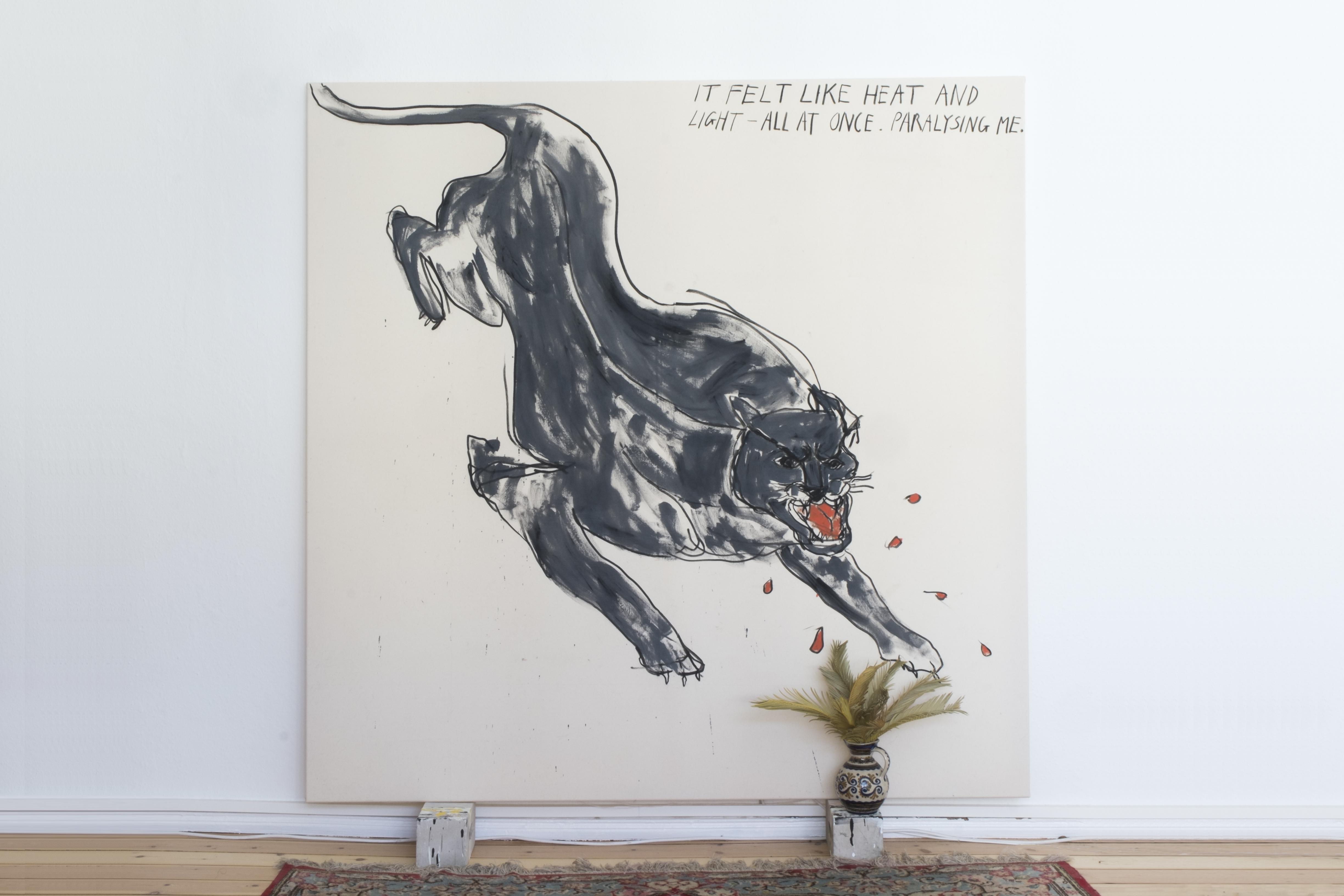 The cats in Sophie's work aren't always based entirely on her own, though. Sometimes cats become a more abstract vehicle for working through her thoughts and experiences. A pair of oil and charcoal works showing two cranky-looking cats are called Constipated and Anxious I and Constipated and Anxious II. The cats' grimaces are perfect renderings of extreme discomfort, but the paintings are also extremely funny.
"Anxiety is something that's been present in my life for a very long time, and only recently I've come to see it properly," Sophie says. "I think that's why it's popping up in the work, because that [process] is really happening now. I'm interested in everyday, real-life feelings and stories. Painting is also a place where I can use humor to deal with it. And for someone else looking at the painting, it's approachable because it's using humor to address something that can be quite serious."
Bodily functions are also a recurring theme in Sophie's paintings. Instead of keeping a sketchbook, an idea she finds intimidating, she makes quick drawings on napkins. Their subjects range from butts to ovaries to real-life run-ins (see the work Creepy thumbs-up from your boss). One napkin reads "I bled into your Calvins." "We're trained as women in this idea that 'women don't shit' or 'women don't have hair.' And I'm really tired of having to pretend that it doesn't exist," says Sophie. "It's ok to speak about it. It's normal to speak about it. Again, it's using funny little drawings and humor as a way to say, 'I don't care what you think.'"
Soon Sophie will fly to Athens to set up for a joint exhibition, opening in September, with the young Greek artist Aristeidis Lappas. They're showing their work in the project space We Are Bud, an empty block of flats converted by its owner into a community gallery. Displaying her new paintings in an apartment feels exactly right: Sophie often presents her canvases in domestic tableaux, surrounded by found objects and flowers. When her husband was using the couple's only set of bricks, she began supporting her paintings with rolls of toilet paper ("I really feel anything can be a material!").
Her travels won't end with Greece.Sophie has been selected for the 2018 NARS Foundation residency, which provides studio space and support to emerging artists in New York. "I'm going to be really interested in New York City itself. I want to really see it and feel it, and make work as a response to that," she says. "For me it's all about honesty. I think you can look at a piece of work and you can tell if the intention of the artist was an honest one. My goal is always honesty."
"Mine, Others and Yours" is on show at We Are Bud in Athens from September 7.
sophievallance.com