Photography Mitchell Sams
matthew adams dolan puts a new spin on preppy tradition
For spring/summer 18, the New York designer cast his eye on New England.
|
10 September 2017, 12:03am
Photography Mitchell Sams
Matthew Adams Dolan attended high school in rural Japan, studied French literature in Switzerland, and earned his undergraduate degree in Australia. But the New York-based designer was born in Danvers, a 17th-century town on Massachusetts's north shore.
It's been exciting to watch Adams Dolan's takes on the classic codes of American style develop since his graduation from Parsons's prestigious MFA program in 2014. As a fellow Bay State native, I've always found something that reminded me of home in his collections. Ours is a land where L.L. Bean barn coats are family heirlooms. And Adams Dolan's got a deep reverence for utilitarian workwear and traditional craft (inherited from his mother, an avid quilter).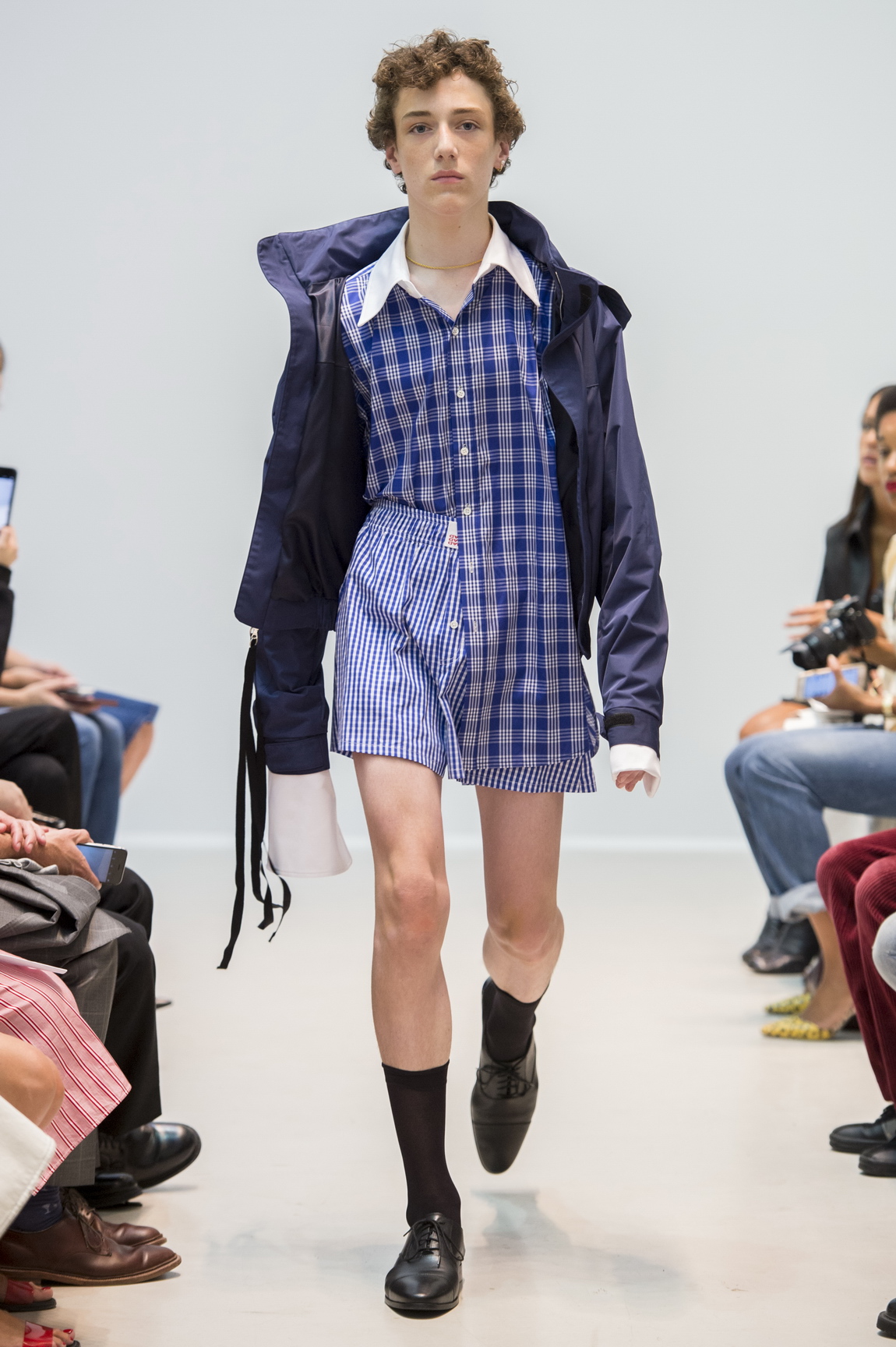 This season, Adams Dolan took the New England vibe in a different direction: he went prep. Cable-knit sweater sets, soft pink oxford shirts with crisp white cuffs, perfectly tailored khakis, and diamond monograms for days (Chloë Sevigny, eat your Connecticut heart out). As with his takes on workwear, Adams Dolan played with proportions this season — supersizing shirt sleeves, experimenting with pleats, and layering to achieve fresh silhouettes.
"I was looking a lot at the archetypes of American style, which is something I've always been obsessed with," Adams Dolan said backstage. "Old Bruce Weber photos, for example: they're so idyllic, and have such beautiful people in them." JFK Jr. and Carolyn Bessette-Kennedy — the late American royalty who made Jordan VIs look as easy and elegant as windswept ties — also came to mind.
Yet Adams Dolan's prep wasn't picture-perfect country club. (His show notes mentioned American Psycho's Patrick Bateman.) Preppiness is an all-encompassing culture that's ultimately couched in capitalism. And at this particularly turbulent moment in politics, examining our nation's history is a more complicated endeavor than ever.
"It's about aspirations, about questioning icons," Adams Dolan said. He nodded to the Lo Lifes — gangs of Brooklyn teens who robbed Ralph Lauren stores in the 80s. They developed a new language of street style by claiming a culture they'd otherwise been excluded from.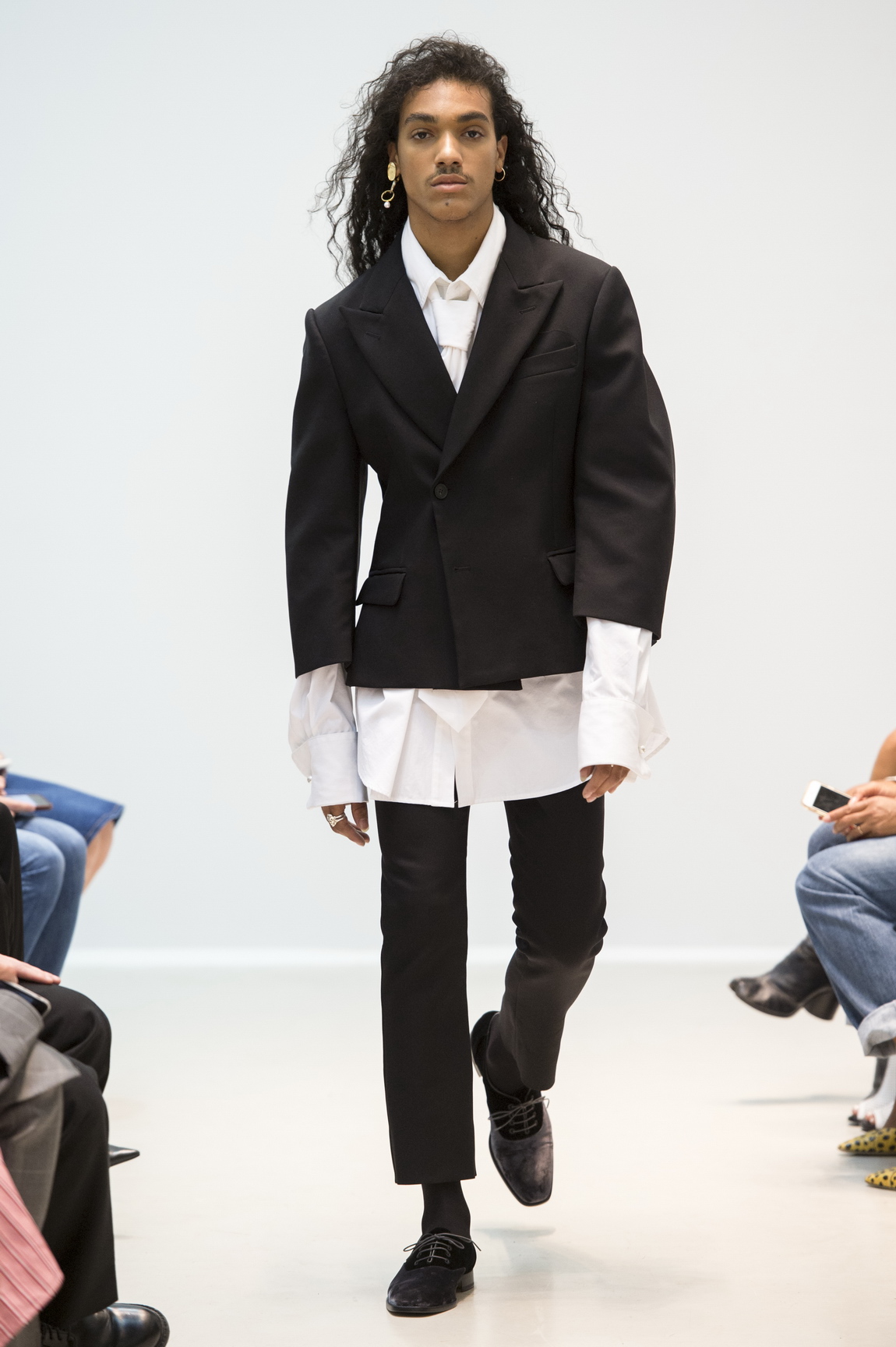 The collection marked Adams Dolan's first runway show. (Its outstanding tailoring was something special to see in motion.) Asked why now felt like the right time to hit the runway, Adams Dolan pointed out the recent migration of American houses like Proenza Schouler, Thom Browne, Rodarte, and Altuzarra to Paris. "I've always been obsessed with American style, Claire McArdle, Calvin Klein," said Adams Dolan. "Especially at this time, with so many brands leaving New York, I think it's important to celebrate that."