what do your favorite fashion designers eat for lunch?
Buffalo Zine found out in their new issue.
We are now onto the eighth issue of Buffalo Zine – eight whole issues of wonderful, glorious fashionable fun. They have done issues on shopping, issues on holidays, issues on home decor, issues full of all kinds of life-affirming words and pictures and ideas.

Their new issue is all about food, glorious, food. It has Christian Louboutin eating lunch with Bella Freud, Eckhaus Latta having brunch with Michael Bailey-Gates, and Michele Lamy at a brasserie with Jon Gray. There are 100 recipes from fashion's crème de la crème; Cyndia Harvey's Banana Fritters, Ib Kamara's Jollof Rice, David Gandy's Thai Seabass, and Stella Tennant's Chestnut Stuffing.
They also had luncho-al-desko with a lot of our favorite young fashion designers. And they were kind enough to share it with us. Here it is…
Martine Rose
It's a Thursday lunchtime and — in Martine Rose's own words — her design studio is beginning to resemble an episode of Ready Steady Cook. Plates are moving at a rate of knots as delicious aromas waft through the studio and the team moves towards the kitchen. "We fucking love this kitchen!" says Martine. "We love our little set-up, it's our community." On the menu today are make-your-own fajitas, but the team are just as likely to eat at the restaurants on their local road. "Italian, Eritrean, Vietnamese," Martine adds. "It's absolute gold." What's the tipple of choice to accompany their lively group lunches? "Oh no, I can't drink at work. I can't start and then stop, I'm quite an extreme person. It's all or nothing."
Cottweiler
At midday Matthew Dainty and Ben Cottrell, founders of menswear label Cottweiler, can be spotted sneaking away from their Dalston studio to Ben's nearby garden. Having been based in the area for five years now, they've exhausted every food joint in the vicinity. "We're both really fussy, so we like to have something different almost every day," says Matthew. Jerk chicken is such a staple that they're now friends with the owner of their favorite spot, to be found on Gillett Square. True to form, they're cooking from home and jerk is on the menu. What soothes their frazzled tastebuds after all that spice? The recent addition of an office water dispenser has been seeing a lot of use. "It's kind of the best thing ever," they laugh.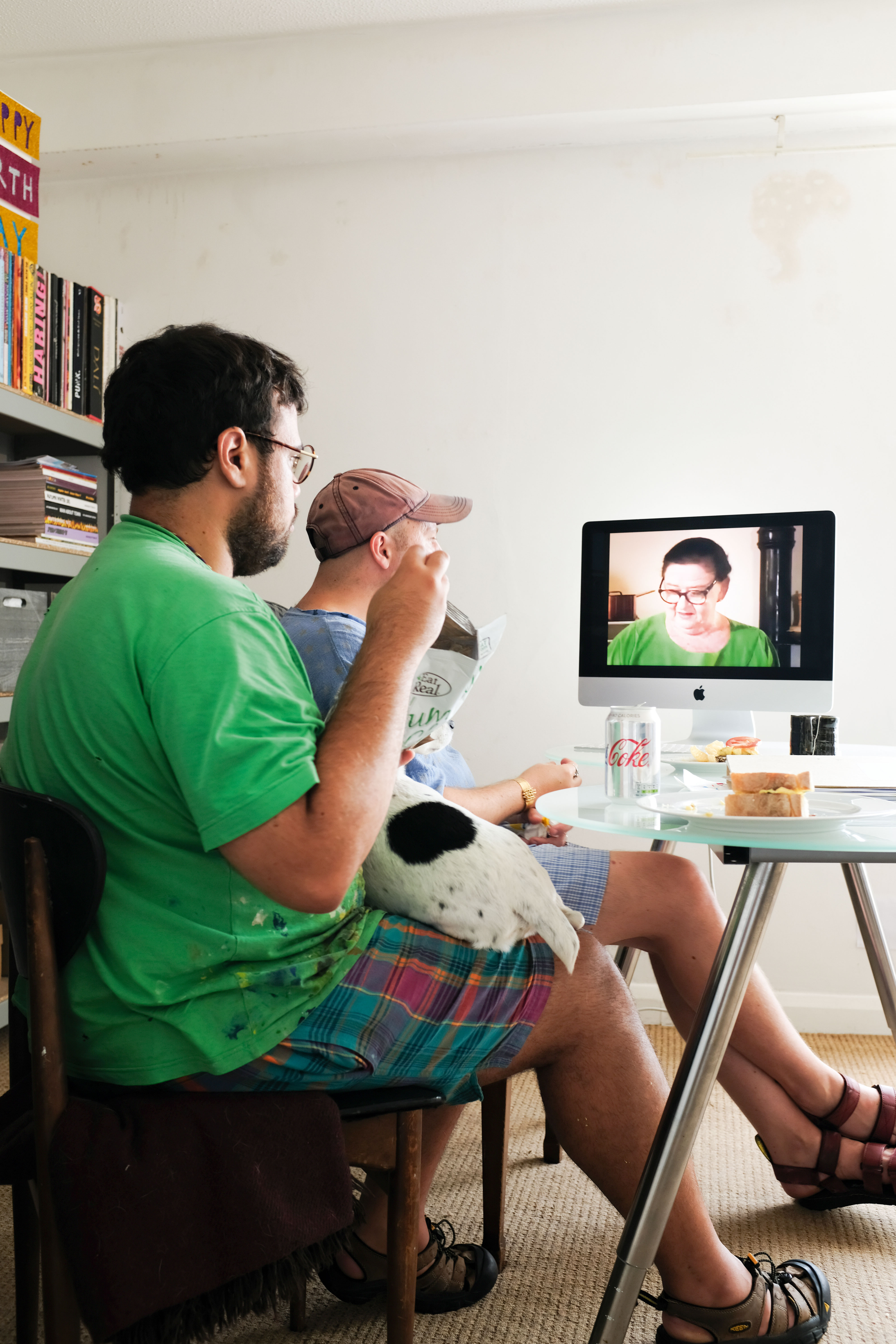 Rottingdean Bazaar
The studio of James Theseus Buck and Luke Brooks, located in the seaside Sussex town of Rottingdean, after which their label is named, is nothing if not idyllic. They live and work only 15 paces from the sea, which they — weather permitting — frequently take advantage of, "going swimming first thing in the morning and sometimes in the evening too," James explains. Their lunch today is fabulously English, consisting of a few egg mayonnaise sandwiches and a packet of crisps in full view of the beach — quite a different scene from your typical urban studio. In the rainy months the beach isn't such an attractive option. "We usually eat our meals at our desk and watch an episode of Two Fat Ladies," adds Luke. It doesn't sound like such a bad alternative.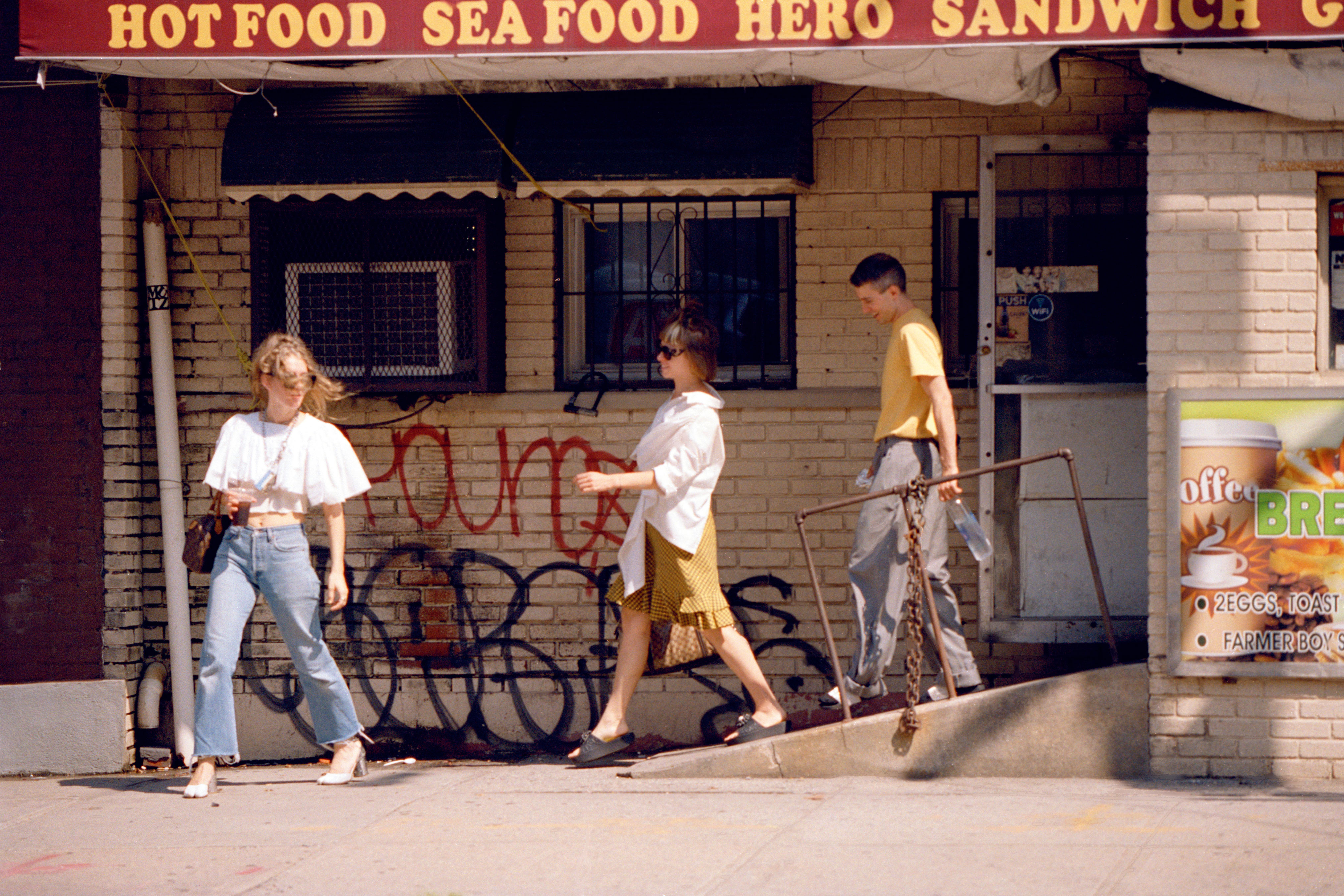 Vaquera
According to the Vaquera team — consisting of Patric DiCaprio, Bryn Taubensee, David Moses, and Claire Sully they've spent recent lunch breaks honing their mannequin challenge poses and listening to Europop, in particular, Scooter; "Skibbadee, skibadanger, he is the rearranger," they chant. Standing completely motionless might be relaxing, but when they do have to actually eat something, the subversive NYC design collective are known to frequent the Point View Deli across the street from their studio for its enormous menu and energy packs. Although they like the deli's seating area, they do mention that their dream lunch setting would be "the Hogwarts Great Hall". And their dream lunch date? They answer, without hesitation: "Miuccia Prada!"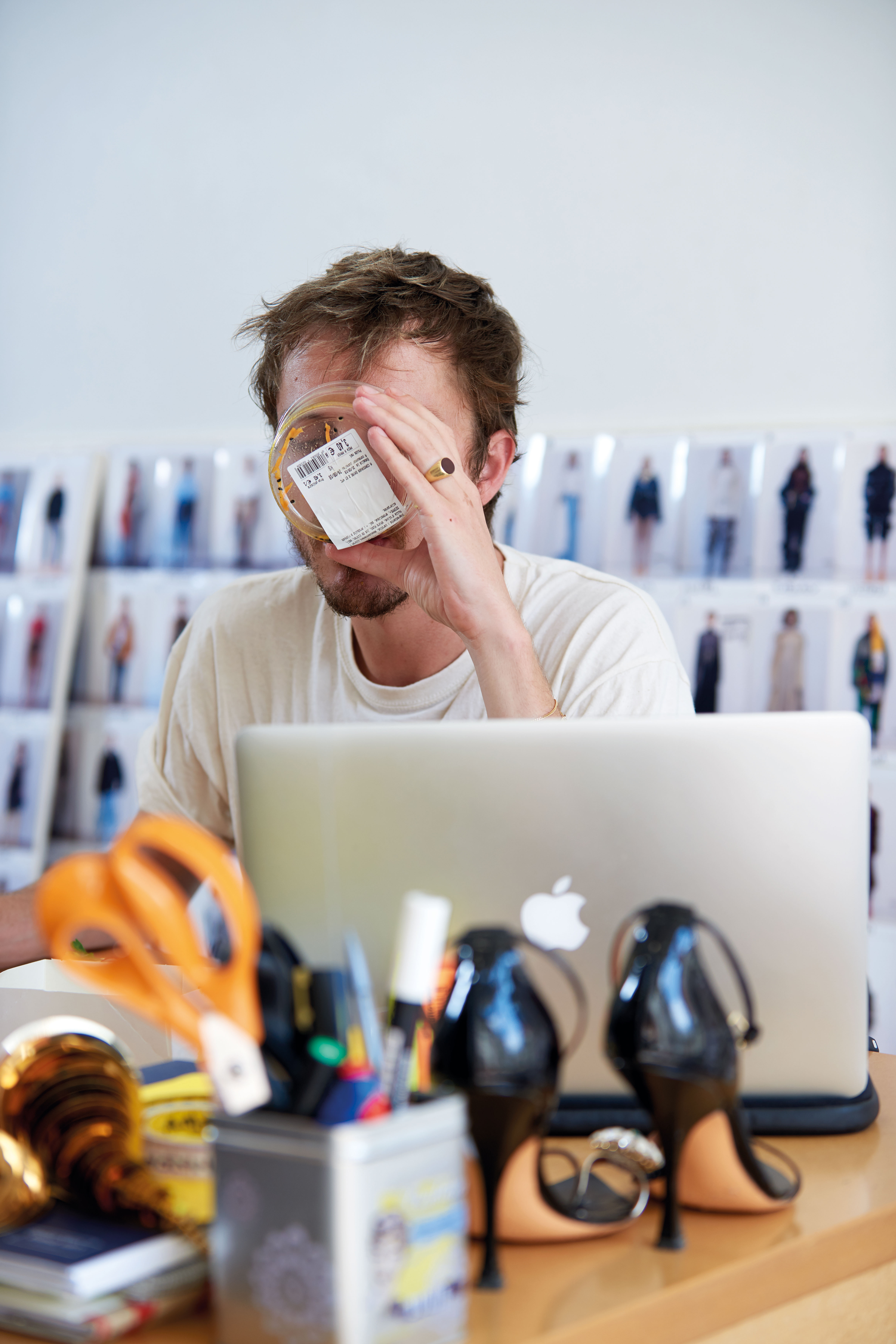 Glenn Martens
"Lunchtime is a moment of peace for me," says Glenn Martens, creative director of fashion label Y/Project. "When I'm eating, my team don't come to ask questions, so it's the only time I can think about things uninterrupted." It does, however, take a few stimulants to get back in the zone after the blissful respite of the lunch hour. "After lunch, it's coffee and cigarettes on a weekday, rosé with ice cubes on the weekends." It's not just caffeine and alcohol that have their allocated days. During the week it's gluten-free and vegetarian, as he himself admits that he isn't the most avid gym attendee, so he's watching both the planet and his waistline. On the weekends when he's off-duty, however, it's full-blown decadence — think steak, wine, and fries. The only time Glenn has been known to break this routine is in the week before shows. "When it's fashion week I give up on any healthy resolutions. I just live off candies."
Itchy Scratchy Patchy
"We really need to buy some cutlery," says Christabel MacGreevy, making a mental note-to-self as she surveys the office of Itchy Scratchy Patchy, the label she co-founded in 2015 with model Edie Campbell. "We usually end up hacking open our avocados with a ruler." When they're too busy to sneak out of their east London studio for a proper lunch, handfuls of nuts and powdered milk have been known to offer sustenance. "A single tin of chickpeas was a real low-point," notes Edie. Despite these meager lunches, their culinary imaginations are fanciful: Christabel's dream meal is "macaroni cheese and sherry," which Edie deems repulsive. "Don't drag me down, Edie! I'm crafting a chic meal — there's samphire and oysters too." "You've never made that," Edie rebuts. "Nobody ever has because it would be so disgusting." Christabel pauses. "You're right. It would be disgusting. I am sweating profusely."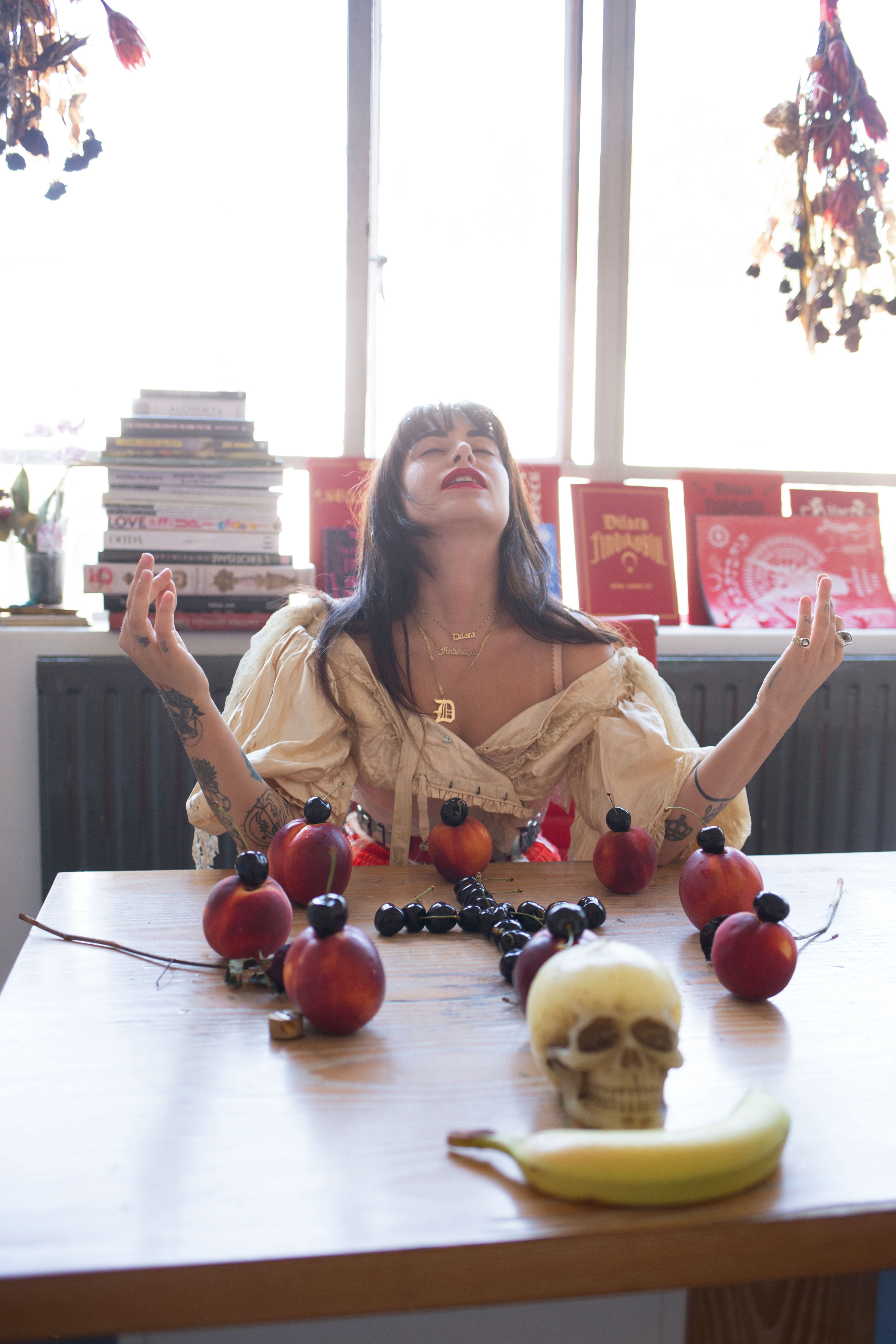 Dilara Findikoglu
Dilara Findikoglu is laying out her lunch with ceremony and precision. Cherries and peaches come together to form an inverted cross, while a skull candle completes the ensemble: an exotic offering to a mysterious power. Day to day, however, the Turkish-born, London-based designer's lunches are more mundane. "I love to eat a Chipotle at my desk," she confesses. "My tastes are quite unusual." What else does she snack on during a long day at the studio? "Watermelons are my favorite thing in the world, although I often crave oysters when I'm working. I can do almost everything at my desk: sleep, drink coffee, but I've never eaten oysters there." For anybody planning an oyster delivery service, you've found your first customer.
The new issue of Buffalo Zine is out now and you should buy it because it will change your life.
Credits
---
Text Dan Richardson
Photography Maxwell Conrad Granger (Dilara Findikoglu, Martine Rose, Cottweiler, Itchy Scratchy Patchy, Rottingdean Bazaar)
Photography Caroline Tompkins (Vaquera)
Photography Coco Neuville (Glenn Martens)
This article originally appeared on i-D UK.