Photography Alasdair McLellan
the story of kim jones for dior homme
Kim Jones' debut designs for Dior menswear were elegant, sporty, sophisticated and most importantly wearable. Here, Alasdair McLellan shoots the collection as we meet the man himself.
|
05 November 2018, 8:00am
Photography Alasdair McLellan
This article originally appeared in i-D's The Superstar Issue, no. 354, Winter 2018.
Kim Jones is unpacking boxes in his new office as Creative Director of the menswear division of Christian Dior on the tail end of London's Harley Street. The space previously housed Phoebe Philo at Céline and, in her absence, Kim has taken up residency back in the city he calls home. "London is the capital for finding menswear inspiration. This is where I'm from, this is where I live," he says. "I need what I need to make me happy so that I can do my job." The space remains relatively blank. The only nod to its new owner is the archive Vivienne Westwood shoe collection housed along an entire wall of shelves to the left of where his desk will soon stand, directly in front of a floor to ceiling bay window. Gossiping and giggling, Kim sips a diet coke whilst texting his assistant to organize his next string of meetings, deadlines, and interviews. His hair is neat and clipped, and he is looking trim and healthy. Cartier diamond bracelets and platinum necklaces accessorize his outfit of a Balenciaga sweater and Nikes. Despite the pressure he is currently facing at the helm of one of the world's largest luxury brands, he seems relaxed and happy.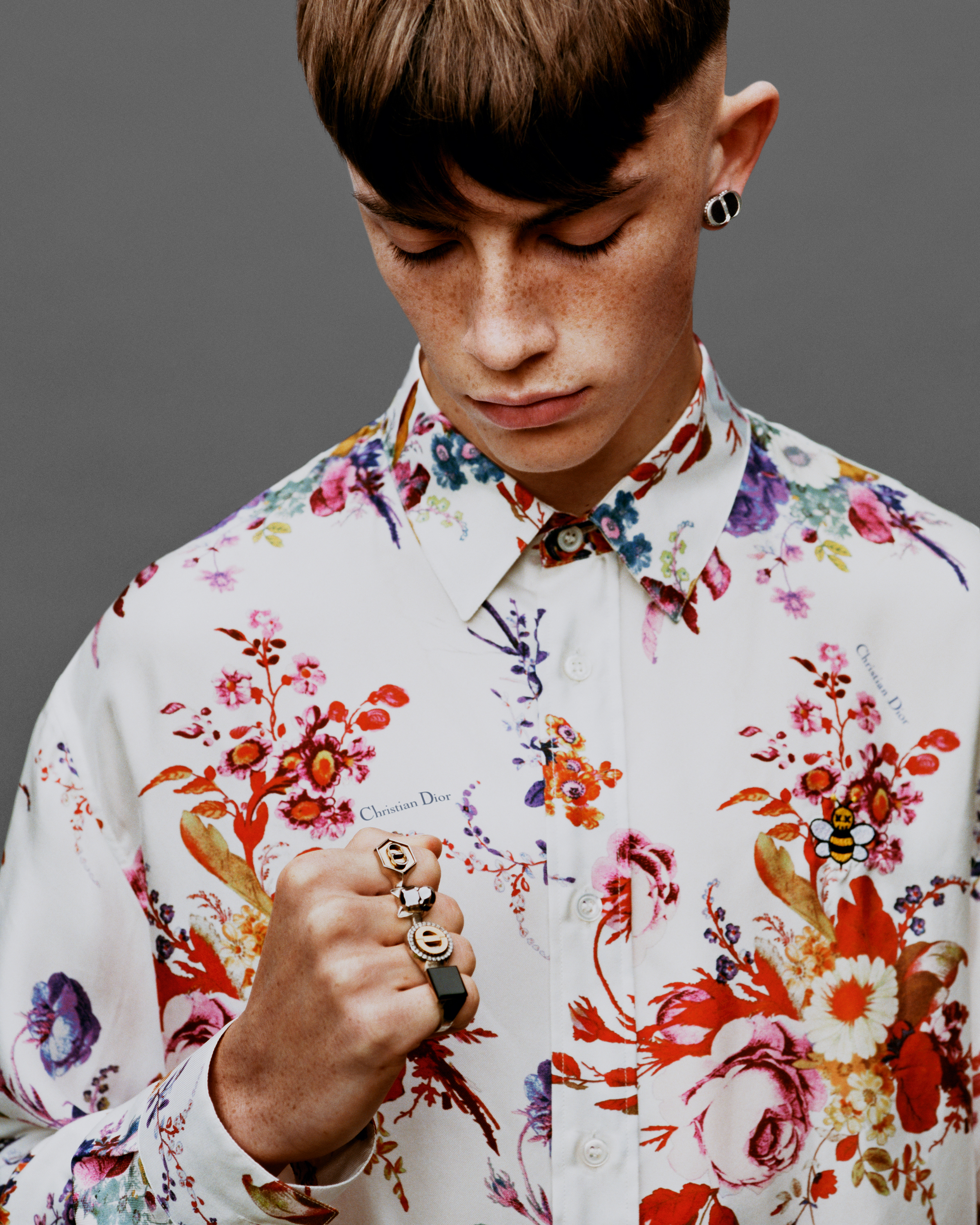 Kim stands in the shadow of his debut collection at the house of Dior, one that received a standing ovation and universal acclaim. From café-chair canework laser-cut into coats and totes, to rose hued suits and Toile de Jouy patterns directly lifted from the fabric wallpaper of the first ever Dior boutique, Jones' inauguration was a direct homage to the personal legacy of Mr Dior himself. From plastic jackets and pajama style shirting to decoupage flowers, bumblebees and feathers, there was a lightness of touch throughout the collection, but also a feeling of something very democratic. Sporty, elegant, sophisticated, and wearable this was Kim at his finest, and sure to be snapped up by every influencer of note. Indeed, two days before showtime he previewed the collection to Bella Hadid and Kim Kardashian among others. "The atelier had no idea what was going on," Kim reveals, "but it's so important to have fun and create a world and community around everything I do. When we were getting ready for the show a lot of people were coming through the showroom… Kate Moss, Naomi Campbell, and Skepta were all there, it was really fun and created a great atmosphere." Jones is setting new rules at Dior, ones that actively embrace celebrity and the internet, a tool he has utilized throughout his illustrious career. "Years ago, when I was designing my own brand, I was always in the top 40 on MySpace," he laughs.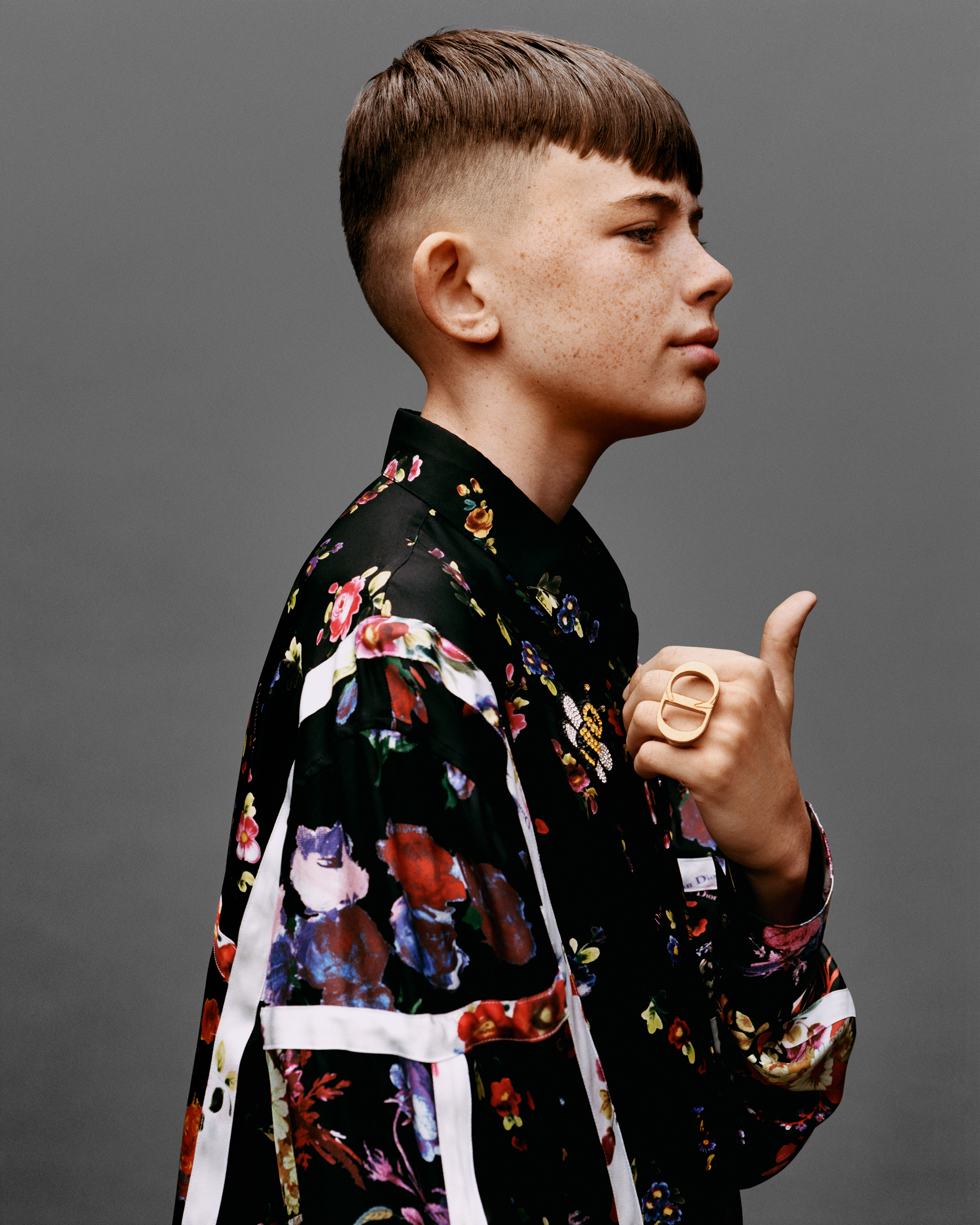 Born in London on September 11, 1972, Kim Jones' passport is as well thumbed as David Attenborough's having travelled from Ecuador to Africa and the Caribbean during his youth thanks to his father's work as a hydrogeologist. He continues to draw upon these formative global experiences as his muse. "I look around the world for inspiration and to people and places rather than in books," he explains. "You can always find new, cool things to inspire you, but I'm more interested in personal experience." Following his parents divorce, Kim lodged with his elder sister in Brighton who introduced him to influential independent fashion magazines such as i-D, and to Lily Allen, a best friend to this day. He studied the pages of magazines and immersed himself in fashion credits, learning the names of the stylists, designers and photographers they contained. Leigh Bowery, Rachel Auburn, Christopher Nemeth, Bodymap, and Judy Blame were all contributors to i-D then, and their resonance with Kim was seismic. These progressive aesthetes challenged every preconceived notion of fashion imagery and remain personal touchstones to this day.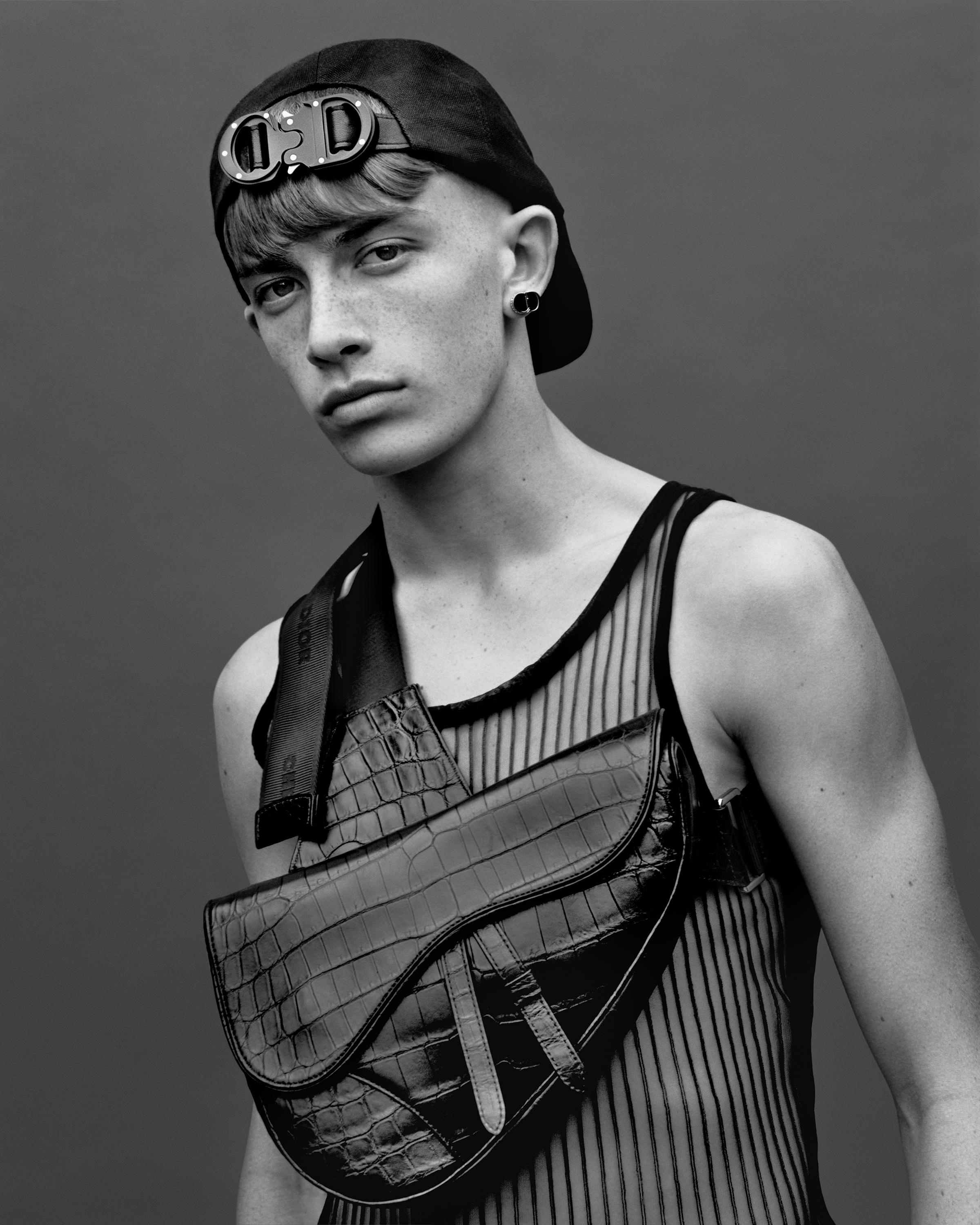 During his time in Brighton, Kim hung out with the straight edge and post punk hardcore kids from the skate scene and dressed like a scally with a whiff of twinky rent boy thrown in for good measure. He wore Capital E Levi's, early Undercover, Supreme, A Bathing Ape, Neighborhood, and Good Enough. He listened to house music, acid, techno, and gabber, and collected Planet of the Apes and Star Wars toys, vintage Nike and Vans trainers. He gravitated towards obscure queer culture and became obsessed with Amanda Lear, drag performance and the cherished documentary Paris Is Burning. His knowledge of clothing from a street style, social and cultural perspective was infinite and his appetite for collecting insatiable, collating rare iconic garments, and art from a young age. "Art wise I have lots of The Bloomsbury Group's work, and I just bought a quarter of a fragment of one of Francis Bacon's Screaming Popes," he reveals. "That's probably the most amazing thing I've ever bought."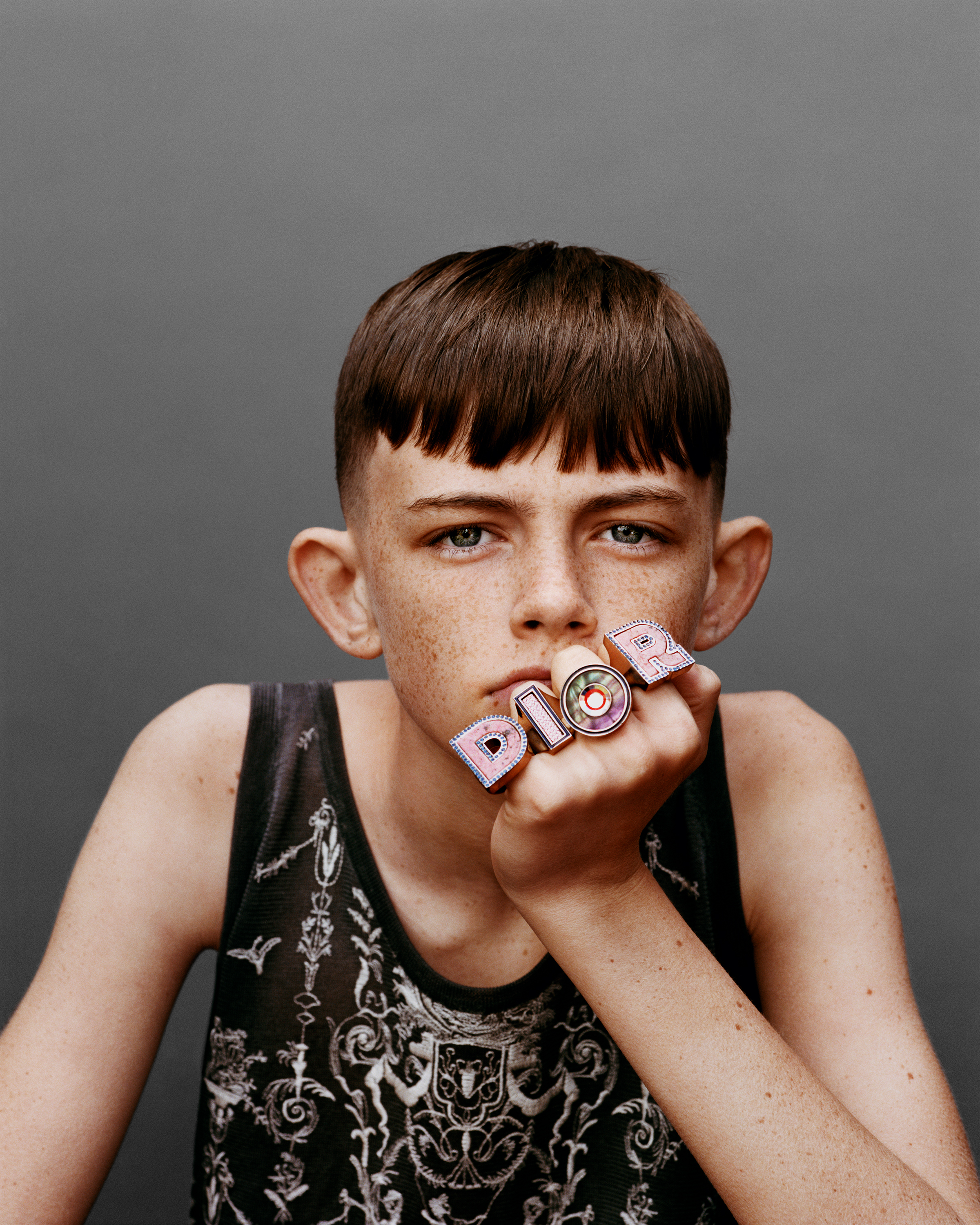 Kim's clothing archive is the stuff of legend and includes every seminal Azzedine Alaïa stretch and Leigh Bowery showpiece. "I want to photograph everything I own and do an exhibition when the time seems right," he shares. "Some of the Leigh Bowery pieces I have are just amazing; the full mask and sequin leggings, Jordan's 'Venus' T-shirt, Rachel Auburn's swastika shirt. So many incredible moments and it gets harder and harder to find." His museum worthy collection is to such exacting standards thanks in no small part to his enduring friendship with Steven Phillip of West London store, Rellik. Kim's known Steven since he was 16 when they met in some "grotty bar" in Soho. "I affectionately call him 'mother'," he says. "He's probably the funniest person I have ever met. I absolutely love him. He's such an idiot. He's always showing me things I've never seen before, always. He's incredible for research. He knows my tastes and he always manages to surprise me."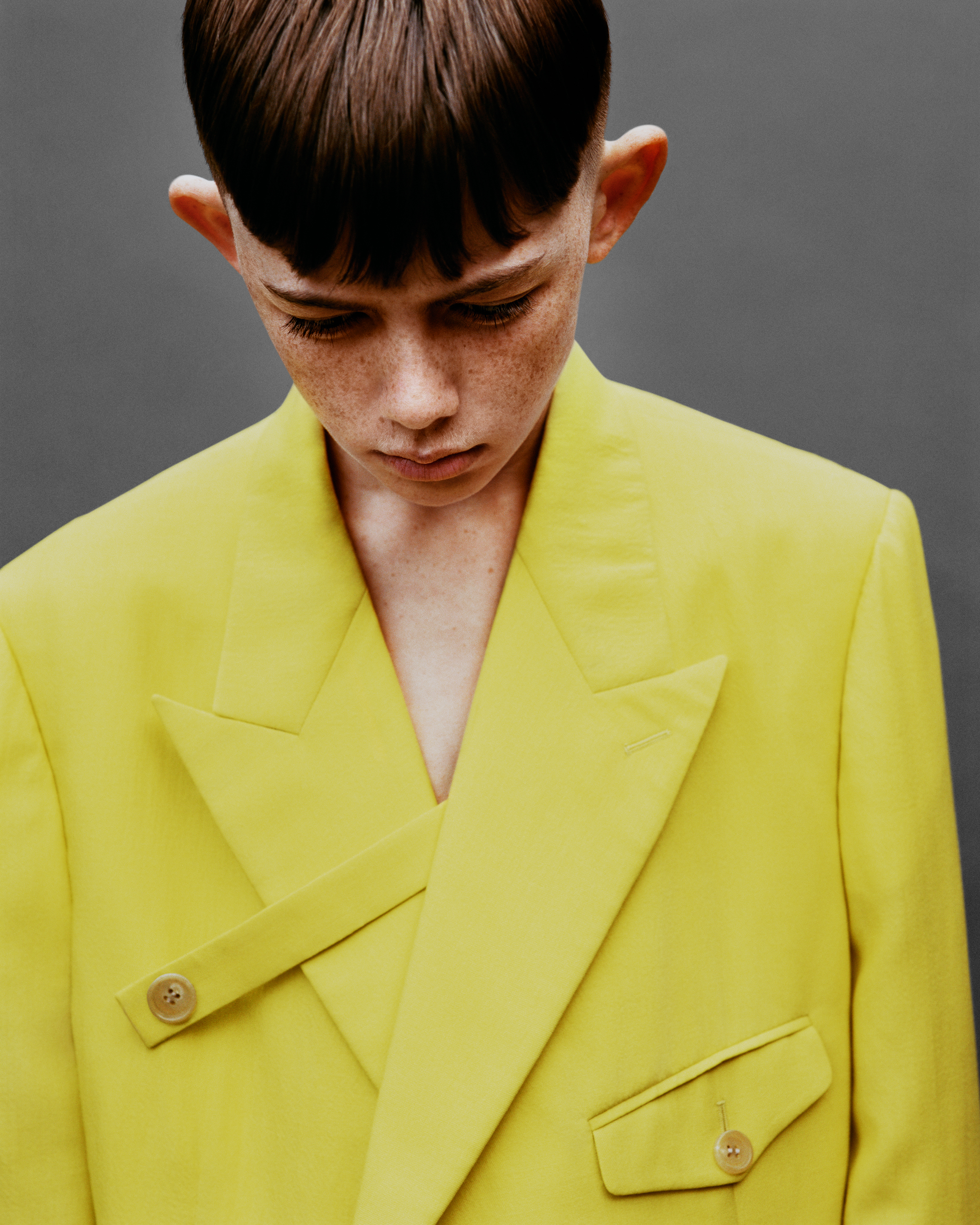 Growing up, flitting between London and Brighton, Kim immersed himself in club culture, dancing till dawn at Kinky Gerlinky, Popstarz and Trade, before enrolling at Camberwell College of Arts where he studied photography and graphics. He would often hang out with his mates at Central Saint Martins and soon came to the attention of Fabio Piras, the current Course Director of the MA Fashion Course. Fabio was fascinated with Kim and invited him to interview for the MA Menswear Fashion course. With no previous design experience or knowledge of pattern cutting he put a portfolio together, blew everyone away and changed his career to fashion design. Under the tutelage of the late, legendary Louise Wilson OBE, Kim Jones exploded on to the London fashion scene in 2002. The CSM graduate runway shows are often spectacles of the most fantastical fashions, so when Kim graduated with a collection of everyday clothes, that looked as if the models had walked in straight from the Southbank, half the audience were befuddled, whilst the other half were obsessed. "I remember someone saying to Louise, 'I don't get Kim Jones, what he does is so simple'. Louise said, 'If it's so simple, then you fucking do it!'"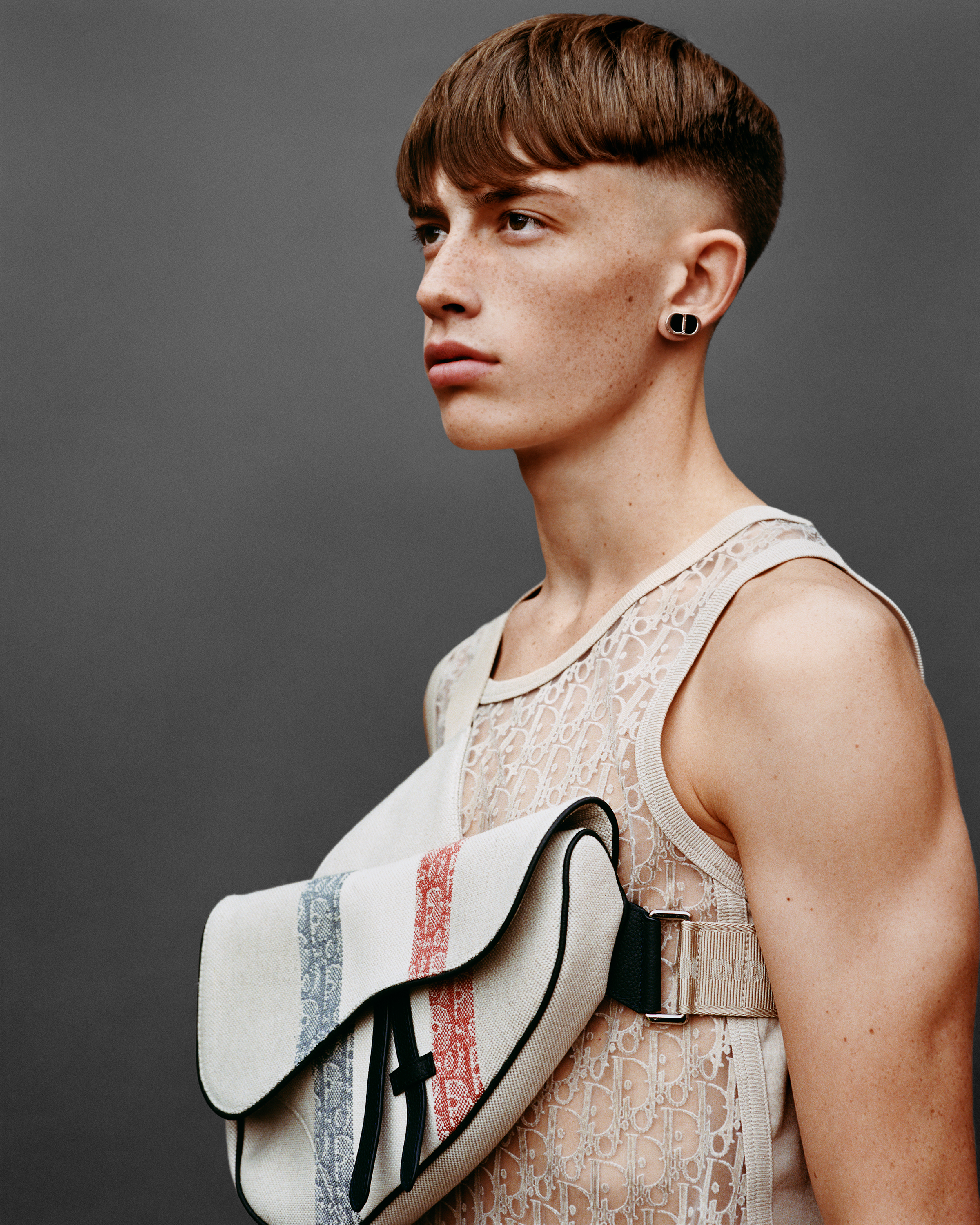 Kim's collection was a bold, exacting, pure, confident menswear statement that celebrated punk via house music and featured the perfect pair of jeans, powder pink blouson jackets and T-shirts emblazoned with the words "Edge of the Looking Glass" – a nod to the gay Chicago club night where Ron Hardy DJ'd. Styled with bandanas and Vans trainers, on the surface the collection was easy, accessible, attractive, and effortless, but scratch the itch and everything came underscored with an encyclopedic knowledge of subcultures. From inception this set an agenda to what was to become his life's work.
One that is constantly commercial, cool, creative, and always collectible. "For my MA, I made a lot of the fabrics myself, so much work went into each piece even though it looked quite simple." John Galliano bought most of the collection, including Kim's favorite jacket, the one piece he wanted to keep and wear himself. "I was a bit gutted about that," he admits.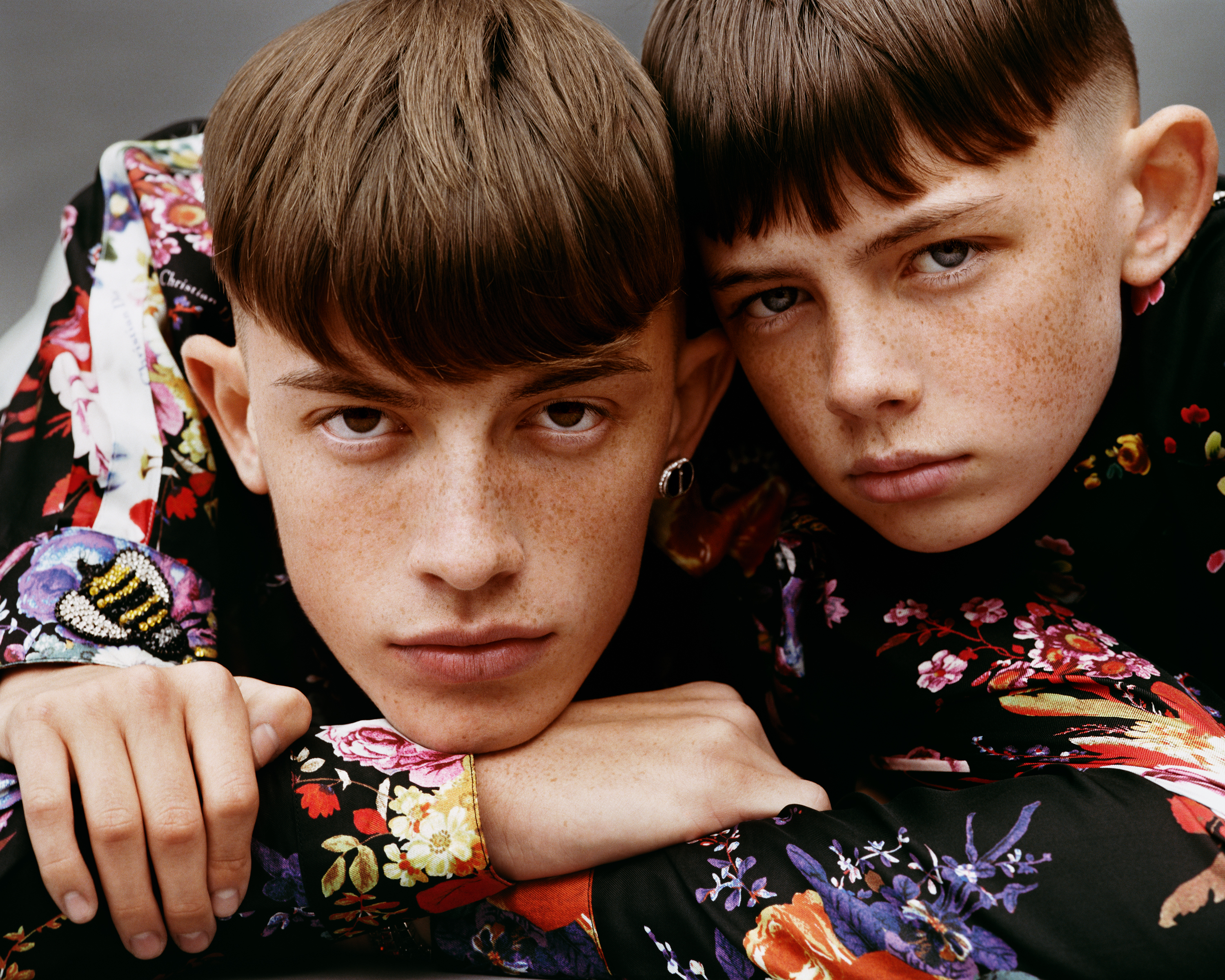 Around this time, Kim was working in Old Street, designing clothing for Gimme 5 under Michael Kopelman, the streetwear pioneer and owner of Gimme 5 who imported every label of note over the years including Stüssy, A Bathing Ape, Neighbourhood, Visvim, WTaps, and Supreme. Michael is a visionary, a retail god with an eye for art and commerce in the days before the internet, social media and Dover Street Market. Michael recognized in Kim a design talent and nurtured him. Their relationship cannot be underestimated. "Michael was a massive influence on me. He's not a designer but Michael has definitely influenced my design process," Kim says. "Through Michael I met Hiroshi Fujiwara, Jun Takahashi, and Nigo when I was really young. They were making clothes that no one else was making and in a really informed way. The thought process, the hardware, the technical details – all that was, and still is, really important for me." Another integral figure in the story of Kim Jones is Lee Alexander McQueen, who Kim first met at college. "I was using The Sun as pattern paper because it was 20p and all I could afford, and if I took the tube to college the paper was as long a read as the journey. Lee thought that was funny. I worked for him for a bit. He was amazing and I saw lots of different things with Lee. His sense of showmanship and making something really beautiful, it's always there. Lee was someone who was very close to me and informed me a lot. We spent hours chatting about things. Lee loved animals too. We hit it off, we shared a similar sense of humor."
In the early noughties, London revolved around Hoxton Square, where McQueen had his studio and where Mandi Lennard, Kim's flag waving PR was based. The Face, Dazed, Sleazenation and i-D were the editorial epicenters documenting the talents of the time and Kim was quick to appear at number 20 in The Face's top 100 most important people in fashion round up. Thanks to Louise and Mandi among others, Kim received industry respect and gained confidence to explore his eponymous line. Lulu Kennedy had recently launched Fashion East as a platform for fledgling designers and she chose Kim as one of the talents to christen her menswear equivalent, MAN. One of the first designers to embrace technology, Kim used film to tell the next chapter of his story and showed a ten minute short. He was creating a world and editors were taking note, with Kim styling editorials for publications including Arena Homme + and i-D, more often than not collaborating with burgeoning fashion photographer Alasdair McLellan. "I love doing stuff for magazines and publishing books. I like things that become historic documents."
"With full respect to Hedi Slimane and Kris Van Assche, I wanted to go back to the beginning, to look at the house rather than someone else's interpretation, otherwise you can get muddled up. You have to think about what's missing in the market." Kim Jones
Kim freelanced for many brands, gaining a role at British heritage sports brand Umbro then as Creative Director for British luxury goods brand Alfred Dunhill before moving to LVMH where he successfully helmed the iconic Louis Vuitton menswear division as Style Director. His tenure at Vuitton was a dream for Jones, which saw him collaborate with Jake and Dinos Chapman and Christopher Nemeth before his record breaking zenith of a collection in conjunction with James Jebbia at Supreme. The collaboration remains one of the all time greatest fashion collaborations in regards to product, hype, and global sales. Kim had literally exploded the barriers of what luxury could mean in the modern age and in doing so became a conduit for designers including Shayne Oliver, Kanye West, and Virgil Abloh to shine.
Under his direction, the menswear division at LV is rumored to have quadrupled in profits but after seven years at the helm of Vuitton, Jones felt the itch. Various design houses approached before he signed with the LVMH owned Christian Dior. His Dior gentleman is one whose DNA is imbued with the codes set by Mr Dior himself, as Jones attests. "Everything I look at is from the Dior archive, but you have to look at what is relevant for now." Rather than look to his predecessors at Dior Homme, he decided to delve deeper and break down the codes of the house of Christian Dior into three sections; Christian Dior, Yves Saint Laurent, and John Galliano. "Those are the designers that struck me the most," he explains. "With full respect to Hedi Slimane and Kris Van Assche, I wanted to go back to the beginning, to look at the house rather than someone else's interpretation, otherwise you can get muddled up. You have to think about what's missing in the market." Starting mid-way through the season, he had to rely on gut instinct to make decisions — out of necessity if nothing else. "We had to launch designs from day three to make sure they were ready on time for the show." On day five he received what is sure to be the sell out bag of the season, the first ever men's version of the saddle bag. "There wasn't a massive leather goods history with Dior menswear, so I looked at things I liked, reinterpreted them from different periods, and put them together. I liked the idea that it's like a holster, or a bumbag, on leather jackets or rucksacks. I carry and love my saddle bag and people always comment on it — I'm excited to see how it sells."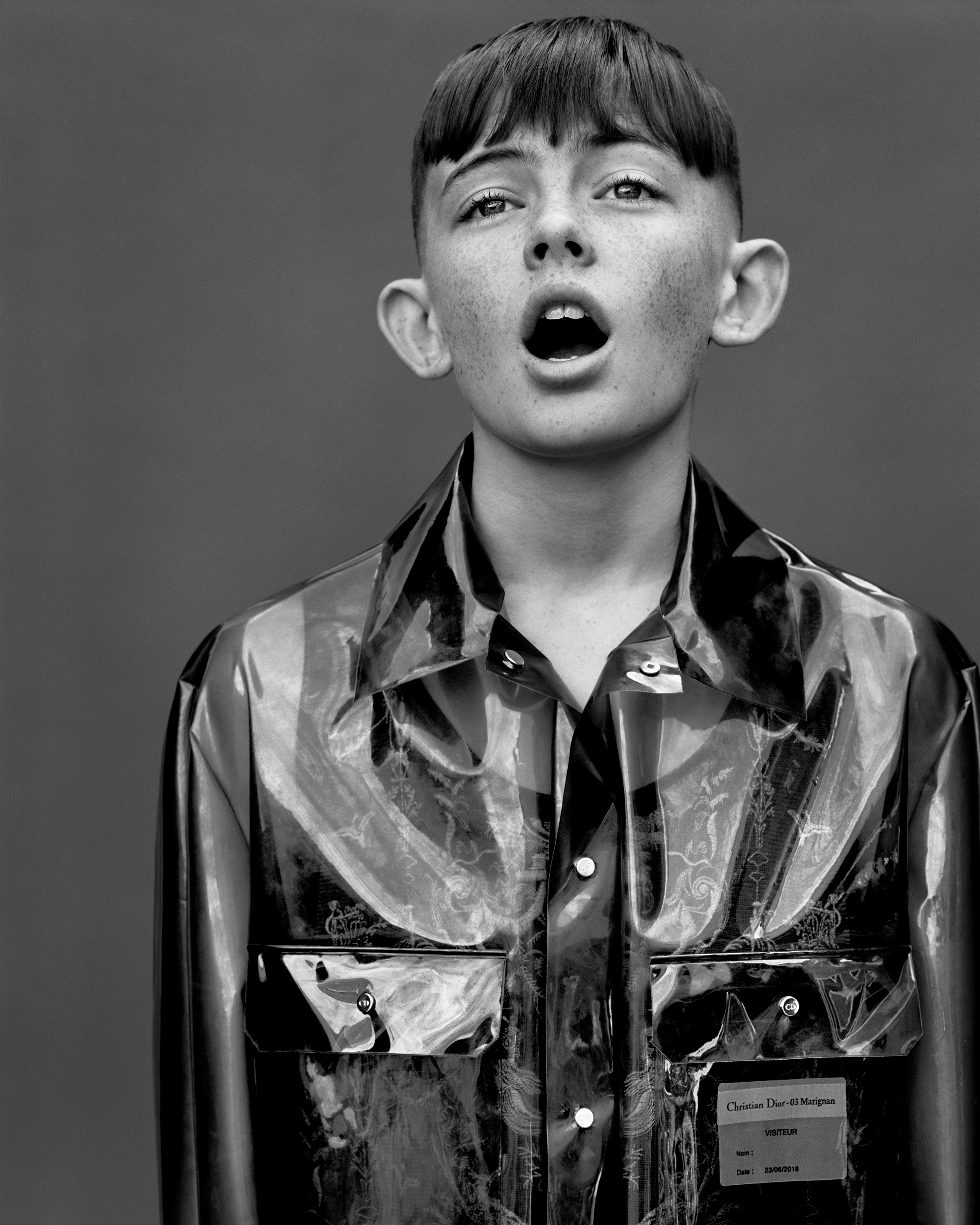 As witnessed in the excellent documentary Dior and I, the atelier at Dior is second to none. There is literally nothing these seamstresses cannot achieve with a needle and thread. "They bring so much and have so much experience," Kim confirms. "It's a constant interaction, a constant dialogue, they way they see things is a dream. They are not afraid of trying anything and always find solutions to any problem. As a designer, it's the most exciting way of working. Dior feels like a family and I speak with Maria Grazia Chiuri (Creative Director of Womenswear) and Victoire de Castellane (Creative Director of Fine Jewelry) all the time. I really like sharing ideas and discussing things. Dior is Dior — it's the pinnacle of a fashion house."
For his debut runway show, Kim wanted to pay homage to Mr Dior in the show space, and he wanted to say it with flowers. Earlier this year, artist Kaws held his first ever UK Museum exhibition at the Yorkshire Sculpture Park where 30 foot tall sculptures of his imposing Mickey Mouse inspired BFF character were brought to life in the rolling English countryside. Inspiration had struck. "I've known the work of Kaws my entire adult life," Kim says. "He is someone I really admire, so I asked him if he would like to collaborate with us. We talked about the BFF and him being Mr Dior with his dog Bobby and that's how it came about." Alongside the central runway sculpture, the Kaws collaboration rolls out on accessories, denim, knitwear, and limited edition teddy bears. "I'm obsessed with Baby Dior, so I thought the teddy bears were a fun thing to do and a way to combine our story."
It's boiling hot in the fashion capital on the day of Kim's debut show and crowds block the road at Paris' Republican Guard cavalry regiment venue. All those names Kim studied like homework from the pages of i-D are now close friends and here to show support. Legends Michael Costiff, Honey Dijon, and Andre Walker share a pew alongside newer acquaintances, including A$AP Rocky, Luca Guadagnino, Joe Jonas, and Victoria and Brooklyn Beckham. It is rather the scene. "My front row are my friends and I love them," Kim says casually. The crowds hush as Diplo takes to the decks. Underworld's Born Slippy blasts through the speakers as Prince Nikolai of Denmark takes to the runway for exit one. "To have the Prince of Denmark open the show was a dream. I'm half Danish – that's why I'm called Kim," he laughs. The show is soon over and the crowd roar. Kim takes his bow at the end of the show and runs around the circular space grabbing the hand of Yoon of Ambush, his friend, ally and jewelry designer at Dior before dashing together backstage. Friends, family, editors and celebrities rush towards the designer to bid congratulations on a job very well done. Robert Pattinson, The xx, Takashi Murakami, and Detox of RuPaul's Drag Race are all in attendance wearing hot off the runway full look monogram Dior. We wait in line and grab a hug and a kiss. "You know, I never in my life thought I'd do what I do," he says. "Sometimes I catch myself in situations and I ask myself 'What am I doing here?' I'm at the head of one of the biggest houses in the world… It's amazing."
Credits
---
Photography Alasdair McLellan
Styling Ben Reardon
Grooming Mike Harding at D&V using R+CO. Photography Assistance Simon Mackinlay and Peter Smith. Models Finley Richards, Rafferty Richards. Special Thanks to Adrian, Jodie and Ava Richards.
Models wear all clothing and accessories Dior spring/summer 19
This article originally appeared on i-D UK.