more is more when it comes to make-up at valentino this season
Swarovski crystals are the new eyeshadow, according to legendary make-up artist Pat McGrath.
|
02 October 2018, 10:37am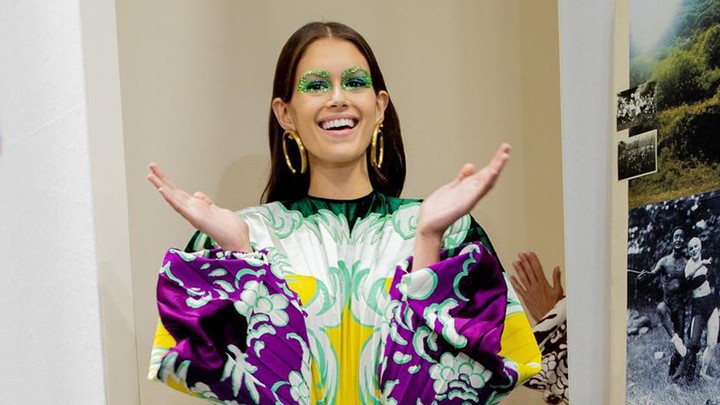 Kevin Tachman for Valentino. Via Instagram.
When presented with an elaborate collection involving kaleidoscopic prints, sequin embellishments and bold rainbow brights, most make-up artists would shy away from experimentation, sticking to a failsafe palette of fleshy neutrals so as not to avert attention from the main event. When Pat McGrath saw Pierpaolo Piccioli's spring/summer 19 collection for Valentino, she knew it was time to play.
Yes, most models in the line-up were prepped with little more than a dash of tinted moisturiser and a heavy pat of lip balm, but a select few got the full McGrath magic. Eyes framed in a spectrum of punchy-but-pared-back tones sculpted into sharp, dramatic double flicks that teetered between retro and futuristic. "Pierpaolo wanted the shades to complement the clothes -- quite paled out, but rich," McGrath told Vogue backstage, which called for a palette of lime green, chalky pastel blue, bubblegum pink to Quality Street purple.
Not satisfied with serving this colour statement alone, McGrath topped the graphic swipes of eye shadow with hundreds of tiny colour-coordinated Swarovski crystals, painstakingly applied one by one. You might not have used the app for months, but it certainly made for some pretty mesmerising Kira Kira fodder on McGrath's feed.
There were, too, a handful of models whose faces were partially hidden by oversized straw hats, but with lips left peeking below the rim painted in bold red or pink (using shades from McGrath's cult make-up collection) which came, of course, studded in same light-reflecting crystals or a tonne of glitter.
On the face of it, the hyper-embellished Valentino beauty look might seem like the sole reserve of the catwalk, but even if you take nothing else from it, let it serve as a welcome reminder than being a little bolder with your beauty choices is never a bad thing.