inside opening ceremony's defiant drag show spectacular
Opening Ceremony's spring/summer 19 show was a celebration of LGBTQ identity, hosted by Sasha Velour and headlined by Christina Aguilera.
|
11 September 2018, 2:11pm
Fashion has an undeniable obsession with drag, going back long before "hunty," "halleloo," and "having a kiki" became part of mainstream vernacular. But the culture's less glitzy side is rarely put in the spotlight, while the fun stuff is usually monetized with little return for those who created it. This is what made Opening Ceremony's spring/summer 19 show all the more radical. Humberto Leon and Carol Lim turned full creative control over to beloved drag superstar Sasha Velour, who presented a drag revue spectacular called The Gift of Showz at (Le) Poisson Rouge last night. Velour chose everything from the models (40 of, all LGBTQ-identified) to the guest artists (diverse, fabulously demented) to the lighting. The performers — including fellow Drag Race alums Jiggly Caliente, Miss Fame, Shea Couleé, plus Björk collabor Hungry and pop icon Christina MFing Aguilera(!) — even designed their own costumes using the spring/summer 19 collection, elevating its essence to a full-on eleganza extravaganza. Velour's own looks featured wildly exaggerated shoulders and glistening white full-length bodysuit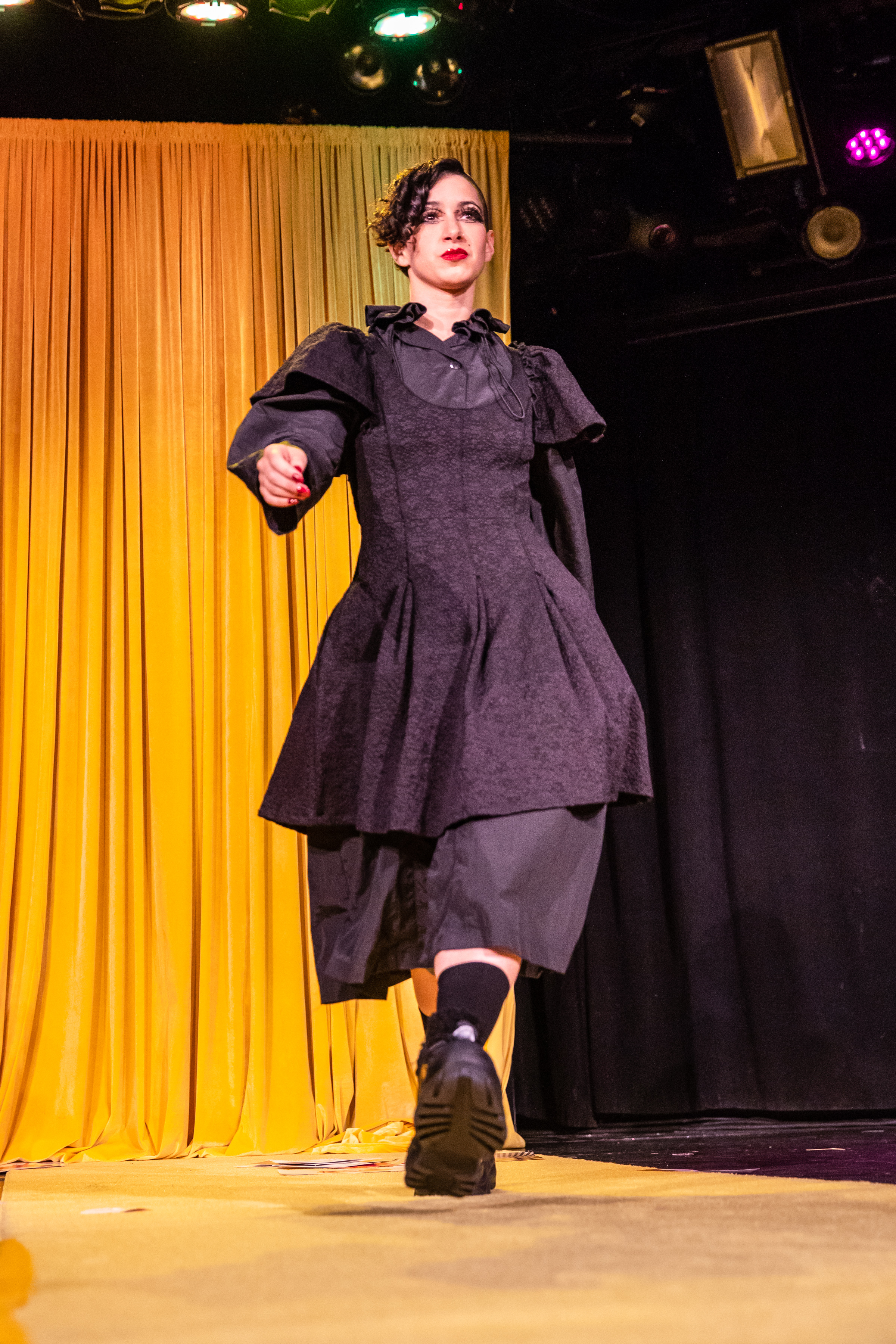 .
"The only meaningful way to look at fashion is to look at the way that crazy people live in it," Velour said in one of many poignant interludes to the high-voltage drama, after reminding us that this isn't a time and country where many queer people get to stand in the spotlight. "It's joyful, artificial, creative. It's welcoming to all, and celebrates difference. It's messy, citational, tacky, and truly wonderful." We couldn't agree more. Here's what went down at the most fun show of New York Fashion Week so far.
Jiggly Caliente's Minaj-approved medley
Honestly, anyone with the audacity to perform to Louchie Lou and Michie One's "Rich Girl" in front of Nicki Minaj deserves an award — whether that award be for bravery we can't tell. Minaj seemed to be enjoying Caliente's sensational medley, which saw her dancing like her life depended on it before delivering a stunning high kick. Post performance, she gave a moving speech about trans visibility and the importance of supporting your sisters. Buy her record, because anyone who complains about the lack of snacks backstage at a fashion show deserves our appreciation.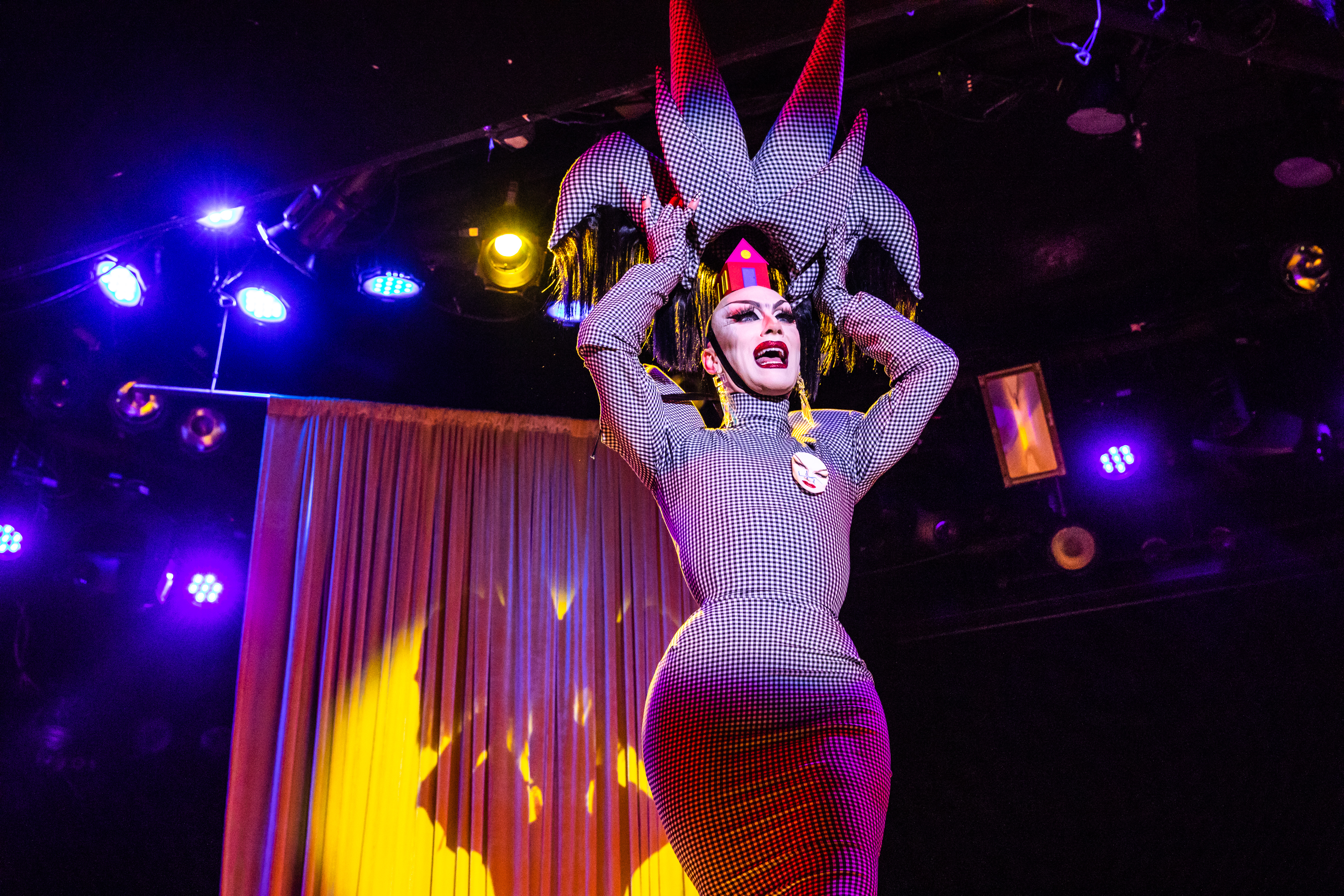 Sasha Velour's literal ode to abodes
Velour lip-synched vigorously to Dionne Warwick's "A House Is Not a Home" along with flashcards of houses, and yes, homes. For the grand reveal, she took off her enormous hat to show a little house underneath it. Bringing a surreal modern edge to the classics.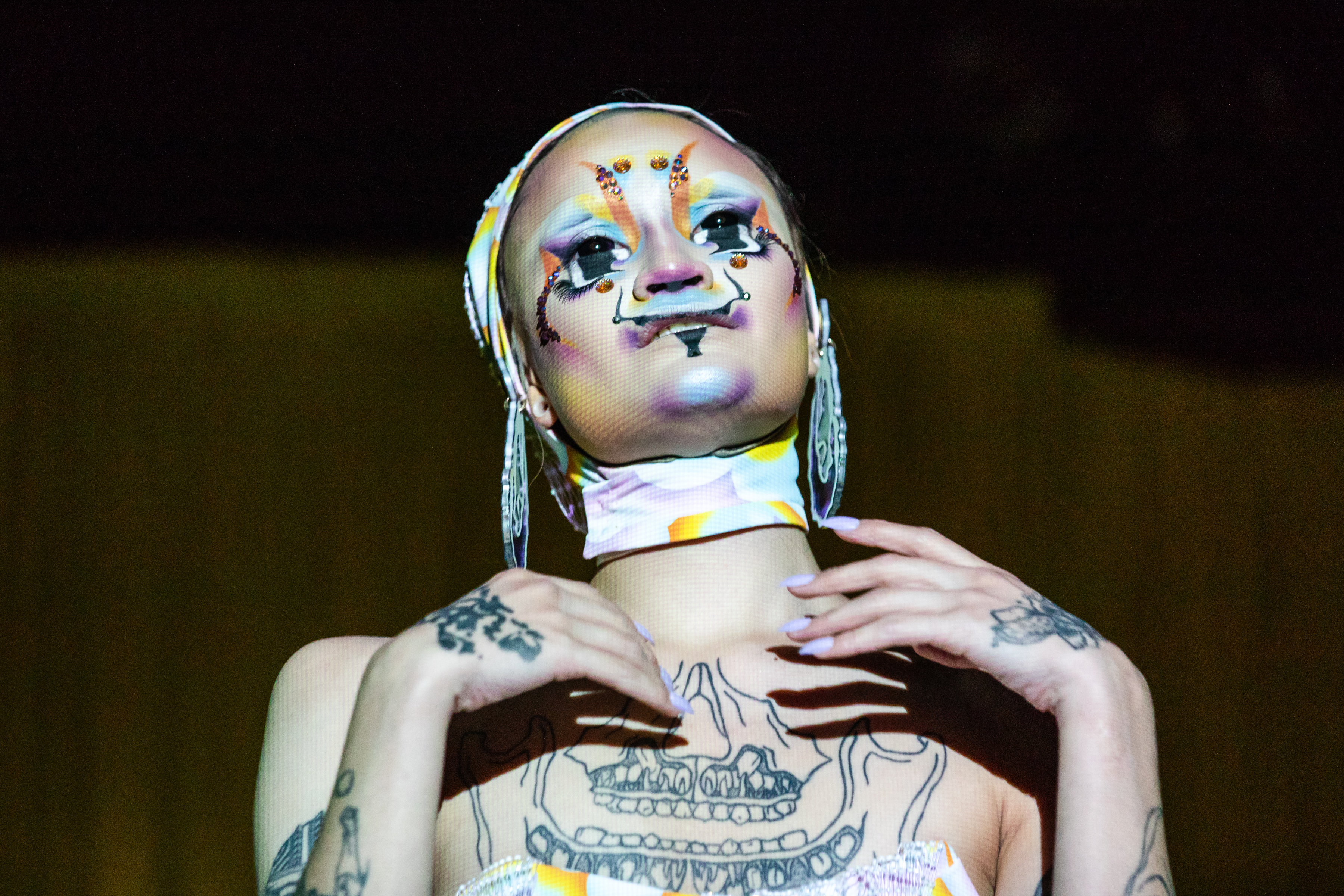 Hungry's surrealist maquillage
There's being beat for the gods, then there's the insanely trippy visage of Hungry, the Berlin-based avant-garde queen whose brand of "distorted drag" has caught the eye of Björk. Even from the back of a crowded room, Hungry's darkly ethereal, alienesque look upends the belief that drag queens have to look "pretty." Equally impressive is how she breathes — let alone moves — in the tightest corset we've ever seen.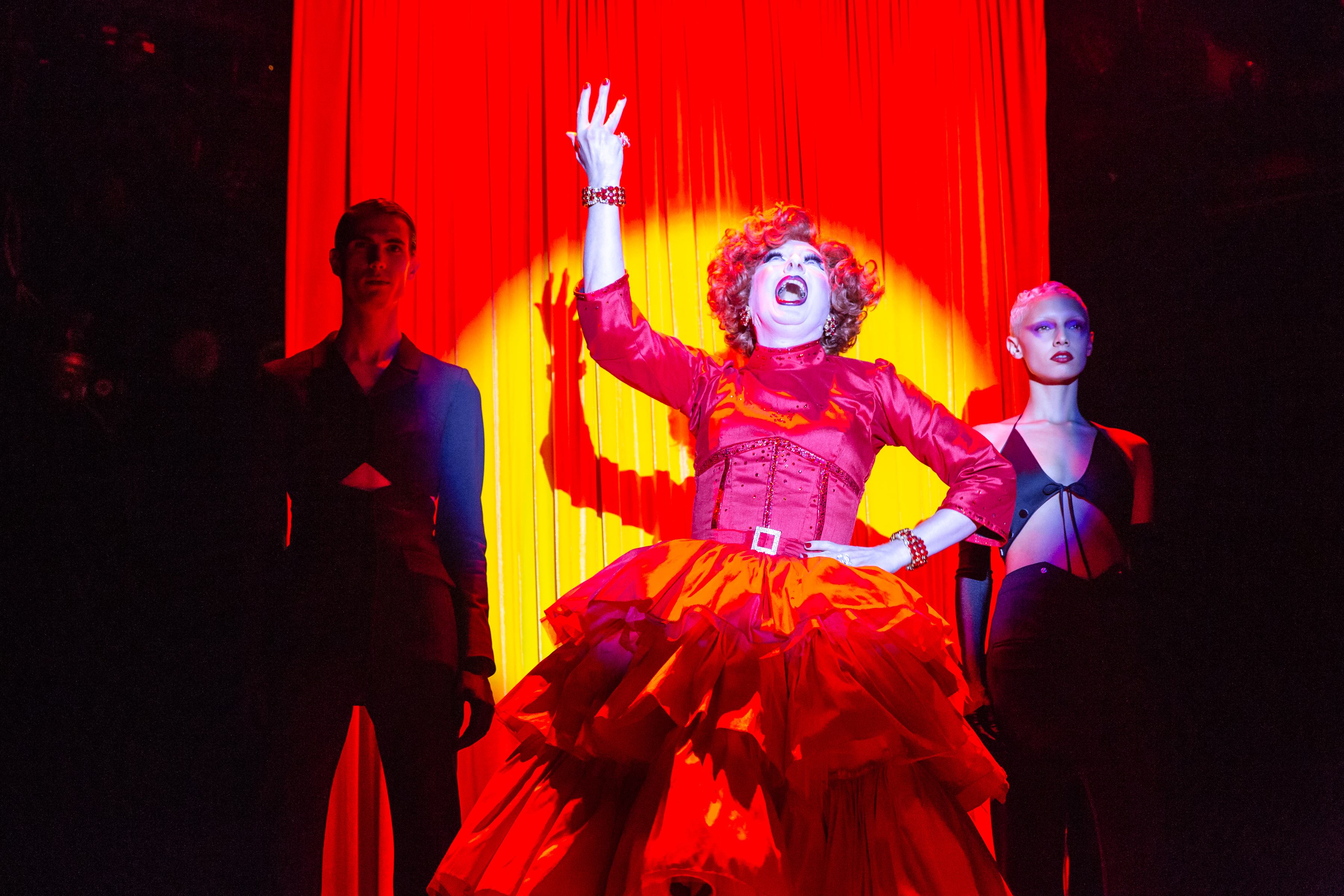 Legendary femme fatale Lypsinka
John Epperson's iconic drag persona has been an NYC icon for over three decades. The East Village vixen and LGBTQ activist hasn't just owned lip-synching, but turned it into a bonafide art form. Last night Lypsinka put her signature Old Hollywood spin on the Opening Ceremony collection, appearing in a velvety fuchsia confection with flapper-style fringing to perform Dolores Gray number "There'll Be Some Changes Made."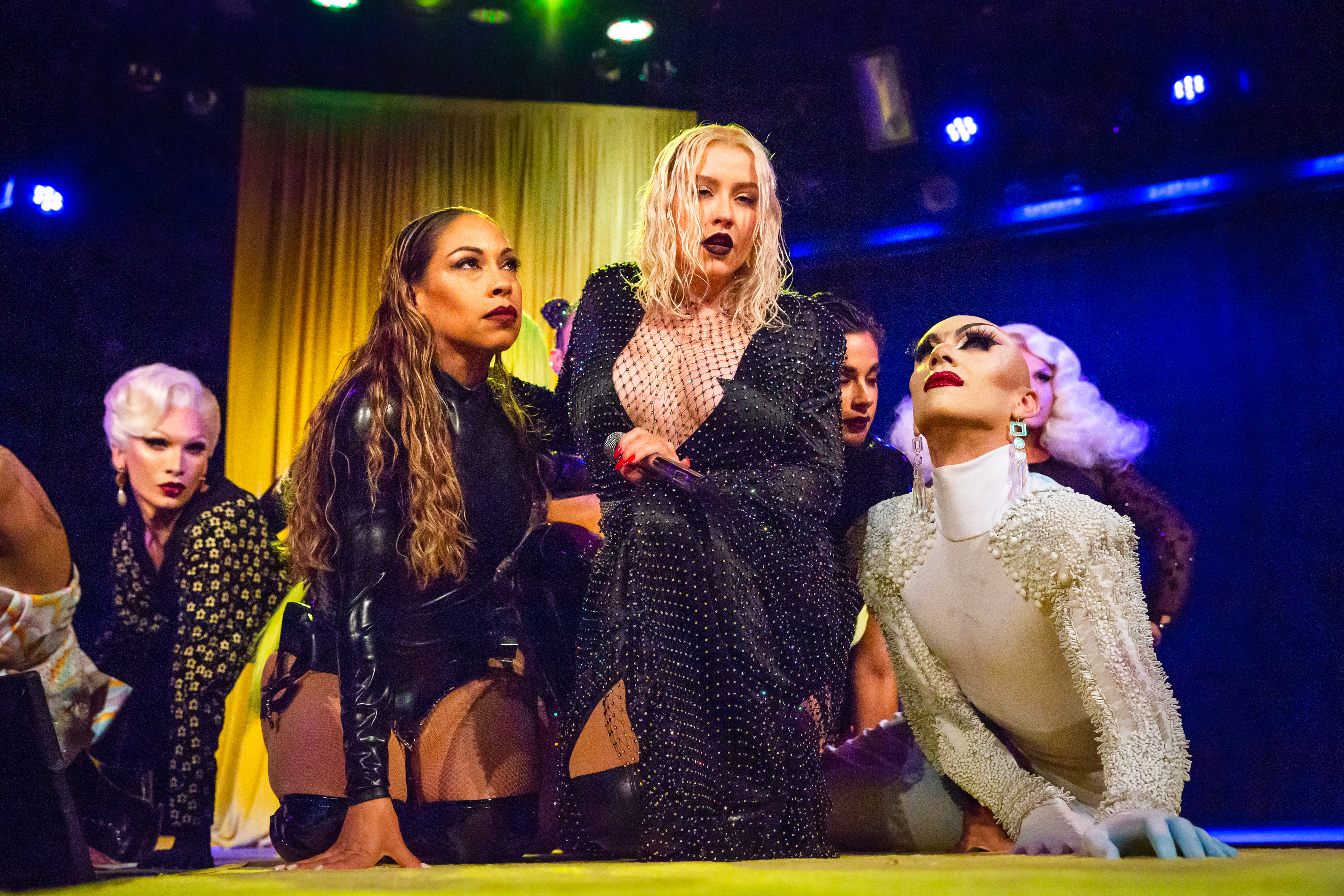 Xtina!
After two false alarms — "maybe your expectations were getting a little high," Velour joked after introducing a cardboard cut-out of Xtina, the real deal pop superstar appeared to a sea of screams at the end of the show. Under a spotlight dressed in a floor-length diamante fishnet dress, Christina ripped into her galvanizing ballad "Fall in Line" — originally a collaboration with Demi Lovato. Lovato's parts were sung by Velour and rest of the Gift of Showz cast as a very emotional, very glittery grand finale.
See more already-iconic moments from The Gift of Showz below.