Photography Mitchell Sams
how cycling shorts became 2018's most pervasive trend
Get on your bike! The spring/summer 19 catwalk is pedalling lycra-clad thighs.
|
27 September 2018, 7:00am
Photography Mitchell Sams
Princess Diana absolutely loved a pair of cycling shorts. She would often zip around Sloane Square in a normcore sweater and a pair of chunky dad trainers, avec a chic pair of sports socks and cycling shorts. Looking at fashion right now, the look was very ahead of its time. So forward-thinking was her look, in fact, that Virgil Abloh dedicated Off-White's spring/summer 18 show to her fashion legacy.

"She was a strong individual that, despite her position, had her own personal taste and it came out through the clothes. There is no stylist at play here," Virgil said to Vogue at the time. "Her personal taste was very out of the way from what she was supposed to wear. It's an inspiration."
The collection itself was only tangentially Diana; princess-esque in spirit more than specifics. It was mostly the closing look that sealed the headlines. Naomi Campbell striding out in a tailored white jacket, broad shouldered and nipped at the waist, worn with a pair of matching white cycle shorts.
Where Virgil went, the Kardashians followed. And where the Kardashians went, everyone else followed. And suddenly they were everywhere you looked on the spring/summer 19 catwalks; Fendi, Prada, Cavalli, MSGM, Marine Serre, Mugler, GCDS, AREA. It is a trend that spans from the most established brands to the newest, most directional up-and-comers.
They sit under the same big trend umbrella as dad shoes, city merch, gorpcore, and bumbags. Which is to say, ironic ugliness remade into sarcastic-but-practical luxury. Luxury fashion doesn't really do straight up, sincere, functionality at the moment. Comfort only comes couched in something sardonic and knowing. Prosaic fashion staples -- statements of reality -- are now only made out the most expensive and butter-soft leather. And yet there is something very different at play with the humble cycling short.
The most fertile fashion intellectual discussion around cycling shorts comes from Prada (as these things usually do). Miuccia's take on the shorts kept the streamlined aerodynamic silhouette, but made the cut a little less clingy, and instead a little heavier in satin. "On the one hand, you wish for freedom, for liberation, for fantasy, and the other you have this extreme conservatism," Miuccia explained of her show. Which is basically the cycling short in a nutshell isn't it; a paradox of revealing and covering. Prada came at cycling shorts, unlike most who have tried it, with no irony, it was all sincerity instead, all complexity.
Fendi's approach was more mischievous. There was a sporty easiness to much of what Karl Lagerfeld and Silvia Fendi presented, and it was (thankfully) short on fur. Cycling shorts came as part of a collection that riffed upon practicality and luxury and pushed their co-dependence into absurdity. Pockets were pushed front and centre, almost functioning as ancillary bags. Its color palette was a very bourgeois shades of beige. It was not even a nod to Diana, but a layer of primness upon the prosaic.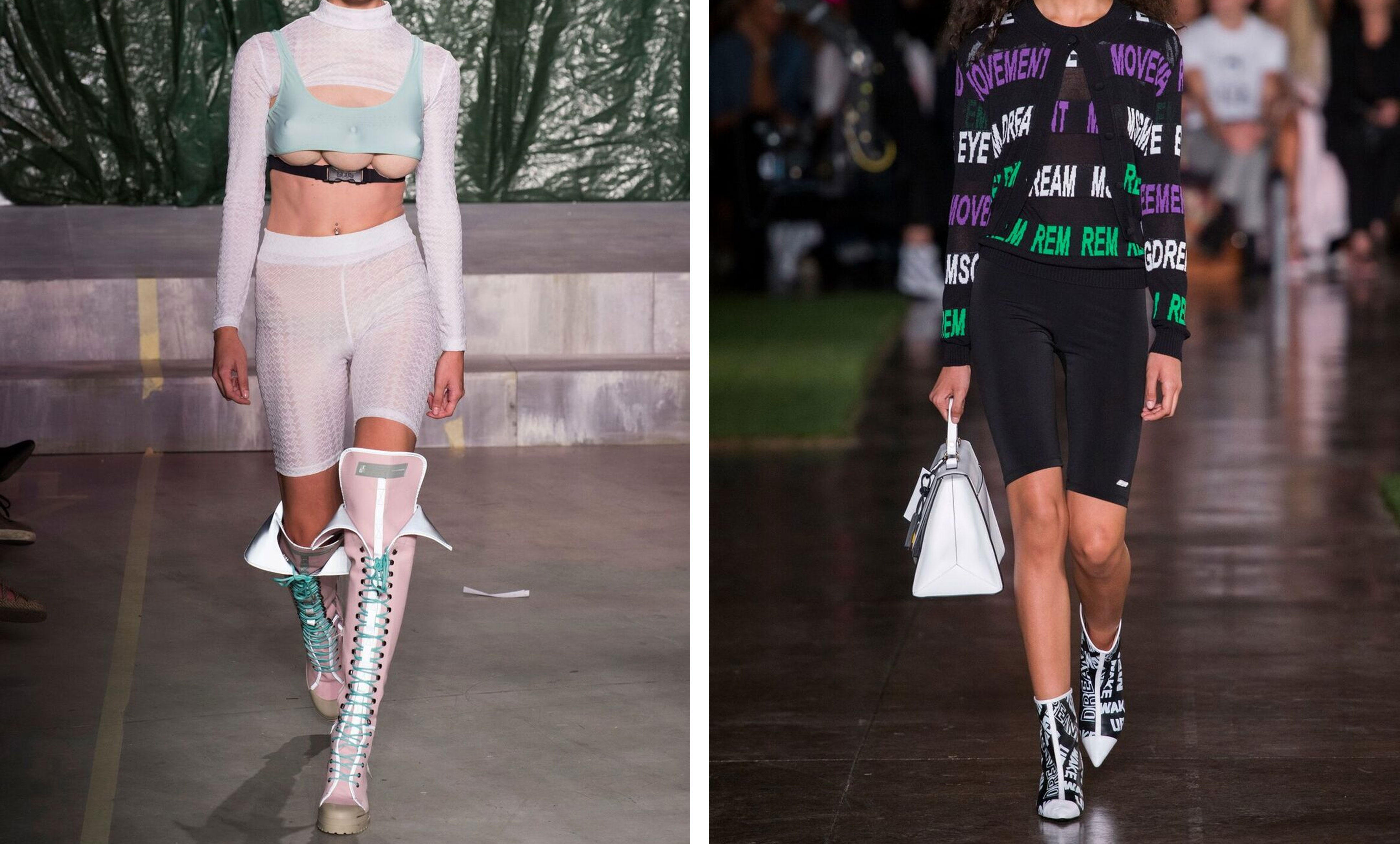 Elsewhere, AREA turned them very glam; MSGM pushed them towards dreamy grunge; Cavalli made them sexy; GCDS paired them with three-boobed aliens. Marine Serre made them unabashedly practically sporty. Kim Kardashian's cycling shorts are distressed Yeezy grey. Hailey Baldwin's are sporty LA casual. They are generally paired with something more formal or more traditionally sexy.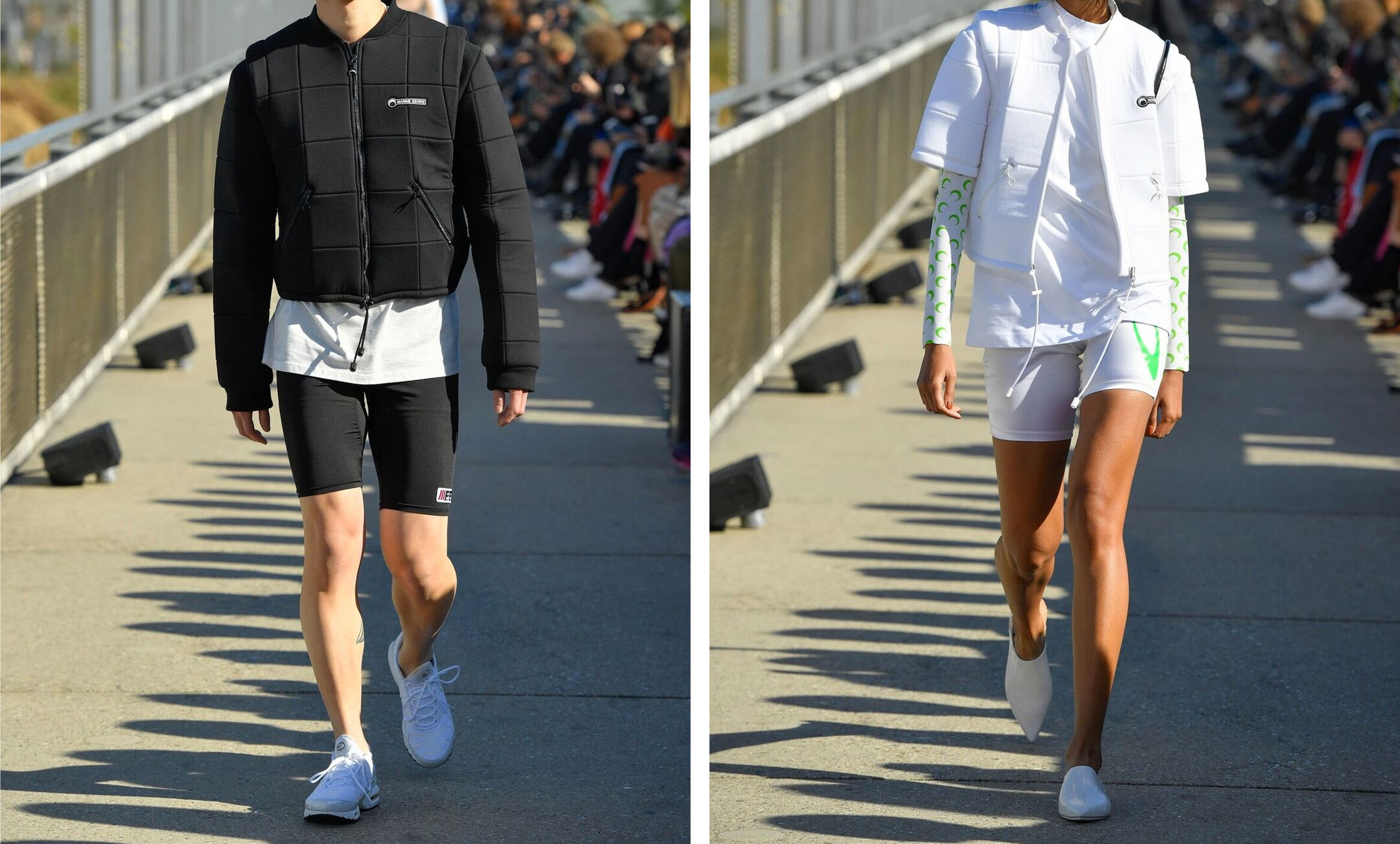 This article originally appeared on i-D UK.