Kelis on 20 years of staying ahead of the game
Two decades after her debut album 'Kaleidoscope' dropped, the game changing artist talks exclusively to i-D about Pharrell, label politics and the record that made her.
|
22 November 2019, 10:32am
Kelis has always been ahead of her time -- two years ahead, to be exact. "I've got it down to such a science," says the singer, 40, calling from her home on the outskirts of Los Angeles. "If I have an idea that's good, and I know when it's good, no one will agree with me. So every time, I'll do it and everyone's like, 'She's the weird one, there she goes again, why are you doing that when this is totally not like the record you did before?' I always say, 'I promise, everyone's going to want to be doing this.' It's literally two years, every single time."
When Kelis arrived with an open-throated howl couched in a raging condemnation of a cheating boyfriend on her first single "Caught Out There," there was no precedent. Kaleidoscope was her unencumbered and expansive debut, alone in a sea of Britneys and Backstreet Boys, and wholly unique for a black woman in music. Released on 7 December 1999, the album marked a series of surface-level firsts: the first commercial record produced entirely by The Neptunes, consisting of Pharrell Williams and Chad Hugo; the first appearance from N.E.R.D. on a track ("Ghetto Children"); and, as Kelis would later flaunt on her swaggier-than-thou 2006 single "Bossy," the "first girl to scream on the track".
But Kaleidoscope was more than just its milestones. It was a singular artistic expression of a tight group of creatives who bunkered down in a house in Sandbridge, Virginia, untainted by the trappings of the celebrity that would come and ultimately more adventurous for it. Kaleidoscope is an album that rebuffed the restrictions of pop, at once gutsy and astounding ("Good Stuff", "Caught Out There") and elsewhere tender and reflective ("In the Morning", "Suspended"). The Neptunes powered the album with what were, at the time, its signature sound banks (all fireworks and cherry synths), but when they collided with Kelis's drama school gusto and proclivity for sci-fi and extended metaphor, it became an album that had significant heft and deference at the dawn of the millennium.
"It was a time when everybody -- especially black female artists -- was being boxed in doing one thing. I was never good at that anyways," says Kelis. The album didn't sell millions: it debuted at No. 144 on the Billboard 200, and "Caught Out There" reached No. 54 on the Hot 100. Radio said she didn't fit on R&B stations -- "'Black people don't listen to it,'" she recalls being told -- and she certainly didn't have a place in pop. But what it did was show, for Kelis at least, that there was a space for being different, even if instant recognition didn't come with it. "I kept saying from day one that I'm consistently inconsistent. It only makes sense when you've got a body of work. On top of that, it's packaged in this black skin, and it was just too much. So for [me and The Neptunes], we didn't care. We were like, we like all of it, we're musicians. As long as there's someone to listen, I'm going to keep doing it."
For Kelis, the path to Kaleidoscope originated in Harlem, where she was raised. She dabbled in choir and played a few instruments, and attended the LaGuardia High School of Music & Art and Performing Arts where she studied theatre. She moved out of her family home at 16 and into an apartment on her own, briefly enjoying a stint in a girl group and getting a spot placement as a hook singer on a Gravediggaz song from her teen days hanging out at Mart 125. It was through her friend Markita, who raps on Kaleidoscope's "Mafia", that she met Pharrell and cold-auditioned for him in a stairwell singing The Fugees' rendition of Roberta Flack's "Killing Me Softly".
Pharrell invited Kelis down to Virginia, where they cut a few songs including "No Turning Back" to take to labels. Industry magnates like Sylvia Rhone, then at Elektra, passed -- they just didn't get it, it was too out of the norm for them -- but she ended up signing with Virgin and returned south to finish the album. At the time, Virginia was a breeding ground for music that side-stepped convention with a futuristic bent, namely with the rise of fellow Virginians Timbaland and Missy Elliott. Still, they were operating outside of the pressures of the music industry, and created at will. They treated sessions like a day job, recording from 10am to 3pm, drawing directly from experiences no matter how far out. The mean-mugging "Mars", for example, came from a conversation where Pharrell encouraged Kelis to write about watching a documentary the night before about inhabiting the planet. The topline on "I Want Your Love" was inspired by the theme from The Price Is Right, because she grew up watching it.
What it yielded was an inherently weird album, rich with melody and angst and indifference and sensitivity, from an artist who would continue to be perpetually misunderstood. Even the album art laid it bare: her naked body painted in a rainbow patchwork quilt, her hair a bright orange brushfire as she gazes upwards. (Originally, she wanted the portrait to be a silhouette of her frame, but the label turned it down.) She went out on tour for the next few years performing across the world, and slowly came to understand just how unlikely it was for a black female singer to be in her position, finding an audience overseas and, with it, a tangible impact.
"Me and Macy Gray would be in freakin' Kristiansand, Norway, and I'd be like, 'Girl, I see you,' and she'd be like, 'I see you'. There were no other black people touring, doing any festivals, ever at all." Kelis found success in the United Kingdom, where Kaleidoscope was a considerably bigger hit, but lived under the notion that her performance in the U.S. paled in comparison. That is, until she realised that having an impact in the marginally smaller U.K. didn't equate to canvassing her native land.
In fact, it took Kelis years to understand the scope of Kaleidoscope, not just in how it impacted others but also herself. When they were recording the album, The Neptunes were cultivating an artistic legion under their Star Trak imprint, which included artists like Clipse and Roscoe P. Coldchain. "It came off very puritanical at the time," says Kelis. But, "in retrospect, it wasn't, because I was robbed blind."
It's an age-old industry tale. Kelis explains that she was too young to question any of the business machinations. The label told her that the album would revert back to her in 20 years, something she couldn't even fathom at the time, but what it meant, now that the time has elapsed, was that the album would revert back to themselves. "Basically they've taken all of my publishing. I had no concept of royalties or publishing. I didn't understand that my voice would be distinguishable and so it would matter," she says. Virgin told her that royalties would be split evenly between her, Pharrell and Chad. That didn't end up being the case.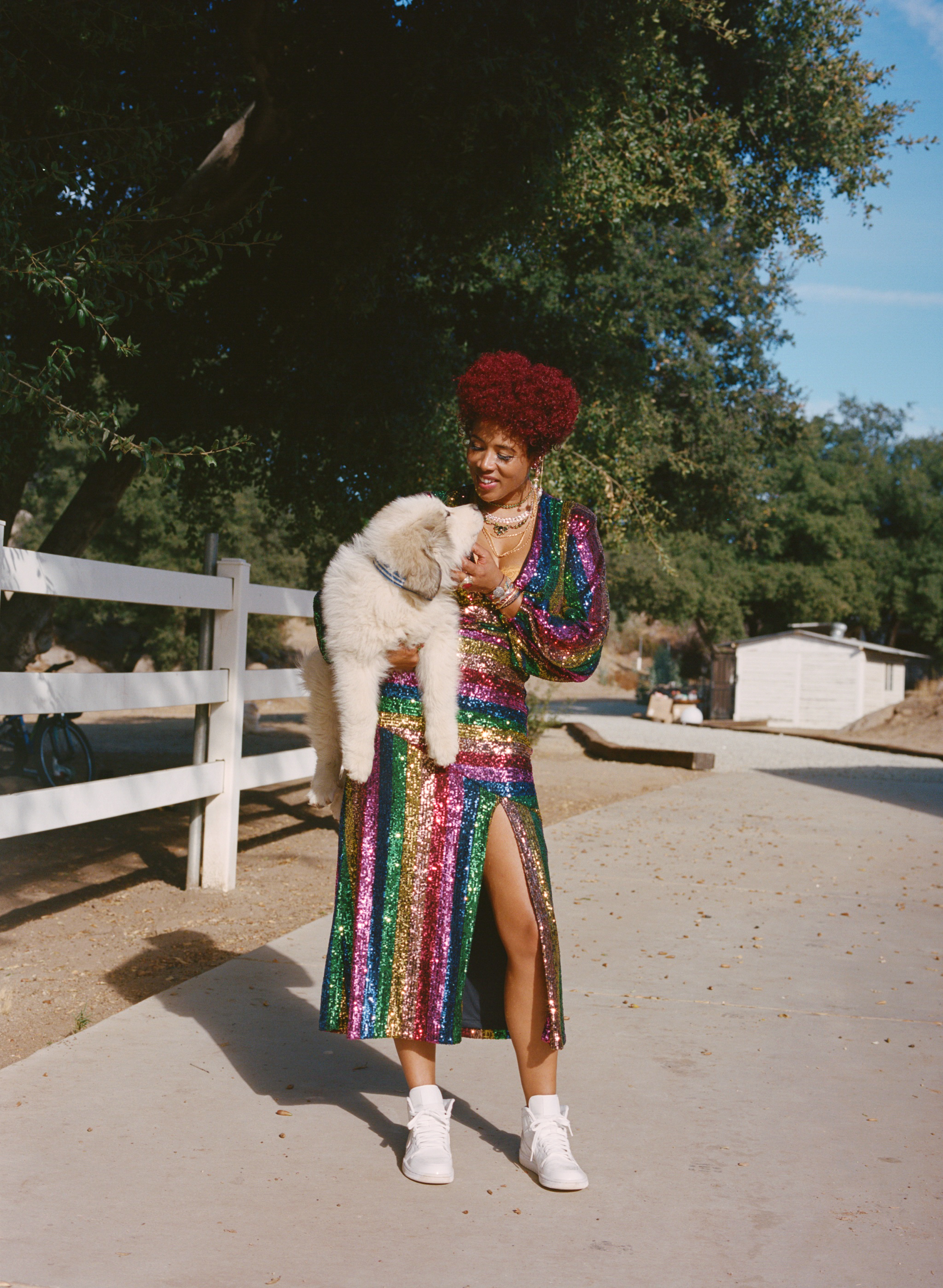 "Fast-forward 10 years and I didn't think for one second, did I get paid for that? Were they fair to me? Did they give me what they said they were going to give me? Someone might argue that I was wrong, since I didn't ask the right questions. It's not a new story, it happens all the time. Unfortunately, it happens to women a lot, it happens to black artists a lot. We were Star Trak. I was Star Trak for life," she says, throwing up the Star Trak hand signal. "I was like, this is what it is, this is fun. It was supposed to mean something. And then to find out later it meant nothing and was just the same old rhetoric and rigmarole that we're always hearing about, that it was essentially a modern day Motown? Yeah, you're freaking amazing and you're talented and interesting, and you have nothing, because you didn't know to ask for anything. Whose fault is that?"
Kelis's career, starting with Kaleidoscope, has been nothing short of a persistent anomaly. Its follow up, 2001's Wanderland, released only in Europe -- not because of the quality of the music but because of the looming financial crisis that left Virgin in shambles, with a new label head at the helm who asked her to re-record the album for American listeners. That, she says, was common at the time, when the Atlantic divide would demand different products from artists, and with it, different expectations. "People thought it had something to do with the music. It had nothing to do with that," she says. "It had to do with the fact that I really made a decision. I was really pigheaded back then too, I was young and because I didn't come into the game having to sacrifice the music, I was not going to start at that point. I was like, what? Go fuck yourselves." Wanderland only came to streaming this past June; Kelis had no idea it had even been put on services until someone pointed it out to her on Instagram.
Arguably her biggest hit came with "Milkshake", the saucy single off 2003's Tasty, which she worked for over a year until radio agreed to give it a chance. It hit No. 3 in the U.S. Since then, she's lived up to her two-years-ahead theory: Kelis Is Here was ambitious, from the hyphy-adjacent "Bossy" to the Mozart-sampling "Like You". Flesh Tone, which released in 2010, dipped a toe into dance music, wildly regarded as a sour heel-turn for an artist who had largely been categorised as R&B. But it was exhilarating, and ultimately ended up as a blueprint for the boom of popstars who would inevitably dabble in dance when their sound grew stale.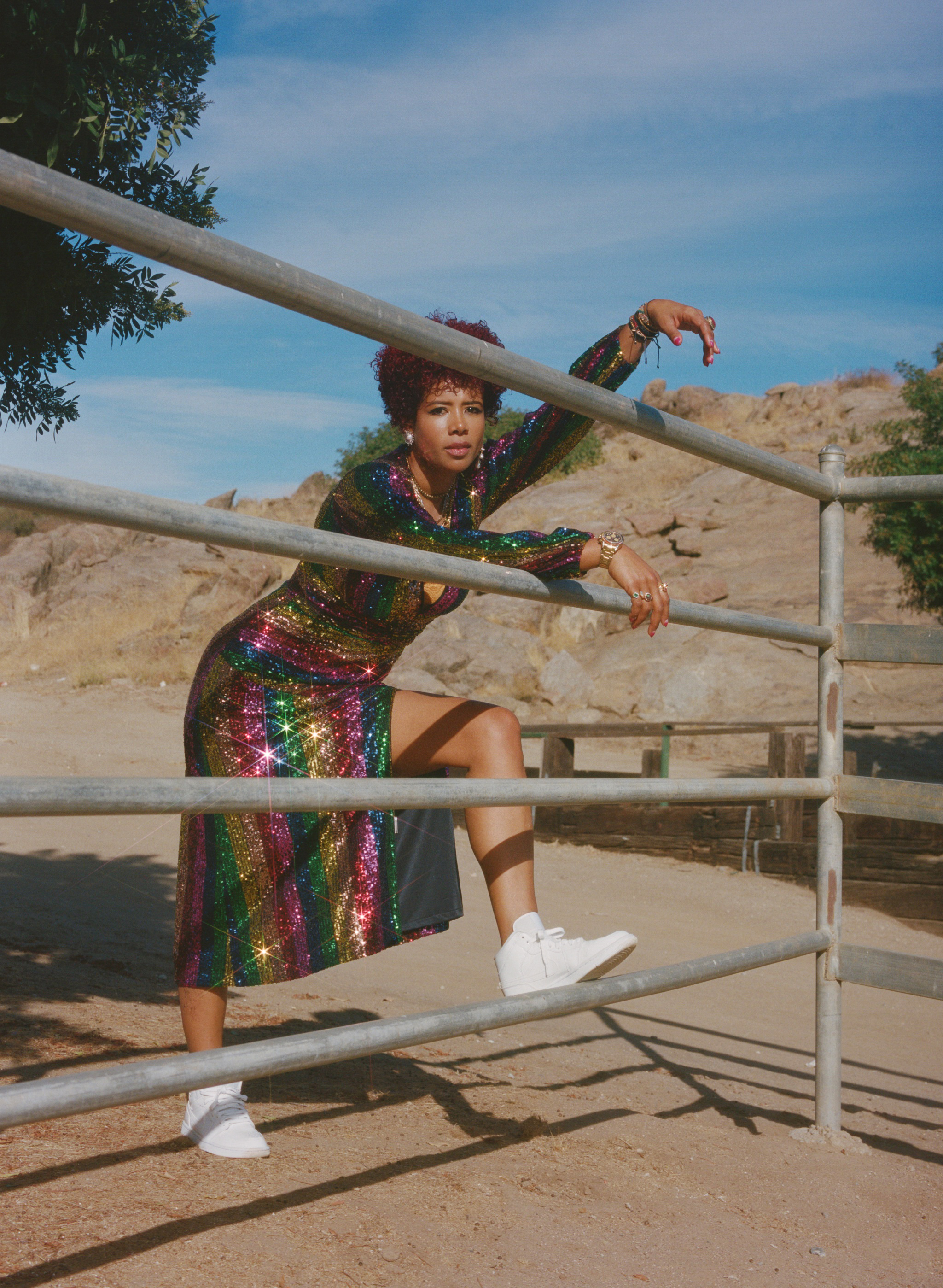 Above all, it demarks a career built on determination in the face of improbability. "Every single record I've had to fight for, because no one agreed at the time, but the people who really love music have always stood with me," she says. "That's the thing. To be someone like myself who's used to fighting -- and I'm OK with it -- it's been really comforting and solidifying and validating just to say that every single record I've had, there have been people who respect the music and that have always nodded to me. That made it so that I don't care if I sell two records or two million records."
Today, she's "the most laid back person ever". She released Food, a folk-warped indie missive in 2014, and spent a few years establishing herself as something of a chef du jour. Life seems calm. She's currently working on an EP to be released in 2020, and she recently announced a Kaleidoscope 20th anniversary tour in Europe next March. Most of her conversation is punctuated with a hearty laugh, and she seems to have it all in perspective -- how she'll never be what people expect her to be, and how she's made peace with the fact that she'll never have to live up to that.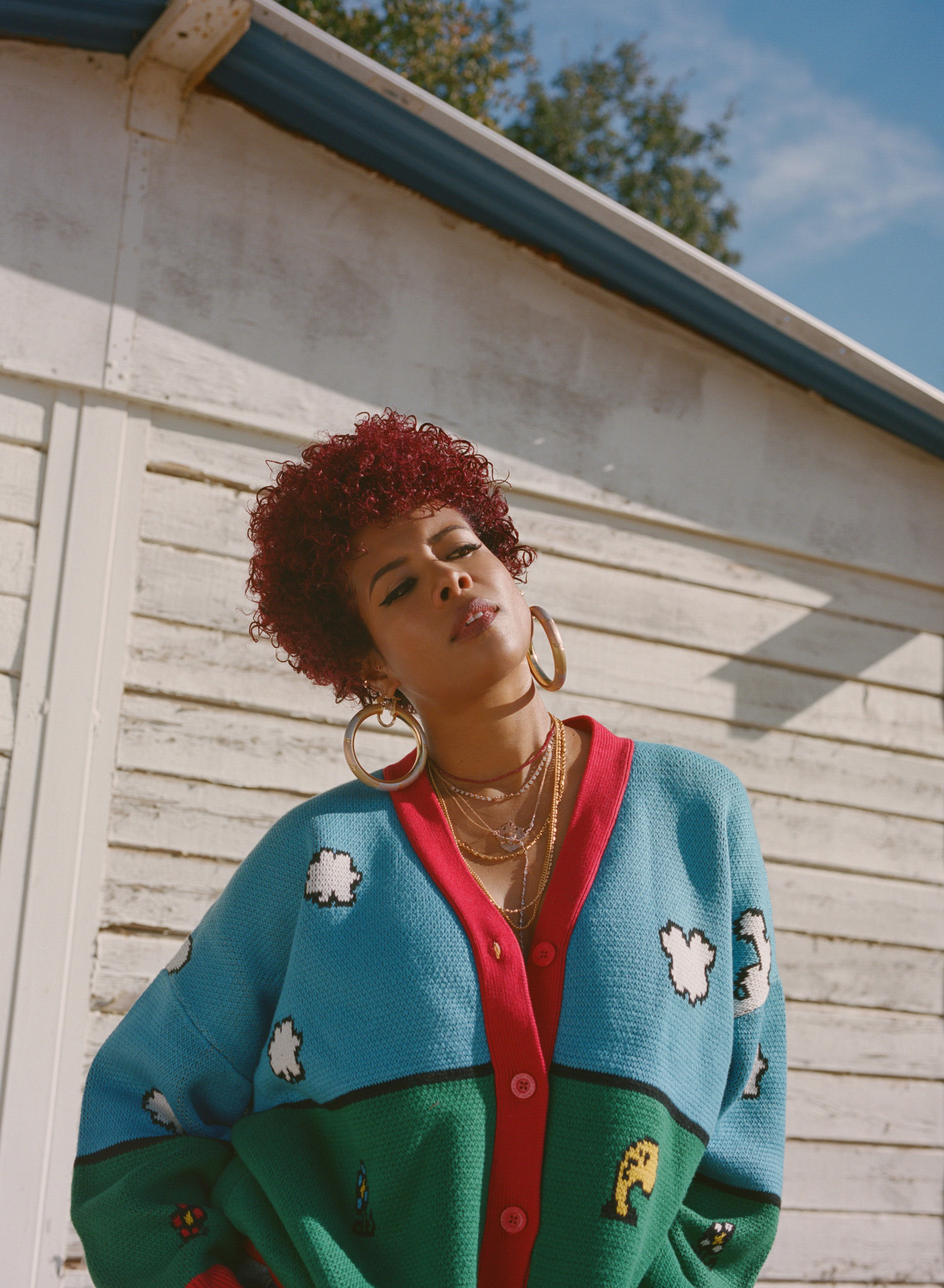 "The funny thing is, Kaleidoscope doesn't fit in anywhere," she says. "It literally cemented me into musical history forever and I know that. It changed my life and the life of music for that era, because it made it so that black girls could look different and sound different and be different. It became about the artistry because it had to. Everybody understood that it had to live somewhere… I'd rather be critically acclaimed because it's so off, rather than having everyone like you right now and tomorrow they don't know who you are. I don't need that. This is perfect for my personality. It just works out this way because this is who I am."
Tickets for the Kaleidoscope 20th Anniversary EU and UK tour are on sale now. You can buy your tickets here.
---
Credits
Photography Daria Kobayashi Ritch
Make Up Samuel Paul