facial jewellery is the latest 90s beauty trend taking over instagram
Glitter found dead in a ditch.
|
18 September 2019, 7:00am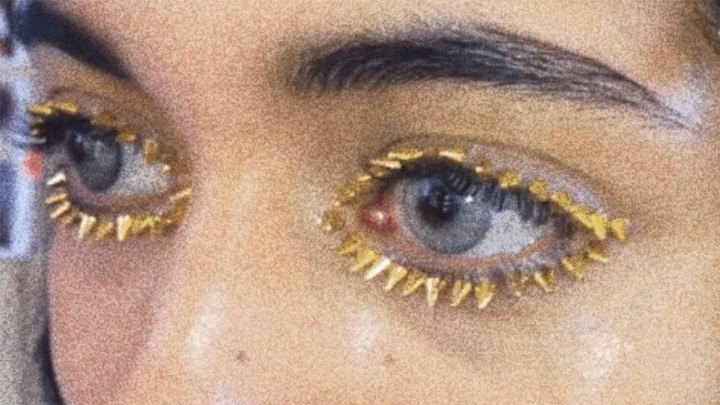 Image via Instagram.
Many of the best-known Instagram beauty trends (hello nose highlighting) look best when they stay in their lane – online. The same goes for some of the nostalgia hashtag obsessions re-emerging on the app (nobody needs JNCO pants and slicked back ponytails to creep out from our regrettable Y2K past). But at least one beauty trend taking over Instagram is also making the leap from grid to IRL. 2019's resurgence of gems, decals and glued-on face jewellery is doing more than getting you a few more likes on your selfies, it's also creeping into the beauty mainstream.
Face gems and crystals first trended in the 90s with pop icons like Gwen Stefani or Bjork on the cover of her 1993 album, Debut, providing Pinterest's future greatest hits. Now, just like nude lips with brown lipliner and slicked-down baby hairs, they're back. Instagram's beauty influencers borrowing from retro moodboard images is nothing new, but the MUAs who have truly embraced the trend, like Helen Marie (AKA @honeydont) are taking things to another level. "Makeup can be limiting and other mediums add tons of texture, shine and 'holographic-ness' that makeup just can't!" she explained via email from Columbus, Ohio. "Swarovski rhinestones are my go-to, as well as glitter, stickers and temporary tattoos. Ornamenting the face has been going on for generations, through jewellery, piercings, tattoos and scarification. And right now, it can be a lot less permanent because we have glue".
Although face gems themselves aren't new, the 2019 way to use them is a pretty fresh aesthetic. Online, make up artists tie them in with a crystal lip, gold brow or studded 'eyeliner'. On the runways at Pyer Moss they were used in sync with ruby red eyeshadow. It's even bled into the world of Hollywood. Euphoria star Hunter Schafer recently stepped onto the red carpet in a minimalist and delicate pearl-studded beauty look with matching hands.
Bea Sweet, the London-based makeup artist responsible for iconic online moments as well as the dazzling mugs of FKA twigs, Adwoa Aboah and Dua Lipa credits legendary 80's MUA Phyllis Cohen as inspiration for today's face jewels trend. As a modern pioneer of the trend, Bea has worked with unusual materials including custom-made eyeholographic vinyl cut-outs , prosthetic jelly pieces, dried flowers and tiny gold studs.
Stick-on elements have opened up a world of possibilities online, where pressure to evolve and innovate new looks is real, and the demands of practicality are lessened, as looks only have to work well enough for a close crop shot. Ergo, what would be an unwearable design IRL, like a fringe of tiny chains or crystals hanging precariously over an eye is not only doable, but desirable online.
Helen Marie doesn't put it down to a thirst for likes though; "I just enjoy constantly levelling up my art. When it comes to Instagram, if I wanted to be big and famous, I would tone it down and keep it more 'pretty' but that's not my interest really! Doing elaborate art is just fun."
Bea Sweet also believes in offering an alternative to the Facetuned beauty status quo. "People like that my identity is so strong. I've been told you can tell it's my work before knowing it is. I don't do smokey blends and I never fill in brows, I like a messy yet deliberate edge and packed-on pigment. My most popular posts are often crazy neon looks". While many people associate the "Instagram face" as kontoured Kardashian perfection, the Instagram underground couldn't be further away from that ideal. Instead it's full of creatives trying outside-the-box ideas, and feels more like a subculture, somewhere that feeds ideas to and overlaps with the mainstream, as pro MUAs might post their wildest experiments online by night, but use elements of them on a pop star's makeup or for an editorial client by day. It's a culture of taking risks and having fun with looks, with discussions in the comments as to whether a bold experiment has succeeded or not – and imagination taking precedence over perfection.

While gems for face and body are commercially available, that's not the only source for these artists. Instead they turn to US craft stores or online marketplaces like Etsy, fully embracing a DIY mentality.
As well as the digital arena, or the heightened un-reality of fashion editorial, gems and extra elements also work well IRL, from the dance floor to the streets of W11. Taiba Taiba is the founder of Keash, a London hair pop-up serving braids and hair-bedazzlement to clients looking for bespoke styles to wear to parties and events. Festival season and Carnival are her busiest times; "Any daytime party when the gems sparkle in the sun – they're so pretty," she says. Taiba explains her clients are all about "self-expression through beauty." "Thankfully that's something we're seeing a lot more of at the moment," she says. "People caring less about covering up their 'flaws' or conforming to society's beauty norms. It's all about embracing the most extra version of yourself and that's what we allow you to do." Outside of Carnival season, facial gems have been spotted adorning faces at glam club nights like BossyLDN.
Facial gems are a fun Instagram throwback, but they're also so much more than that. The facial jewellery trend is blending the boundaries between make-up, clothes and accessories, and repurposing each in the process, as a tool for self-expression. Be it chains and rings in your hair, stickers on your body or studs and beads on your face, you can make it your own, online or IRL.
This article originally appeared on i-D UK.