Bjork. Photo by Nicky J. Sims/Redferns
7 of Björk's most iconic outfits
Yes, the swan dress is on here, okay?
|
15 November 2019, 12:57pm
Bjork. Photo by Nicky J. Sims/Redferns
Björk brings her Cornucopia tour to London, Glasgow and Dublin later this month, unleashing the multi-media extravaganza which debuted back in May at NYC arts venue, The Shed. There'll be a stage set designed to look like fungi, an Icelandic choir, a video speech from Greta Thunberg, harps and flutes galore and lashings of digital art. And I mean, what else would you expect from Björk? Since the 90s, the experimental artist has, after all, not only blazed a sonic trail, but also explored the outer stratosphere of fashion with various designers of a similarly daring disposition.

As we wait for the tour to kick off, here are some of her most iconic looks to gaze back upon lovingly...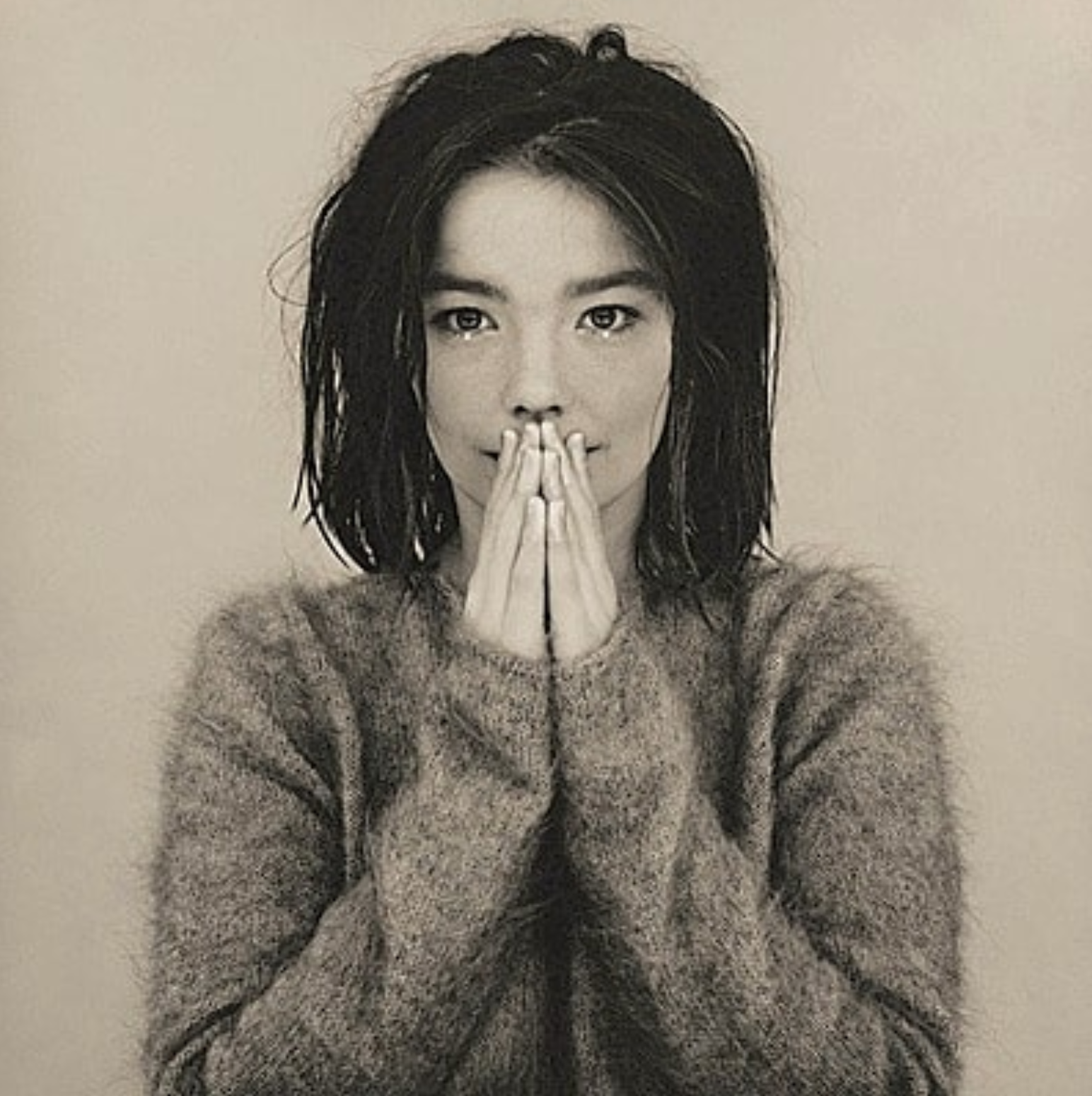 1993: Cute and fluffy
Björk's unique Björk-ness is perfectly captured in this timeless image from the cover of her 1993 album, Debut. It was shot in Paris by super stylist Judy Blame (RIP), legendary photographer Jean Baptiste Mondino and make-up supremo, Topolino. Björk explained to Blame beforehand that she wanted to look like a furry animal in the pics. She also revealed the clothes she'd packed for the shoot had gone missing! The quick-thinking stylist whisked her to Martin Margiela's studio and borrowed a suitably fluffy MM jumper. Result? Grunge-Infused Björk - all tousled hair, cuddly knitwear, plus two dinky gems twinkling beneath her eyes.
2001: Swanning about
Björk got global headlines (it was a real pre-Twitter viral moment) after wearing a feathery swan dress to the 2001 Academy Awards then pretending to lay large eggs upon the red carpet. Her camp get-up was savaged by some US journalists: 'A refugee from the more dog-eared precincts of provincial ballet', thundered one. Ouch! The swan sensation was crafted by Marjan Pejoski, a designer and subsequently the co-founder of the fashion label, KTZ. Björk wore it with total conviction, though later lamented those whom misunderstood her egg-laying larks: "C'mon, you don't bring eggs unless you want to take the piss, right?" she harrumphed in The Sunday Times. That dress is now so famous it has its own Wikipedia page.

2004: Tinkle bell
In addition to the late Alexander McQueen's geisha-inspired attire adorning Björk on 1997's Homegenic album cover, the designer subsequently rustled-up this incomparable bell-shaped and bell-covered dress for her. Decidedly bell-obsessed at the time, Björk donned it during the 2004 video for a bell-tinkling remix of Who is it…, from her Medulla album. The clanging creation was covered in thousands of sewn-on bells and looked pretty cumbersome to wear. Björk 'sensibly' teamed it with a pair of clumpy boots, yet managed to gambol like a carefree lamb across the rugged Icelandic terrain -- accompanied by a gaggle of bell-wearing local kids -- as the cameras rolled. In 2016, the dress sold at auction for a unbell-ievable £44,000.

2007: Big it up
Many assumed this gargantuan garb was the result of Photoshop trickery. Wrong! It is an actual sculpture, clambered-into by Björk for the cover of her 2007 album, Volta. The structure was fashioned by the giddy German designer, Bernhard Willhelm. Having once posed naked for BUTT magazine, prior to pioneering crotchless leotards for men, he could clearly cope with Björk's most outlandish concepts: "She needed a style nanny and I took the job," he told Loverboy at the time. Björk also rocked wacky Willhelm stage-wear for her Volta tour, including bone-print corsets and faux 'grass' skirts constructed from gaudy wigs.



2011: Syn-ful style
Dutch designer Iris van Herpen's technically spectacular, conceptual couture gowns take months to create. She and Björk have joined forces a few times, not least when Van Herpen painstakingly put together this complex, hand-stitched leather and gold foil stunner. It was inspired by a neurological condition named Synesthesia (when one sees sounds and feels colours). Björk loved the fiddly frock so much she wore it on the cover of her 2011 Biophilia album, as well as in the video for the single, Moon, and on tour thereafter. She complimented it with a gold-wood Harp belt -- which was actually a working harp -- conceived by NYC design collective, threeASFOUR. Added into the mix was a billowing orange wig flamboyantly tweaked by top crimper, Eugene Souleiman. Quite a 'busy' look, then.

2013: It's spikey and i-D like-y
Björk has consistently championed the work of emerging fashion talents. She was super impressed by the 2013 MA Fashion collection from Royal College of Art student, Maiko Takeda, who developed futuristic headpieces from delicate strips of coloured acetate. Björk snapped up a few and wore them with avant-garde aplomb while on stage during the latter stages of her two-year-long Biophilia tour (then again on the cover of her 2015 album, Vulnicura). When she first unveiled this hedgehog-like vibe, the internet damn near broke.
2019: Shoulder shenanigans
For Cornucopia, Björk hooked-up with Olivier Rousteing, Creative Director of Balmain, who designed her stage ensembles. Perhaps the best of which is this sculptural dress with exaggerated pearl-like shoulders, one cut away under the arm, allowing Björk flexibility to flail her microphone around. The collaboration came after Björk saw Balmain's Spring 2019 couture collection and, as she told Vogue, realised the "plant-like uniforms for habitants of this sci-fi concert" that she'd been mentally searching for were right there on the runway. Rousteing (a pal to various Kardashians and Jenners and a lifelong Björk fan) swiftly got to work, morphing his original couture designs with Björk's eco-digital-sartorial vision. Bet Kim and Kylie are well jel, eh?


Björk's Cornucopia tour will be blowing minds at London's O2 on 19 November, Glasgow's SSE Hydro on November and Dublin's 3 Arena on 28 November.


---
Credits
Featured image via Instagram.