the bfc just announced that kim jones will win the trailblazer award at the fashion awards
2018 belongs to luxury menswear's great explorer.
|
10 December 2018, 10:58am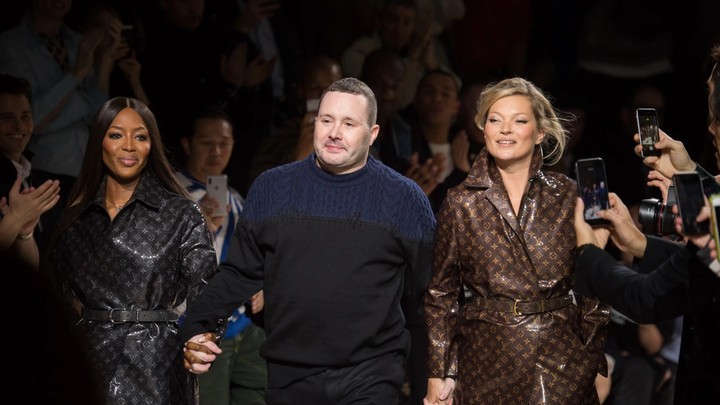 The British Fashion Council have announced that Kim Jones will be celebrated as its first fashion industry Trailblazer at this year's Fashion Awards in partnership with Swarovski. "His love for travel, international cultures and understanding of consumers further enhance his creative and commercial standing," Caroline Rush, BFC Chief Executive explained. "Kim's role as trailblazer in this industry continues to grow and we are very proud he is British born, educated and a great global ambassador for our industry."
Now, pick up any English dictionary, and alongside a definition that describes trailblazer as "the first person to do something or go somewhere, who shows that it is also possible for other people," there should be a picture of Kim's face. From getting a place on the CSM MA Menswear course without any previous design experience or knowledge of pattern cutting to John Galliano buying the graduate collection, from kickstarting London men's fashion as we know it to reinventing what luxury fashion as Men's Style Director at Louis Vuitton, Kim Jones's design bio is filled with creative conquerings. It's something he's, unsurprisingly, carrying on at Dior.
Kim is part of a new energy sweeping through the historic maisons of Paris, redefining luxury in 2018. For the designer, working with an atelier for the first time, it was all about reinterpreting the codes of Monsieur Dior through for the world of today. A curation of the past, reinvented for the now. "With full respect to Hedi Slimane and Kris Van Assche, I wanted to go back to the beginning, to look at the house rather than someone else's interpretation, otherwise you can get muddled up," Kim explained to Ben Reardon for i-D's The Superstar Issue.
He decided to delve deeper and break down the codes of the house of Christian Dior into three sections; Christian Dior, Yves Saint Laurent and John Galliano. "You have to think about what's missing in the market," he added. "Everything I look at is from the Dior archive, but you have to look at what is relevant today." A combination of traditional craft with modern innovation was central to Kim's first fusion of couture with sportswear. In true trailblazer fashion, he continually pushes on.
As he launched Dior's pre-fall menswear in Tokyo last month, the first time any fashion house has presented its men's pre-fall on the catwalk, Kim presented a "darker and tougher" collection and a deeper reinvention of the Dior classics. His collaboration with Japanese artist Hajime Sorayama resulted in a 39-foot tall towering fembot centrepiece that welcomed us all to explore the possibilities of tomorrow. Kim, we will always follow you into the future.
Read more
---