tiffany calver and caroline simionescu-marin are the future of the music industry
Tiffany is the only female hip-hop DJ with a national radio show and A&R manager Caroline just started her own New Gen label on XL. Together, they're paving the way for a new generation of women in music. Step aside aging white dudes. Change is afoot.
|
01 November 2017, 3:50pm
Photography Filmawi
At just 22 years old, Caroline Simionescu-Marin and Tiffany Calver are making names for themselves as two of the brightest emerging talents in the UK music industry. Caroline, A&R Manager for XL Recordings (home of Adele, Sampha and Dizzee Rascal) and founder of her own New Gen label, is seen as one of the most innovative music executives in the country right now. Similarly, Tiffany is recognised as being one of the UK's top young broadcasters, making a plethora of official (and unofficial) 30 under 30 lists in 2017 and capping a milestone year by becoming the only female hip-hop DJ with a national radio show, on Kiss FM. One month later, hers is the most popular show on the station. Their graft, vision and continual rise are making them torchbearers for our millennial, multi-skilled generation.
Initially moving in the same grime and hip-hop circles, Caroline and Tiffany first started bumping into each other at parties. Later as both were building reputations for themselves -- as an editor and journalist respectively -- Caroline would meet Tiffany to play her music she was excited about, knowing that the right reaction from Tiffany would be the final indication that she would need to seriously get behind it.
Regarded by both major label bosses and street-level DJs as 'plugs' -- in the music sense, connectors between and finders of tomorrow's best talent -- their reputations now extend out across the UK and US. In a notoriously male-skewed business, Caroline and Tiffany have worked their way up from a succession of unpaid internships in their early teens to building influential positions for themselves within the industry, redefining what it means to be both tastemaker and personal brand.
For a pair with such savvy, inner-city mentalities, they both grew up in small towns; Caroline left Surrey to intern at Choice FM in London and first made her mark in the scene as editor of the music site GRM Daily (which she oversaw to becoming the most influential grime and hip-hop platform in the UK), while Tiffany would begin her writing career from her bedroom in the West Midlands. Blogging for sites like Hypebeast and SBTV, she would go on host radio shows on the two most influential London underground stations, Radar and NTS. Unearthing the newest and hottest music from key scenes across the UK and America, both had the vantage point to see where the industry was headed from where it was being made. We meet them to reflect on their journey so far.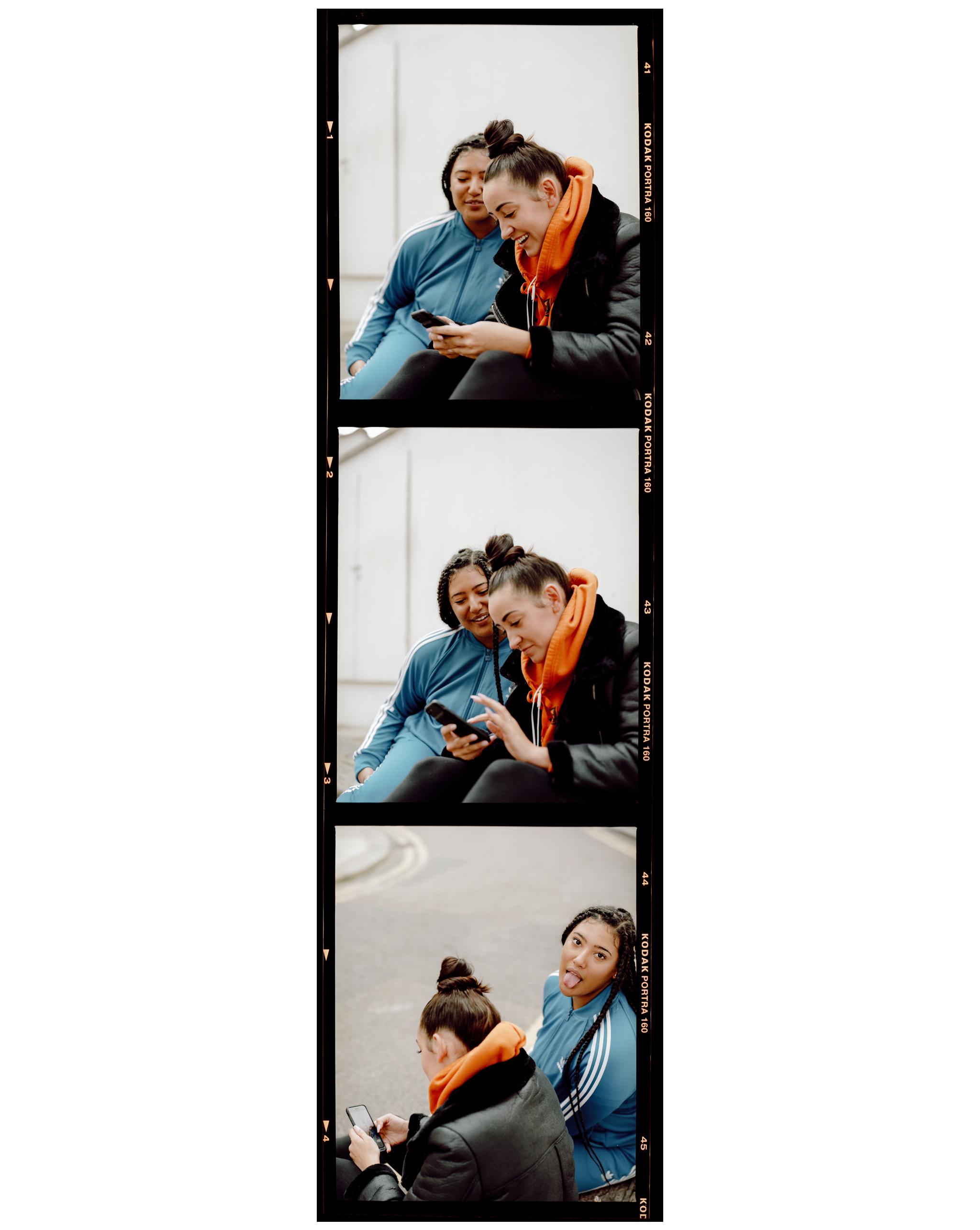 Who did you look up to in the industry when you were growing up?
C: In terms of mentors or idols, I honestly didn't really see people who had the job that I wanted, so I never looked up to anyone like that. I think Tiff will agree with me -- when you just love something so much, you'll find a way to make it work. DJKC on Choice FM was someone I respected, she would let me come and sit in on her radio show every single day when I wasn't meant to be there. The founders of GRM Daily, Posty and Pierre, had started from nothing and built up an entire company from an idea. Jamal Edwards at SBTV too, just because he was so public. On that level it was much more Americans really, we don't tend to profile music business people over here like they do over there -- I was looking at people like Diddy and Angie Martinez.
T: Yeah, definitely Angie and Diddy; it was the hustlers that had the rags to riches stories that impressed me the most, Jay-Z for example. My biggest inspiration though, as lame as it sounds, was my mum. She was 19 when she had me. I remember I had to hide in the lecture halls when she was trying to go to school, watching her grow as a person while trying to raise a child. She was a hard-working figure who was running her own business, paying all the bills, never complaining, working her arse off. I wanted to be that. I had the best role model to be successful; it was all I saw, so that's kind of all I know.
"The world is 100% changing: our generation is speaking out about things. Twitter has made everyone step up in terms of calling out bullshit." - Tiffany Calver
Was there a specific time in your career that you realised you were being treated differently because of your gender?
T: The reality of it is that the issues I've faced in music, women face whatever industry they work in. You're prepared for people to try and take advantage of you, to be creepy, to disrespect you, to downplay everything you're doing. You learn how to deal with it. If you put me or Caroline in a room, we're going to make sure there's a mutual respect cultivated there. I will shake your hand. I will say enough to make sure you know I'm there because I'm knowledgeable and not for any other reason. How you carry yourself is so important in this industry.
C: That's so true. To maintain a strong mind, I try and block these things out so it's like they don't exist. So that I don't give myself excuses as to why things don't happen for me. The reality is though that they do: I've been in positions even now where people don't want to tell me certain things that they think will 'upset me'. It's pathetic. Girls coming up in the industry DM me all the time asking, 'How do I deal with this boys' club thing?' You have to act like you're above it. People might call you rude or snobby because you're not paying attention to this or that guy's advances, but you have to be respected. It doesn't really matter if you're liked or not, but you really need to be respected.
There are currently no female heads of labels, but you say the majority of the key decision makers in your worlds are women. How do these truths sit together?
T: I definitely stand by my own experience where pretty much anyone I need to go to get something significant, for radio, for a feature, to be connected to someone -- anyone who is my main point of contact, for the most part, is female. Obviously boys are in the mix but I can't remember it being like how it is now. The world is 100% changing: our generation is speaking out about things. Twitter has made everyone step up in terms of calling out bullshit.
C: You know, I think the difficult thing is that you need to be selfish sometimes to be able to move to your next step. I was editor of GRM for two years, but it reached a point where I felt that I couldn't do more than I was already doing, my ideas probably weren't as fresh as they were when I first started and I needed to experience something new. So I made the decision to step away from it, even though it came so easily to me and you get so much love and influence from that role because you're able to help everyone -- I moved to a more difficult position because you need life's challenges.
"It's important to make clear that it doesn't mean you're not achieving anything if you're not posting anything online! Don't give yourself social anxiety over it. It's normal to go through busy periods and less busy periods." - Caroline Simionescu-Marin
You're both from a generation that was born with the Internet; do you think it's levelled the playing field?
C: I hate social media for so many different reasons and wouldn't have it if I didn't need to. For example, I got a random email from a major American executive who says he's seen me online and wants to jump on a call with me. I mean, we've never met, I don't know who he is, but I call him -- it's an LA number. He's like 'Hi, I love everything you're doing, can we meet when you're next in New York?' Social media is a tool at every stage, not just at the beginning. You don't really see people face to face anywhere unless you organise it. I mean, you think I go out anymore?
T: I'm the same, it's a catch-22: the only reason I can't delete social media is because I know how important it is. I would not be in London, I would not have this career if it wasn't for social media. I was literally in the middle of nowhere in a village in Shropshire, just following people on Twitter from my room, following magazines I wanted to write for, just trying to find people to connect with. AmaruDon was the first person who gave me an opportunity to write for his publication. From him tweeting out all of my articles, I met people from MTV, spent every weekend blogging, then SBTV got in touch. Just by being active and promoting myself.
C: It's a weird balance -- the people on your social media who care about what you do but maybe aren't picking up magazines or newspapers aren't going to see any of that unless you post it. But it's important to make clear that it doesn't mean you're not achieving anything if you're not posting anything online! Don't give yourself social anxiety over it. It's normal to go through busy periods and less busy periods, just like artists do.
Who are the producers and artists that you are most excited about?
T: Caroline was working with J Hus from the beginning, but I remember listening to the album and saying there is literally no one else that can do this kind of music; he's unique, a star. Kojey Radical is also doing very cool things right now. I've known him since we were 18-years-old and he's never changed, but I feel he's come into his own. He's in a comfortable space now to communicate himself, whereas before we were just these frustrated creatives. Actually, I think that's something that I'd also say to my younger self: surround yourself with people that are happy to see you win. They're focused on their own careers but you doing well isn't going to affect them negatively. It really isn't a competition.
C: Exactly, why do you want to win on your own? There are so many things that Tiff can do that I can't do and vice versa. If Tiff needs to record at a studio, I have a studio. If I have something that's bumping but I really need the support, Tiff can play it. This stuff is difficult by yourself.