Photography Trine Hisdal. Sculpture Ida Ekblad.
nils bech makes electronic music that is both beautiful and painful
From being refused a place at his local ballet school as a young boy, to not quite making it as an opera singer, Nils Bech chronicles his life in music.
Photography Trine Hisdal. Sculpture Ida Ekblad.
The first time I saw Nils Bech he floated into a tiny bar in Oslo -- the kind where the only way to let the other punters pass is to push your back up against the wall -- and charmed his way around the room wearing a heeled snakeskin Chelsea boot and a pair of wide-legged vintage Prada trousers. He was, and is, utterly mesmerising.
Born in a tiny village two hours outside of Oslo, our young hero dreamed of being an opera singer. Standing alone on the stage his voice fluctuates from heavenly falsetto (you can practically see the choral robes) to spoken-ish word, underpinned by electronic beats on a sliding scale of darkness. Signed to DFA, he speaks of literal situations that are relatable regardless of your sexual preference: "Tonight we'll meet at last this girl you had a thing with / A thing with? / I'll keep an open mind, a girl you had a thing with? / A thing with? / But now it's you and I, it's time I get to know her / The two of you are friends, I shouldn't mind, but I can't help it / It reminds me of my past, I pretend that I'm fine, I'm fine". Last year he took to the stage of the Oslo Opera House, in front the Norwegian King and Queen and sang this, eyes wide like a meerkat, or an Egon Schiele painting. But the road to success wasn't always as easy.
"I really did try to be an opera singer until my early 20s but I always ended up on the waiting list at the Norwegian Academy of Music," he tells me over email. "So I took a step back and started to think what singing meant to me. I realised it was for me to tell a story, that you as as singer can tell such a precise story and use the music to play with the emotions in the lyrics." Writing songs that have personal significance, taking his time to perfect his show and not compromising has meant that he has already weathered the ups and downs of a ten-year career -- and four albums. "As an openly gay singer it has changed a lot in the last ten years and I am so incredibly happy that it has. For a very long time I did feel like the only gay in the musical village here in Norway."
I don't need to point out the fact that Scandinavia is mid cultural takeover -- on the telly, in music, in film, in our general lying down under a blanket lit by a practical and well designed lamp-ness. Last year Nils's music was used to soundtrack Skåm, the hugely popular Norwegian show documenting contemporary teenage life (and latterly picked up by Simon Fuller to be remade for the USA). "They used Waiting in the promo for the third season and it made a bit of a buzz. And then the show just grew bigger than anyone anticipated." Shown in real-time, and streamed online, the show was a first for Norway's public broadcasting organisation. The show's most emotional scene crescendos with Nils's version of Oh Holy Night (O Helga Natt), and the wave of support began to flow -- and never stopped. "I'm so grateful that (writer/ director/ producer) Julie Andem asked me and trusted me completely, so that I could make the version of the song I dreamt of, and then with the stunning musical arrangements by Kaja Fjellberg Pettersen and Øyvind Mathisen played by Oslo String, it all just clicked."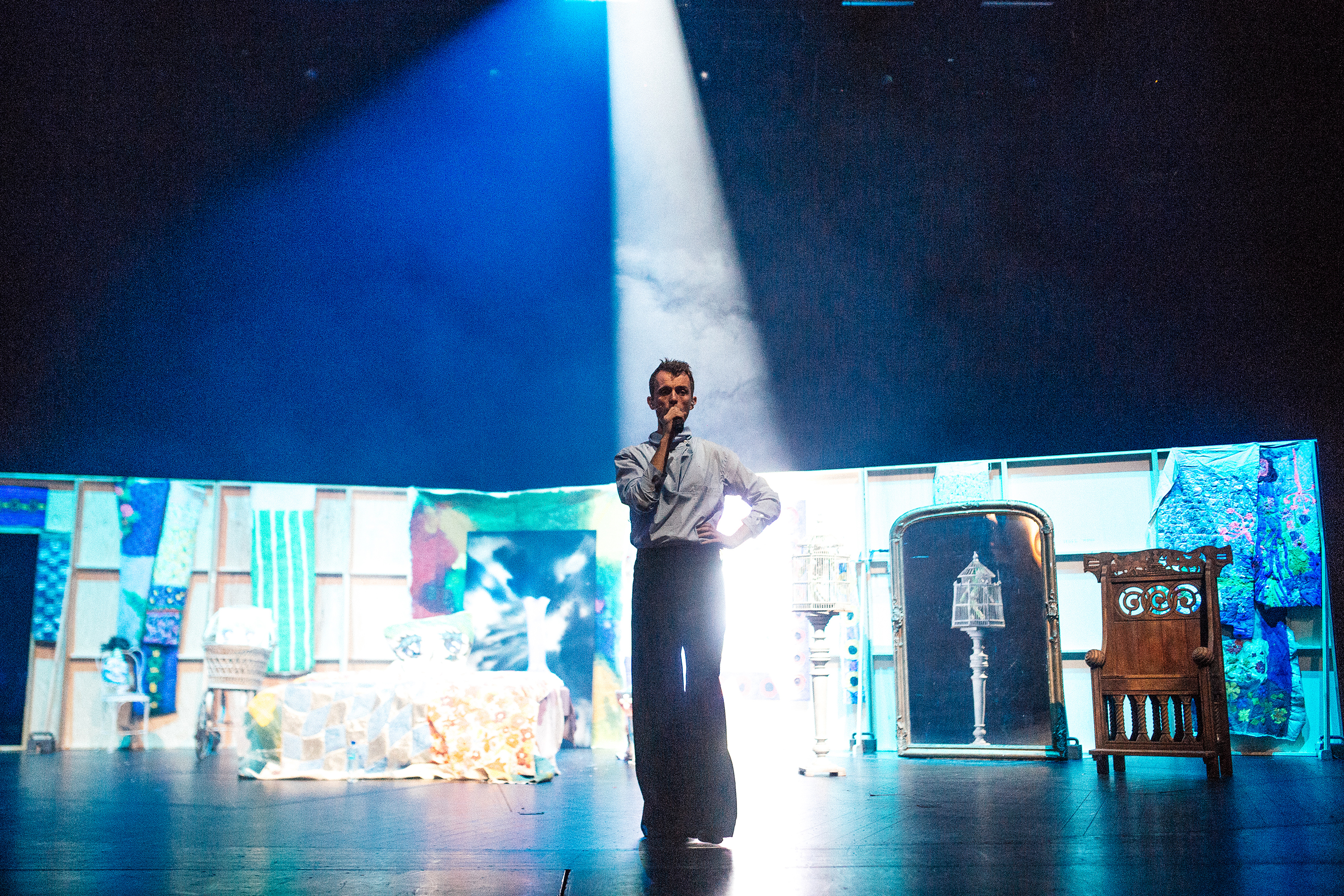 I have seen Nils play a handful of times: each time is equally brilliant, but it was at his performance at the Olso Opera House where his true genius shone. Skimming the boundary of performance art and music, he worked with artist and long-time collaborator Ida Ekblad to create sculptural, alternative words for Nils to inhabit onstage. "We met in our early 20s in a cottage by the sea. A lot of my friends went to the Art Academy [The Norwegian National Academy of Arts] and they would ask me to sing at their openings and dinners, and after a while I started to think more conceptually around my singing too." Sometimes the sets include a twisted take on a teenage bedroom; sometimes there are weird palm trees, sometimes there are paintings. "I like to interact with objects and art pieces while I perform, I use them as a placeholder for the person I sing about. So instead of staring into the audience I rather try to connect with this different object; a plant, a ladder, a sculpture, a painting -- any object that resonates with where I am at that time in my life helps me bring forth the emotion of the song."
Having collaborated on a performance for the Venice Biennale together, Nils and Ida decided to recreate the space they made together for the Opera House show -- a bedroom filled with discreet sculptures. But this time the space would rotate, revealing three different rooms, the second one introducing Silas, a ballet dancer, which was also inspired by the sparseness of Marina Abramović's performances: a table and two chairs. A tapestry. An empty space for him to fill with song.
Following the traditional opera format of including an intermission, the first half of the show ended on a high: the cool, calm space transformed with a rainbow of lazers, a topless saxophonist in Westwood Bondage heels and a buzz cut, and a bevy of dancers in nude suits. Telling the story of Nils as a young boy, Contemporary Dancing is the first song he ever made -- the biographic narrative describing a young boy who isn't allowed into the ballet school in his tiny village. "It's very camp and tongue-in-cheek, I haven't performed it for five years because, for a long time, I didn't like to dance on stage." The chorus shifts keys and crosses genres -- 'dance, dance daaaaaaaance, contemporary dancing,' he sings. And he's right, you can't just stand there. "I couldn't help thinking that the song would be an amazing end to the first act and so [the dancer] Silas Henriksen contacted one of the dance students at the National Academy of Arts her in Oslo, Natanya Kjølås, and asked her if she and some of her classmates would like to join -- she made such a beautiful choreography to the song." For Nils, who has always been interested in dancing but never done anything about it, it allowed him some liberation to do a pure dance routine where he felt out of his element, without singing.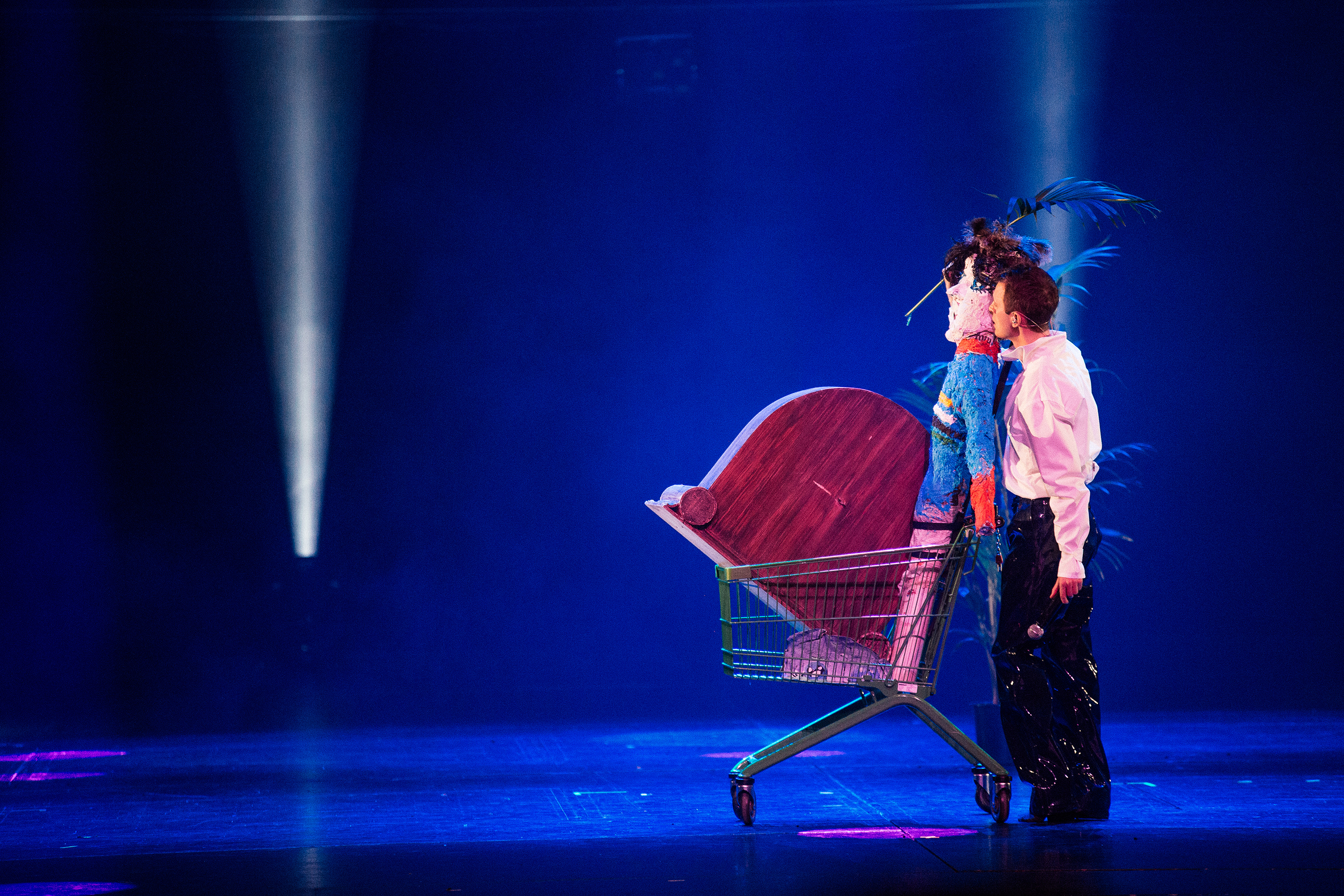 The music system in Norway and Scandinavia is different than in the UK, producing of-the-moment popstars such as MØ, Astrid S, Sigrid, Jenny Hval, to name but a few. The labels there don't choose people based on their social media presences, they support and nurture talent through a series of grants. They also offer support outside of the country, with organisations such as Music Norway, who facilitate the PR and export of music, meaning that artists such as Nils can have a much longer, healthier career. That, and the internet, means that people can easily access this pool of amazing music. That said, it is a country of 5 million people. Does Nils find that helpful or a hindering? "It's helpful," he says. "If you see or hear something you like, it's very easy to get in touch with people because there's always someone you know who knows someone who knows the person. The art and music scene is great, and thanks to the Office of Contemporary Art (OCA) and Music Norway, a lot of interesting industry people and artists get invited to the country, making it much easier for artists and musicians like me to work abroad without big budgets or institutions backing you."
His latest song, Apart, is about the desperation you feel when the one you love stops loving you. Thankfully, I don't think I'll ever stop loving you, Nils.