black panther smashing box office records is important, but not surprising
Black Panther is the fifth biggest film opening of all time in the US. The Fifth Biggest Opening Film of All Time.
|
22 February 2018, 6:15pm
Image courtesy of Marvel
In news that should surprise nobody except conservative old white men and a significant portion of Hollywood execs (although let's be honest they're essentially one and the same) -- Black Panther is the fifth biggest film opening of all time in the US.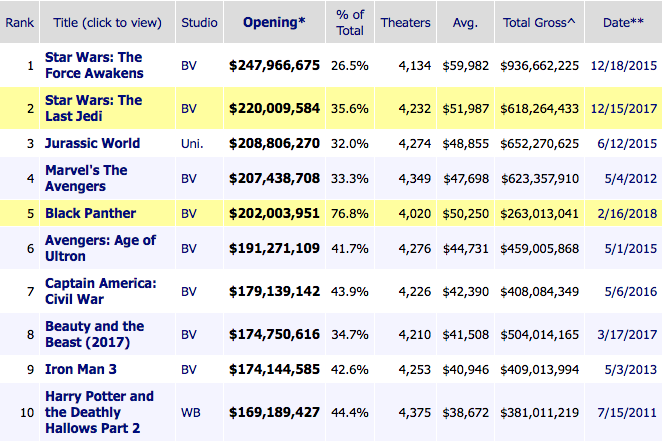 The Hollywood myth that films with predominantly black casts 'don't sell' has generally seen stories of black experience restricted to independent cinema -- such as Barry Jenkins' Moonlight, Steve McQueen's 12 Years a Slave, and most of Spike Lee's IMDB page. While liberation from the big studio machine allows independent film makers to explore more nuanced themes than say, a Daniel Craig blockbuster, it does leave a bit of a gap in the cultural mainstream for a hero of colour.
To see the afrofuturist blockbuster Black Panther begin to plug this hole is definitely important. But it shouldn't be surprising. Last year, Hidden Figures -- a relatively low budget autobiographical drama about pioneering black female scientists working at NASA in the 60s -- was not only nominated for a Best Picture Oscar, but also grossed $119.5 million. This made it highest grossing film of all the Best Picture nominations -- just in case you need proof that female leads can shift tickets.
Ironically, the film it bet to the top spot was La La Land, a predominantly white film about Hollywood that only serves to underline the industry's lack of diversity. And while Hidden Figures won out in the commercial stakes, Moonlight took home the critical cake with the Best Picture nod. Then there's the low-budget horror-comedy Get Out, which conversely raked in a lot of money. And records: it was the most profitable film of 2017, the second highest R rated film ever and the highest grossing debut film based on an original screenplay.
So for Black Panther to knock it out of Wakanda by becoming the fifth biggest opening film ever in the US, the highest February opening weekend ever, the largest winter season opening weekend ever, the largest President's weekend opening ever, the largest Thursday preview gross ever and the largest Monday film ever is brilliant. But not surprising, because of course films with black casts sell. Because good films sell.

Editor's note: an earlier version of this article referenced an incorrect list of best performing film openings. We've amended the piece to include the correct list.