Images courtesy Tommy Hilfiger
tommy hilfiger, gigi hadid and an all-star cast closed milan fashion week
The who, what and wow of Tommy Hilfiger's immersive Formula One-themed see-now-buy-now Spring 2018 experience.
|
26 February 2018, 11:41am
Images courtesy Tommy Hilfiger
Who?
Everyone. From the Hadids to Jeremy "Hot Felon" Meeks, Lucky Blue Smith to Jonas Glöer, Winnie Harlow to Joan Smalls, a veritable who's who of the genetically blessed and oh-so-hot-right-now walked the show. Given that this show marked the fourth and final serving of Hilfiger's fruitful collaboration with Gigi Hadid, the pair pushed possibilities and exceeded expectations once more. After staging epic TommyNow show experiences in New York (TommyPier for autumn/winter 16), Los Angeles (Tommyland for spring/summer 17) and London (RockCircus for autumn/winter 17), the all-American design powerhouse took his world tour to Milan with the greatest hits of its spring/summer 18 collection -- a mix of Tommy Hilfiger, TOMMYXGIGI, Hilfiger Collection and Hilfiger Edition -- on an epic stage that celebrated Hilfiger's love of motorsport. "The consumer wants immediate gratification and unique experiences that they can't find anywhere else," Hilfiger explained. With his finger firmly on the pulse of now, few old masters understand this shapeshifting business better than him and he delivered once more.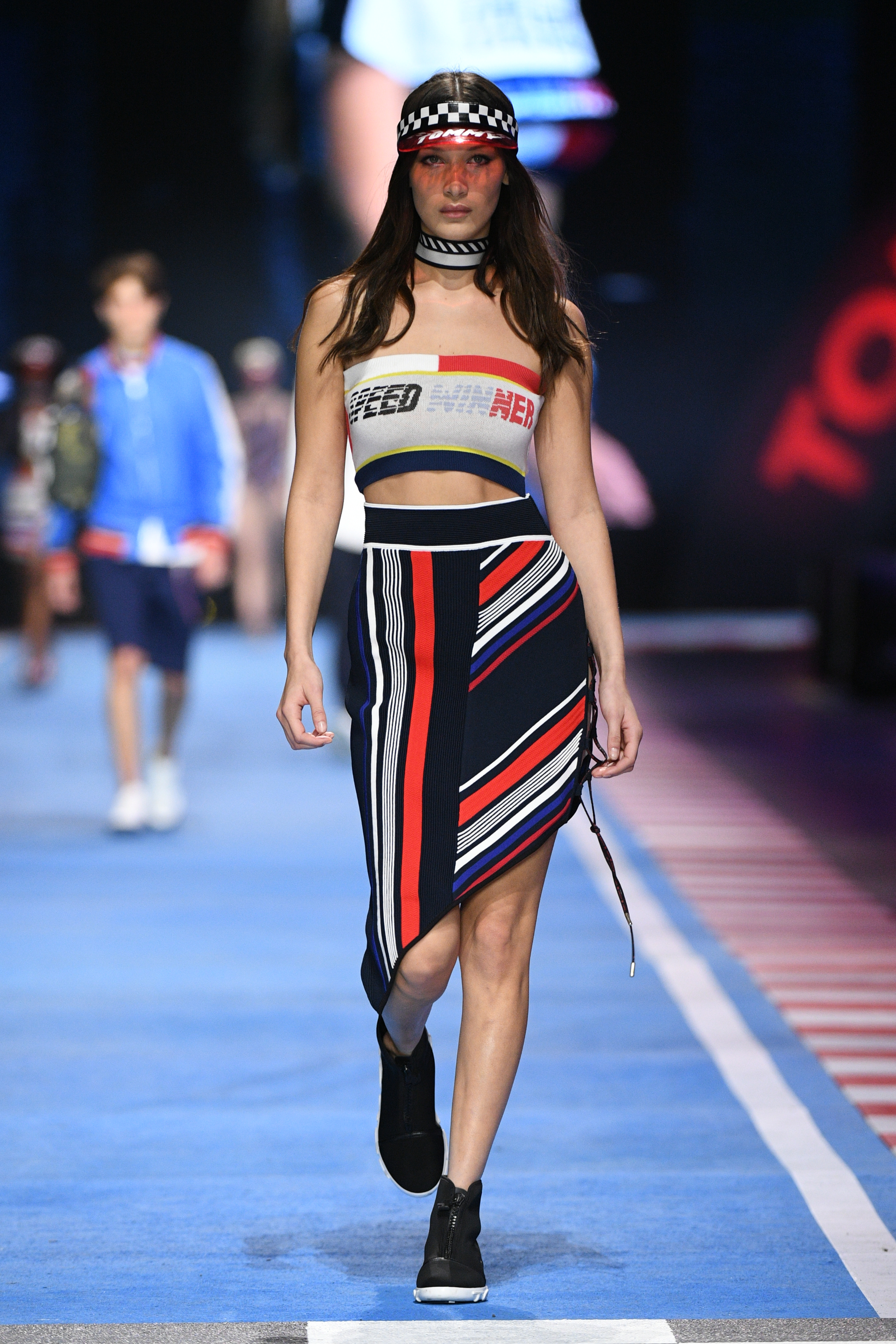 Where?
The Milano Congressi -- the largest convention centre in Europe and the former home of Milan Fashion Week -- was transformed into a Fast & Furious franchise-worthy racetrack and show goers -- a 1,000 strong mix of industry insiders, A-listers and competition winners -- invited to take pitstop challenges, ride a race simulator, pose with the Tommy pit crew and shop the collection long before Gigi Hadid and Tommy Hilfiger waved the chequered flag for the victory lap of a finale. We watched on as bags, jumpsuits, gloves, and many other items raced off the shelves. After all, TommyNow is all about the democratisation of fashion and has pioneered the see-now-buy-now movement so every single piece of the collection was shoppable. In addition to being available online, the collections are shoppable in 20,000 physical points of sale from this morning. No one does it quite like Tommy.
What?
From Gigi opening the show in race-ready leather speed trousers, T-shirt and skinny silk neck tie to Lucky Blue wearing a relaxed fit bowling shirt and chinos from the Hilfiger collection, the collection was youthful and playful in its continued adoption of streetwear, logomania and 90s nostalgia but remained true to the red, white and blue American heritage of the brand. The tightly themed pieces were strongest when they were at their most authentic with pit-inspired denim jumpsuits and leather bikers being particular highlights. This was high speed fashion available at high speed.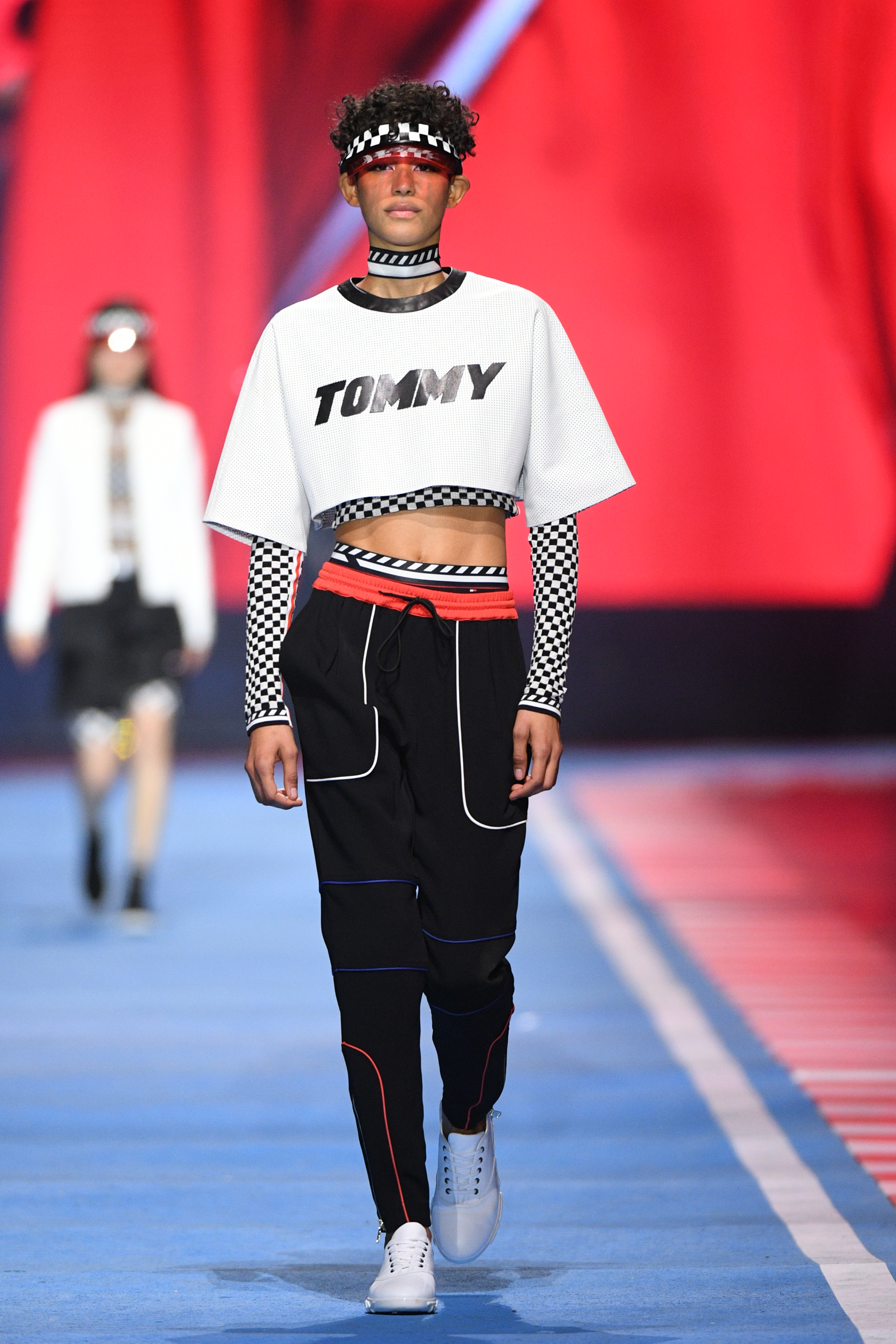 Who next?
As Gigi Hadid rides off into the sunset after four successful seasons with Tommy Hilfiger, who could possibly replace her? She helped the brand amass 2.5bn impressions across its social media channels immediately after its London show and a 900% increase in website traffic after its New York show -- hers are big shoes to fill but if anyone can spot the next name to help the brand push on, its Tommy Hilfiger himself.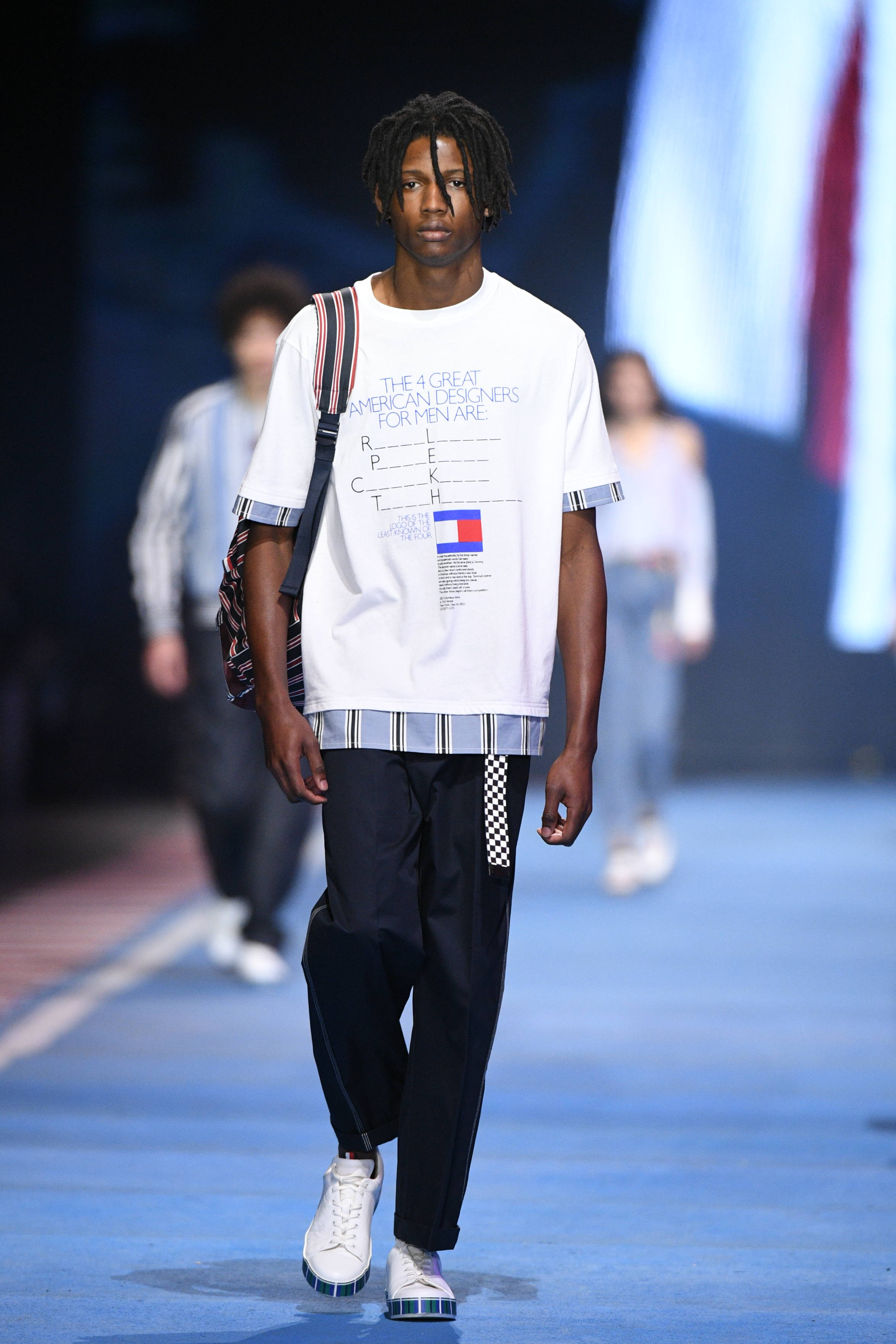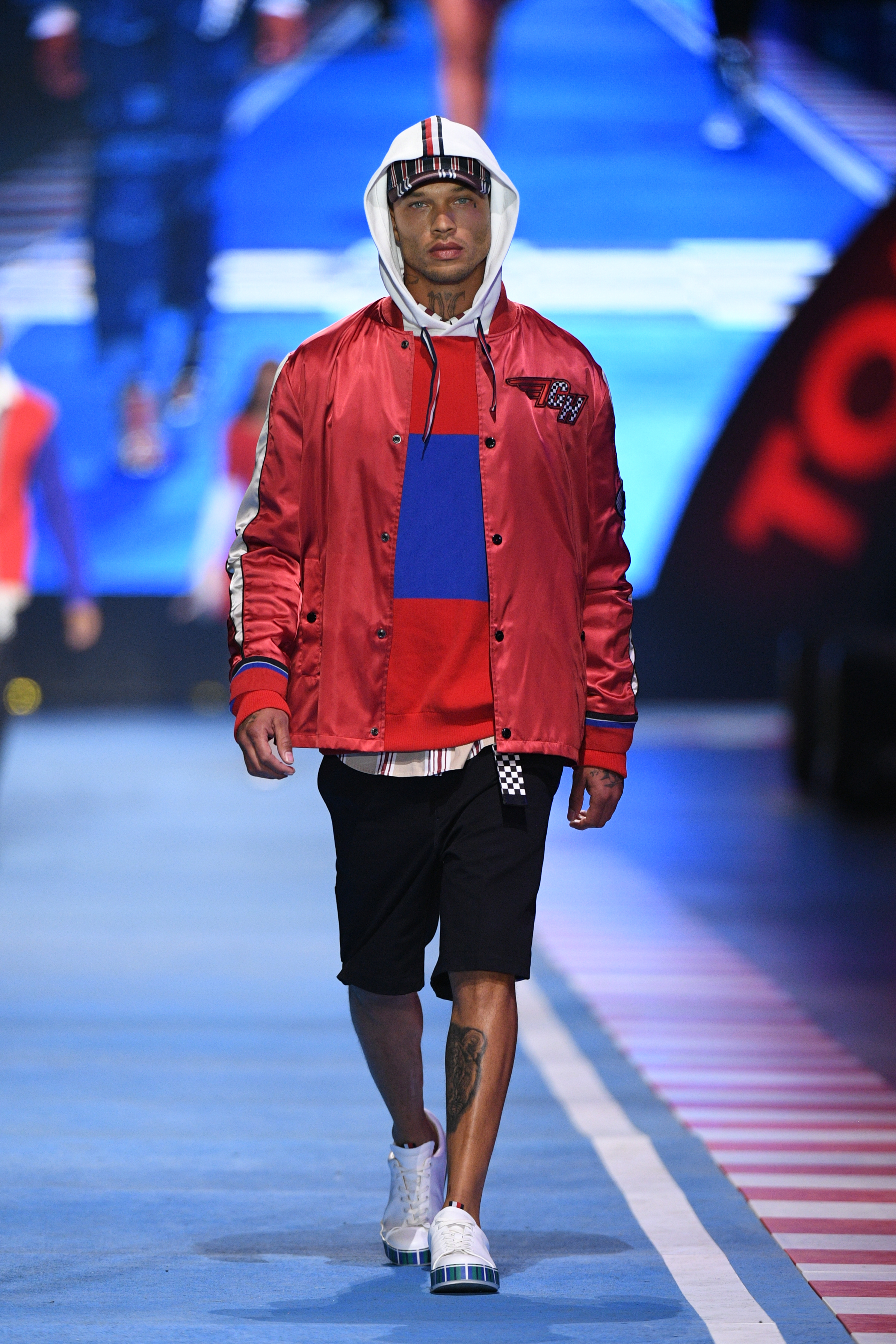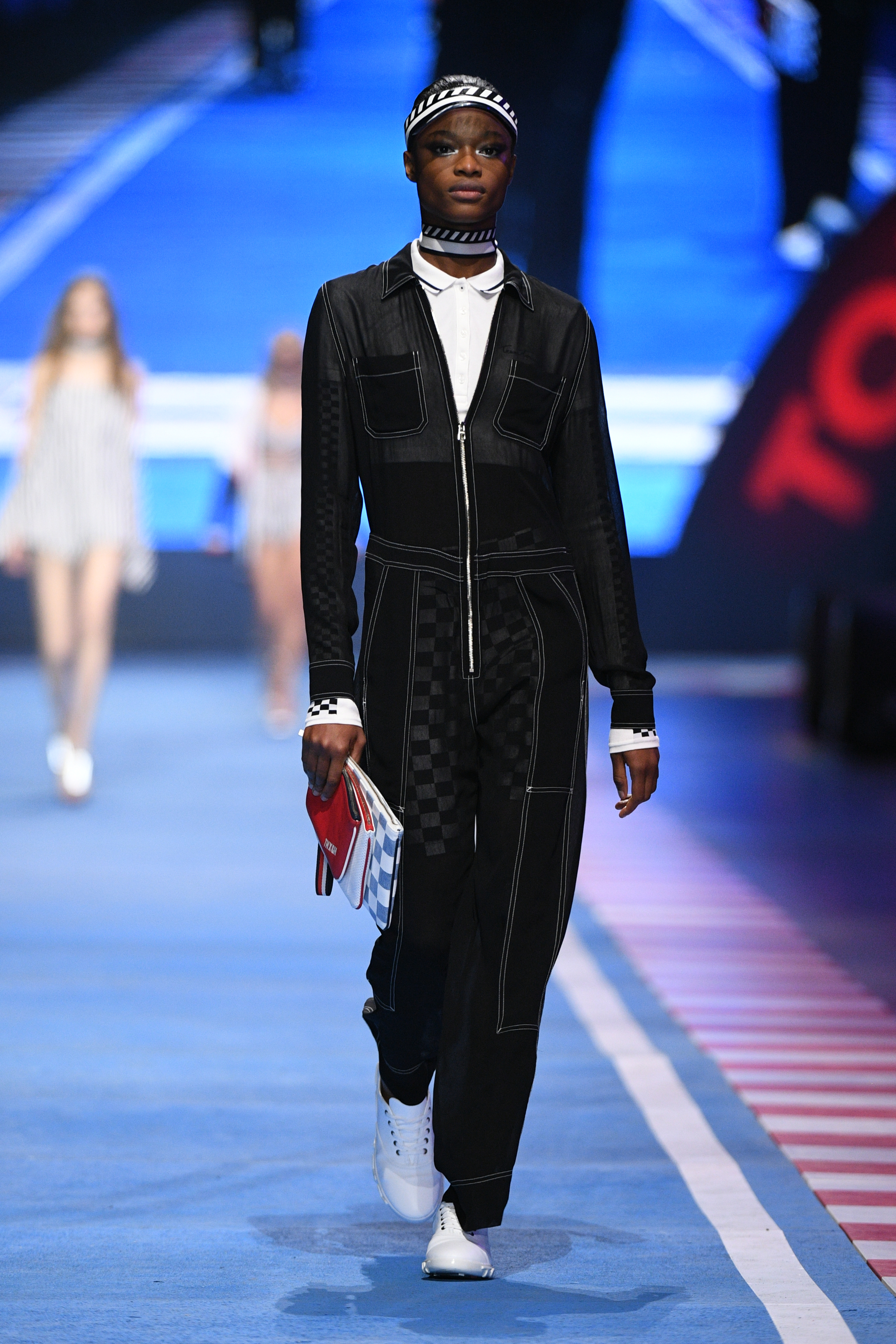 This article originally appeared on i-D UK.