chance perdomo: the world's first pansexual warlock on 'the chilling adventures of sabrina'
The British actor tells i-D how he came to play Sabrina's mischievous cousin and what 2018 can learn from the Spellman family.
|
07 November 2018, 3:35pm
There is no talking cat in the new reboot of Sabrina the Teenage Witch. Sorry to disappoint, but Netflix's spooky update, The Chilling Adventures of Sabrina, is less Nickelodeon-esque escapades and giant flans and more Satanism, gore, and teen angst. But if Salem's wisecracking and sarcasm and interference were your favorite parts of the 90s show, then you're in luck. The role of the partner-in-crime is elevated and perfected in the introduction of Ambrose Spellman.
Played by British actor Chance Perdomo, Ambrose is Sabrina's necromancer cousin, and he has quite the backstory. Confined to the Spellman property under house arrest for his part in a plot to blow up the Vatican (casual), Ambrose is the world's first ever pansexual warlock, and while he may be an old man in soul — his house arrest sentence alone is 75 years — he appears as a 20-something-year-old man, and as some have commented, an "absolute snack". So obviously he's already become one of the show's breakout characters, with plenty of YouTube fan videos to show for it. While Ambrose in the original Archie universe was a middle-aged man with a mustache, he's a brand new character for a new audience. Speaking to i-D, Chance calls the opportunity to introduce a fairly unknown character "liberating and more freeing, artistically speaking," he says. "You're able to piece together various sources of inspiration without the pressure of dissecting something that's already beloved to home viewers and fans."
Certainly all the other characters known and beloved to viewers (Sabrina, Harvey, aunts Hilda and Zelda) all undergo a transformation that leaves them darker and grittier than we've ever seen them before, while still retaining some of the fundamental fun that the series has always had. This duality is something Chance explores in the character of Ambrose too; it initially seems that he's the show's comic relief, but as each of the first season's 10 episodes unfold, we see he's hiding something much darker too — a side that Chance teases will definitely come back to bite Ambrose in the ass in season two.
"His quips and witty one-liners definitely serve as comedy," the actor says. "But I wouldn't say he's just light relief. He's a tortured soul, an old man in a young man's body (literally) — and there's a sense of lugubriousness about him, whether he's cracking jokes or acting a fool. It's a coping mechanism for him, but it's also bred from his love for his family. Warm as he is, he's deeply alone and deeply hurting."
That's quite a role to undertake. "A lovely, charming chap, who's also a Satanic Warlock under house arrest for having attempted to blow up the Vatican."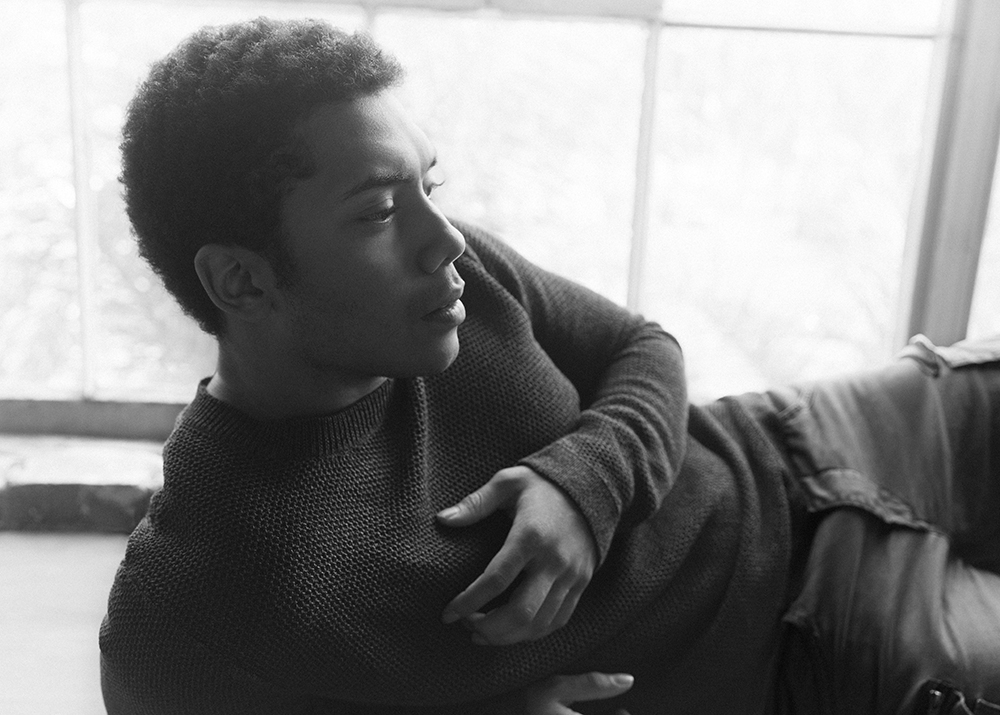 The dark underbelly of beloved children's characters is something we should have expected from The Chilling Adventures of Sabrina, at least if we're taking the lead from its sister show, the increasingly twisted and campy Riverdale. Fittingly, Chance began his journey to becoming Ambrose through Riverdale. He originally auditioned for the part of Jughead Jones, now played by Cole Sprouse. "I auditioned for Jughead a few years back," he says. "I did screen tests and came very close to landing the role, but Roberto Aguirre-Sacasa [who writes for both shows] told me he really started to picture me as Ambrose. I actually found out I had the role through a direct message from casting director David Rapaport. He just wrote CONGRATULATIONS in all caps."
And from that all-capped congrats we got a series full of Ambrose in all his silk-kimono glory. For a debut series with just 10 episodes, The Chilling Adventures of Sabrina sure packs a lot in, whether it's critiques on religious fundamentalism, the battle between good and evil or Sabrina 2.0's foray into intersectional feminism. The issues the show touches on, while supernatural, feel especially prescient in 2018, where our politics are becoming more extreme than ever, and the term 'witch-hunt' is thrown around liberally. "The stark and polarizing views and opinion on the show really reflect the world we're in in 2018," Chance tells i-D. "Whether it's our divided political landscape, the widening socioeconomic gap between rich and poor, the racial divide in the West; resurgence of religiosity vs atheism in the news — it's all pointing to a darker mood and one of conflict. Which way it goes is up to us, and we're still not learning. We're still fucking it up. Yet, we have hope.
"Like Tyler Durden says in Fight Club, 'we're the middle children of history. No purpose or place. No Great War or depression. Our Great War is a spiritual war'. Right now, in 2018, we're fighting to define ourselves as a global community. Existential and spiritual a dilemma as I can think of. Just like characters in the show, flawed as we are, we never give up."
This article originally appeared on i-D UK.