the new mademe x converse collection is a glam western fantasy
i-D cover star Paloma Elsesser models the looks designed by Erin Magee.
|
06 December 2018, 1:00pm
Photo by Mayan Toledano.
We're in the midst of a Western wear renaissance, if you will, with cowboy boots making appearances on the runways of a diverse bunch including Calvin Klein, Margiela, Ralph Lauren, Isabel Marant, and Off-White. It might be just the latest iteration of the noughties fashion revival, but western looks are popping up everywhere — even in the latest MadeMe x Converse collaboration. Designer Erin Magee's first collection for the brand was dedicated to resurrecting the iconic 90s One Star sneaker she wore as a teen, but her latest creates a "poppy 90s female fashion moment" that embodies the spirit of the wild wild west. And Dolly. "It really does feel like an old Miss Sixty ad or an old Diesel ad," she says.
Erin's first thought when designing the collection was to play with the iconic imagery around the One Star silhouette, to once again elevate her favorite semi-platform shoe, and she gravitated immediately to the idea of a sheriff's star. "I feel like western things right now for girls are kind of cute, cool, and trendy," Erin explains. "It worked on the shoe and it really worked on the clothing — especially adding western details to a jumpsuit." MadeMe x Converse's One Stars come in two colorways — pink icing and taupe — putting a playful spin on Western Americana. There's a tracksuit that comes in a fierce fiery red, a ribbed lace up top, and to complete the look, a patent leather purse to make all your noughties dreams come true. "I did want this to feel a little more glam-y, a little bit more sexy, and a little bit more feminine than MadeMe typically is," Erin says.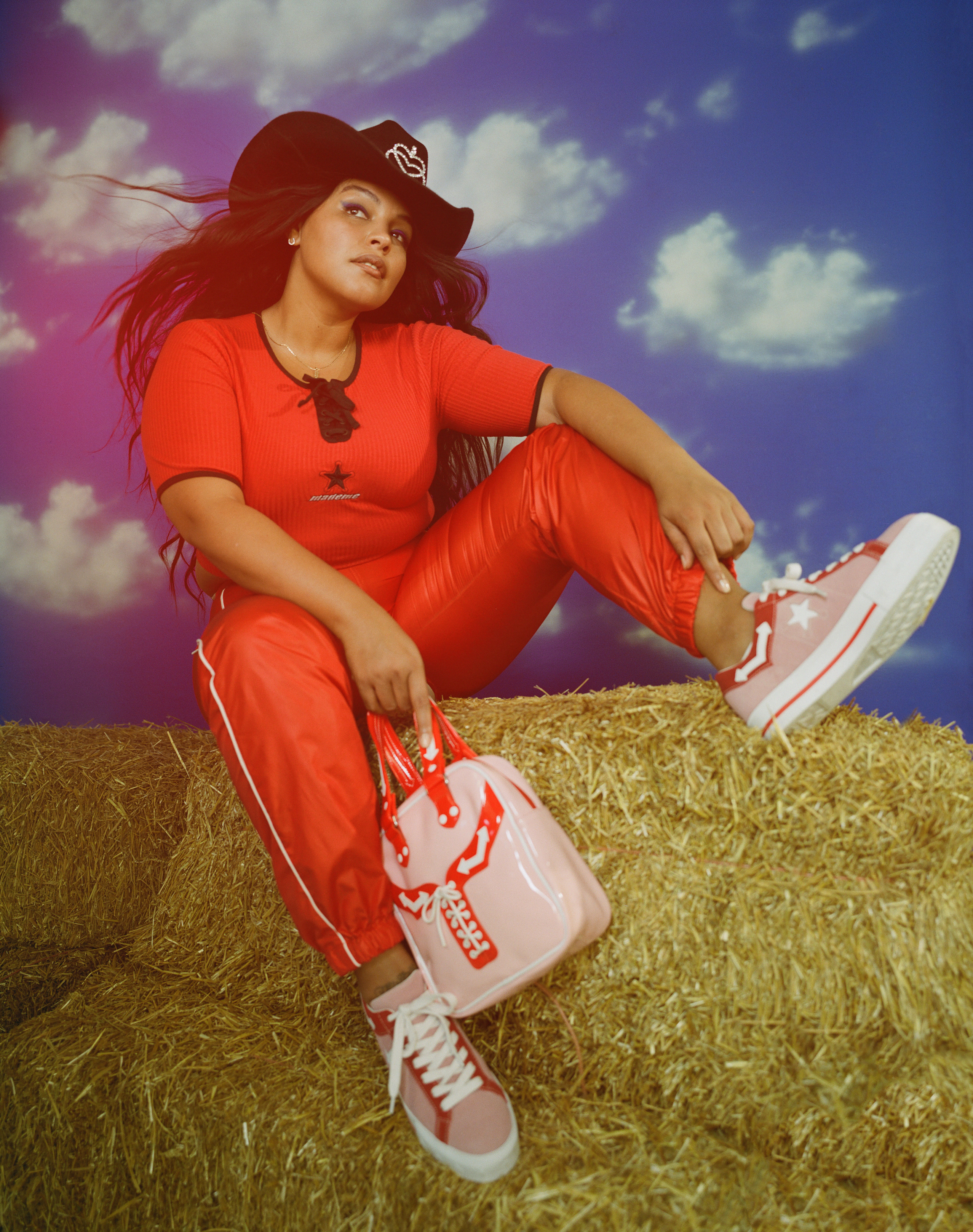 The designer tapped New York it-girl and i-D cover star Paloma Elsesser to glam things up a bit. Paloma exudes downtown cool (much like MadeMe itself), but she has a "universal glamorous appeal." "She can be sitting next to the Gigi Hadid's and Kendall Jenner's and really be on their level, but then I'll see her at some whatever party or wherever downtown," Erin says. "She always kind of fit the collection because I wanted it to feel that way. I wanted it to feel like it could be very sexy and very glamorous and very hot, as well as like cool, downtown, and conceptual." Photos from the lookbook prove she was the right woman for the job. "Isn't she just the coolest girl downtown right now?" Erin says. "She'd probably hate that I said that, but she actually is."