rihanna's savage x fenty show starred bella, jazzelle, and a pregnant slick woods
You'll believe God is a woman.
|
13 September 2018, 2:14pm
Ph
Can lingerie fashion shows still be sexy in 2018? Victoria's Secret is trying, enlisting what's probably the brand's most diverse lineup yet, likely spurred by (male) CEO Leslie Wexler's screams of "PIVOT!!!!" in response to declining sales. Cute, but the brand has serious competition. Rihanna's lingerie line Savage x Fenty didn't even exist last season and it's already one of the hottest tickets on the NYFW lineup. Guests were even reportedly leaving Marc Jacobs — who's held down the closing time slot for years — to hightail it to the Brooklyn Navy Yard in time for Rihanna's "immersive experience."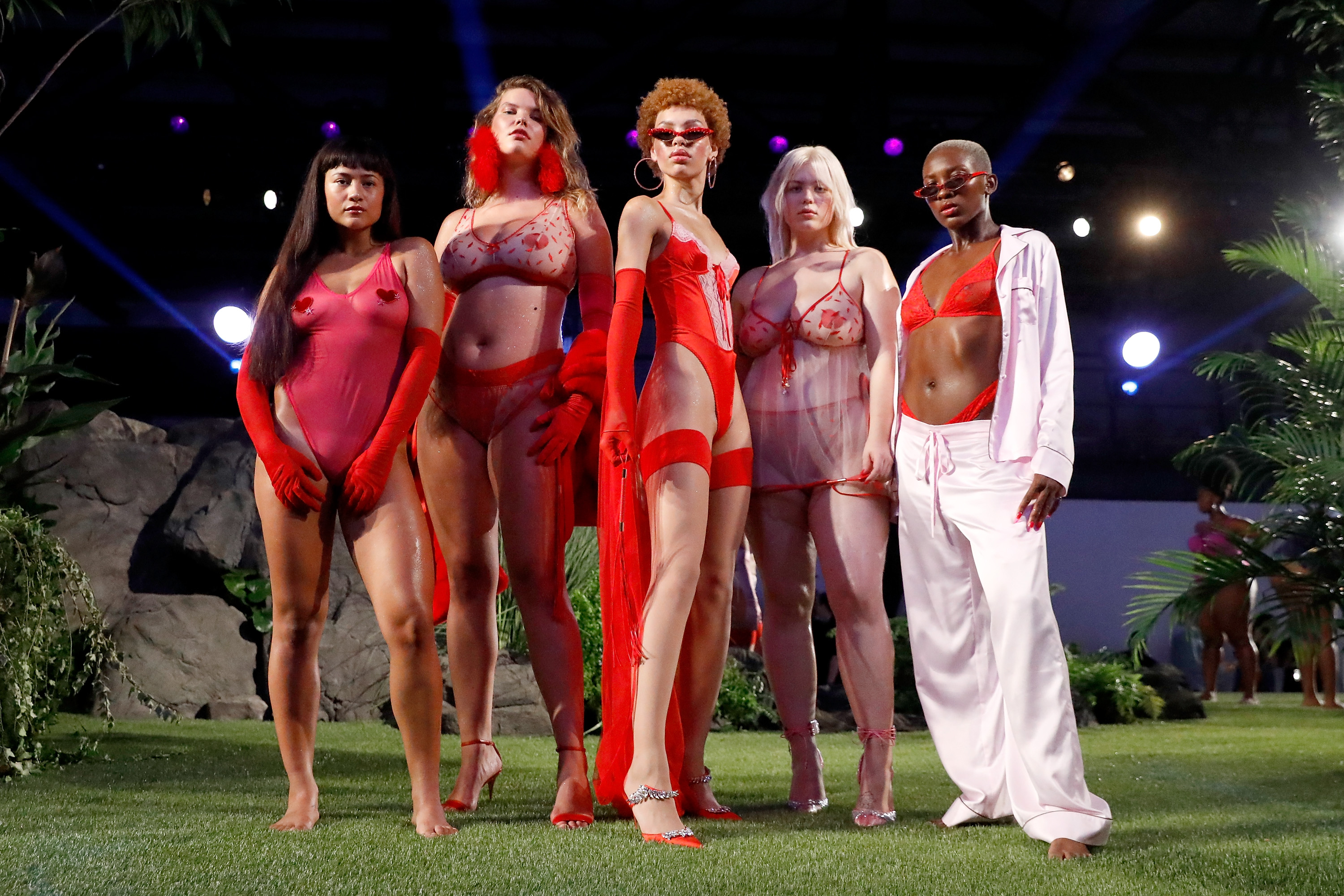 Those who had arrived early were suitably woozy from free-flowing pink champagne by the time the main doors opened — revealing an astroturfed jungle paradise shrouded in mist and dotted with cacti. Models contorted their bodies into seductive yoga poses, performed theatrical choreography, and descended into a full-on cathartic frenzy.
In contrast to the testosteronic motocross extravaganza Rihanna staged for her Puma show last year, her Savage presentation was a divine celebration of womanhood — in all its shapes, sizes, skin tones. It also marked the debut of the world's most badass maternity lingerie, modeled by two heavily pregnant woodland babes including Slick Woods. Rihanna's (and i-D's) longtime muse, Woods wore a delicate black lace harness that fit perfectly over her protruding stomach, paired with matching black nipple pasties and thigh-high lace stockings. The other pregnant model — who seemed to be a professional dancer — wore a cream lace teddy embellished with tropical frangipani flowers.
Other inhabitants of Rihanna's sexy feminist Eden included ethereal ice goddess Bella Hadid (in an intricate assemblage of frosty blue delicates), woodland bae Jazzelle Zanaughtti (in a striking shade of emerald green), and Paloma Elsesser in a crystal embroidered babydoll. And, of course Rihanna, who walked the runway in a sheer tube dress and matching headscarf, which she slyly slipped off as Elvis's "Love Me Tender" played. Relive the inclusive extravaganza below.