watch: fenty beauty's guide to rihanna's most iconic look
Use the latest Fenty Beauty products to recreate her 2017 Met Gala makeup.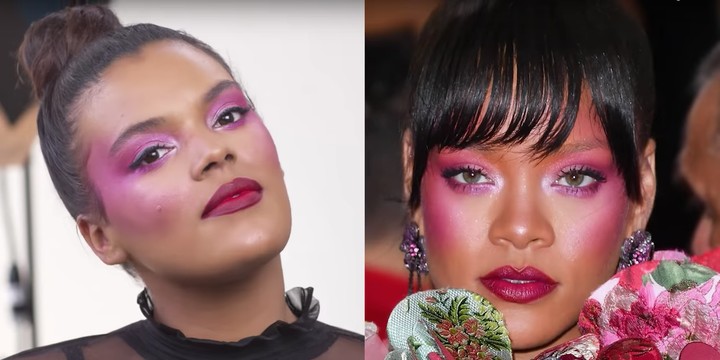 Screenshot via YouTube
Rihanna deserves some kind of permanent memorial for her Met Gala looks. They are always conversation-sparking and, most importantly, on theme (which, sadly, can't be said for a lot of the other guests). One of our favorite RRi Met Gala looks is her Commes des Garçons ensemble from 2017. Her makeup was just as eye-catching as the Rei Kawakubo fall/winter 16 design, Rihanna looking as if she walked through a cloud of fuschia powder. Which leads us to this plot twist: turns out, the products released in this week's Fenty Beauty drop have existed for over a year — new products like the Killawatt Foil are what Rihanna used for her Met Gala makeup makeup.
Fenty Beauty shows us how to recreate Rihanna's Met Gala look in the brand's latest tutorial. Makeup artist Priscilla Ono illustrates how versatile the "Beach, Please!" collection is. She makes everything look easy, intuitively layering different shades of highlighter to create a poppy, whimsical face. We think we'll need some practice to get the look down right. At its core, however, the process is remarkable DIY and places an emphasis on how fun and creative makeup can be. Many forget that makeup can be an art form just like painting or fashion design.
Fenty Beauty has been killing it with the beauty tutorials lately. Earlier this week, it provided a deeply relatable guide for using foundation for acne coverage.
Watch the guide to Rihanna's Met Gala makeup look below: