Hamishi Farah, Representation of Arlo
hamishi farah's painting of dana schutz's son exposes the art world's white fragility
Presented at LISTE in Basel, the artist's response to Dana Schutz's Open Casket and the Whitney Biennial controversy, provokes a German magazine's ire.
Hamishi Farah, Representation of Arlo
At LISTE, an art fair taking place each June in Basel, Switzerland, a delicate painting of a cherubic child riled up Monopol Magazin. The German art monthly published a short opinion piece on Hamishi Farah's Representation of Arlo, decrying the work, and censoring its subject by inserting a black bar across his eyes (later redacting the image altogether by replacing it with a generic shot of the former brewery where the art fair is held, out of respect for the privacy of the painting's subject). According to the magazine, the painting was not just "mediocre," but an overtly personal act of revenge.
The allegedly controversial detail about Representation of Arlo is that it depicts white artist Dana Schutz's young son. Hamishi found the reference photo for it online (a common strategy in his work). Schutz made headlines last year when her painting of Mamie Till's son, Emmett Till, a 14-year-old black child lynched in Mississippi in 1955, was included in the Whitney Biennial, a prestigious showcase of emerging artists. Mamie Till famously let her son be shown to the world in an open casket; Jet magazine published a photograph of this that became a turning point in the struggle for civil rights. Schutz's painting of Emmett Till, which translates his brutally disfigured body into an abstracted, expressionistic vernacular, sparked protest. An open letter argued for its removal from the exhibition, and its destruction, emphasising that it's "not acceptable for a white person to transmute black suffering into profit and fun, though the practice has been normalised for a long time." Hamishi, like many black artists, co-signed the letter.
Representation of Arlo is, operatively, a response to Schutz's Open Casket. However, asserting that it's a simplistic reaction in a flattened visual field misses the painting's own important claims. Defending her work, Schutz invoked her status as a mother, claiming the painting was a vehicle through which to empathise with another mother's pain. Motherhood is not a universal equilibrium -- the compassion of a white mother is incompatible with the pain of a black mother grieving her son's lynching. Neither is childhood. Under the white gaze, a blonde, white toddler is characterised as angelic, and a black boy stereotyped as threatening. Representation of Arlo emphasises this. It doesn't demonise Arlo, but portrays him with luminosity and lightness of touch, conveying careful consideration, and even tenderness -- far from the flat-footed revenge that Monopol makes it out to be.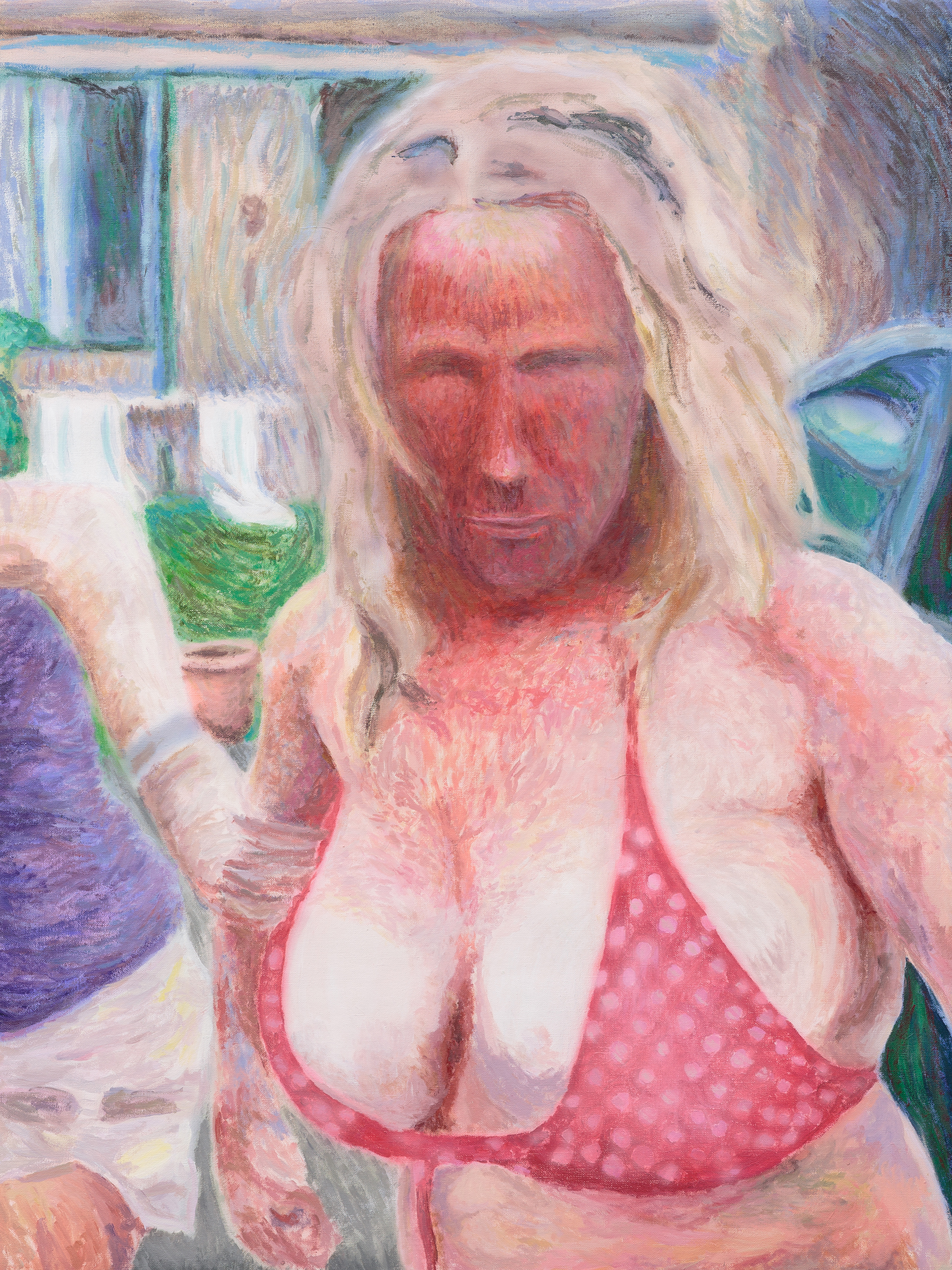 In their quickness to discount the work's complexity, Monopol's reaction demonstrates "white fragility", defined by educator Robin DiAngelo as the defensive moves made by white people when challenged racially, reinstating white racial equilibrium. It's when white people perform fragility to reinforce the hegemony of whiteness. With their dismissive attitude, the magazine attempted to deflect the important conversation about representation that Hamishi's work incites. Dana Schutz's defense of her own painting functioned similarly. Regardless of her intentions, the artist's evocation of motherhood betrayed a systemic anti-blackness, in which black experience is legitimised through white validation. Her response exhibited an inability to engage meaningfully in a conversation about race. Likewise, Open Casket's defenders, who supported the painting on the basis of "free speech," hypocritically used their argument to try and shut down the free speech of the painting's critics.
Hamishi's painting was shown at LISTE in a presentation that he co-curated with his gallery, Arcadia Missa. This featured portraits by four additional black artists, Janiva Ellis, Lewis Hammond, Ruth Ige, and Cheyenne Julien, whose work resists the white gaze, the social structure which perceives whiteness as normative and people of colour as "other." Hamishi's text introducing the presentation included a quote by artist Manuel Arturo Abreu: "All the west knows as 'art' since the Enlightenment is an ecology of criteria for inclusion which relies on the colonial subsumption of black and brown aesthetics." In the art fair's commercial context, the presentation rejected the usual fetishisation and commodification of the black body. It affirmed the complexity of black identity, and destabilised the power of the hegemonic white gaze.
A second take on Representation of Arlo, published in Hyperallergic, stated that the artist is "working with the same tools afforded other artists, including Schutz." The white gaze, though a type of 'soft power', reiterates white supremacy, ambushing even those who disaffiliate with right wing racism. Shrewdly, Farah's painting leaves it to the viewer to distance themselves from the dominant gaze by uncoupling his work from Schutz's. It is antagonistic to, rather than compliant with, whiteness. More than a didactic retaliation using the same painterly toolkit, it points to entirely different conditions of viewership.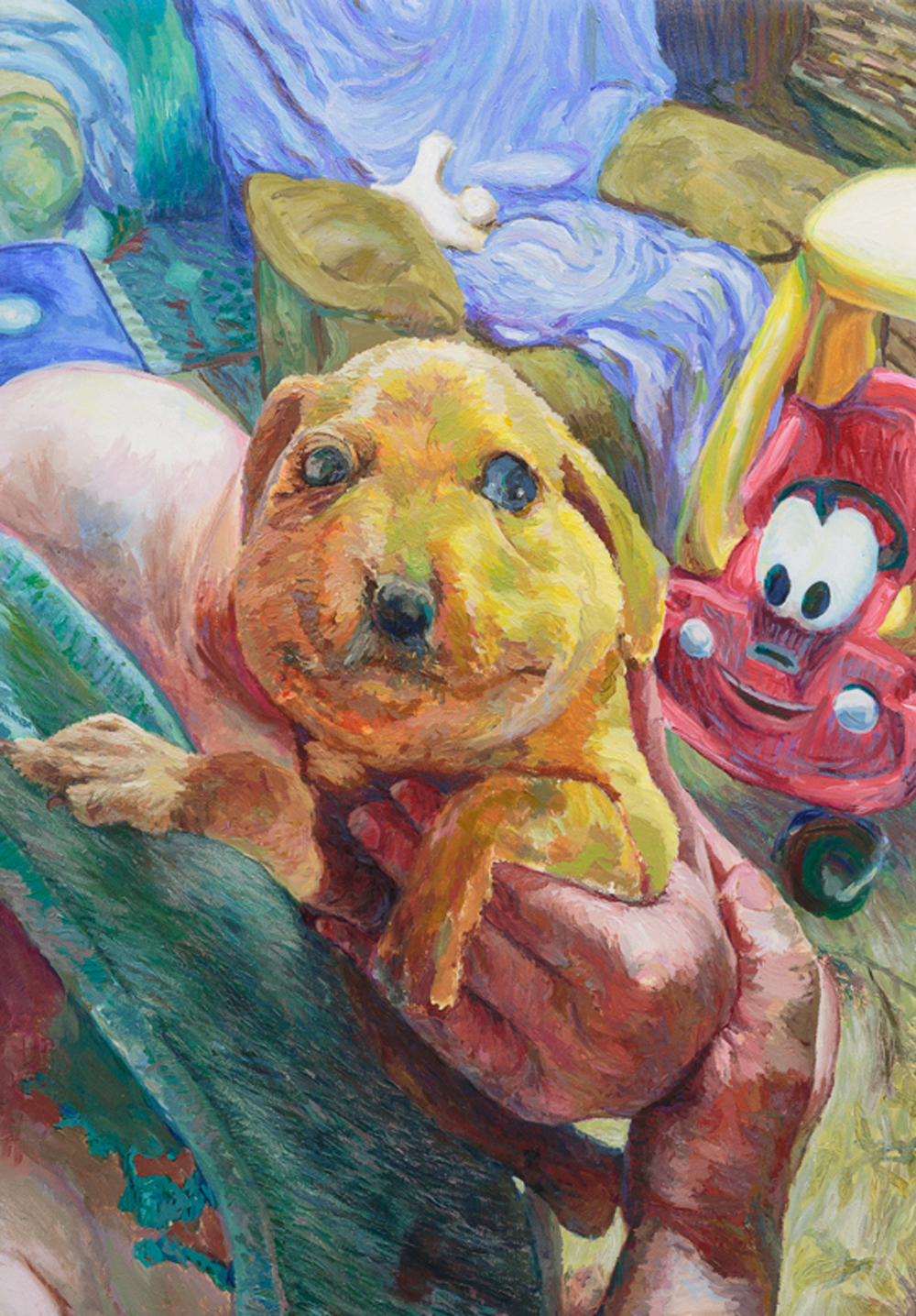 Presumably, this decentering of whiteness discomforted the editors of Monopol. They failed to mention the larger context that guided the exhibit, even though it provided a framework for how to read the paintings on display. They neglected to note that Representation of Arlo was shown alongside two other paintings by Hamishi: Ma (2017), a portrait of a middle-aged white woman from a viral YouTube video in which she spouts vitriolic racism, its title of course referencing motherhood, and a painting of a small dog held by white arms, George (2017).
Monopol' s reaction betrays the double standards of mainstream media. They violated Hamishi's painting by censoring Arlo's eyes (if only it was that easy to eradicate the white gaze). Yet art magazines reporting on the controversy around Open Casket had no problem reproducing Schutz's representation of Till, and images of black and brown children experiencing trauma are circulated in our media without permission all the time.
This double standard extends beyond the human realm. Despite the protests, the Whitney Museum left Open Casket in the Biennial. A few months later, in anticipation of the Guggenheim's survey exhibition Art and China after 1989: Theater of the World, a petition argued that two works due to be included in the exhibition featured violence towards animals: in one video, this specifically concerned dogs. In the art world animal cruelty is treated as a more significant social issue than anti-black violence, something surely on the artist's mind when including George, his portrait of a dog stung by a bee (which again indexes an image sourced online), in his selection of works.
Monopol's article demonstrates that when you're accustomed to privilege, equality can feel like victimisation. Neither Arlo nor Dana Schutz may have given permission for the painting to be produced, but with its provocation, we are all being invited to divest from whiteness as a system of ownership and domination. Representation of Arlo is not an act of retribution, as alleged, but a gesture of a more equitable visual culture.