Photography Thurstan Redding
charles jeffrey on his queer new collaboration
To celebrate Pride, London's favourite Loverboy has commissioned five LGBTQ artists to create a unique artwork to adorn his new range of T-shirts for Topman.
Photography Thurstan Redding
Charles Jeffrey is keeping busy. Fresh from presenting his spring/summer 19 collection at London Fashion Week Men's, the young designer has revealed a collaboration with Topman to coincide with Pride Month. "Pride is something I've always wanted to celebrate, in an off-beat way," he explains. "Rather than designing product myself, I liked the idea of using the opportunity to bring a bunch of people together whose work I really love. We've assembled five image-makers from the LGBTQ community who are massively talented."
Commissioning the five different artists to create a design for the collection, each of the T-shirts highlights on a specific right the UK's LGBTQ community have fought for and won. "The right to serve in the military, or to marry, or adopt. For me, a vital part of being a young member of this community means being grateful for everything that's come before us and allowed us to live as openly and vibrantly as we do now. I hope the project sparks some little moments of reflection and gratitude. That's what it does for me, at least."

With the collection launching online tomorrow and Friday in stores, we present the Thurstan Redding-shot campaign images, and meet the five artists behind the collection's artwork, asking each of them what it means to be LGBTQ in 2018.
Ryan Driscoll
To be LGBTQ in 2018 means… knowing there is no better point in time to be a queer person than the immediate present -- said comfortably from Britain. I can't speak for the people that experience persecution and demonisation everyday across the world. I hope this project reminds younger people of what has been achieved so far for LGBTQ rights, as well as the continual fight for equality many face. Fashion will always be a part of social, political and cultural change. It's the first identifier anyone will see when trying to understand someone's ideology. Fashion in any form can instantly say, 'This is what I am and what I believe'.
Axel Gutapfel
To be LGBTQ in 2018 means… understanding there isn't only one way to do it, without making anyone feel like they don't belong, because they do it differently. It is also now more than ever, being aware that every minority is connected and every fight is inherently yours too. Fashion, more than a statement, is visual stimuli which like any art form, will manifest a reaction, from a stranger's shoes to a person's make-up.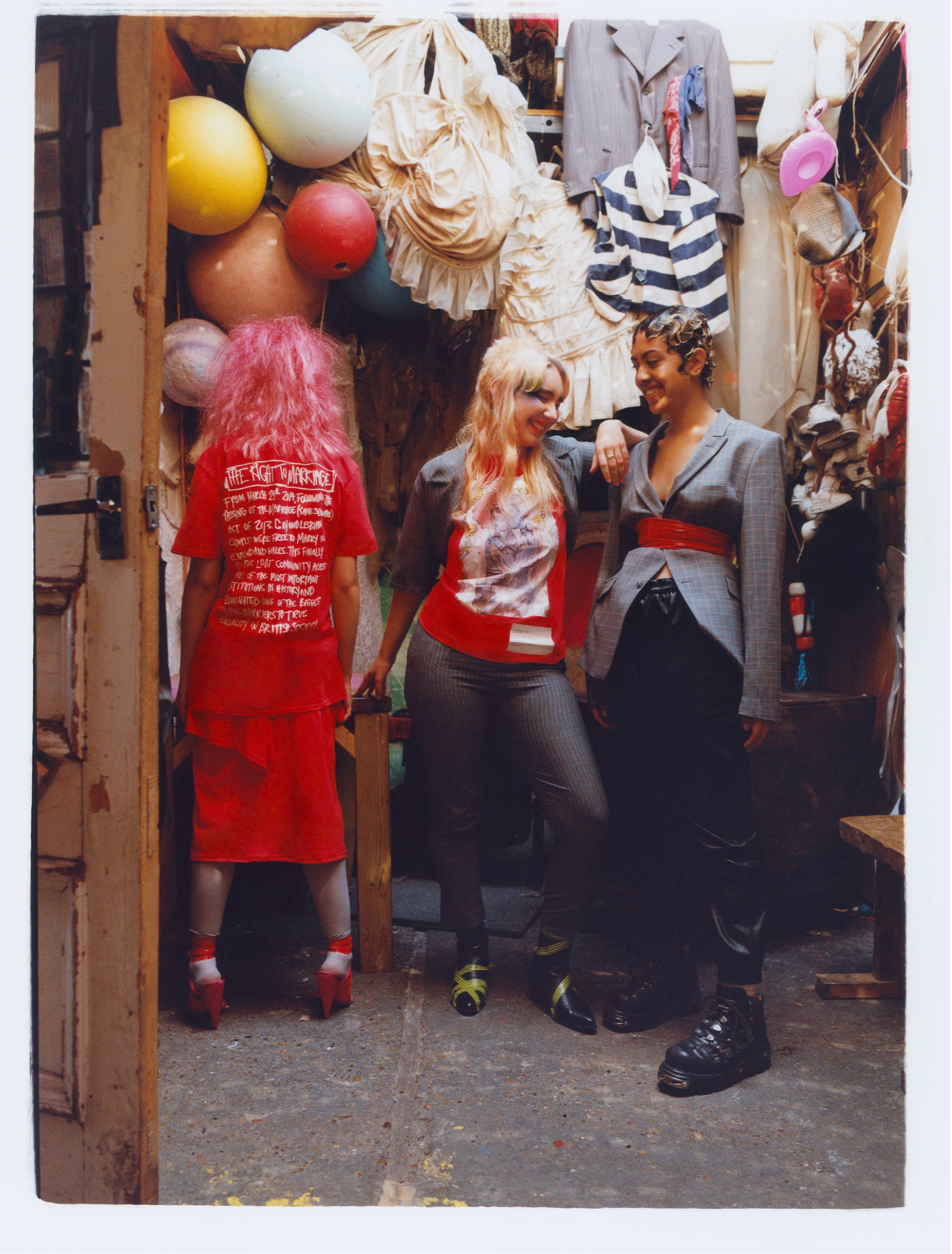 Stephanie Linn
To be LGBTQ in 2018 means… well, I can only speak on a personal level, but to me this has been the year of deconstructing/expanding my own ideas about queerness. I'm realising there's no one way to look, that much of transness and queerness can exist in the mind and how you look at yourself. That has freed me to experiment with how I look, and not feel pressured to abandon femininity. I guess 2018 to me is about expanding the galaxy of queerness, and knowing that there's not one way to be LGBTQ. I believe it's impossible for fashion to accomplish social change in its current structure, which is entirely based on exploitation at every level. The entire system needs to be deconstructed to be able to achieve anything.
Frances Wilks
To be LGBTQ in 2018 means… having the privilege to live in a time and place where I have the freedom to dress however I feel, love and marry someone whatever their gender and have the freedom to express myself in these ways mostly without judgement. However, many people are not as privileged as this and there is still a lot of prejudice and intolerance. We are all now connected via the internet and through this we have the tools to fight ignorance. I think fashion can accomplish social change in many different ways, dressing yourself is, in itself, a very sociable exercise, it is an expression of how you identify yourself and want to be perceived by the exterior world. But the fashion industry, with all its marketing, targeting and image-making capabilities, really does have the power to change a lot of perceptions of what is beautiful.
James Spencer
To be LGBTQ in 2018 means… Freedom! '90 by George Michael. I don't know if fashion itself can cause social change (that would be the dream), but it certainly can provoke it -- which I hope my T-shirt plays a small part in doing. I hope this project reaches people who are not fully affiliated with LGBTQ community and educates them on the rights that were given so freely to them and not to others.
Credits
---
Photography Thurstan Redding