Photography Olly Adegboye
meet the all-girl fashion collective inspired by aliens
Amsterdam's Reconstruct Collective looks beyond race and gender with its extra-terrestrial aesthetic. In the universe of Reconstruct, not one person is favored and everyone is cherished.
Photography Olly Adegboye
"All five of us are really down to earth. I think it's a proper Dutch quality," explains Michelle Lievaart of the inclusive, anti-champagne vibe of Reconstruct's fashion shows. "We don't care if you're the guy next door or Kanye. Sit down, have a can of beer, and enjoy the show!" It was nearly two years ago that the Amsterdam-based collective emerged due to unpredictable circumstances. After news that there would be no fashion show for the prestigious Willem de Kooning Academy's graduating class, the students joined forces to successfully stage an independent show, coming together in a synchronicity of ambition and vision. Laura Aanen, Alyssa Groeneveld, Kim Kivits, Michelle Lievaart, and Sanne Verkleij established themselves as the aptly named Reconstruct Collective, and have been a positive force ever since.
The collective's aesthetic has been described as extra-terrestrial, which is befitting of a group whose unified vision transcends race and gender to test the parameters of acceptance. "Moving in the opposite direction of everyone else gets us to different, new places and gives us the ability to move beyond the known," shares Kim. Within the universe of Reconstruct, no one is favored and everyone is equally cherished. All garments are unisex and the collective combine individual talents to create their collections. Inspired by fairy tales, music, streetwear, and the effervescence of youth – Reconstruct play with reimagined social themes, fabric manipulation, and inventiveness to translate their singular vision.
The collective recently presented their fall/winter 18 collection, entitled Regeneration, at an indoor skate park in Copenhagen, presenting archetypes of the high school misfit. The collection saw multiple layered garments adorned with adjustable zippers, bold colors, and inventive silhouettes. Uniqueness and dedication to one's personal truth is a harmonious theme throughout the group's work, along with a rebellious desire to strike against current fashion systems and reconstruct new stories. We recently spoke with the collective about their origins, taking us to outer space, and why Rihanna should wear their brand.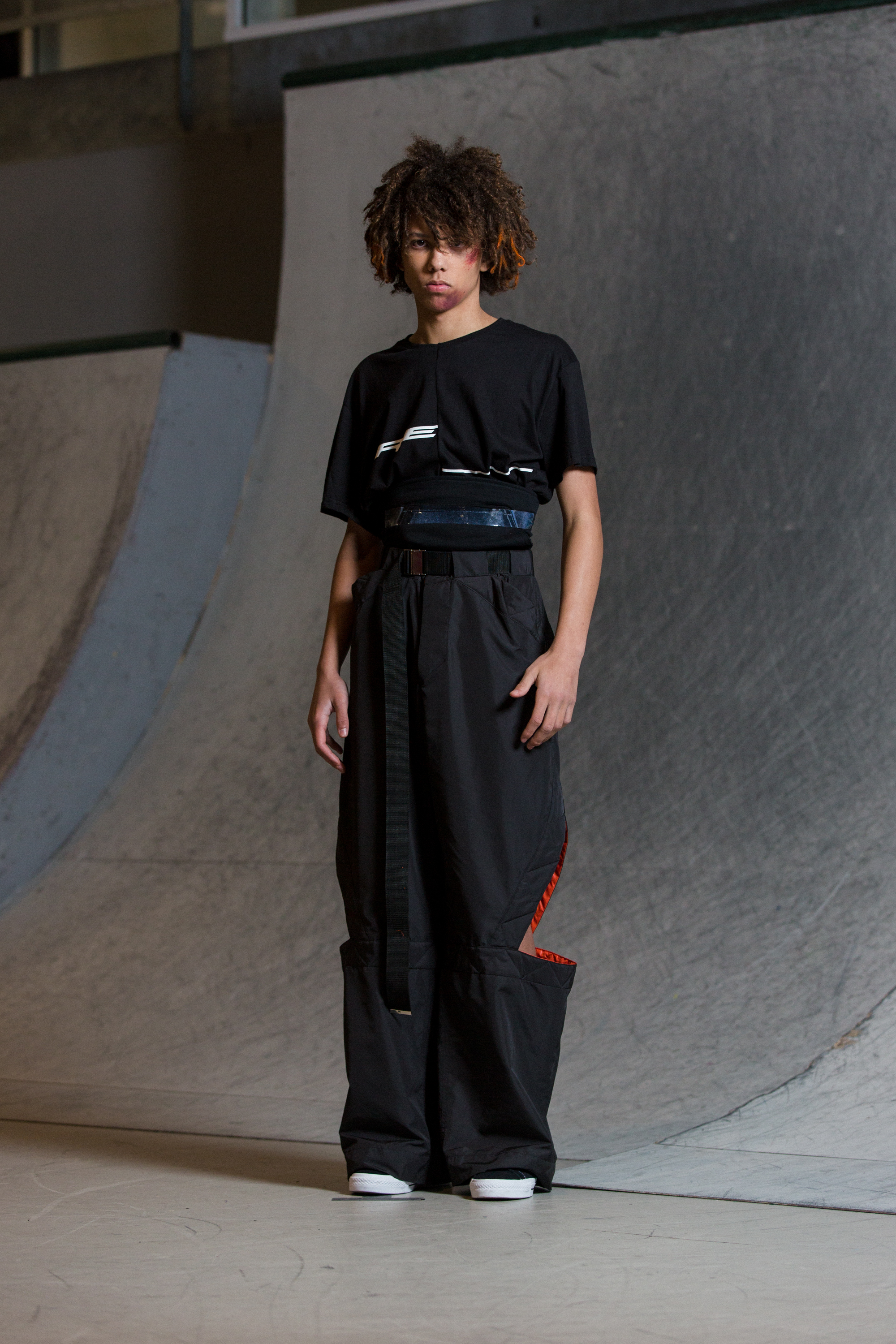 You first came together nearly two years ago when you found out there wasn't going to be a graduation show. Can you tell us how you managed to put the show together?
Kim: The Willem de Kooning Academy decided to no longer fund or organize our graduation show, so we decided to join forces with the entire graduation class and organize our very own fashion show. In order to start a fundraiser we needed to get a chamber of commerce, start an actual business. Michelle came up with the name Reconstruct. We were hesitant at first but now we are really grateful for this name. It stands for so much. Anyway, we started a fundraiser and raised 10,000 Euros. We wanted a graduation show like no other academy had, so we asked for help from our friend Dennis Vanderbroeck. He was really eager to help us and together with him, a nice production team, and a very low-priced, well located venue we created the most awesome graduation show possible.
Michelle: After the show we realized how much we could accomplish together if we'd join forces, so we decided to continue as a collective. We graduated from Willem de Kooning Academy on a Friday and the next Monday we had our first meeting. As an introduction to the collective we wanted to do a first collection together, which was selected and shown in Amsterdam Fashion Week, and that went so well that we decided to keep the magic between us going.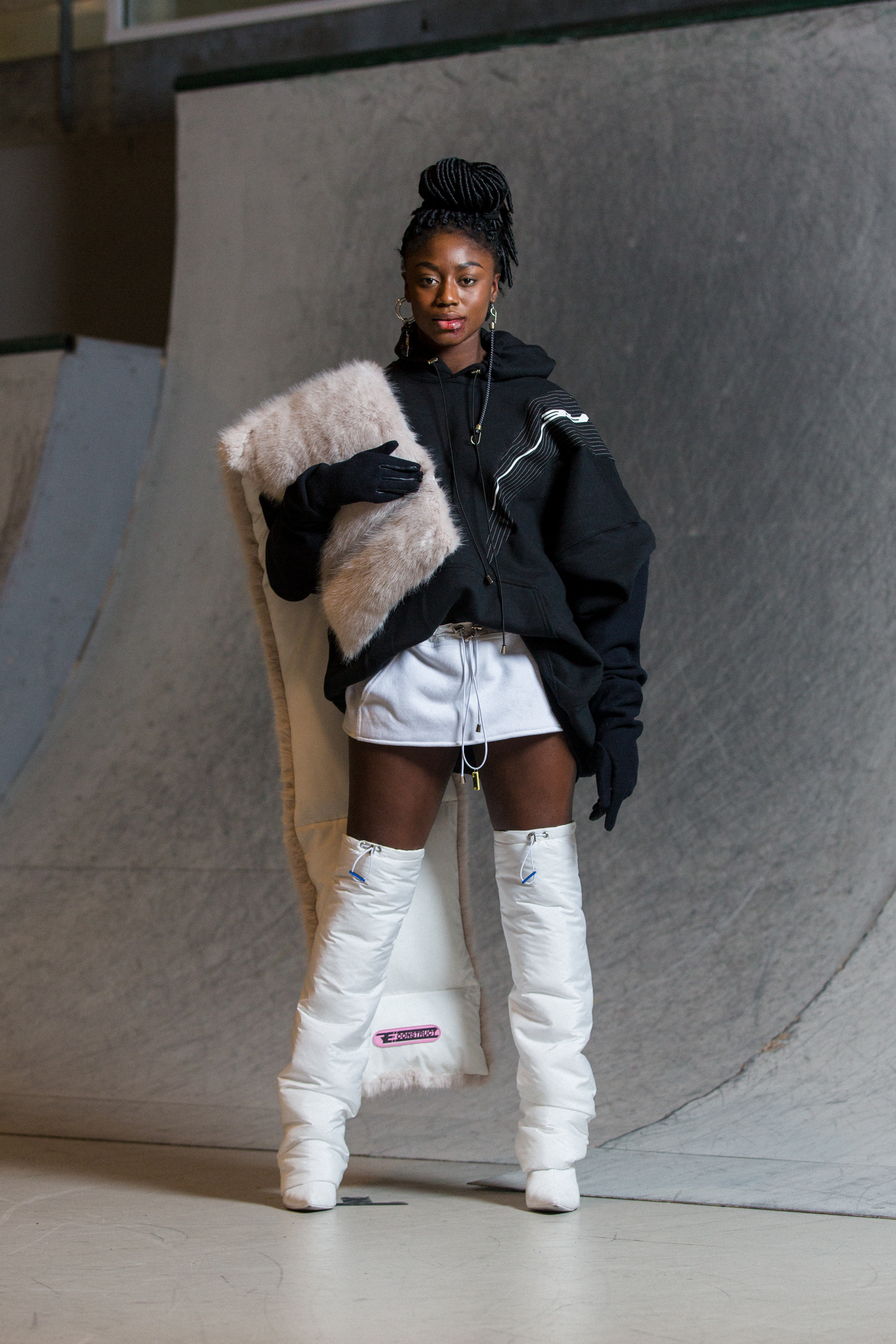 As a group of five individuals, how do you approach your collections?
Sanne: We always start with an inspiration which flows into the concept of the collection. From this point we all individually interpret this, we all have different ways of working. One starts with sketching while the other is more into draping or fabric manipulations. Every week we discuss our processes and continue working, drawing inspiration from each other, and in the end, with colors, details, and fabric use, it forms a whole. Because we are all so different, it becomes a dynamic and surprising collection. We all have our own strengths and this forms a strong group of continuous learning and exploration.
What does community mean to the collective?
Alyssa: Community is a lifestyle. Reconstruct is a certain lifestyle that we want to sparkle around with positivity. Everyone can join our forces. We are open to all kinds of talent that fit our vibe. It's about awarding people. Everyone starts from the bottom and you need each other to grow. We rather see everyone around us growing towards their goal. We're really happy that we can do this and we always feel really blessed if someone respects our brand. Reconstruct is for the people!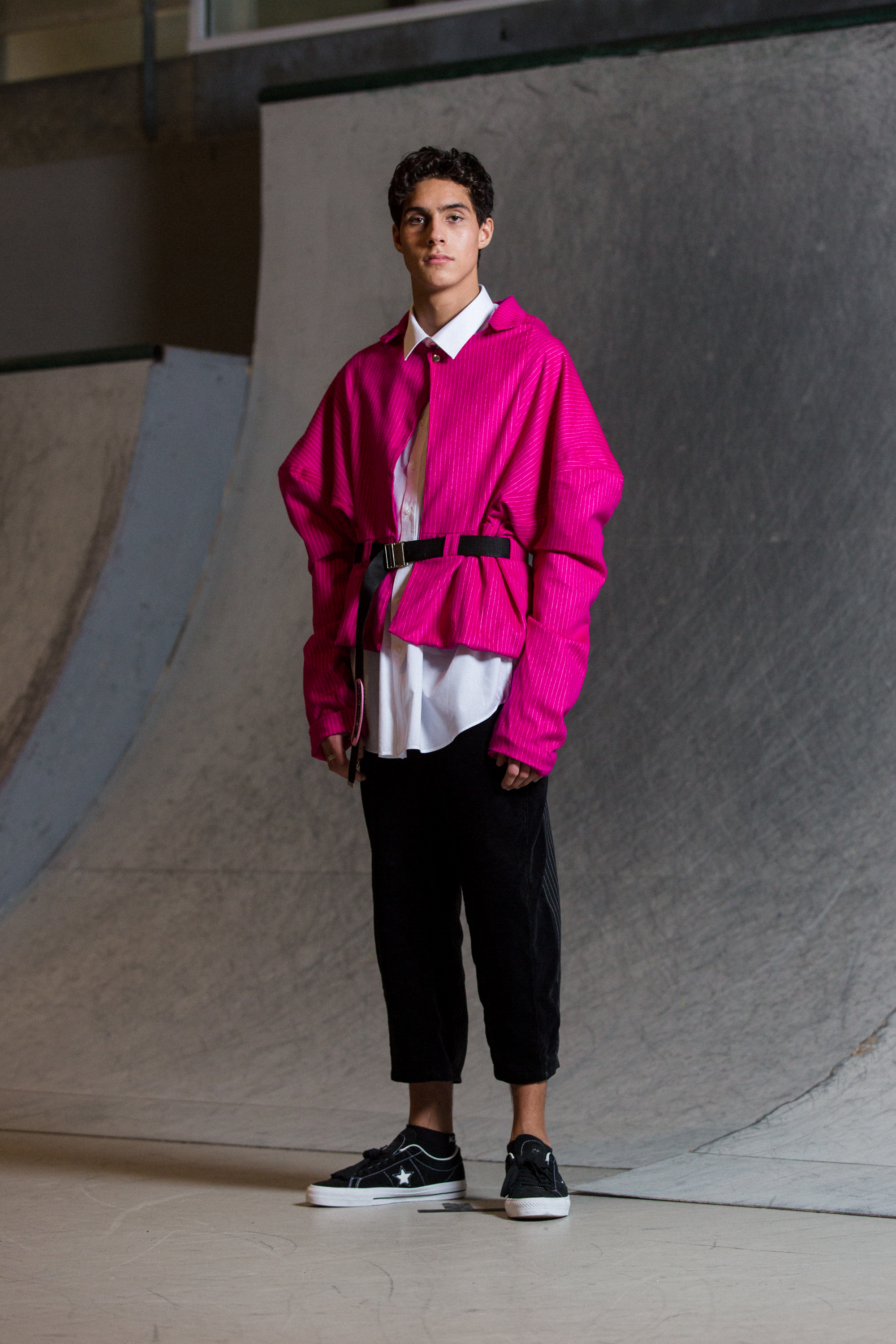 What's the vibe at your shows? I know you foster a very inclusive environment.
Michelle: Only good vibes. It's always fun backstage in preparation towards the show, everybody who is helping is having a good time, chilling and making friends and during the show it's always hectic but that just comes with it. Our last show was in Copenhagen in an indoor skatepark. It was an amazing venue where everyone was welcome and sat on the skate ramps, with skaters in Reconstruct hoodies skating through the park and around the models who were walking the show. Afterwards we had an improvised bar with cans of beer for everyone and a little party. We just hope to inspire others and make them just as excited as we are.
Laura: The last show in Copenhagen was [our first time showing abroad]. This was very exciting for us since we had few contacts in Denmark and had to organize everything from a distance. We had seen videos of the venue but only actually saw it in person on the day before the show. It was amazing. Same with the models, a lot of them were scouted through social media and we only saw them during the fitting two days prior to the show.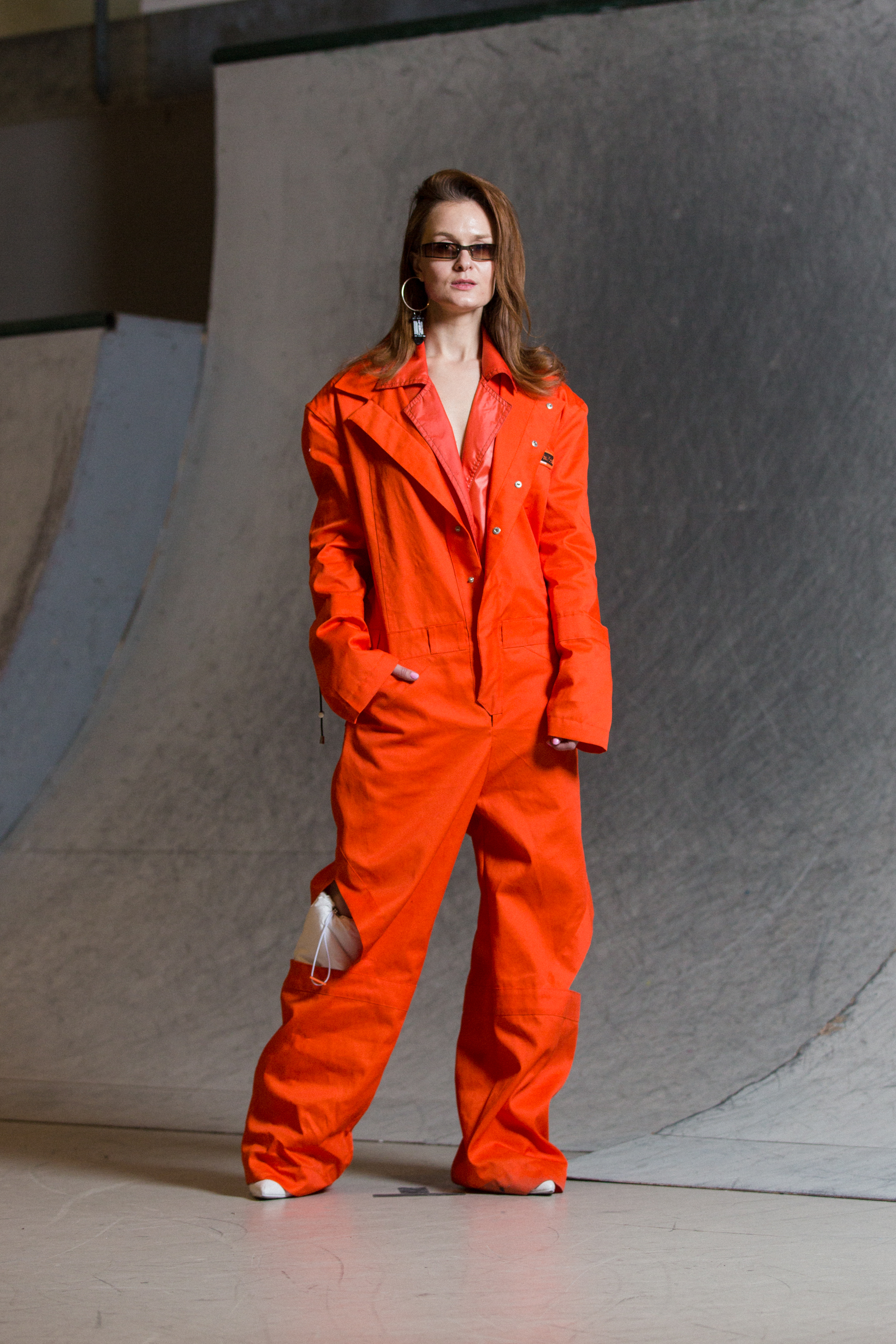 Who do you see wearing your clothes?
Kim: We design for today's youth. The new generation of creatives that dares to express themselves. It's not just about them wearing our clothes, it's about the vision behind it. We really want to inspire young people with our story and show them how much you can accomplish by working really hard and sticking together. Apart from that, we see Rihanna wear our clothes. Come at us, girl!
Can you tell me about your singular vision and what reconstruction means to you?
Michelle: Reconstruct literally means to create an idea on the base of certain known facts. We like to break things down and build them up again our own way — play with the well-known, but create our own world in it where there are no rules. This could be traced back in our designs, as well as our presentations, and the way we see the fashion world now.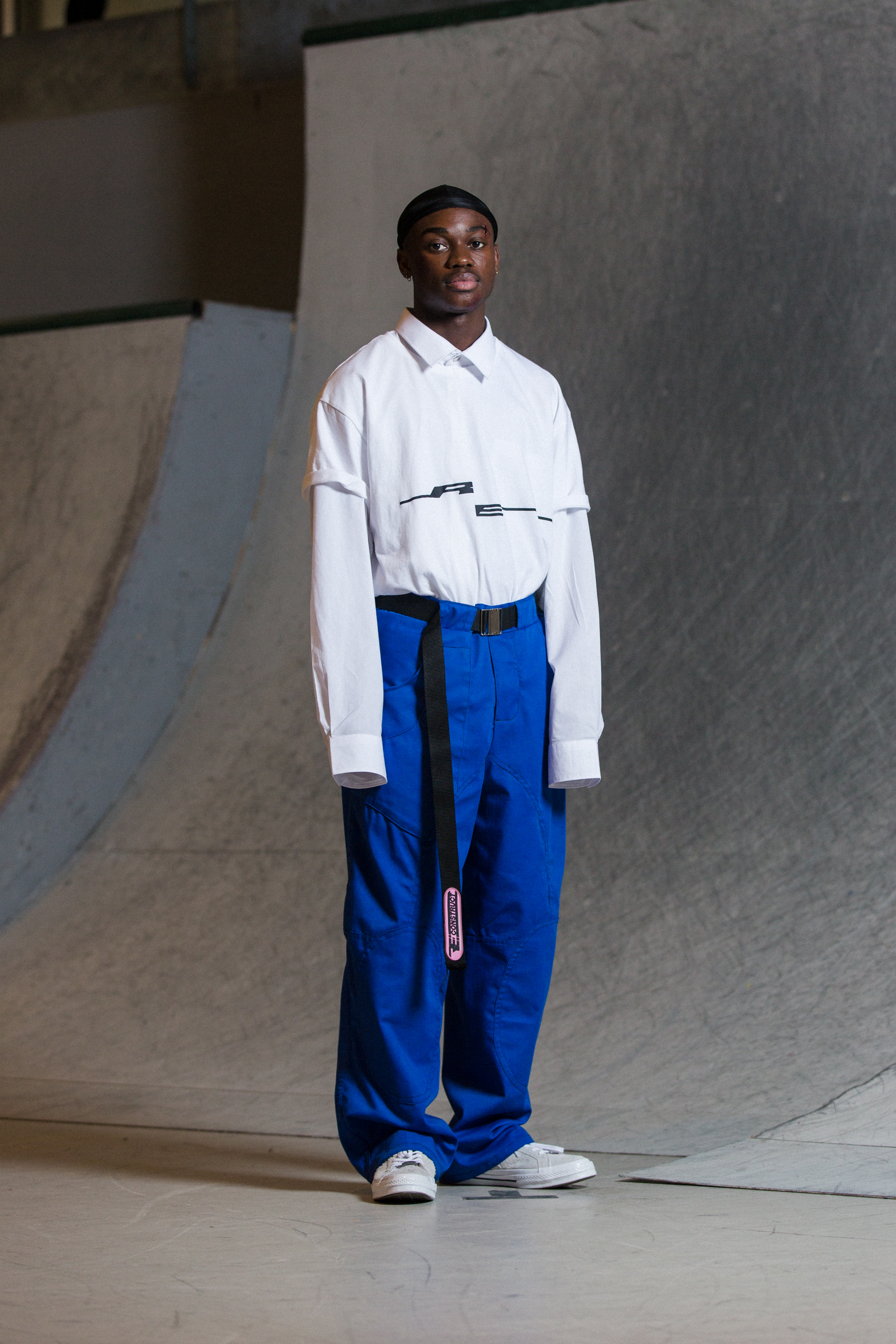 Which designers or other creatives have influenced your extra-terrestrial, fairytale aesthetic?
Alyssa: Because there are five of us we have a big scale of other creatives that inspire us. We always try to work with friends that are active in the creative industry. Amsterdam is full of creative people from different fields — music, art, lifestyle and film. The best thing is to grow together. For example the group The New Originals, the boy quad of Amsterdam, they have a big influence on the next generation and always try to reach their lifestyle on a wide scale. We have a lot of big role models in fashion as well. For me it is Raf Simons. He's where I want to end, but we really admire John Galliano, Rei Kawakubo, and Walter Van Beirendonck. Without them we wouldn't be where we're at now.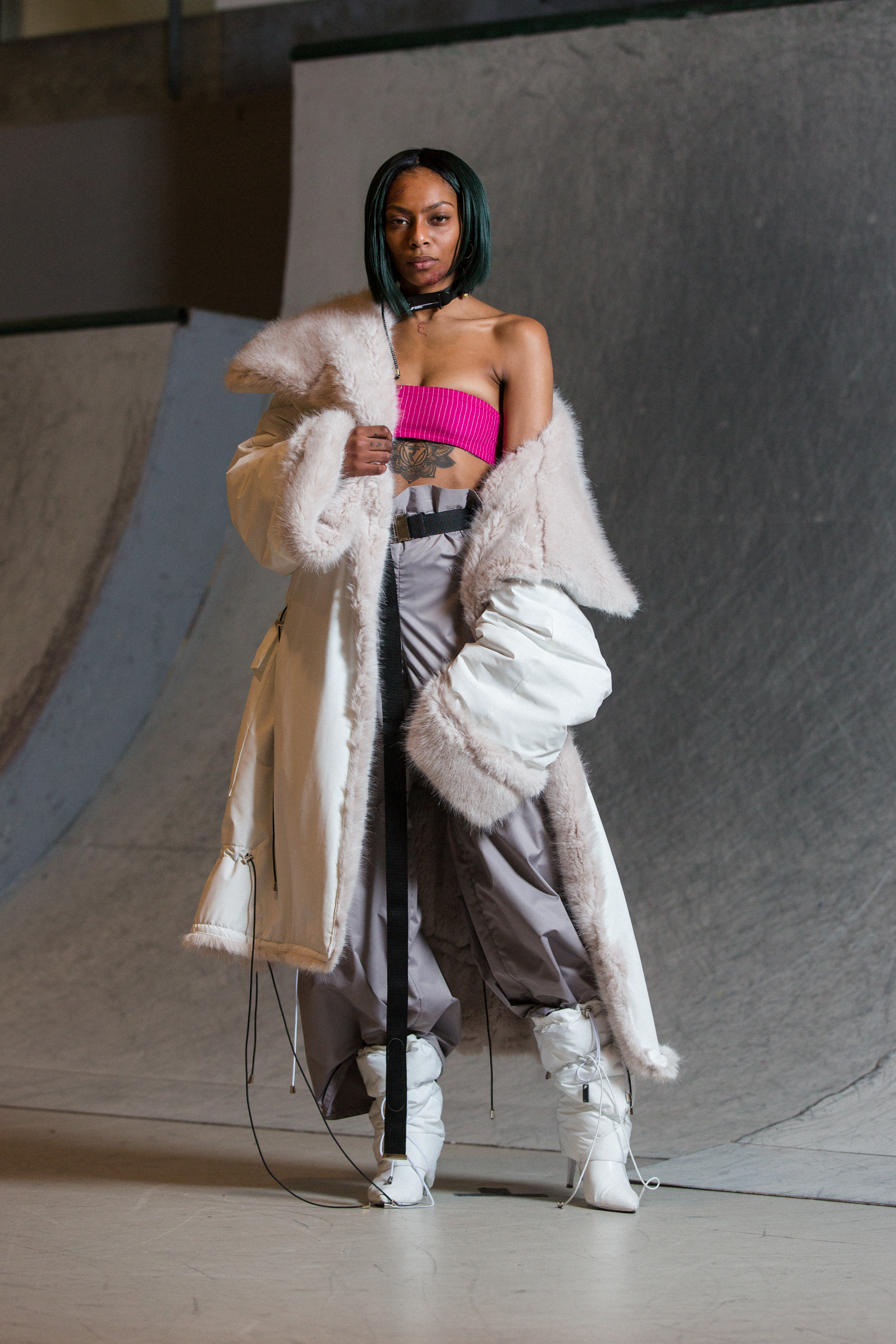 Your recent fall/winter 18 show in Copenhagen played with the idea of certain personality types in high school, with each of you designing for a specific type. Can you share what's coming next?
Kim: We want the new collection to be a surprise, but let's say that for the upcoming season we are taking everyone into space, to another planet. The collection is called Retrograde Orbit and tells a story about a newborn planet that is inhabited with hybrid creatures. In an era where utopic and dystopic sci-fi movies are more popular and important than ever for people to escape from the harsh reality, we want to tell a story of the ultimate form of our collective. A form in space, where we can start with a clean slate and are not obligated to the set rules of planet earth. The story of planet RE-4 is a metaphor for where Reconstruct Collective positions itself in the fashion world.
How do you feel about the design community in Amsterdam and do you plan on bringing your shows stateside to New York?
Alyssa: Amsterdam and the rest of the Netherlands are filled with talented people. It's a shame if you don't use all that talent around you. In Holland there are many talented people in music, illustration, graphic design, dancing, film, and everyone inspires each other. It's all about the pleasure you can feel together. About New York City, yes, we are trying to show next season at Men's Fashion Week. I just visited the city and I felt Reconstruct everywhere. New York City, we're coming for you!
What advice can you give to someone trying to reconstruct their own idea of fashion or any creative field?
Michelle: Go and do it. Make your own rules, create your own world. There's no right or wrong, there are no mistakes, only learning opportunities. Have some "fuck it" moments. Surround yourself with other creative people, work together, inspire each other. And the most important thing of all is to have fun.