sigrid's new video is like the ultimate coming of age movie
Enroll in high school, befriend a Norwegian popstar and go behind the scenes of High Five, with director Ivana Bobic and Sigrid herself.
The past 12 months have seen Sigrid's star rise higher and faster, with no signs of stopping. The 21-year-old's debut EP, Don't Kill My Vibe, was hailed as one of the biggest breakouts of 2017, and was soon followed by the certified silver-selling Strangers and 2018's stripped back and vulnerable single, Raw. In her very first year on the job she has sold out shows across the world, performed at the 2017 Nobel Peace Prize concert, covered Leonard Cohen's Everybody Knows for the Justice League soundtrack, and won the BBC Sound of 2018 poll. Casual.
Taken from her forthcoming Raw EP, her latest offering, High Five, is a euphoric anthem about the importance of being open and honest with people. The music video, which we're very happy to be premiering today, is as brilliant as the song itself. In fact, it's basically its own coming of age teen movie.
"Nobody dares to speak against your word, so they just sit quiet," High Five opens, bringing back familiar memories to anybody who knew a mean girl or guy in school. We join Sigrid in a sports hall; dodging balls, pulling shapes and making magic Matilda-style as she struts down corridors and through house parties. Euphoric and totally fun -- dare you to try to keep from smiling during that middle eight. Oh and the references! Look out for winks at your fave coming of age films about friendship like E.T, Close Encounters, Donnie Darko and even High School Musical throughout.
Watch, enjoy and then watch again after you've read the riveting chat we had with Sigrid and her brilliant director Ivana Bobic (who also shot Strangers and Raw) over Whatsapp.
Hi angels :)
Sigrid: hello! 💕
Ivana: Hi hi!
Where are you both today?
Sigrid: I'm in Ålesund -- gonna go hiking 😌
Lovely! What about you, Ivana?
Ivana: I'm in London, going for a picnic ✨
Such international pals. So, Sigrid, what's High Five about?
Sigrid: High Five is about the importance of being completely open and honest with each other. We used high fives as an image of superficial relations. I love the tune, and there was such a good team behind it! Emily Warren, Martin Sjølie, Odd Martin Skålnes and I 💕
I love it too, and the video! Congrats to both of you. It's brilliant 👏🏻💘 how did you start with that meaning and end up going down the high school movie route?
Ivana: Thanks Frankie ❤ so excited to have made this. Sigrid and I talked a lot about the power of friendship. We love all the high school movies, and Spielberg films like E.T or Close Encounters that are in a magical world but also really they're a metaphor for friendship. We wanted to explore this archetypal movie backdrop and put Sigrid in it with a group of friends.
Sigrid: I guess, from my songwriting point of view, I thought about how it can relate to school situations, however, we wrote the song from a more general perspective. I'm so happy Ivana came up with that idea for the video though, because it adds a new layer to the song!
Oh yeah, the E.T bike bit is awesome! What other high school movies did you guys grow up watching that made an appearance in the video?
Ivana: I loved Donnie Darko for the look of the high school and all the characters.
Donnie Darko ruled. Sigrid, what about you?
Sigrid: Well, I know this came out way before I was born, but I remember watching E.T for the first time. I don't understand why, but that bedroom scene where he's hanging out with the siblings scared me so much. Maybe it was the music? Also one of my favourites was the scene in High School Musical 2 where Troy sings Bet On It.
Yes, HSM2!
Sigrid: I wonder how it was to shoot that scene.
I love the bit in the video where you stick your tongue out at the boy.
Sigrid: I was supposed to just look at him, but I thought it'd be funnier if I did something that wasn't expected.
It's adorable and very you.
Ivana: Yes!! We had to keep it 😜
Sigrid: Btw! Here's a photo of Miranda, Jon and I 😌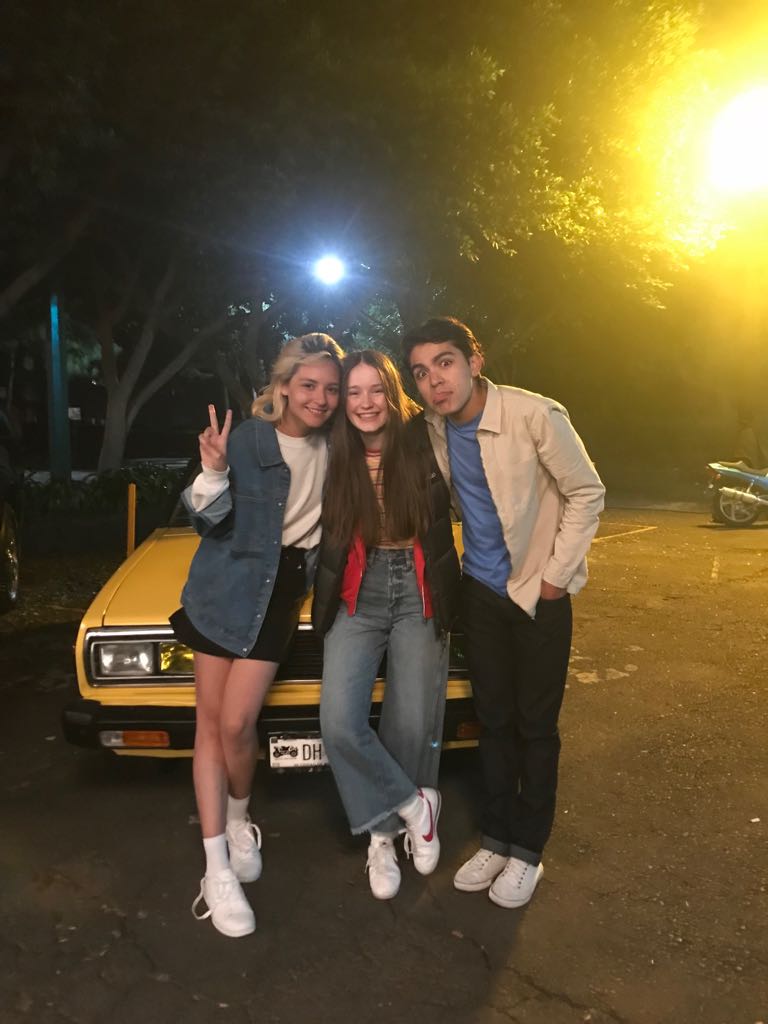 So sweet!
Sigrid: They were great!
Do you guys have a favourite on-set moment?
Ivana: I have so many favourite things! Sigrid and the cast were having so much fun together. They were such a good team. When we got to each set it really felt like we were in a movie.
Ivana: The lighting in the bike scene was magical, but it was also a funny scene to shoot as you have to put the camera in a van and blast music out if it. We laughed a lot getting this scene right.
This is the third music video you've worked on together, right? What qualities do you guys look for in your creative collaborators?
Sigrid: I love the fact that we can just call each other and talk. Ivana is a very talented person I respect so much, and I love how easy she is to work with. I think we're a good team!
Ivana: Yes exactly! Same back at you Sigrid ❤❤ It's so great that we can talk openly. Sigrid has amazing ideas, it's a lot of fun imagining a world for the videos together. I think it's a pretty unique collaboration. And Sigrid is so amazing on screen, it's a total joy.