Photography Mitchell Sams
13 things you need to know about kim jones' debut show for dior men
Featuring flowers, a prince, bumble bees, dogs, and clothes fashioned from feathers, Kim Jones proves he's still got it!
Photography Mitchell Sams
No time to waste!
Even though Kim has only been the Artistic Director at Dior Men (formerly Dior Homme) for three mere months -- since departing his previous position as Men's Style Director at Louis Vuitton earlier this year -- he and his design team plus various collaborators had clearly been grafting non-stop around the clock, to put together this full-on collection and runway extravaganza.

Where and when?
The show took place in Paris' Garde Républicaine, and was meant to kick off at 5pm, but was in fact delayed by half an hour due to a number of the more well known guests arriving, ahem, 'fashionably' late.

Who was there?
Loads of Kim's famous bezzies from the worlds of fashion, music, film and art rocked up, including Kate Moss, Naomi Campbell, Lenny Kravitz, Victoria Beckham, Grace Wales Bonner, Mandi Lennard, Luka Sabbat, Rita Ora, Skepta, Robert Pattinson, Virgil Abloh (who years ago used to kip on Kim's sofa, when he was still a fledgling designer), A$AP Rocky, Winnie Harlow, Gwendoline Christie, Takashi Murakami, Jamie Winston, Kim Kardashian, Blondey McCoy, Lily Allen, Bella Hadid and Karl Lagerfeld.
Techniques!
The show notes, given to those in attendance, waftily described the collection as "translating a quintessentially feminine couture identity into a masculine idiom," which basically means that Kim had utilised various ye olde couture techniques -- embroidery organza and tulle for coats, or shirts appliquéd with beads and feathers, for example -- to create intricately layered yet very wearable and modern man-clothes.

Inspirations!
Kim had a good rummage through the Dior archive and added his customary contemporay spin. He was particularly interested in the late, horticulture-loving Mr Christian Dior himself: "It is the idea of looking at different parts of his life." Kim told The Observer. So, a wallpaper used in a Dior shop back in the 1940s, was reworked as a shirt pattern, ditto updated floral motifs which were based on the porcelain pieces which Mr Dior used to proudly collect, prior to his death in 1957. Even Mr Dior's much-loved pooch, Bobby, proved to be an inspiration to Kim, which is why lots of little doggy-related nik-naks accessorised the collection.
Collaborations!
Kim has long-loved a credible collab, and this was no exception. He pulled in the legendary New York-based artist Kaws, to add some new buzz to the famous Dior bee emblem, which duly popped up on shirts and various accessories. Kaws also designed a massive floral scuplture of Mr Christian Dior himself – constructed from 70,000 roses and peonies (casual) - which not only towered above the show's attendees and looked cute, but also smelt tres jolie.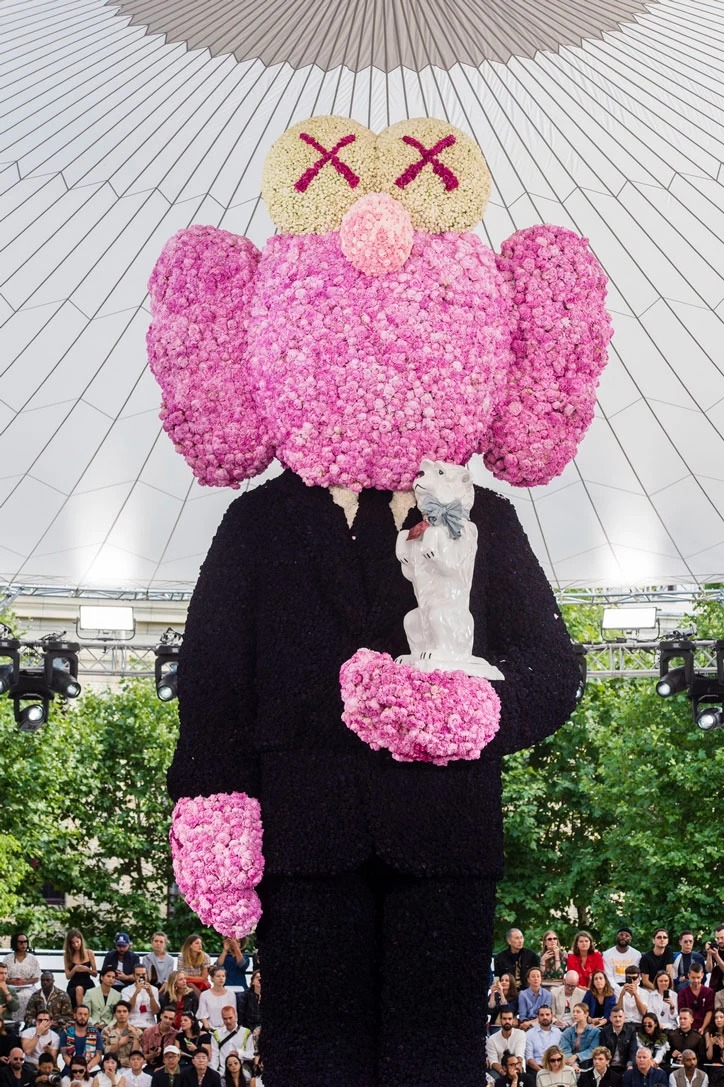 ... and even more collaborations!
Matthew Williams of Alyx came up with the distinctive CD buckles incorporated within the collection, while Yoon Ahn of Ambush designed an array of dog bone keyrings, as well as phone cases, earrings and necklaces. The legendary milliner Stephen Jones created the quirky headwear, such as the sure-to-be-best-selling baseball caps finished with interlocking 'CD' clasps.
Looks!
A mix of high-craft cleverness and complex fabric experimentation resulted in amazing pieces born from the use of transparent vinyl with delicate feathered flowers pressed underneath, or hand sewn beading. Shirts and trench coats were particularly yum. With a palette ranging from pastels to black, as well as soft tailoring, chunky trainers, covetable caps, boiler suits, sleek plastic macs, sturdy bags and witty accessories-aplenty, his fanbase of streetwear fanatics and more decorative dressers will no doubt be equally happy.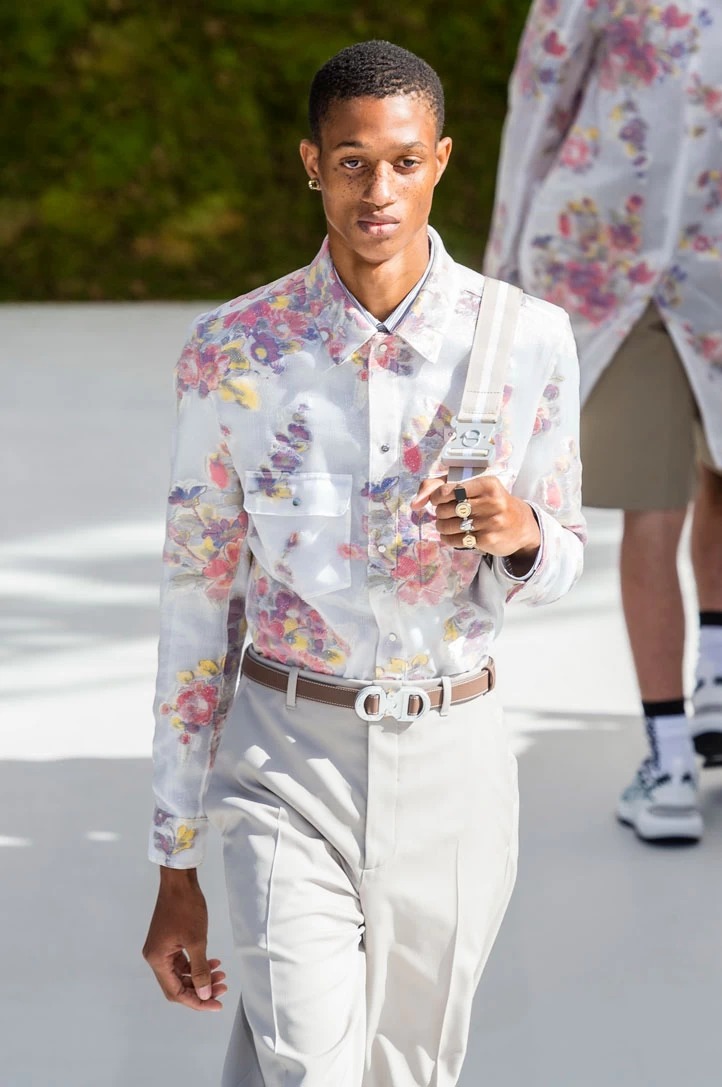 Details!
One of the rather painstakingly beaded shirts within the collection comprised of six panels, each of these having taken four incredibly patient Dior couturiers a whole week to create.
Bags of fun!
Kim revamped the iconic Dior saddlebag design (which was originally introduced into the Dior women's collection by John Galliano, back in the 90s when he was at the helm of the house), into multiple variations which look set to become the menswear accessories of the season.
Royalty!
The first look of the collection was modelled by Prince Nicolai of Denmark. There were two reasons for this. Firstly, Kim's late mum was Danish. Secondly, Kim just thought it would be kind of glamorous to have some bona fide royalty in the show!
Overheard comments!
"I want to have Kim's babies!"/ "This stuff is the real shit, man!"/ "Can I have a bite of your sandwich, please, I'm fucking starving."/"Those flowers are giving me hayfever."/ "He said he's going to give me one of those caps."/ "I prefer what he was doing at Louis Vuitton."/ "Kim's an amazing designer!"/ "Remember when Lenny Kravitz trousers split?"/"Oh my god, Skepta is soooo hot!"
Bangin' choons!
The soundtrack for the show was mixed by DJ Diplo, notably featuring classic 'banging choons' from the early 90s, such as Halcyon by Orbital and Born Slippy by Underworld, both of which perfectly synched with the swift procession of marching male models. (Rumours that there was an after-show secret 90s-esque rave in a derelict patisserie somewhere on the outskirts of Paris remain unconfirmed, however...).

Like this? Read 33 things you need to know about Kim Jones

This article originally appeared on i-D UK.