watch dev hynes and a$ap rocky ride through the desert in silky durags
Blood Orange's new video for 'Chewing Gum,' is a cotton candy colored dream.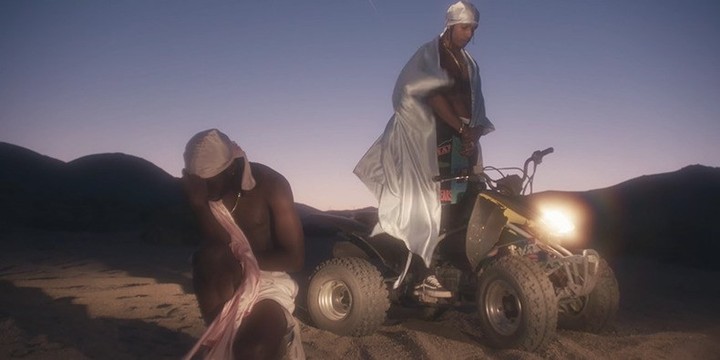 Just this morning singer, songwriter and producer Dev Hynes shared the latest Blood Orange music video for "Chewing Gum," featuring A$AP Rocky and Project Pat. Hynes and Rocky each sport lustrous, silky pink and blue durags, that billow in the wind as they ride off through the desert on ATV's, kicking up sand as they begin their serenade. The melancholic track is off his fourth album Negro Swan, his first since the release of Freetown Sound in 2016.
"Chewing Gum," is one of the more hip-hop inspired songs on the record, one that came together while Hynes was living at Rocky's home in LA. "Essentially I'm creating a really insane metaphor about the feeling of being tired of being outraged, and tired of being angry, and tired of fighting, all those things," Hynes told Pitchfork. "It's about seeing people do all that stuff and get riled up, maybe even for the first time in their lives, and not even judging them but just feeling deflated about that. So it's about that, but I'm using metaphors of oral sex. [laughs]."
Negro Swan is one of the 32-year old musician's most autobiographical and vulnerable albums to date, documenting memories of his youth in East London to more contemporary ruminations on identity politics in America. The 16 tracks are interspersed with recordings of his pensive conversations with writer and transgender activist Janet Mock. "My newest album is an exploration into my own and many types of black depression, an honest look at the corners of black existence, and the ongoing anxieties of queer/people of color. A reach back into childhood and modern traumas, and the things we do to get through it all," Hynes said in a press release. "The underlying thread through each piece on the album is the idea of HOPE, and the lights we can try to turn on within ourselves with a hopefully positive outcome of helping others out of their darkness."
Hynes' has released equally stunning videos for "Charcoal Baby," "Jewelry," and "Saint." Watch the latest video below.