FELPA GOSHA RUBCHINSKIY. PANTALONI ALLSAINTS.
the it boy, finn wolfhard
He stole our hearts as plucky Mike Wheeler in the binge-worthy "Stranger Things," now he's set to steal the spotlight in the big-screen version of Stephen King's terrifying clown thriller, "IT."
FELPA GOSHA RUBCHINSKIY. PANTALONI ALLSAINTS.
This article originally appeared in i-D's The Acting Up Issue, no. 349, Fall 2017.
At just 14, a time most teens are worrying about how to get out of a math test, Finn Wolfhard has acted out some of the most chair-grippingly scary scenes in recent memory. There was last year's Netflix smash Stranger Things, in which he and Millie Bobby Brown led a gang of unruly tweens in a battle against an inter-dimensional creature and a cabal of evil scientists. Continuing this tour de force of monster slaying, nostalgia, and 80s sweaters, Finn can next be found starring in the big screen version of Stephen King's truly horrifying clown saga, IT.
The poster alone is enough to send people into meltdown; the original 1990 miniseries, starring Tim Curry as Pennywise, has scared several generations of children, and the film is sure to do the same, with Bill Skarsgård taking on the role of the scariest clown in pop culture. So does Finn get scared making all these frightfests? "Filming a horror movie can definitely be scary at times," the young Canadian actor says earnestly. "After all, if it's a really scary scene, you have to be in it!"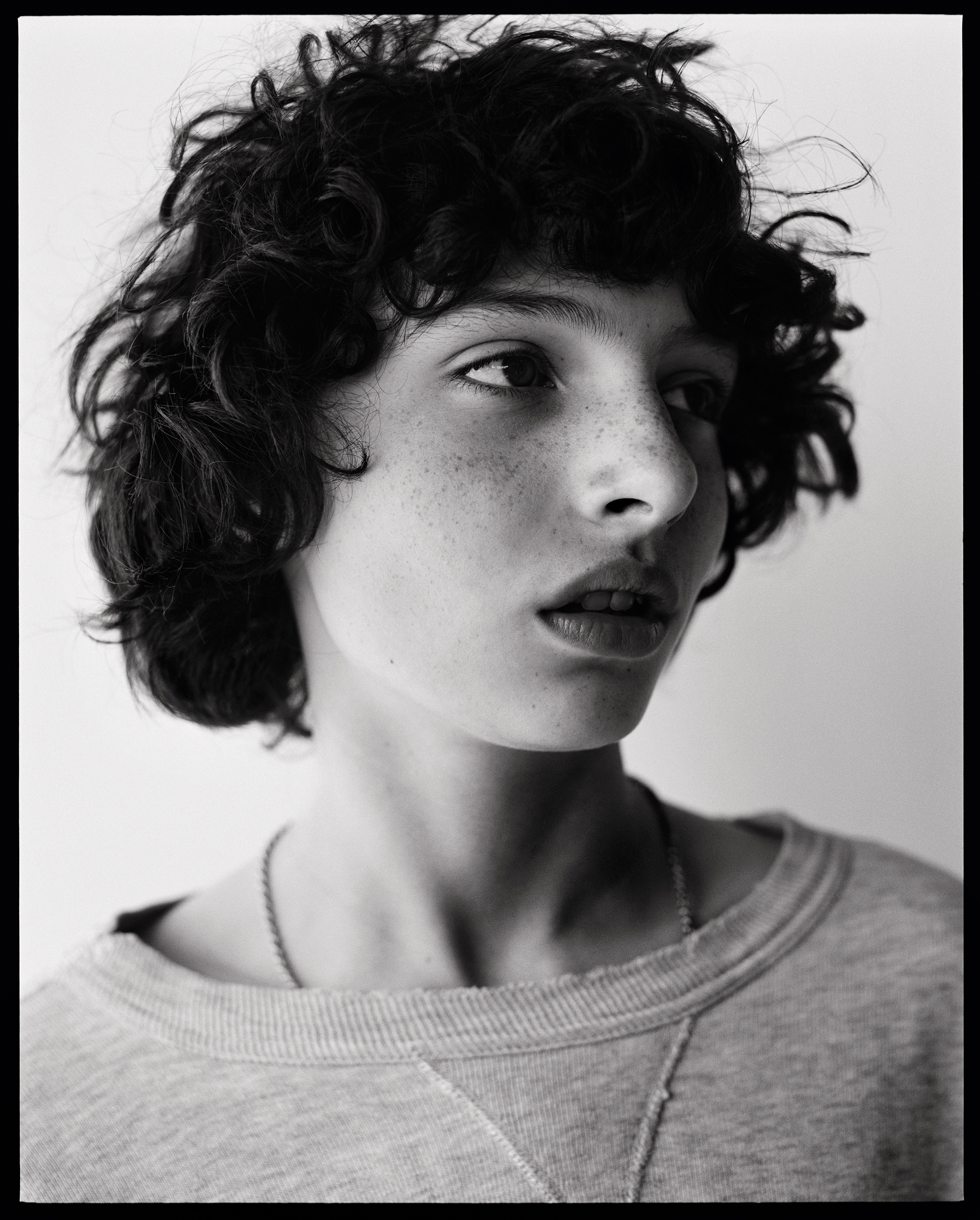 IT follows a group of troubled young boys and one girl, who style themselves as the Losers' Club, and try to defeat the shape-shifting clown Pennywise. Comprised of seven misfits, the Losers' Club each have their own trials and tribulations that run deeper than a demonic monster trying to devour them. Bill has a stutter and distant parents, Ben is bullied because of his weight, and Beverly is abused by her father. It makes for dark stuff, and is much closer in spirit and content to Stephen King's 1986 book than 1990's series. "I play Ritchie, this sort of trash-talking motor mouth," Finn says. "He thinks he's hilarious, but no one else does. So he keeps talking as his defense mechanism."
For Argentinean director Andrés Muschietti, it was key that the Losers' Club were actual friends, so he made the cast hang out for two weeks before filming. "We were together for three and a half months in total," Finn says. "All seven of us would go for sleepovers at [fellow Losers Club member] Wyatt's house. It was like one big summer camp."
Similar to Stranger Things, IT is wonderfully nostalgic – there's a lot of riding around on bicycles, kids letting themselves in through kitchen doors, and microwave-ready meals. Oh and child-eating supernatural horrors. "Today everyone's so glued to their phones," Finn says, "that's just a part of our culture, but back in the 80s it wasn't like that. It was a more adventurous time."
For someone exposed to fame from such a young age (he's been acting since he was eight years old), Finn's a remarkably regular kid. He attributes this normalcy partly to the fact that his family never made the move to L.A., unlike other child actors. Instead they live 1000 miles north of the City of Angels, in Vancouver. "I think so," Finn says, when asked if the Canadian coastal city helps him stay down-to-earth. "I think it all depends on what neighborhood you live in, who you know, and who your friends are." Crucially, for both his state of mind and general loveliness, he also has another passion – music. Finn has a guitar, which he plays really loudly, and most impressively on a cover of Nirvana's "Lithium," which caused quite the stir online. "Playing guitar chills me out," he says. Not that his music taste is particularly chilled. Alongside his number one love the Beatles, he selects ,"Mac DeMarco, Twin Peaks, Phoenix, White Reaper, and Post Animal," as his fave bands.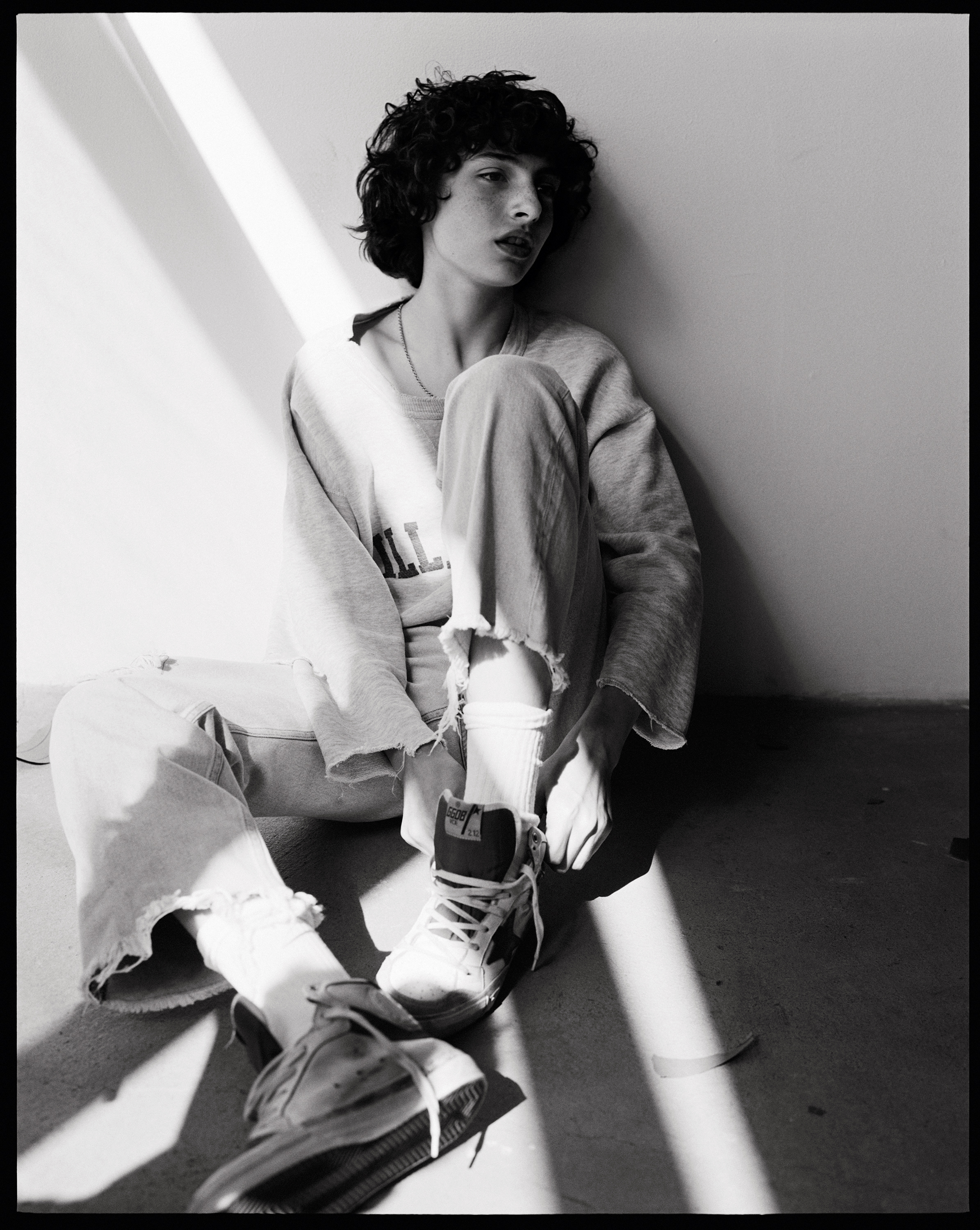 Since Stranger Things, Finn has racked up 1.3 million Instagram followers, all of whom flood his comments with weird Stranger Things fan theories, requests for videos, and general screaming about the second season. "I think people will be just as excited or maybe more excited," he says of season two, which is brilliantly timed by US filmmaking duo The Duffer Brothers to land back on Netflix for Halloween. "If people think it won't live up to the hype, well, it will. It's the same characters… we're just unravelling more of a dark thing and exploring more."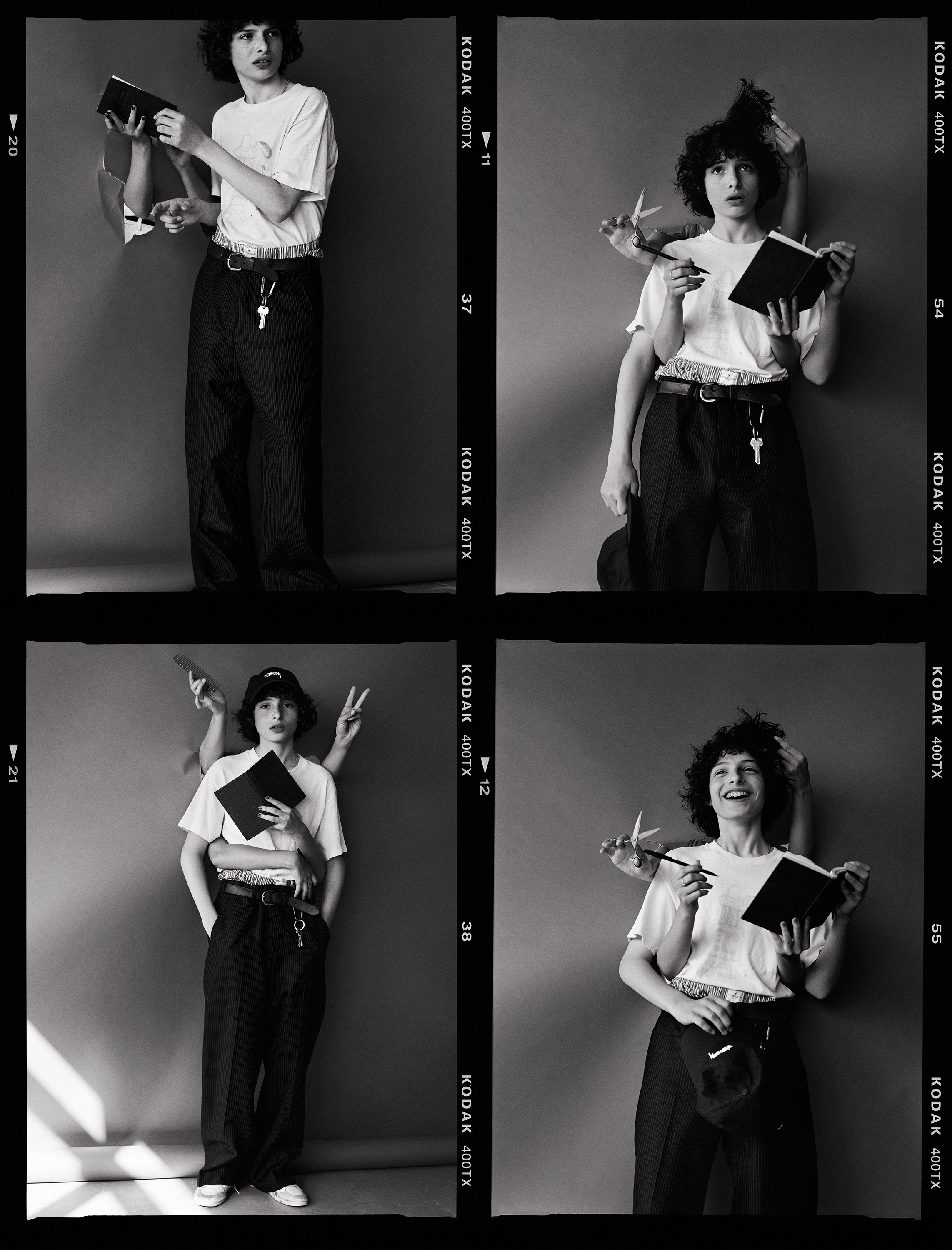 Stranger Things's intense online fan community loves to debate conspiracy theories relating to where the monster and Eleven come from. This heady environment prepared Finn for the fuss that the announcement of an IT remake made. "I knew it would happen," he says of the cacophony around the film. "When it got out that we were making it, people just freaked out." And for good reason. IT is so much more nuanced than its earlier counterpart. Muschietti debates, in terrifying Technicolor, what it really means to have a childhood. Does innocence better equip us to deal with tragedy, or is it better to be inured to it? How hard is it to be brave? Can our parents protect us? All the children are startlingly human, replete with flaws as well as courage, unlike their more bumbling 80s counterparts, The Goonies. "We're making a movie that's completely different, that focuses on friendship and bonds," he says, before continuing triumphantly, "and Stephen King loves it."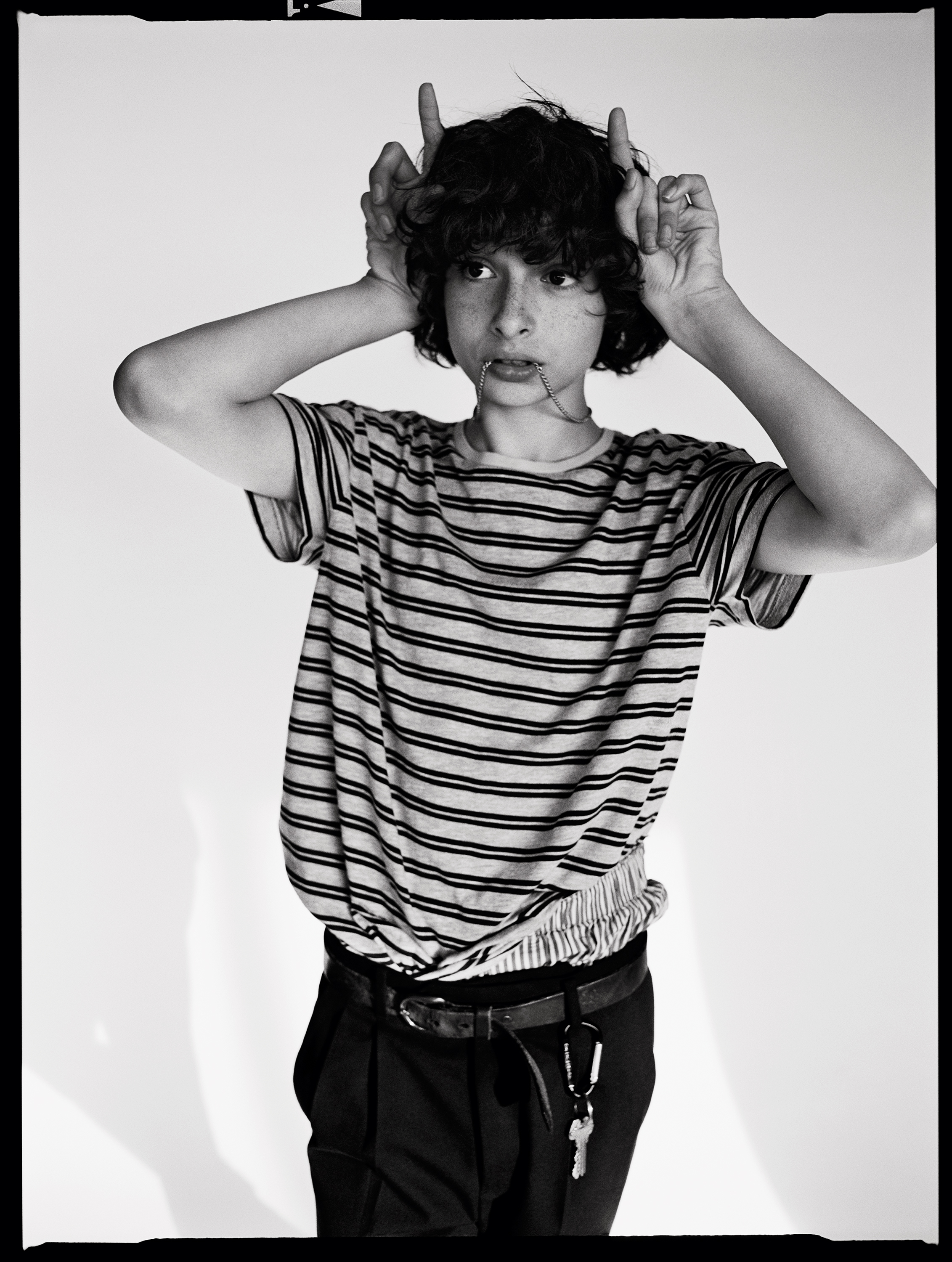 It's a brilliant film, not just for the visual effects and all around scariness, but for the emphasis it puts on the real horrors that children face – bullying, abuse, lack of opportunities. Finn's pensive when asked about the scary things in the real world that don't lurk under the bed. "I mean, I guess the normal answers," he intones seriously. "Racism, stereotypes, sexism, homophobia. All these problems are still going to be there, but what's cool about having three million followers on Twitter is that you have the power to tell people that there are problems in the world and how to help. Go on a march, sign petitions. Having that power is really cool." It might be nice to be cool, but it's definitely cool to be nice. "I'm not really sure that I'm a role model yet, because I'm not exactly old," Finn concludes. "But it's cool to have kids looking up to you." With both kindness and coolness in abundance, Finn Wolfhard might just be the hero we need, and maybe, when he is a little older, he'll end up doing something about the real world bogeymen. After he's slayed the on-screen ones first!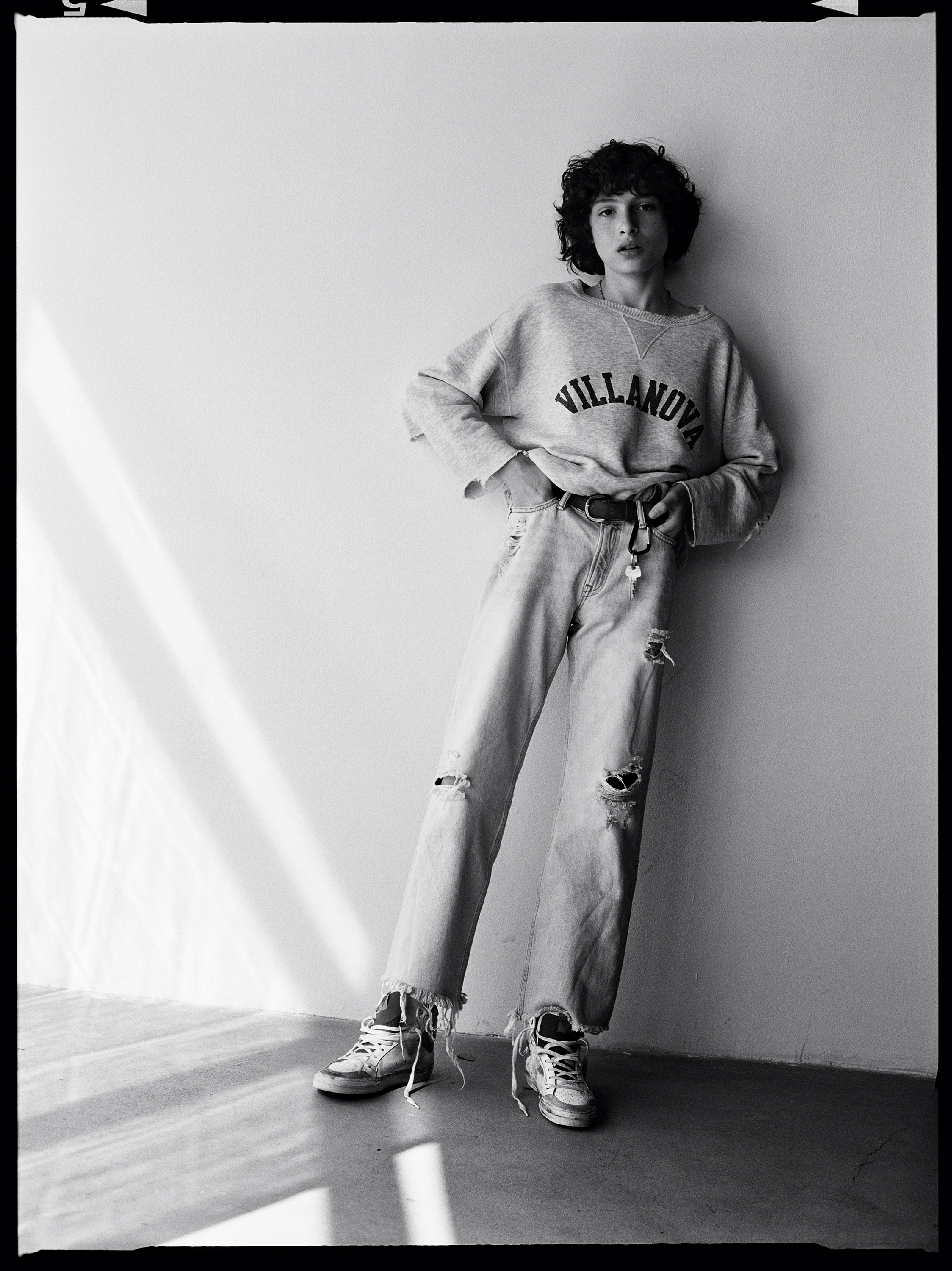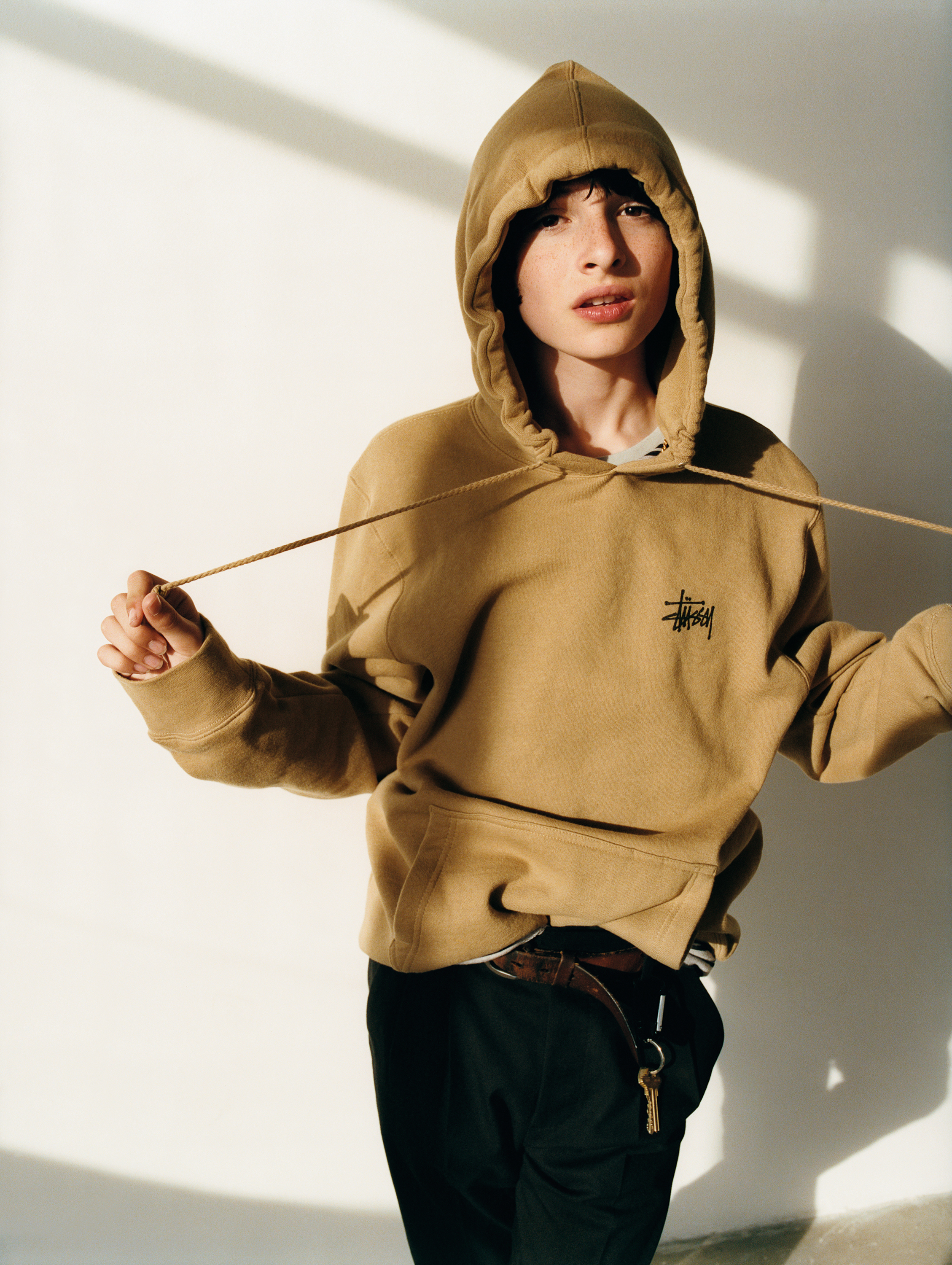 Credits
---
Text Jack Sunnucks
Photography Matteo Montanari
Styling Celestine Cooney
Grooming Ramsel Martinez at Lowe & Co using R+Co. Prop stylist Brynn Bowen at Streeters. Photography assistance Leonardo Ventura, Greg Granaghan and Angelo Sgambati. Digital technician Clay Rasmussen at Milk Studios. Styling assistance Jordan Wright. Production Fox and Leopard. Retouching Postmen.