photographer daniel obasi explores the taboo of gender fluidity in nigeria
The artist captures the nonconformist youth of his native Lagos through an Afrofuturist lens.
Fotografie Daniel Obasi
In the 1960s, newly free from colonial rule, a youthquake shook Africa awake. Artists like the late Malian photographer Malick Sidibé, working in Bamako, captured portraits of young Africans remaking their sense of identity through style. Nearly six decades later, artists, especially photographers, are documenting the energy of the continent by zooming in on local communities, rituals, and style. One, the 22-year-old Nigerian artist Daniel Obasi, has set about picturing Lagos's burgeoning fashion scene and the city's youth.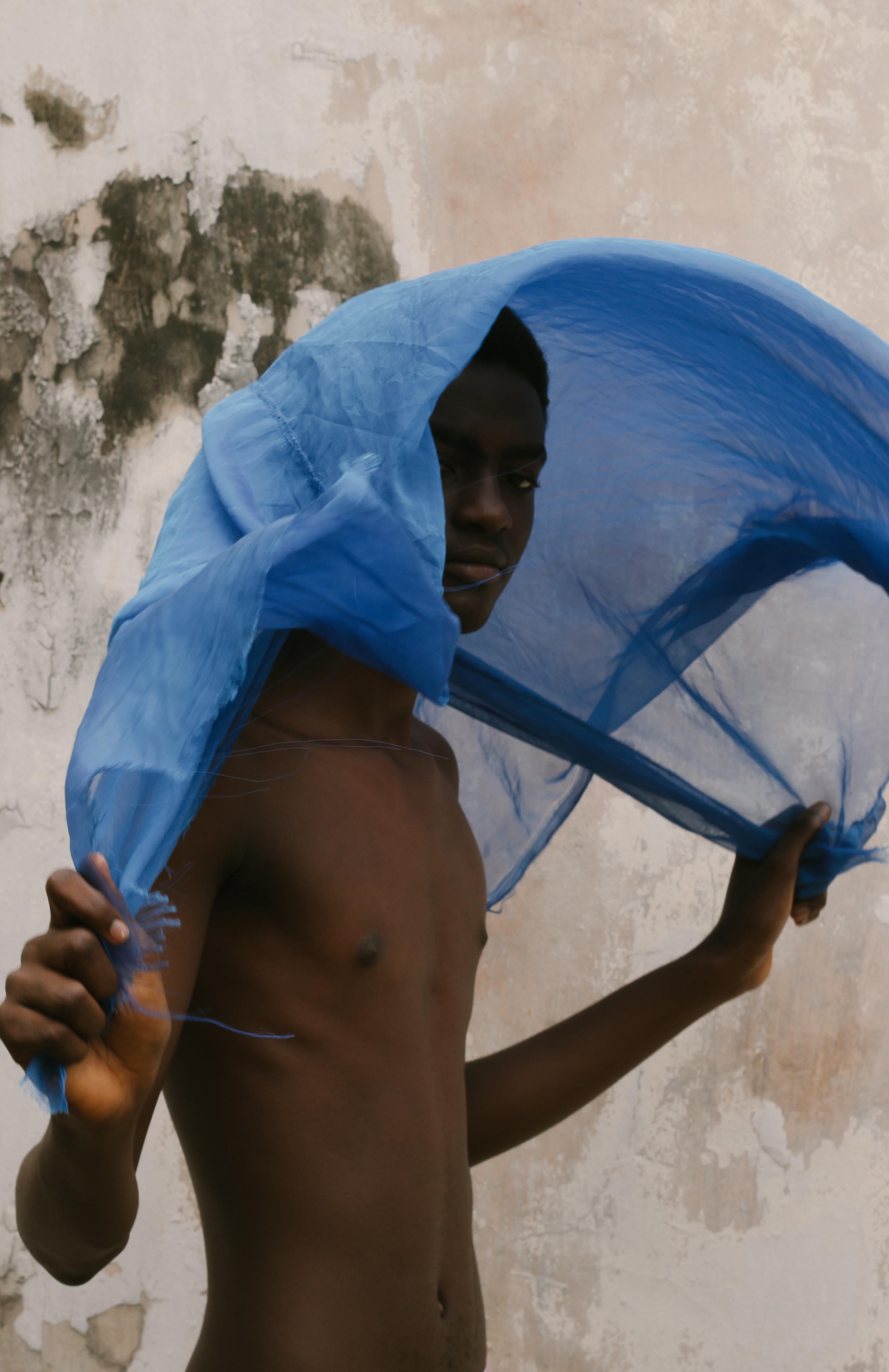 In a new fashion film titled "illegal," Obasi journeys through Nigerian tradition and the promise of a more open future by exploring gender fluidity and non-conformity, topics that are still taboo in contemporary Nigeria. "It was a difficult project to take on honestly," explains Obasi. "I couldn't predict how it would turn out. Especially as a budding artist in a country like Nigeria, it's quite risky discussing subject matter like this. I felt, if this doesn't ruin me then maybe it could change something or inspire someone." He adds, "Nina Simone said, 'How can you be an artist and not reflect the times?' I wanted to achieve something like that and reflect a part of the society, glimpsing into a fantasy of an Afrofuturistic time where it was okay to feel genderless and just be yourself."
The film is deeply influenced by the young artist's raw, colorful, and Afrofuturist photography practice. Shot in the Ebute Metta neighborhood of Lagos, it begins with a narrator reciting a short text about what's to come: "Under the intoxicating lights of the afternoon sun, dark bodies twirled to the melody of their own stark beauty. Clothed in threads by our breathing youth, we gazed at the world, our eyes blazing like saffires [sic] in the deepest nights. We are sin, sorrow, grace, and rage. We are the exquisite castoffs from heaven, falling gracefully, from the clouds." The five-minute film then follows two young people through a decaying 90-year-old house, alluding to tradition and the afrosurreal.
i-D caught up with Obasi to talk Nigerian fashion, gender politics, and what he wants to visualize with photography and film.
Why did you want to make "illegal?"
Earlier this year I had a conversation with a fashion e-retail space and magazine based in New York, Oxosi.com, about creating original content from Lagos, revolving around the growing art and fashion scene. One of the projects I was commissioned to create was the "the illegal project," an idea that sheds light on the subject of sexuality, gender, and certain restrictions within the country. If you are queer [here] you are forced to hide your sexuality because of tradition, religion, politics, peer pressure, family, or even marriage. Most queer people are afraid of being seen as an outcast, discriminated, rejected, bullied, imprisoned, or worse killed.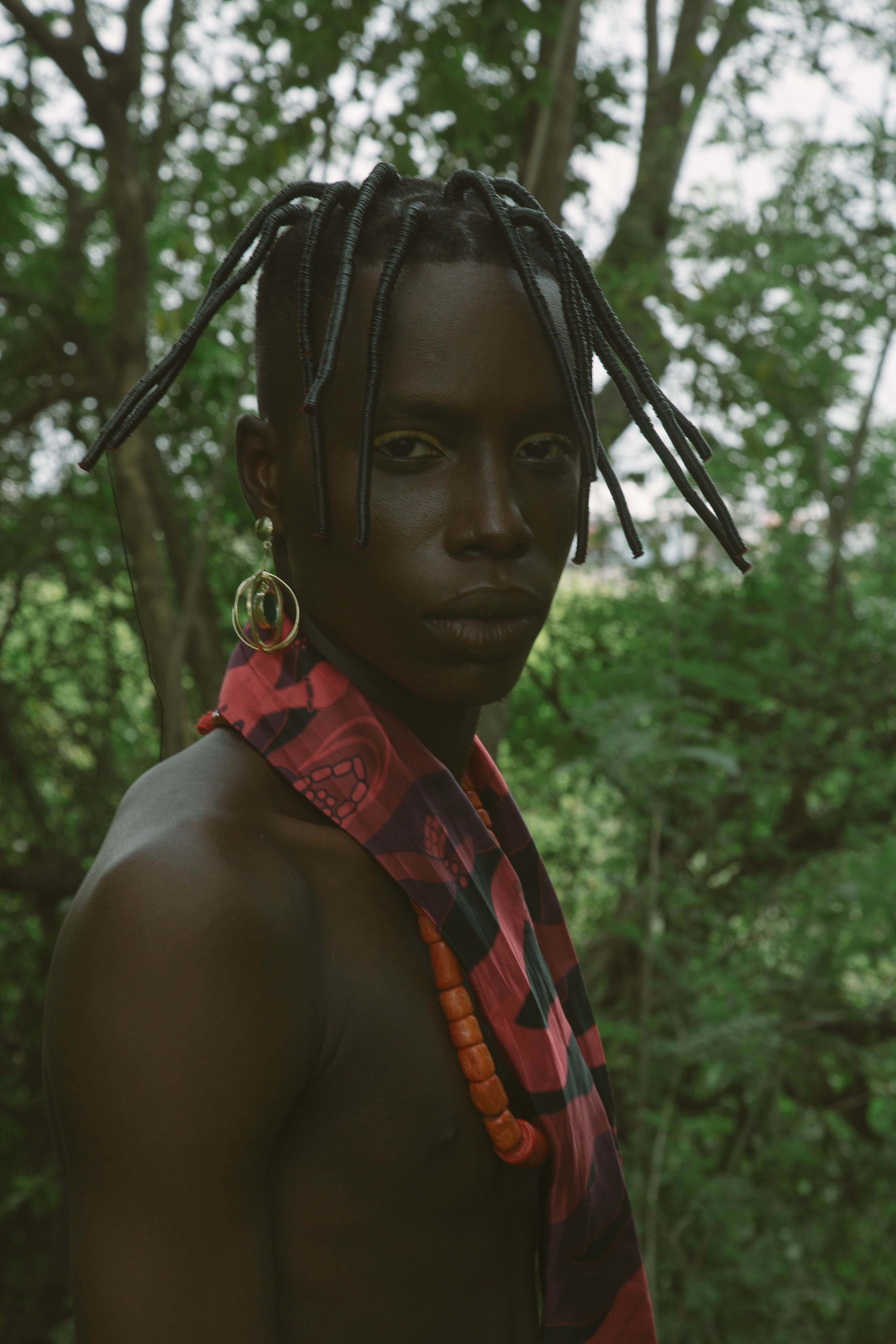 The central theme in the film is non-conformity. In what ways do the figures express that theme?
The characters in so many ways have certain similarities that try to blur gender but at the same time stand out. In a typical Nigerian cultural setting a boy isn't allowed to wear makeup, or allowed to make his hair [a certain style] or dress in feminine silhouettes, same for a girl. There are certain roles and behaviors assigned to each gender from birth that you have to grow up with. Which is a huge topic within societies today. In creating the characters for the film and editorial we wanted to create familiar societal rebels. Characters who weren't focused on switching gender roles, rather it was more of a reflection or a shadow of the other gender, where traces of both genders could still be found; an acceptance of both forms in one. Androgynous.
How does the film provide a view of local fashion, identity, and culture?
There has always been a struggle to define exactly what fashion in Nigeria is locally, possibly because of a long history of Western influence as well as a constant need to infuse traditional aesthetics into the Nigerian fashion outlook. Thinking back to drawing up my mood board and pulling outfits, I kept referencing previous collections from the designers Orangeculture and iamisigo. They both had collections in 2014 and 2015 that resonated a lot culturally but still had a modern edge. If you look closely at the outfits you notice the prints have patterns that symbolise the style of certain Nigerian tribes. With the styling I wanted to achieve an identity not generically African, but Nigerian, by infusing certain elements that were very common within Nigerian culture such as red beads and the hairstyles.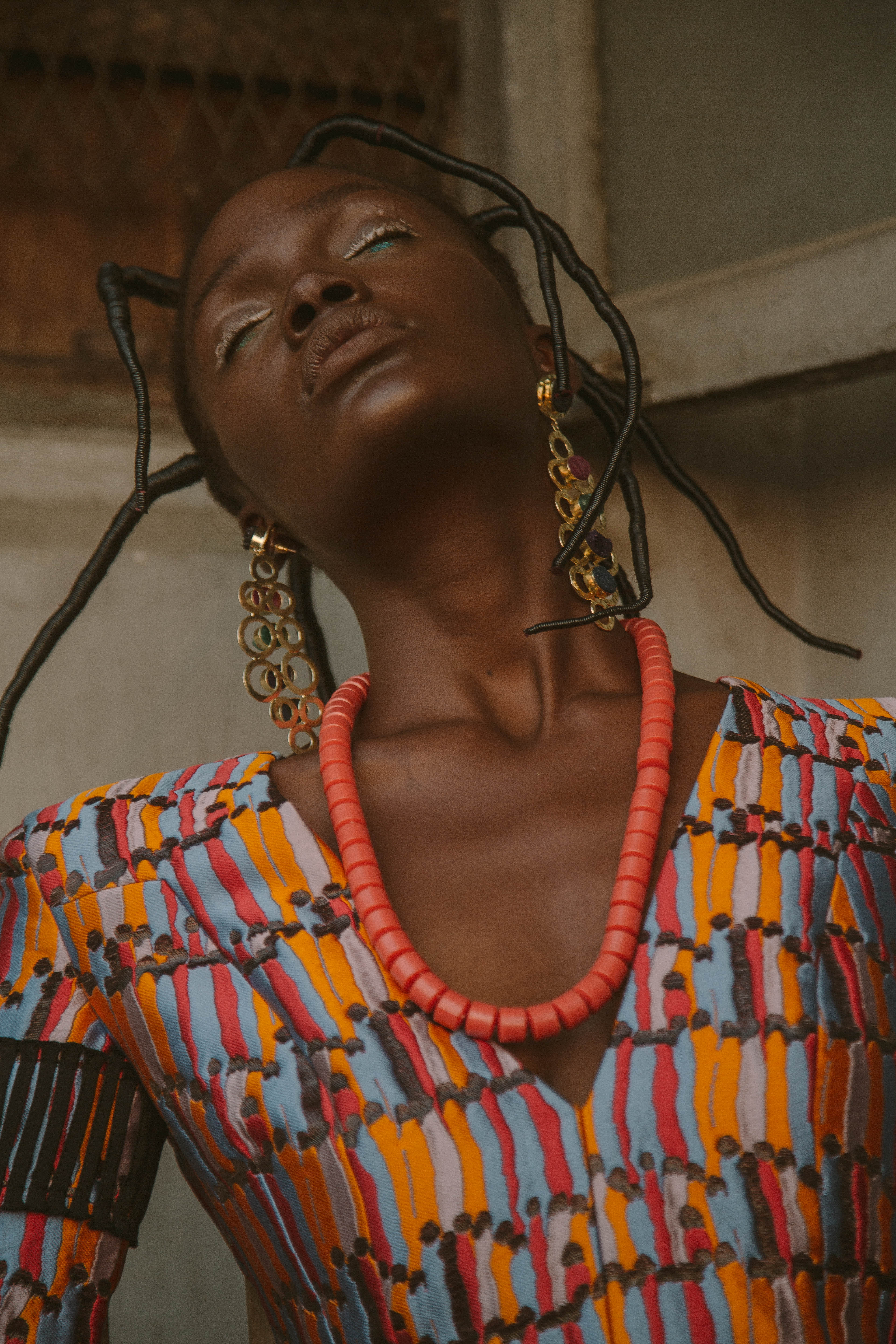 How do you play with Nigerian symbolism in "illegal?"
The hairstyle is called kiko in Yoruba and is traditionally made with thin black elastic thread by girls. It's one hairstyle I think every Nigerian girl can identify with, especially while growing up. I remember following my sister and cousins to the market to have their hair done like that for school. I would sit by their side and watch as the hairdresser kept twisting their hair around vigorously into kiko. For days their scalps would hurt. For me, it symbolized memories of home. The hairstyle also represents a tradition that was reserved only for girls. I have seen boys braid their hair, wear wigs, do bantu knots, but I have never seen a boy wearing kiko twists. The movements of the male and female characters communicate a certain dark and quiet mood, unconsciously trying to draw the viewer into this fantasy, this imperfect space.
The film also reference your work as a photographer. What inspired you to use fashion photography as a way to talk about sexuality, gender, and Lagos?
I found myself in fashion suddenly, but I was coming from a place in my life that needed to be expressed; there was a lot I wanted to talk about, from my personal experiences to the things I saw on the streets of Lagos, how it changes people. I started off just wanting to express myself visually. Eventually, I found myself taking on bigger concepts and issues that affected people, I found myself researching Afrofuturism and developing around the ideas of fantasies and ethereal moods as a way to proffer a non-stereotypical narrative on these subjects — rich in culture and ethnography but always very emotional. I believe fashion is such a powerful tool, and that a photograph can hold a million truths.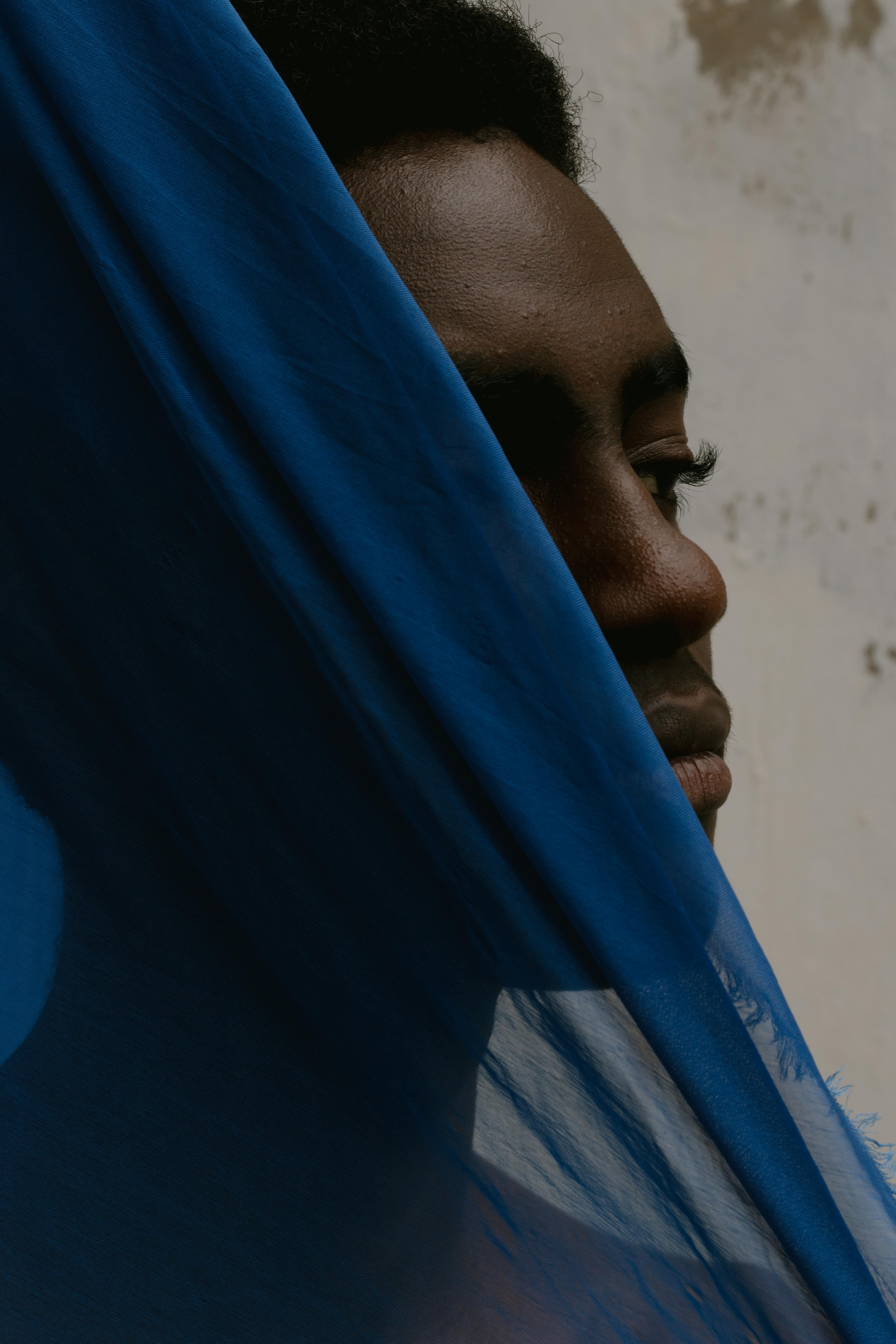 How do images like Evenings IV and Niru speak to tradition and Lagos youth culture?
Evenings is from a new body of work I am currently developing. It's a gentle reminder of masculine tenderness. It's supposed to explore youth in a very natural and soft form, through observations and interactions between masculine characters and abstracts — as opposed to the violent and hardcore impression of Lagos youth the media projects. Whilst Niru speaks of girlhood and raises the questions about what empowerment for a woman in an African setting is. The word niru means to move forward.
Your work paints a distinctly different picture of Nigeria and the continent that most outside of it don't see.
In the year 2000, if you searched for imagery of Africa or even Nigeria, a lot of what you would see were images that focused on the poverty, discord, and problems — or how Africans were trying so hard to imitate white people and were ashamed of our culture. It created a perception that Nigeria was unsafe and in a lot of ways non-progressive, thanks to bad governance. I believe it's gradually changing and these stereotypes will soon be a thing of the past. It's beautiful to see how passionate young Africans are about changing the world and the steps we're already taking to do it.
What do you want to achieve with your art?
I'm not sure. I don't know exactly what my art could change in the world but I want it to matter. I want it to live on, inspiring people to believe in themselves and create more awareness of the issues surrounding gender and sexuality, especially in Africa.