eva, the solange and blood orange backup singer stepping out on her own
Eva Tolkin talks to i-D about DJing for Rihanna and her debut EP, 'Evergreen.'
|
14 December 2017, 5:35pm
Photography Kat Aileen.
Three days before I spoke with Eva Tolkin, Solange's debut EP, True, had celebrated its fifth birthday. Eva — a Toronto-born pop alchemist — knows this record well. It's not an exaggeration to say that it changed her life.

Five years ago, Eva moved to New York City from Montreal, without "much of a plan," as she remembers. She worked on creative research and music supervision for her friend Gordon Von Steiner, a fashion filmmaker, while living in his Williamsburg studio space. Then, one day, Solange's manager reached out to Eva to inquire about using the studio to host auditions for a new backup singer. She told her yes, "but I probably will audition, too.'"
It was a joke — kind of. "It was the summer after True came out, and I was listening to it every single day," Eva recalls, "I knew all the harmonies, all the words! I figured I should audition, but I really didn't think I was going to." As it turned out, she got the job. Since then, she's toured the world performing with Solange, Blood Orange, Lykke Li, and Charli XCX, among countless other artists. You might have heard her sing without knowing it.
The day after Eva and I met up, she released her own debut EP, Evergreen. Though the three-track record clocks in at a tight ten minutes, Evergreen is ample evidence of all Eva has gleaned working alongside contemporary pop's most progressive practitioners. Dev Hynes listeners will find warm, 80s synth structures and glimmery guitars here, too. Carly Rae Jepsen fans have a similarly playful vocal to look forward to.
Eva is a star student, no question. But she's aso crafting fresh, danceable pop gems on her own terms. Evergreen's lead single, the addictive "Another Lover," is a frank, yet totally chill, take on polyamory. "I don't want the themes [of my songs] to be too muddy, or subtle," she says. "This is a song about asking your boyfriend to bring another lover home. It's so direct!" Below, Eva explains why now's the time to shine.
How did you begin working with Gordon?
I grew up with Gordon. He's always been a close friend, and he really encouraged me to come to New York. He was right! Moving here changed everything for me. I started off doing creative research for him and moved pretty quickly into music supervision. I still work with him often. Mainly, I DJ on set. My job is basically to figure out what I think Natalie Portman wants to listen to for three days. It's fun! I'm not a professional DJ, I just think I'm good at figuring out what music matches certain moods or people. I see the clothes, the set, the model, and I'll know the song.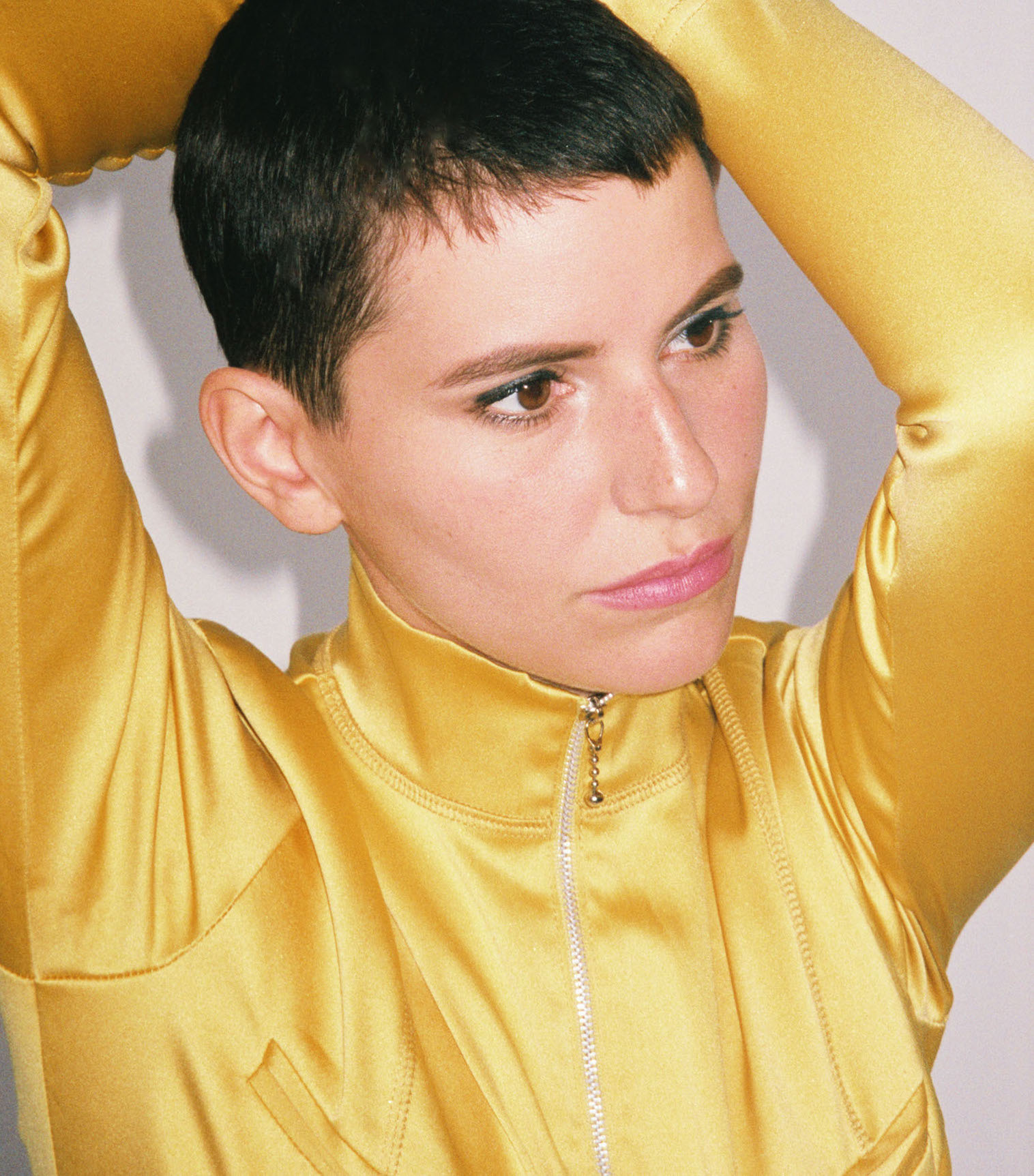 Who's the most surprising person you've DJ'd for?
For the past two years, Gordon has done these photo booths at the Met Ball, and I've picked the songs. We'll be sitting in a little booth, and in pops a Vogue PA: "We have Madonna walking in." I have, like, one second to figure out what I think Madonna wants to listen to, because we've only got three minutes with her. We never know what celebrity is going to come in next. It's completely crazy.
That's intense!
And it just keeps going! "Pharrell is walking in," "We have Rihanna," "Okay, Celine Dion," "Anna Wintour." The first year, I didn't know I'd be working until the day before, so I had to come up with stuff on the go. It went pretty well; Kanye complimented me! I think I played him some old, epic Cam'ron.
I'd freak out.
The stressful moments are really intense, but it can be so satisfying. When you get the song right, the artist is having fun, and you get amazing footage, it's a blast. The first year, I bumped into Solange and Beyoncé in the hallway. Solange was like, "What are you doing here! How did you get in?!" [ Laughs.]
Tell me about that crossover between Gordon and Solange.
It was definitely a crossover, a really strange one. The first audition was just Imogene [Strauss, Solange's former manager] filming me singing on her phone in Gordon's studio. It just seemed like a funny story: "The time I auditioned for Solange." But there were three more rounds. After a few weeks, Solange wanted to meet for an audition. I was so nervous; all I had done was sing in choirs growing up, and with an a capella group at university. But I did the audition, and I ended up getting the job.
Actually, I got it with my friend, Akua. There was only one position available, and I was thinking, "Akua's got this. She's opened for Solange, she's got an amazing voice." During the audition, I could hear them laughing together already. But I'd made it that far, and I thought that was really cool. After the audition, we got a phone call: "Solange wants to hire you two together."
What!
It was crazy. We got to tour the world together. I don't know if I'd have been able to do it without her.
Tell me about diving into something you'd never done before.
Because I'd sung with choirs for so many years, I actually had the perfect training for backup vocals. It's all about support. You've got to have a good ear, and you can't be the kind of singer who's going to overpower everyone. Choir singing is a lot like that, too — listening to your neighbor and finding a nice balance. But it took me a long time to really believe I could do the job. Singing with Dev [Hynes] was the first time I realized I'm not so bad at this. He would give me solos, and bring me up front a little more. Now, I can say that I'm a good backup singer. The challenge is trying to be a solo singer, because I don't really feel it's my instinct.
How did you and Dev come together?
I wanted to sing with him for a long time, I just thought the gig looked so fun! Someone dropped out and they needed to fill the position. That was about a year and a half ago, and I've been singing with him ever since. He's a very chill, supportive person. He got me to do a recording for "Sandra's Smile." He knows so many singers, I was floored that he'd even ask me. But he's great like that. He's pushed me in ways he probably doesn't even realize.
You say it's not your instinct to sing solo. Why step out now?
I didn't think I'd put out songs for a long time. I thought it was a fun activity, and maybe I'd get into writing for other people. But these songs are very much me. I wanted to put them together and try things out. I think some people will like them, or think they're fun to dance to. So why not give it a go? The project is a full collaboration with Eric Cross, one of my closest friends. He does all the production and fills in some of the blanks with the writing. I much prefer to work with others than alone, and we just have so much fun.
The "Another Lover" video is great.
It was a beautiful experience from beginning to end. The makeup artist, choreographer, producer, director, the cast — everyone was a friend, or a friend of a friend. Keenan [MacWilliam, the director] and I are on the same page all the time, so it was very easy to come up with a concept, and an attitude. I wanted a video to match the song in that it should just be very playful and not take itself too seriously. Be a little bit funny. The aesthetic was inspired by old fashion commercials I'm obsessed with, and a lot of the clothes came from my own closet. It was a party!
What's on the horizon for you?
I'm hoping to put out another three-song EP early next year, but I'm trying not to put too much pressure on things. My life — especially the last five years of it — has always been about going with the flow, and seeing what comes up next. Every month is a different adventure, and this is a new one.
Tagged: