the man who became anna wintour
As he preps for Anna's final show, Ryan Raftery tells i-D where he got that "Chanel" jacket, what Anna thinks of the show, and the public figure he'll be lampooning next.
|
01 September 2015, 1:35pm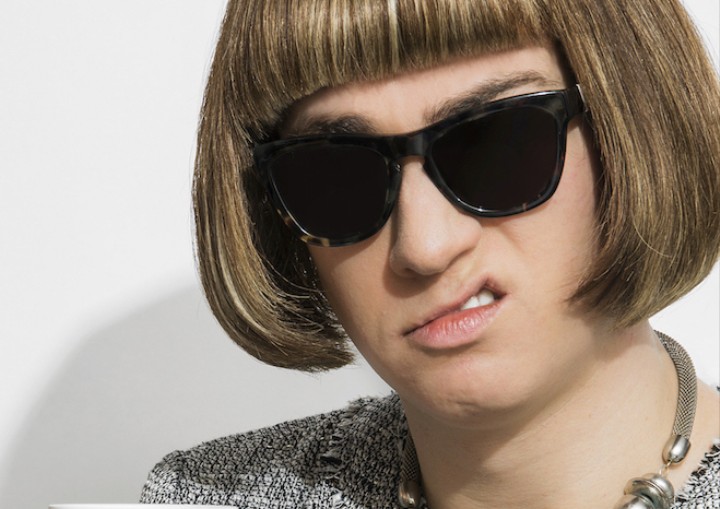 Stage veteran Ryan Raftery suddenly got a whole lot of attention outside the New York theater community when he debuted his musical last year: Ryan Raftery is the Most Powerful Woman in Fashion. He had transformed himself into none other than the ruler of fashion, Anna Wintour. His Anna balances her editor duties with dancing to Beyoncé, but Raftery is clear that this show is a love letter and not a takedown. Because we can't imagine anyone not wanting to live in the world he's created, where Anna Wintour sings Britney Spears songs, we had to find out what's going on in his bob-wigged head leading up to the next and final performance of his show, during New York Fashion Week.
How's it going getting ready for the show?
It's exciting but bittersweet. I've tried to end the show twice before--and I'm not complaining--but there's been a lot of interest and I've met a lot of people who've asked me, "Hey, when are you going to do the show again?" So, I figured this was a great time to say goodbye to [Anna], especially during Fashion Week.
When did the fascination with Anna begin?
I had a day job working in fashion, and I was working at a fashion house that was showing at Fashion Week for the very first time...I kept on hearing this name over and over again: "Anna won't come to see this," or "We can invite Anna to the party and maybe she'll come for ten minutes." Anna, Anna, Anna. Of course I'd heard her name before and I knew who she was, but I had no idea how powerful she was until I started working at this company.
How did you know you could make a show around her?
The September Issue was the benchmark for the research I did on Anna, because I felt like she revealed so much about herself that really humanized her and allowed me to humanize her in my show. Once the Kim and Kanye [cover] came around, there was this massive backlash against her for about two weeks on social media. Everyone was saying "Anna Wintour is over," "She's going to get fired…" As soon as I saw someone write that on Facebook, I thought, 'This is my show.' Everyone in the audience can relate to what it feels like to be afraid you're going to get fired.
So, the show starts with Anna finding out Si Newhouse wants to see her at the end of the day, and she spends the next hour ruminating about her life and thinking about her choices. Andre Leon Talley is a character in the show, played by a brilliant actress named Romelda Teron Benjamin. It was important for me, even though I usually do these shows as a one-man piece, to have one person on the stage that she sees as on her level. I thought if I just played her as this demonic ice princess, that just gets really boring after a while, so I wanted to show her as a rounded person.
What has the response been like, especially from other people in fashion? Have you heard from anyone?
[Anna's daughter] Bee Shaffer came to the show, and she was so complimentary and took a thousand photos. I asked her how she found out about it, and she said her mother told her about it! That blew my mind. A couple of weeks later, I heard from someone I know working at Conde Nast, that apparently someone was talking to Anna about the show, and she had seen video from the show from Bee, and she said I didn't get the fashion right. I just thought that was so perfect. I did upgrade the jacket because of that, it will be much more Chanel now.
How did you choose your costume?
This is the part that would make Anna throw up if she read it: I had to go to Burlington Coat Factory. Everybody was like, "Oh, I'll lend you a Chanel jacket," and I was like, "I doubt you have anything that will fit me!" Although I'm not a very big guy, a man's shoulders is what makes it hard to wear women's clothing. So, I don't know what's worse: that I got my Anna Wintour jacket at Burlington Coat Factory or that I found out I was a size 12 when I was there!
How do you get into character and transform yourself into Anna before the show?
The wig and the Starbucks cup and the crossed arms, that's how I enter the theater. The wig is the star of the show. The wig on show days has a handler. I'm very fortunate that I have a friend who's a stylist who created that wig for me. We found a wig that was a bob and he cut it and styled it and added Anna's highlights.
In your research, was there anything you found that you actually related to Anna about, on a personal level?
Absolutely. A good friend of mine, Stephen Trask, wrote the music and lyrics for Hedwig and the Angry Inch. I had dinner with him when I was writing this show, and I said I was having trouble identifying with her. And he said, "Put your fears into her, and see if you have any similar life experiences." Anna's father died when she was 50, and my father died when I was 12, but I understand what it's like to lose a parent. Anna in The September Issue talks about her father with a lot of love. And the most humanizing moment in The September Issue was when she talks about her siblings - how they all have "serious" jobs, and how they think what she does is funny, like frivolous. Anna is so extraordinarily powerful and responsible for so many people's careers, but still just wants validation from her family, and I certainly know what that feels like.
I had a friend of a friend come to the show and told me, "I can't believe you just made me care about Anna Wintour." But you can't just do the version of Anna Wintour that you hear about in the press, that she only takes elevators by herself and is mean to her assistants. You realize she's not the devil or an ice princess, she's just very serious about her work. And she's not warm and fuzzy, she doesn't need to be.
Do you have any projects on deck for after this show is over?
Yes, I'm doing Andy Cohen next. I think reality TV is bad for this country and the world, and that our priorities are hugely out of whack. You certainly can't blame Andy Cohen for everything, but he's at the center of it. It's not going to be a vicious takedown, it's going to be a morality play with him as the center of it.
If there was just one of Anna's privileges or indulgences you could have, what would it be?I've heard that Manolo Blahnik has a mold of her foot so that she can just call whenever she needs to have shoes made. She's been wearing the same pair of nude slingback Manolo Blahnik kitten heels for the last 20 years, she just calls and they send a nude pair over. That's the first thing that comes to mind. That clothing allowance sounds pretty good, too.
Credits
---
Text Courtney Iseman
Photography by Andrew Werner