justin bieber declares 'pimples are in'
The history of Biebs's surprising journey from Proactiv spokesbae to acne activist.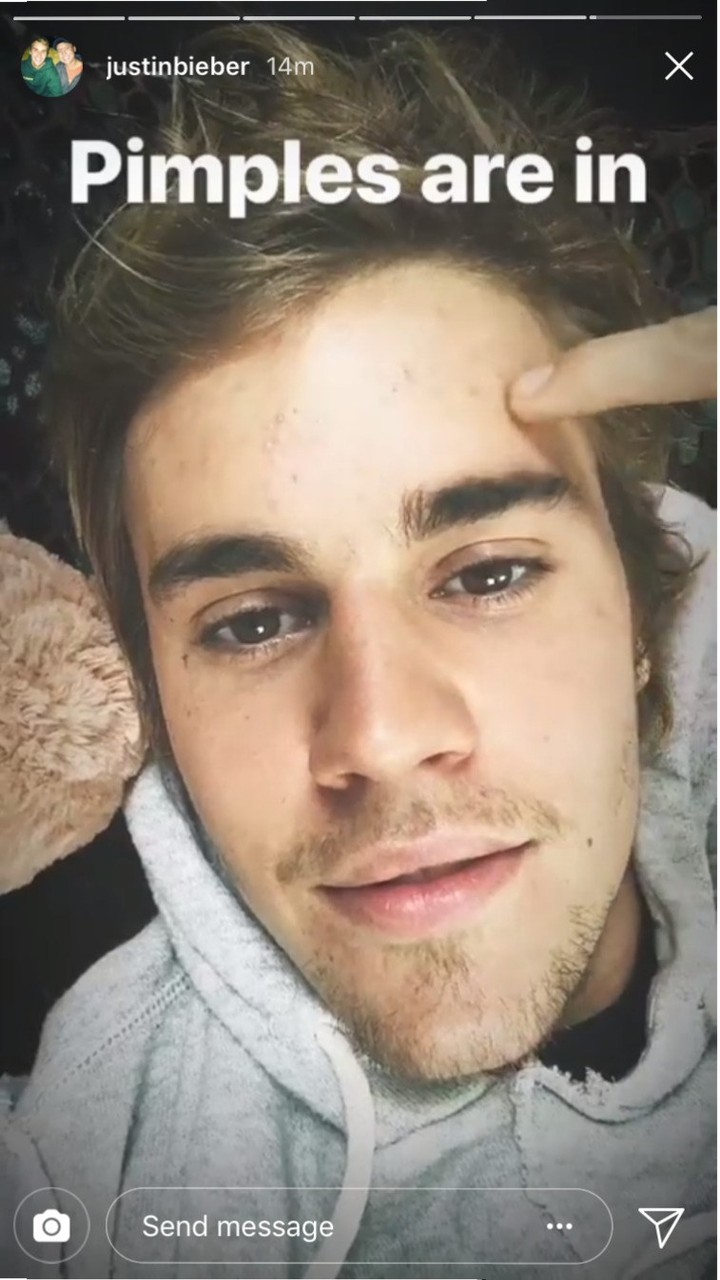 instagram.com/justinbieber
Justin Bieber and Selena Gomez are on yet another break, but the "Sorry" singer isn't spending it shuffling along Beverly Hills sidewalks in complimentary terry-cloth hotel slippers. And gone are the days of flexing for mugshots after being busted drag racing Lambos around Miami. These days, Solo Biebs has taken up a more mature hobby: acne activism. Last night the pop star posted a selfie video to Instagram Stories along with a special announcement: "Pimples are in."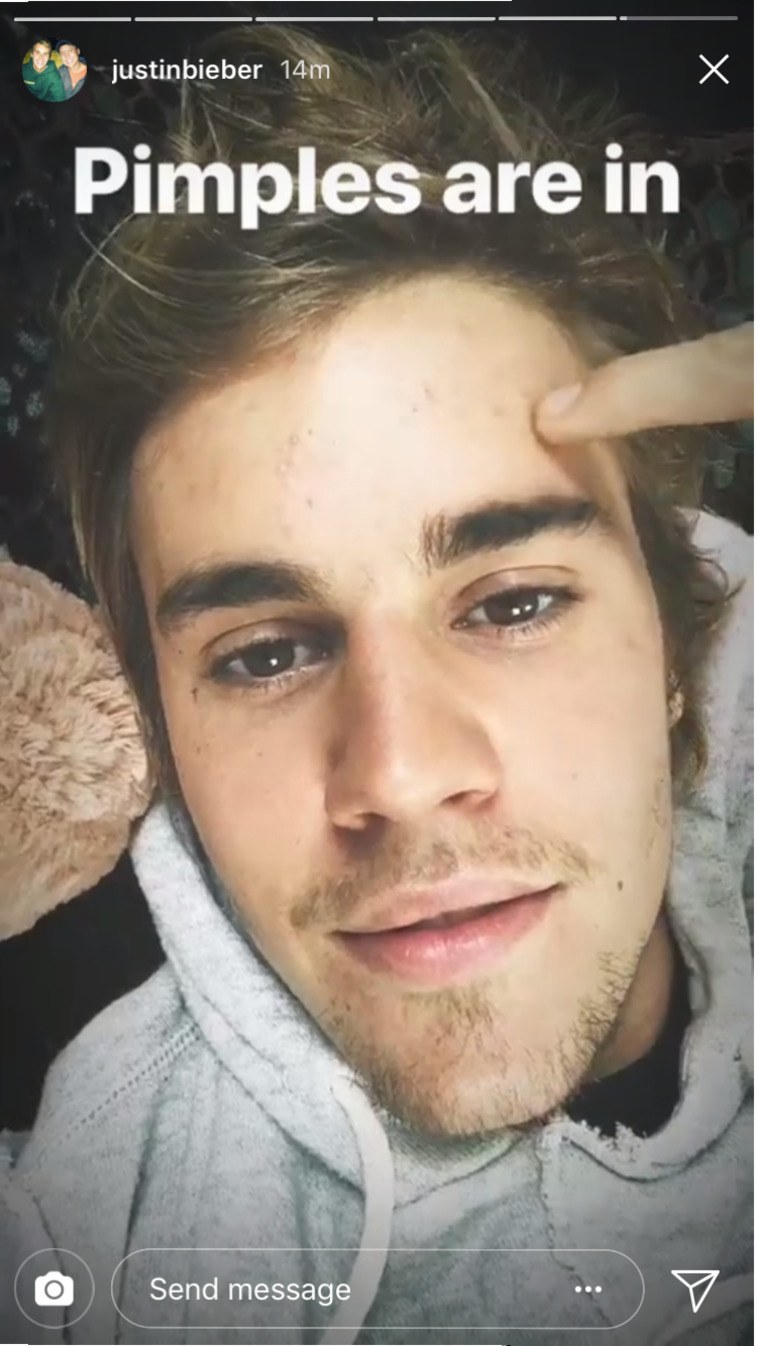 Justin is hardly the first young celeb to come out as pro-acne. Fashion has been quietly embracing the pimple positivity movement for some time now: Dolce & Gabbana model Starlie Smith delighted Insta-fans when she posted a selfie of her makeup-free face, triggering an outpour of acne-positive responses on Reddit. Malaysian designer Moto Guo put inflamed skin front and center back in 2016. Earlier this year, Kendall Jenner responded to a fan's tweet about her bumpy Golden Globes skin, issuing a cheeky reminder to "never let that shit stop you!" And just last month, badass beauty blogger Khadeeja Khan put L'Oreal on blast after the company dropped her over her imperfect skin. But Justin's zit support marks a 180 for the former Proactive spokeskid.
Like many teenagers, looking #flawless used to be one of Justin's main obsessions. "There are some things that just come with being a teenager," says a barely recognizable 16-year-old Biebs in this 2010 commercial for Proactiv. "Your feet grow like crazy — you can't stop that. Your hormones kick in — I don't wanna stop that. And then there's zits — I can stop that." Will the "One Time" heartthrob's swooping brunette bob follow those zits down the same path to redemption? One can only dream.
Like other teenagers, Biebs was a bit of a rebel, and evidently didn't follow Proactiv's three-step instructions properly. In 2013, Proactiv publicly extended a helping hand to its former ambassador, after Bieber was photographed looking a little spotty. "'If Justin is interested in receiving Proactiv, we are happy to work with his team to get him the products he needs," Proactiv said in a completely normal statement. Acne probably wasn't Justin's biggest issue at the time though, given that the photograph was a mugshot. Justin had just been arrested for DUI during a bender in Miami.
The Atlantic issued an even sassier assessment of Justin's mugshot pimples.
In 2017, Justin did another 180 on skin maintenance and became a beauty blogger, documenting his own three-step program: Clarisonic, water, and the UV Clear Broad-Spectrum SPF 46 for acne-prone skin. He even shared a strangely empowering series series of selfies on Instagram, calling attention to a range of skin issues from acne to pink eye. "My left eye has conjunctivitis," he wrote, concluding with an inspirational quote: "#BEHOLD." The blunt captions are still LOL-inciting, but Biebs's #nofilter closeups of his non-flawless skin is actually very refreshing. Despite the current desire for natural beauty, in all its gappy teeth and unruly eyebrows, skin is the one imperfection we still have trouble accepting. It wouldn't be the first time Biebs has proved he's only human.