15 iconic facts from 15 years of Dover Street Market
Here's to the next 15!
|
28 November 2019, 10:30am
15 year have passed since Dover Street Market was launched on the same-named central London street, by Comme des Garçons founder Rei Kawakubo and her partner Adrian Joffe. The duo wanted their multi-level, multi-label store to evoke 'beautiful chaos', of the sort found decades previously within the capital's now-defunct style mecca, Kensington Market. Although DSM was far more beautified than its scruffy predecessor, it was still a wild and eclectic curation of established and emerging designers' wares, intermingled with props, books, fragrances and conceptual artworks.
The concept thrilled a new wave of noughties shoppers, and variations of the London DSM template have subsequently opened in Tokyo, Singapore, Beijing, L.A. and New York. Every designer and brand worth knowing about nestles within, catering for a myriad of global tastes and demographics. Now, to mark the 15th anniversary of DSM's London debut, the store (which relocated to bigger premises on nearby Haymarket in 2016) will be the scene of events and celebrations throughout the last weekend of November. A large hoarding featuring calligraphy artwork by Pokra Lampas is being unfurled across the front of the store and inside the store each of the designers and brands housed within DSM will temporarily transform their spaces in-sync with Momochromarket, a special Kawakubo-devised theme.
Ahead of that, we pay tribute to London's original and much-loved DSM. Here's to the next 15 years!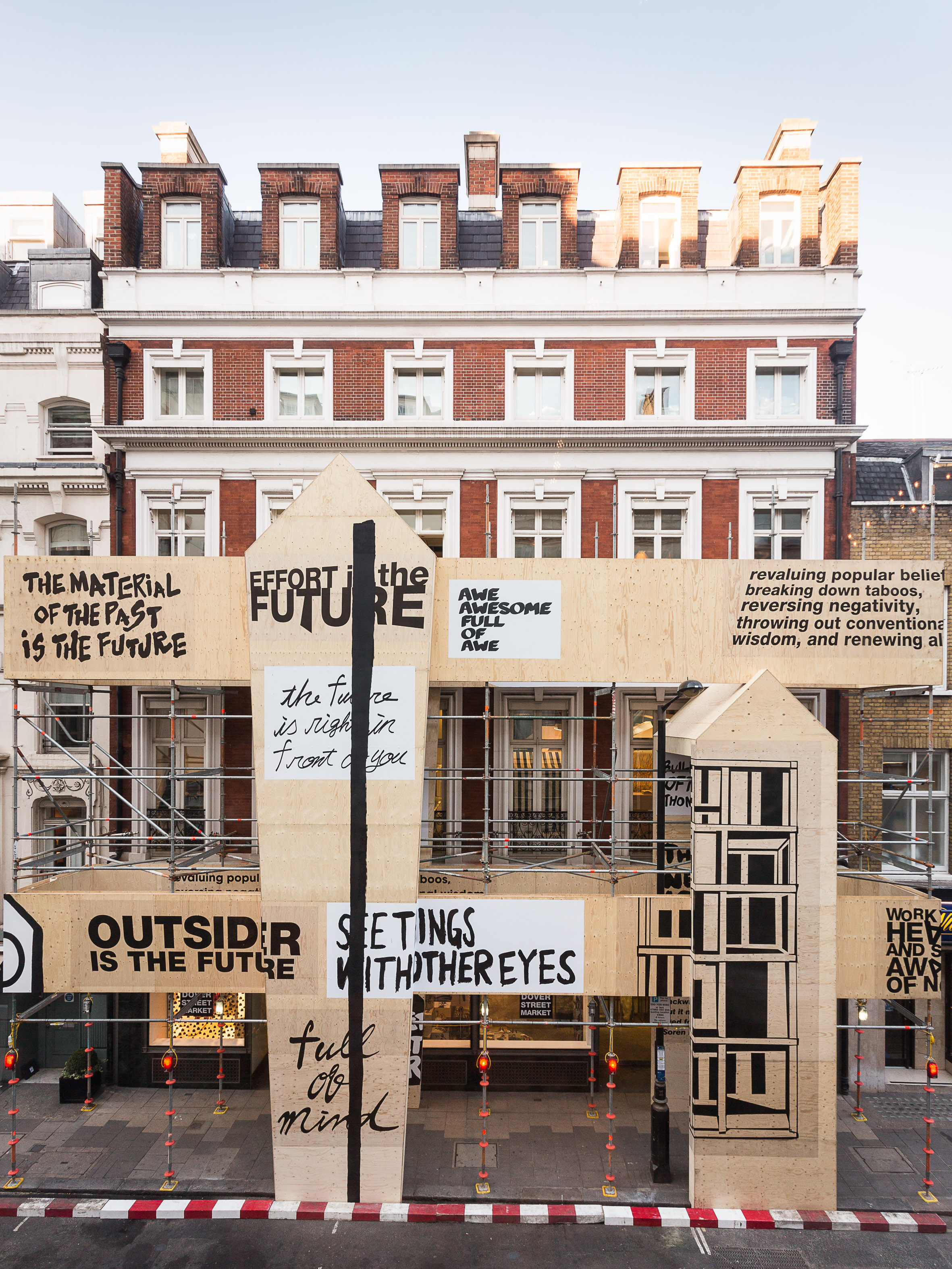 1. From the start, DSM made most other London department stores and fashion boutiques look totally old fashioned. Raw concrete floors, cash desks housed in rickety wooden sheds, portaloos turned into changing rooms, plus sculptures and taxidermy galore made for a mind-boggling and truly modern retail experience.
2. In the early days, the main designers available alongside Comme des Garçons's different lines included Raf Simons, Dior Homme-era Hedi Slimane, the late Azzedine Alaïa and Lanvin's Alber Elbaz. Since then, oodles of others have come on board, including Rick Owens, Balenciaga, Gucci, JW Anderson, Celine, Louis Vuitton, Paul Smith, Vetements, Gosha Rubchinskiy, Charles Jeffrey, Molly Goddard, Craig Green, Palace, Nike, Maison Margiela and Undercover. DSM was the first UK stockist for some of them.
3. The window displays at DSM conspicuously avoid boring mannequins. Instead, artists and designers are regularly invited to transform the windows into gallery-like experiences in their own right. These notably include Molly Goddard, who replicated a paint-splattered artist's studio, or Gary Card, with his full-on sculpted fluro-heads, not to mention Jake and Dinos Chapman's sinister-smiley face banners, among many other gawp-worthy displays.
4. When it comes to in-store background muzik at DSM, a Harry Styles remix blaring from Spotify simply won't do. Customers waft from floor to floor to the strains of specially composed 'textured' soundtracks from the Brooklyn sonic artist, Calx Vive. She based these compositions on somewhat obscure themes such as 'vanished continents'. Ok then.
5. To keep things fashion-fresh, DSM not only has regular drops of new goodies, but also closes its doors to the public for several days twice per year. This is to enable 'Tachiagari', which means 'beginning', and provides an opportunity for new seasonal collections and installations to be set up, away from prying eyes. It also gives the roster of designers and brands an opportunity to re-invent their individual spaces within the store.
6. Throughout the past two decades the worlds of fashion and art have increasingly become cosy bedfellows. DSM was at the vanguard of this new era of creative crossover, hooking-up with well-respected art galleries and institutions such as the ICA or the annual Frieze Art Fair, for special collaborations.
7. Dover Street was a bit boring, pre-DSM, but has since become a fashion and art hotspot after the likes of McQ, Acne Studios and Victoria Beckham opened up shops there. Not to mention galleries including David Zwirner and Sprüth Magers appearing on the scene, too.
8. The DSM gang proved their kindness-credentials last year by collaborating with HELLO! magazine, to raise money for the charities UNICEF and Sentebale. DSM's stable of fashion stars -– from Stella McCartney to Charles Jeffrey -- reinterpreted the iconic HELLO! logo in any way they fancied upon clothes, accessories or within art pieces, which were duly auctioned.
9. An assortment of limited-edition fashion and style-related books have been launched at DSM over the years. Some of the most sought-after of these included a 2016 photo book from Vetements, Michael Costiff's Pages From a Diary (published by Kim Jones) and Kasia Maciejowska's 2016 tribute to the legendary 80s London shop and creative collective, The House of Beauty and Culture.
10. Another major plus-point about DSM is the on-site mouth-watering eatery, Rose Bakery. It's the perfect pit-stop for hungry punters who chomp their way through the daily pastas, sarnies, soups and cakes.
11. In keeping with the free-spirited ethos of DSM, the assistants on the shop floor don't have to wear a staff 'uniform'. Quite a few of them are artists or fashion students, so their individual 'at work' looks are often as fab as the garms upon the rails.
12. When DSM celebrated its tenth anniversary, a range of souvenirs were launched – including nylon teddy bears and flip flops!
13. Shop staff at DSM are way more friendly than assistants were at achingly-fashionable boutiques back in the 80s and 90s. To ensure they can cope with the most-tricky of customers, Kawakubo –- who firmly believes in good service -- sometimes arranges for specialists to come in and give talks about philosophy and communication!
14. Although DSM has been hugely supportive of young designers, Kawakubo has acknowledged the importance of more mature creatives, too. The work of London's finest cult designers, artists and makers -- who've been ahead of the curve for decades - has at various times also taken centre stage in DSM. They include Michael Costiff, Duggie Fields, Andrew Logan and Judy Blame (RIP).
15. On any visit to DSM, you would be likely to spot some Very Famous People also shopping and browsing. i-D's spies have in the past seen John Galliano, Bip Ling, Naomi Campbell, Kendall Jenner, Kanye West, PJ Harvey, Beth Ditto, Joan Collins, Patti Smith, FKA Twigs, Henry Holland, Janet Jackson, Justin Timberlake and Chloe Sevigny, to name a few!