Photography courtesy of Centrestage
hong kong designer anais mak turns the city's energy into fashion
After showcasing her label Anais Jourden at Hong Kong Centrestage, her focus now turns to Paris.
|
26 September 2019, 6:38am
Photography courtesy of Centrestage
Growing up in Hong Kong designer Anais Mak honed an early interest in fashion by exploring the idea of dressing up, captivated by the glamour of famed fashion houses like Chanel. It set her firmly on a path to design, and after studying in Paris she launched her label Anais Jourden a little over six years ago. Anais Jourden is influenced by the duality of the two cities in her life, her hometown Hong Kong and the hometown of her fashion knowledge, Paris. The essence of the two cities comes together through Anais' feminine designs, which have earned her renowned retailers like Galaries Lafayette and influential fans like Ariana Grande
Recently Anais presented her Autumn/Winter 2019 collection during Honk Kong Centrestage, while the city was amidst the protests that have dominated it and that continue to this day. After her Hong Kong presentation we spoke with Anais about the affect the protests had on her presentation and how she's weaved their influence into her upcoming Spring/Summer 20 presentation happening in Paris next week.
Where did your interest in fashion begin for you?
Growing up I was quite un-expressive, very quiet and nerdy so creating is what allows me to feel liberated from that. Creating is the ultimate inhibition and I really like the position we are able to create to speak about what I love. I've always really liked the notion of dressing up as a young girl, I've always had a passion for fashion and being pretty by dressing up with the girls.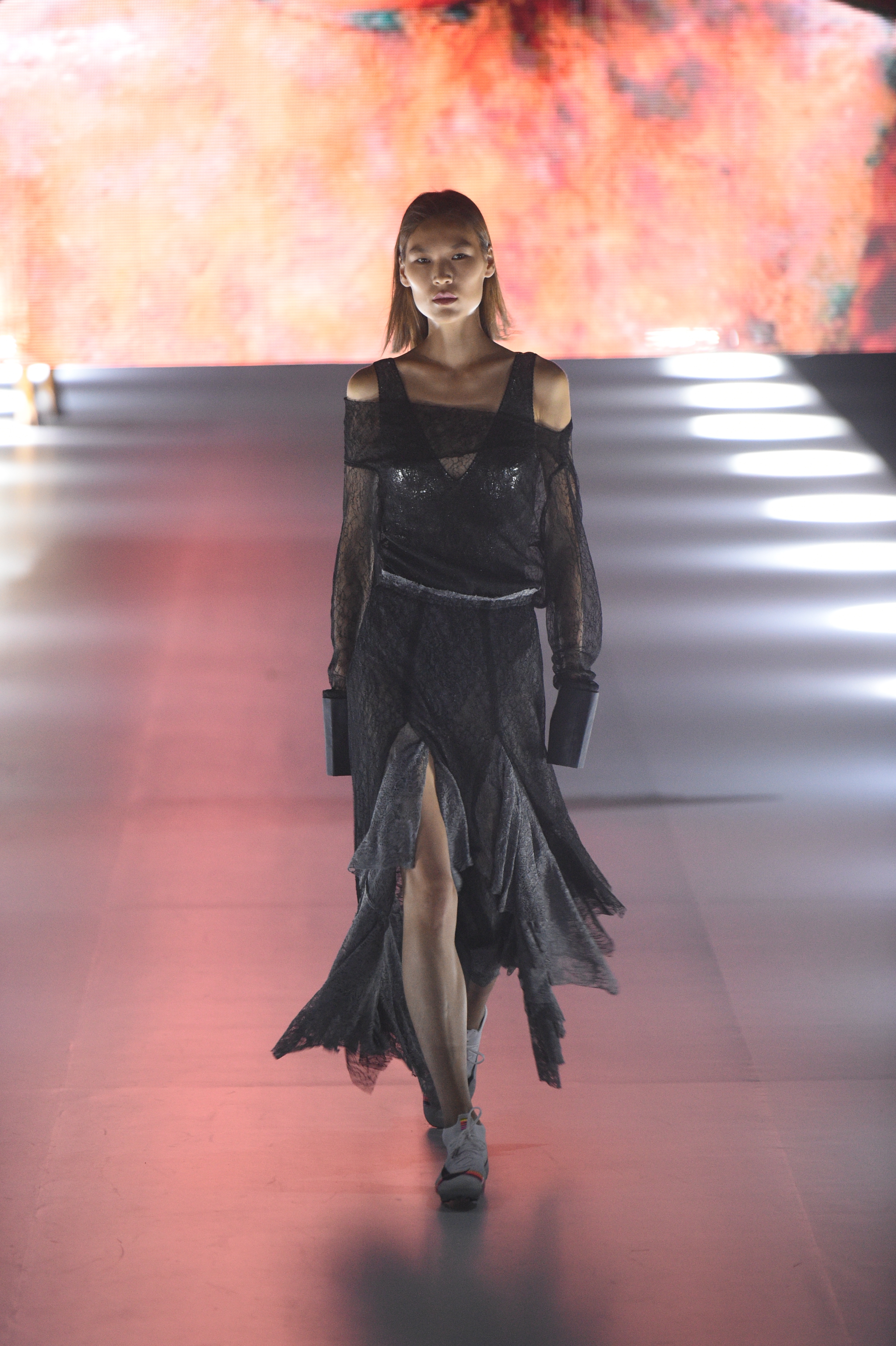 What are the differences you find working between Paris and Hong Kong?
From a very generic and postcard impression it would be that Paris is a very serene and calm city and Hong Kong is this financial centre that has a very harsh energy. Parisians are very clear on their boundaries in terms of holidays and work, they allow themselves to balance their lives outside of their career. While Hong Kong, in general, we work a lot. We are really hard working but because HK is a city that is under constant stress, the ability to really enjoy the work can get lost. Genuinely enjoying the hard work is very rare, so it is a mission I have for myself to make sure I do that because I work a lot [laughs].
Do you think you create differently in each city?
I think I create really differently. I've actually always created everything in Hong Kong — even when I was studying in Paris. I think it's because of the constant stress and intense energy that exists here. When I feel more pressure from a demanding environment, I create new ideas better. In Paris they are more rigid in how they respond to changes and urgency, because they're so protective of their heritage. It's a very different culture. I appreciate both but I personally need that electric environment that exists in Hong Kong.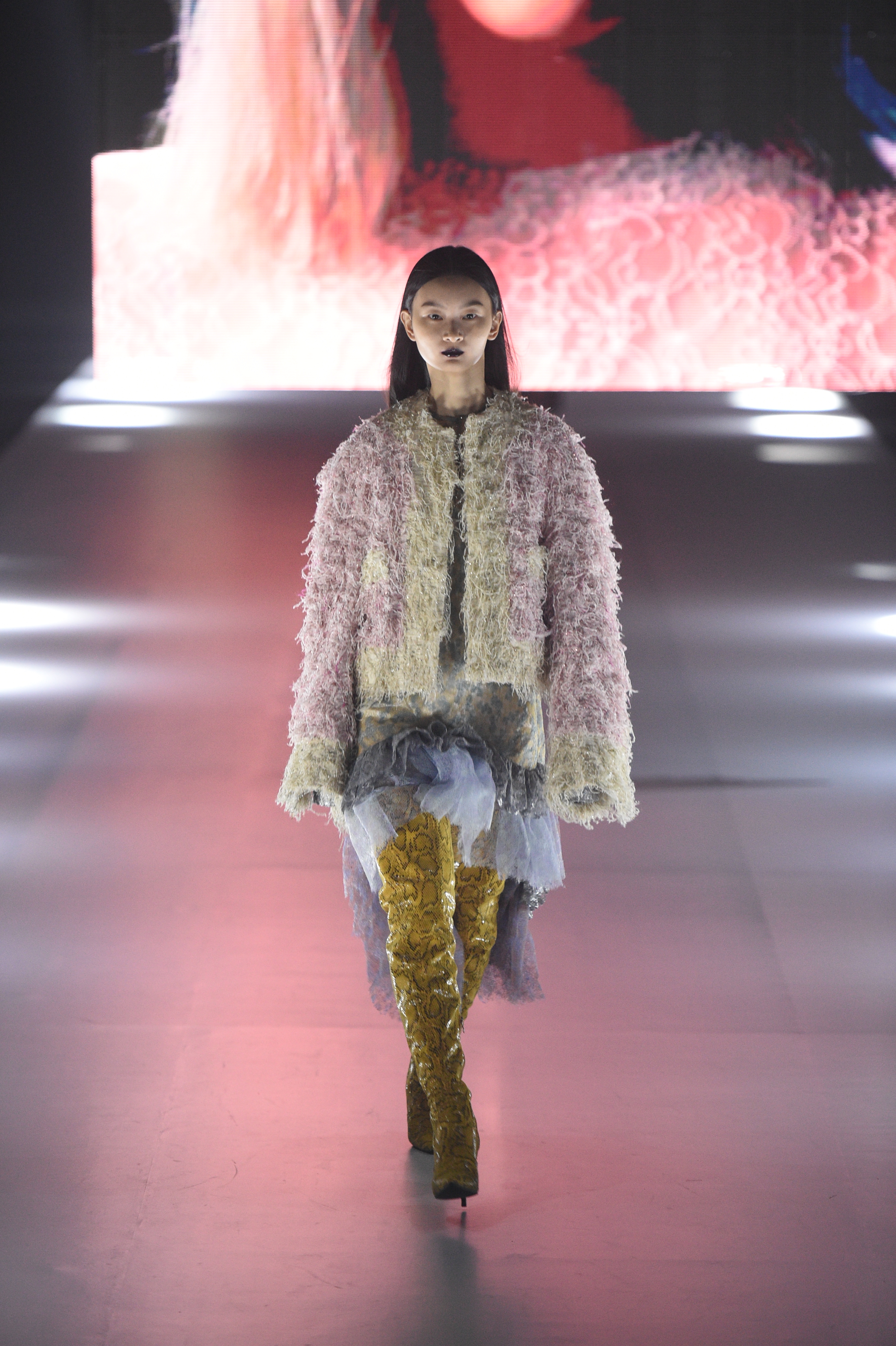 Hong Kong is currently in a time of unrest, can you speak to how the protests have affected you individually and creatively?
The people who are responding to what's going on right now are everyone from the young generation to my parents generation and back to my grandparents. These protests have started to change the peaceful spirit of the city and it's something I think — which I feel very [conflicted] to say — but I'm grateful about that. There is this awakening that is happening in our city.
These protests have been happening at the same time that I have been working on my new collection showing in Paris at the end of September, so seeing and hearing the developments and changes on the television and radio has been my soundtrack to my work. I think ultimately we are all trying to participate and express how much we love our city.
How did the protests influence your visuals and stage direction for the Centrestage show?
I had been thinking a lot about what we are experiencing right now and how I could show with the timing, not only a pure celebration but how we could express ultimately our love for our city. Also considering the people supporting us as a brand — what they are going through, feeling and experiencing and how do we speak not on behalf of them but how do we include and create an understanding for them.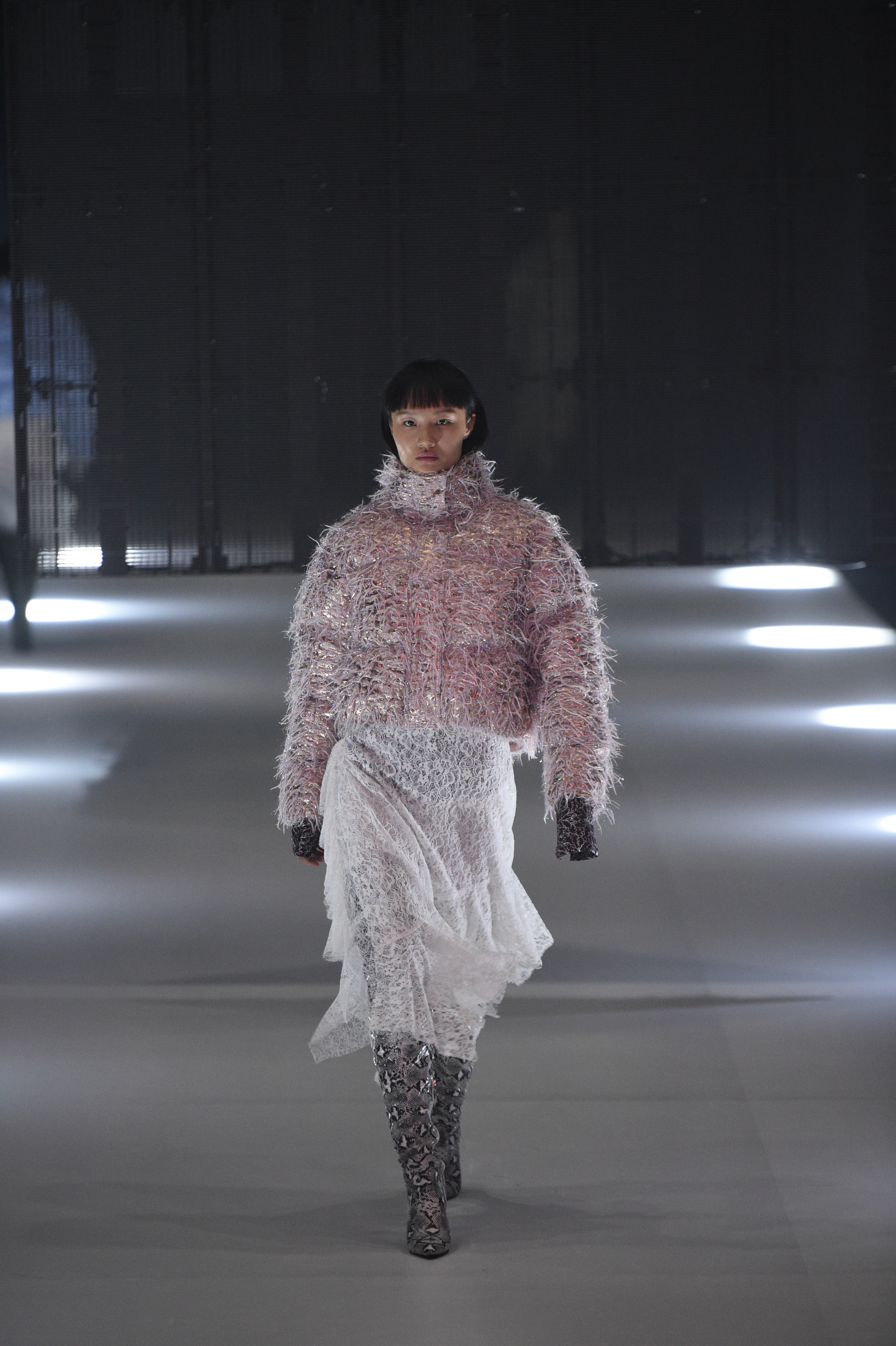 You showed an Autumn/Winter collection in Hong Kong but in Paris this month you'll be showing Spring/Summer 20, how do the collections differ?
I think it is a continuation of the collections we've done in the past. Construction wise a lot of the pieces are a simplified version of what we do but fabric-wise we are thinking a lot about it feeling feminine and glamorous — metallics, lace, ruffles — but manipulated to feel modern and now, as these don't seem to exist in people's worlds and wardrobes now, this is what I'm trying to find a new context for in today's society.
In Hong Kong you paired some looks in your collection with Nike sneakers on the runway, can you tell us about that decision.
They were actually footwear from their football series and I really liked the silhouette of the studs as I think it makes a feminine shape by creating a similar fear sense as high heels. We are so happy to have this relationship with Nike because I think technology-wise we would never be able to create sneakers as well as we do high heels. Sneakers have become such an important item in today's wardrobe. We are currently working with Nike in customising Air Force Ones with our own fabrics for our upcoming collection showing in Paris.